Shakedown Cruise continues 8/8/2006 Nantucket
We headed out from Edgartown Harbor for Nantucket about 11am. First we filled the dinghy with gasoline and filled the boat with water (yes, still tracking down the watermaker wiring). It seems the wiring guy at the factory was so small that he crawled into the tiniest of spaces…leaving the wiring coiled and ready for final connection. Now – just to find that coiled wire – sorta like a treasure hunt. The passage was only about four hours but Nantucket certainly lived up to its weather reputation. We reefed our main in approx 27 knots of wind with bouncy seas and made about 7.5 knots speed. We arrived and anchored in the "shallow" bit just beyond the mooring field (with the other catamarans). It was a bit more quiet being away from the channel with no draft trouble – quite nice. We settled into a few days here…next would be exploring the island and swimming around the boat (water is 80 degrees F).
It was my first visit and a return visit for Chris (well, kinda – his last visit was as a pre-teen). We took recommendations of friends and headed for the Maritime/whale museum. My gosh – quite a history. The whale industry made these New Englanders both prosperous and progressive with a common sense Quaker foundation. Tourism has replaced whaling as the industry du jour – and that is quite clear. Nantucket is gorgeous with vibrant wildflowers, brick sidewalks, gas lamps and cobblestone streets…but boy are there a lot of people. We had a good burger and fries at Captain Toby's and then set out to explore the streets. We also managed to sample another local eatery (Tacos Tacos) for an afternoon snack.
We also managed some boat projects – oiling the teak cockpit table and hoisting flag halyards on the lower spreaders of the mast. This was fun and we took turns hoisting one and then the other so we could both have a feel for working up the mast. Not too bad, actually, and the tool pockets in the bosuns chair were quite handy.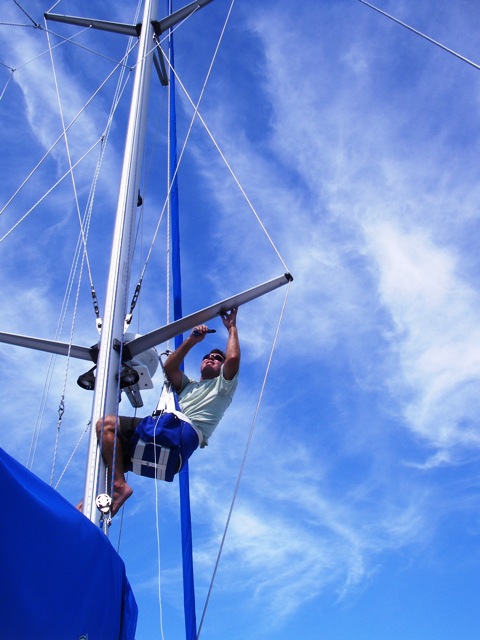 We continued our Nantucket island tour by bringing our bikes to shore and cycling around a bit – off to Sconset and leaving the crowds behind. The ride was about 7 miles each way with a nice, paved bike path beside the auto road…but watch out for those big trucks, they make quite strong wind gusts – we had a dual de-capping (but retrieved them). We had a wonderful sandwich at Claudettes at the town rotary – full of fresh veggies, ham and cheeses on great wheat bread. On our way back to the boat we stopped at Souza's for some fish for a dinner grilled on the boat. The day ended with a swim and a fish BBQ (marinated in orange juice, maple syrup, and a touch of balsamic, olive oil and garlic).
A great early breakfast at Black Eyed Susan's and a quick trip to the steps of the library for free wifi to update ourselves on email, etc. before pulling anchor. We definitely needed more time here – it feels like we just barely scratched the surface.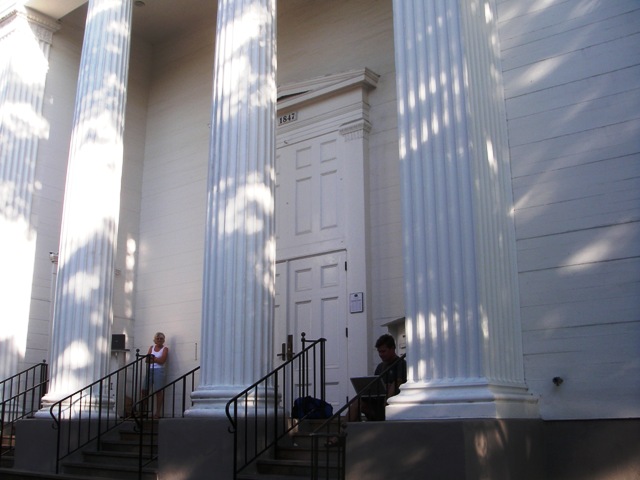 Next stop Hingham 8/11/2006
A full day sail from Nantucket to Hingham gave us our money's worth as a shakedown cruise…7.5-8 knots speed, traverse through Wood's Hole (okay, so we skittered a bit on the rocks), (Chris – "Skittered" ??? I'll have more on that later … ) transited the Cape Cod Canal (all bridges already raised), dinner at the helm, thunderstorms (with gusts up to 35 knots – sails definitely down) with rain and lightning (in the distance – thank goodness…but there are grounding plates in the hull that are intended to direct a lightning strike down to the plates and out into the ocean – that is the theory anyway). The sun went down and the moon hadn't quite come out due to cloud cover so we opted for a familiar anchorage at Lovells Island (part of the Boston Harbor Islands) rather than trying our luck at a night entry through Hull Gut and into Hingham Harbor (all the chart books strongly suggest gaining local knowledge regardless of the number of charts on hand).
At 11:30pm we were resting soundly at anchor…boy did it feel good! Boston looked spectacular off in the distance and with the clouds clearing the moon and stars came out for quite an evening sky. Early morning coffee and a quick hop over to Hingham Harbor had us anchored for the next couple of days. Winston spied us from her bridge game and we are off to have lunch with her then try to make a dent in our To Do list that has grown over this trip – and get a load of laundry cleaned (thanks Winston).
Eureka – found the coil of wire for the watermaker!! The watermaker is now powered "on" and making water. That really is awesome – Chris took it from box to mounting to running – I am impressed beyond belief. So far the water is getting a thumbs up regarding taste and we continue filling the tanks. (Chris – the wires were coiled up in an alcove behind the battery combiner. I was feeling around there with my hands, and noticed that there was a hollow spot behind the combiner – took off the front and what do you know?)
Headed home for the last push 8/14/2006
We were off and running this morning and headed back to Barrington for our last push before the final departure. Looks like we may push off the date a bit but all in the name of getting everything set – but we'll see how it goes. I am not looking forward to the frenzy ahead but am focusing on the time after tossing the line.