Work and Play in Maryland: June 17 2011
The bucolic countryside of rural Maryland is beautiful. Small diners and crab shacks share the space with Amish and Mennonite farmers as well as historic main streets that look like downtown Mayberry. Bed & Breakfasts are the only lodging option and vehicle speeds never reach above 55 miles per hour (no exceptions...horse & carriage or automobile). We worked hard each day on Barefeet making solid progress scratching To Do items off of our list. Our progress was kept steadily rolling because we had a loaned car from Phil and Lisa in addition to a home where we could hang our hat in the evening...and cook in a full size kitchen. Barefeet was on the hard, the heat wave had no end in sight and pool parties were sizzlin' and grillin' for the holiday weekend. So what did we do?! We touched up the bottom paint on Barefeet...both hulls, thank you very much. Drat! Mother Nature does not play by anyone's rules or calendar but her own. Phil, Lisa and the kids left directions to their pool party afternoon but we had to skip it (May 29). Oh well, once the paint was applied we had a solid 48-hour weather window of bake time which was no problem in current weather conditions that allowed us to sleep through the night as the paint became harder and harder. Evenings were quite fun as we feasted on regional delights on our friend's back porch; boiled peel and eat shrimp, grilled crab cakes and even a bushel (yes, that is an understood quantity designation) of steamed Chesapeake crabs that we whacked and picked and slurped above a newspaper covered table. Old Bay is the seasoning of choice with ample amounts of butter for dipping. Yum!
Our boat work had come to a halt as the paint more fully dried over several days so we packed our bags and headed to Washington, D.C.. The commuter Amtrak whisked us from Perryville, MD, to Union Station in Washington, D.C. (June 1). In two hours the landscape changed from rolling farm lands to the epicenter of American government. We have both been to DC before and Chris even lived here for a couple of years after college which made the place feel familiar. However, our plan was to play tourist in order to soak in our nation's capital and unwind a bit after more than 12-months of on-the-go boat travel. Our base of operations was the friendly and centrally located Inn at Dupont Circle, South (www.thedupontcollection.com). We dropped our bags and headed to the Kennedy Center for the Performing Arts for a matinee performance of Stephen Sondheim's "Follies" (www.kennedy-center.org). The costumes of feathers and sequins were extravagant on showgirl "ghosts" of the past and the emotional performances of old friends (and lovers) reuniting were amazing. Bernadette Peters, Elaine Paige, Jan Maxwell and Linda Lavin were just a few members of the energetic cast whose voices left us in awe. Wow, what a show! And the theater impressed as well; 17 acres overlooking the Potomac River with several performance spaces joined by the Hall of States and the Hall of Nations (bedecked with respective flags) and the Grand Foyer (one of the world's largest rooms at 630 feet long, 40 feet wide and 60 feet high). Dinner followed at the oldest saloon in Washington; Old Ebbitt Grill, full of history and myth...and a great burger (www.ebbitt.com). The bar tenders learned our names as the stuffed trophy head of a tusked walrus looked on (supposedly bagged by Teddy Roosevelt). The place was still perfect and deliciously capped off with a hot fudge sundae - heaven.
The second heat wave had broken which made our walks through the monuments much more pleasant (June 2). The National Mall area is the heart of Washington, D.C., and Walt Whitman described it as, "democratic vistas, where the American people can freely assemble to play, attend cultural events or petition the government for change." It was a lot to bite off so we simply took our time and saw a little bit at a time. The Mall is anchored at one end by the Capital building with its gradual levels of arcades and terraces and at the other end by the immense obelisk that is the Washington Memorial. We started with the classical Greek temple of the Lincoln Memorial (www.nps.gov/linc). The proportions are imposing and grand just like the legacy of the humble man. We counted at least six languages being spoken and everyone wanted their picture taken in front of the seated Lincoln. His impact is as far reaching today as it has ever been. The World War II Memorial was new for us and majestically celebrates those who fought, those who died and those who supported the war at home (www.wwiimemorial.com). The Jefferson Memorial sits beside the mall among dozens of cherry trees and reflects Jefferson's general love of classical architecture and, specifically, the Pantheon of Rome (www.nps.gov/thje). Every structure oozes symbolism and is covered with meaningful quotes of those being honored. After leaving the Jefferson Memorial we continued looping back towards The Mall and into the air conditioned Smithsonian Museum of American History. Rather than canvassing every inch we zeroed in on a few exhibits; Julia Child's Kitchen (sans a stick of butter), the star-spangled banner (the 30x42 foot flag that inspired Francis Scott Key to write a poem that became a song that became the national anthem) and the inauguration gowns of the first ladies (www.americanhistory.si.edu). By the end of the day we were bushed but recharged at Lauriol Plaza for some deliciously messy Mexican food (www.lauriolplaza.com). The chips were light and crunchy; the salsa was smoky and spicy; cheese enchiladas were divine and guacamole was so fresh that it started to turn brown by the end of the meal. Did we mention how happy we are to be eating again in the states?!
The next day we took it a bit slower with the Portrait Gallery and a movie (June 3). Each painting in the Portrait Gallery tells a small story about one part of America and her history through the featured individual (www.americanart.si.edu). It was a lot of reading through pithy (but dense) information cards that were oh so informative. We walked from place to place and clearly noticed that it was a weekday which meant we felt a bit like we were getting away with something, like playing hooky during school. So many folks were dressed for the office and carving out a few minutes for lunch in the parks scattered around town. Will we be one of those folks again?! Well, not just yet. And we were enjoying our time in DC so much that we added a day to our trip. Our goal for Saturday was the Capital (June 4). Crowds were down and the mandatory tour guides were loaded with facts both grand and trivial (www.aoc.gov and www.visitthecapitol.gov). As the location where laws are made the symbolism of the building alone is daunting...and was the reason the British burned it down during the War of 1812. Rebuilding and additions continued for years; even through the Civil War when President Lincoln insisted that work continue to signify the solidity of the fractured nation. Boy, there is tons to see in DC and we have only scratched the surface. Our heads were overflowing and ready to bust so we ambled to The Mall and read under the shade of a tree. Pick-up frisbee and kickball games were scattered throughout the immense grass lawn as the sun shone brightly above. Mr. Whitman was correct about The Mall. But one more museum beckoned. Erin headed to the National Museum of the American Indian which was alive with vibrant colors, open expanses and a mouthwatering cafe...hhhmm, dinner beckons (www.americanindian.si.edu). Off we went for a farewell burger at the Old Ebbitt (definitely still the bad habit). What a town! We are proud of our capital.
But Barefeet beckoned us to return to Georgetown Yacht Basin for a bit more work before splashing back into the water. Holy cow, she positively sparkled after her first ever visit to the beauty parlor for a buff and polish. As always it was a real relief to have her floating again and another marathon list of work completed (June 7). We celebrated aboard with burgers on the grill joined by Phil, Lisa and the kids. They have been wonderfully generous making this haul-out our most pleasant to date. Thanks is not enough, guys. The Tap Room provided another regional experience (June 9). It's a crab house extraordinaire (www.taproomcrabhouse.com). Okay, the interior is decorated in early bowling alley but the service is super friendly and the crab is offered countless different ways (including Erin's favorite soft shell crab). But don't worry because sandwiches and Italian dishes are also available in addition to every kind of seafood imaginable. Our exploration of the Chesapeake continued as we departed for Baltimore (June 12). We had a gentle motor across the Chesapeake Bay to anchor off of Fell's Point. The forecasted thunder storm roared through cleaning decks and blowing away the heat and humidity (top wind speed was clocked at 33 knots). The cooler temperatures and calm conditions that followed were marvelous. A question that we are often asked is what our observation has been regarding ocean pollution. Well, you be the judge. The photo above is just after the thunder storm. Prior to the howling winds and pelting rain the surface of the water had been completely clear of debris. Not to totally duck the question, we have seen plenty of beach trash and it is almost entirely plastic or styrofoam.
Baltimore (locally pronounced "Balamer") has a lively waterfront that is overflowing with activity. People flock to the harbor front for the sand volleyball courts; the seven mile walking/jogging promenade at harbor's edge; restaurants; ice cream carts; paddle boats that look like dragons; museums. And the Oriole Park at Camden Yards is just three blocks from the waterfront. It is wonderful! Barefeet was tied up at the Baltimore Inner Harbor Marine Center right in the thick of things (www.baltimoremarinecenters.com). We wandered through the neighborhoods of Little Italy and Fell's Point that are knitted beside the waterfront (June 13). Riptide by the Bay was a friendly watering hole and a convenient spot to rest our legs (1718 Thames, Fell's Point). Then it was a bit more boat work before exploring Baltimore a bit more (June 14). The American Visionary Museum was a repeat visit that continued to inspire (www.avam.org). The museum describes itself as, "the official national museum for self-taught artistry." Creativity abounds in the form of spectacular paintings completed on paper plates with a two bristled paint brush, a welcome mat made of toothbrushes inscribed with the word "Smile," and countless other everyday items made into loveliness. Cheerful quotes covered photos, pages from books and all sorts of paintings. A particular favorite was, "Don't hurry; Don't worry; Do your best; Leave the rest." Our evening meal was predetermined...Five Guys Burgers. Nearly all of our friends and family who have visited us recently have raved about this "new" place and we wanted to see what all the commotion was about. The ordering was a bit stressful because we actually chose (at the cash register) what specific items went on our individually created burgers. The place was doing a steady business and we were excited for a new burger joint. Well, the raves were right. We thought the burger was fresh and juicy and the fries were crispy. Yum! Our hearts (and taste buds) still belong to In-N-Out but this is a worthy substitute. Plus, we hear that the Five Guys have a location in Boston...certainly a closer proximity than In-N-Out.
Baltimore was founded in 1729 and grew steadily as a storehouse for sugar from the Caribbean colonies. The city played a key role in the American Revolution, was the capital of the country for a few months in late 1776 through early 1777 and celebrated a crucial victory at Fort McHenry against the British in the War of 1812. After this particular victory the 30x42 foot star-spangled banner (aka American flag) was raised in emotional triumph (Francis Scott Key was especially moved). Baltimore evolved into the second largest port of entry for immigrants into the United States that created a working-class port town made up of anywhere from 72 to 237 distinct ethnic groups (depending upon who is counting). Baltimore was literally described as "a city of neighborhoods." Exhibit A is Erin whose maternal Grandmother arrived in Baltimore from Sarajevo. Bits and pieces of the city's diverse backgrounds linger even today in the form of businesses with names such as Bochenski or Chiapparelli as well as culinary seasonings. The food options of Baltimore reflect its incredible ethnic diversity with flavors from Italy, Greece, Ireland, Poland, Lithuania and sooo many more. Bon appétit!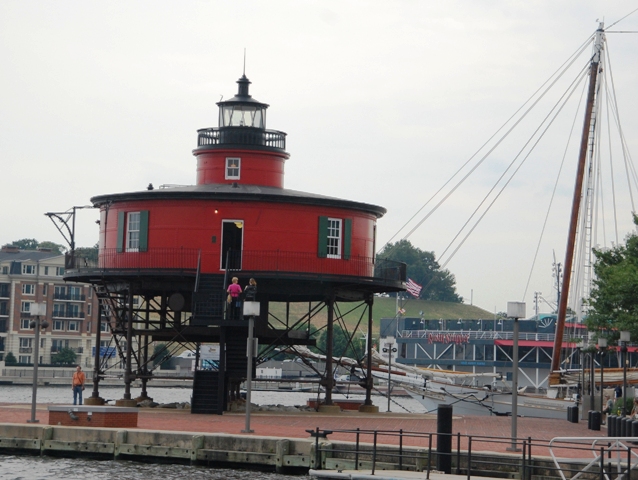 We are still focused on moving north despite dragging our heels a bit in the Chesapeake. Our next hop will be to Chesapeake City, through the C&D Canal and out around Cape May, New Jersey. Weather for the New Jersey segment needs to be good and it looks like we are going to have to wait. Inconsistent weather with shifting winds and scattered thunder storms tells us that patience is the better part of valor for now. In the meantime we will sample live music in Fell's Point and enjoy an enhanced variety in our menu...whether aboard Barefeet or around town.