Endings and Beginnings: July 10 2011
Block Island felt like summer with scooters buzzing the streets, beach bags filled to overflowing, ice cream cones in every-other-hand and the Great Salt Pond filled with boats (www.blockislandinfo.com). The homemade donuts formerly sold at Payne's dock have moved up the street but are as amazing as ever with light as air butter dough sprinkled with sugar. Heaven! Later, we met up with John and Kerri of s/v Aldora to catch up on each others completed circumnavigations (June 29). Plus, we asked if they have any tips for re-entry. No real tips but they are still awed by supermarkets. The last time we saw each other was in Egypt which seems like a lifetime ago and although we could have chatted all day everyone needed to move on. We look forward to picking up the conversation in the winter. Our afternoon was a short 20-mile run to Dutch Harbor up the Narragansett Bay. We had a bit of excitement upon entering the Bay as the Maltese Falcon departed Newport for a race to England. Holy cow, it is ALWAYS an impressive sight. Then it was into quiet Dutch Harbor for a final night at anchor. Erin made Penang Curry and we eased into the evening.
Penang Curry (thanks s/v Wings): Penang curry mix (envelopes available in the international isle of the supermarket); 2 Tablespoons fish sauce; 1 can (14 oz) coconut milk; 1 red pepper, sliced; 1/2 cup cilantro, chopped; 2 Tablespoons lime juice; 1 Tablespoon brown sugar; 2 Tablespoons ginger, thinly sliced; 1 onion, sliced; 1.5 chicken breasts, sliced into strips, rice. 1) Mix together lime juice, fish sauce and brown sugar. Set aside. 2) In a large skillet or big soup pot mix Penang curry with 1/2 can of coconut milk. Stir frequently until bubbly. 3) Add remainder of coconut milk, red pepper and onion. Bring to boil and simmer for 2 minutes. 4) Add fish sauce mixture to simmering sauce. Add chicken to simmering mixture. Bring to boil then reduce heat to medium and simmer 5 minutes, stir occasionally. 5) Add cilantro and ginger. Stir and cook 1-2 minutes more until chicken is cooked. 6) Serve over rice.
Here we are back where it all began in Barrington, Rhode Island (June 30). And even in the same slip with Hong Kong Junk Ming Hai still a stunning neighbor with gleaming bright work and regal red canvas. We tied up and were warmly welcomed back by many familiar faces at Cove Haven Marina (www.byy.com/RIlocations/Barrington/Welcome.aspx). Plans were made for later with pizza, wings and champagne aboard Ming Hai but priority number one was for us to get to work. Our stop-and-start progress up the east coast has been largely due to the pending sale of Barefeet. In the Spring we received the news that a buyer was interested in her and wanted to take a look in the Chesapeake. Okay, sounds good...except...we were in the Bahamas?! The process continued to progress with photos, emails, inventory lists, in-water and out-of-water surveys as well as general sprucing up so that Barefeet could put her best foot forward. And that she did because the process continued and an agreement was reached a mere seven days ago. Eeegads, but that means we have only 36-hours to empty, unload and clean Barefeet. We were scurrying like headless chickens in order to have at least one load of stuff ready when Hugh and Fran arrived at 9am the next day with their pick-up truck. The rough plan was to simply make trips back and forth to our apartment in Boston until we were done - keep it simple. By 5pm we had a good pile formed and felt ready to shower and head over to Ming Hai. Gosh did it feel great to celebrate and swap lies with Richard, Virginia, Bruce and Anne. And Town Pizza is still delicious with delivery right to the boat (949 Willitt Ave, 401.433.0300).
Our emotions are nowhere near catching up with reality but that's for later. For the moment we continued emptying cupboards, corralling items in any plastic tub or canvas bag we could find and cleaning the voided spaces (July 1). We were definitely up to our armpits in alligators. Tons of work was completed with the help of Hugh and Fran as well as the later addition of Hugh and Beth. Chris and Erin made a last run of the day back to Boston alone. The neighborhood smells the same with beach roses mingling with the sea and garlic wafting from the North End's Italian restaurants. The plan had been to sleep a last night on Barefeet but we could not pry ourselves out of the apartment. Erin repeatedly walked in circles from one room to the other and Chris opened and closed drawers and cupboards over and over again. Holy cow, we are home and it feels good to be here. Our bodies are tired but our minds cannot shut off. We had a fitful nights sleep and were up again by 5am. It seems that sleep will come later, too.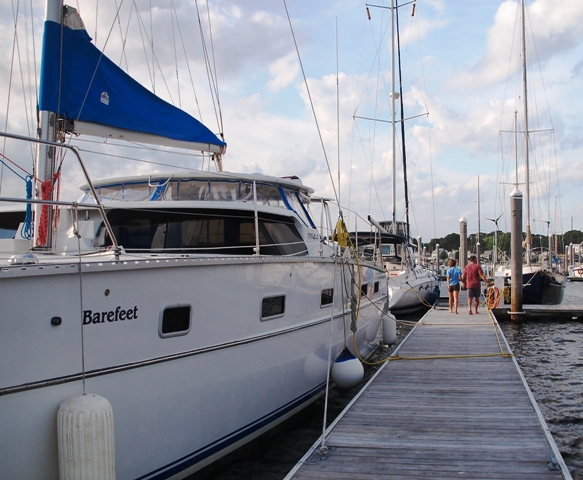 We returned to Barrington and continued our whirling dervish ways (July 2). The holiday weekend meant that many marina boat owners were on-hand. It was great to be remembered by so many after being gone for almost five years. Trash bags became our luggage of choice for clothes and shells were gingerly placed in sheltered nooks and crannies. Our muscles ached and it was tough to keep our energy level up. Keep this? Toss that? So many items sorted through at such a rapid rate. Phew! But then we were done and there was nothing else to do but wait for the new owners to arrive. However, Mother Nature still holds all the cards. As we waited dark clouds rolled in and threatened to rain. Aaagghhh, that would be a huge bummer for all of our items in the open bed of the pick-up truck. Thankfully, the threat of rain was all that happened. The new owners arrived, hugs were exchanged and the sunscreen was passed. We really cannot process that this is our final walk down the dock from Barefeet - what a loyal friend she has been.
Back home and we were emotionally and physically spent; however, we were still unable to sit still so we wandered into the North End which was hopping on a Saturday night with lines out restaurant doors, Italian Feast banners flying and so many new areas of green grass and sidewalk dining. Returning to our old neighborhood is still quite a novelty and there is much to discover. Living on land is also full of new discoveries. Amazingly, we can set things on counter tops and they will not move unless we bump them. The water pressure in the shower feels as if it will plaster us against the back wall. Our souls ache when we leave the tap on while brushing our teeth or washing dishes (but surely that will fade). Our heads are spinning and we cannot believe that this is more than just a visit. Reality remains in the future so we need to jump into the swing of land rhythms ASAP. What better way to do that in Boston than to join in the Fourth of July festivities?!
Americana is in all its glory on the Fourth of July. Hingham is our destination to celebrate with family and friends (July 4). Chris' 98-year old grandmother especially enjoys this holiday with a seat front and center for the town parade. Erin made a seven-layer dip in our kitchen that is larger than a bathtub. Wow! Bowls and food processor and knives flew with the clean up finale fabulously quick. The dip was added to the red and white checked tables that groaned under the array of offerings. There were leafy salads, pasta salads, corn salads, bean salads, deviled eggs, jello salads and corn on the cob all of which sat beside grilled burgers and dogs. Yikes, and then the desserts came out in the form of carrot cake, red-white-and-blue confections of all sorts, chocolate torte, cookies, brownies. Everyone sat on the grass with full plates and contented belly-s. This festive day was great to experience in the USA where everyone knows why we are decked out in red, white and blue.
Seven-Layer Dip (Cook's Illustrated): 5 tomatoes, finely chopped; 3 jalapenos, seeded and finely chopped; bunch of cilantro, chopped; 1/2 onion, chopped; juice from two limes; 1/4 teaspoon salt plus some to season; 1 (16 oz) can black beans, drained not rinsed; pepper to season; 5 cloves garlic, minced; 3 avocadoes; 3/4 teaspoon chili powder; 1.5 cups sour cream; 16 oz pepper jack cheese, shredded (approx 4 cups); splash tequila; tortilla chips for dipping. 1) Combine 4 tomatoes, 2 jalapenos, 1/4-1/2 of the bunch of cilantro, 1/2 of chopped onion, juice from 3/4 of a lime and 1/8 teaspoon salt. Let stand until tomatoes soften (approx 30 minutes). Strain mixture into bowl and discard liquid. Set aside. 2) Pulse black beans, 3 cloves of garlic, juice from 1/4 of a lime, chili powder and 1/8 teaspoon salt in a food processor until chunky paste. Transfer to a bowl and set aside. 3) Wipe out food processor. Pulse sour cream and 8 oz of cheese until smooth. Transfer to a bowl and set aside. 4) Grate 8 oz of cheese and set aside. 5) Combine avocados, 1 tomato, 1 jalapeno, remaining half of chopped onion, juice from 1/2 of a lime, salt and pepper to taste, 2 cloves garlic, tequila, 1/4-1/2 of bunch of cilantro. Mash until chunky but spreadable. 6) Spread bean mixture evenly over the bottom of an 8 inch baking dish or 1-quart glass bowl. Spread sour cream mixture evenly over bean layer and sprinkle evenly with grated cheese. Spread guacamole over cheese and top with tomato mixture. 7) Serve with tortilla chips.
Words are slow to come for its description but we are back from an amazing trip. Our heads are bursting with old and new and yet to come. It is fun to integrate all of our experiences together. For example, in our book shelves the Coral Reef Field Guide from Lizard Island, Australia, sits beside the Guide to Hiking Trails in the White Mountains of New Hampshire. Our apartment's pantry contains boat cupboard items like sweet Thai chili sauce, Greek oregano and Indonesian kecap manis...for which we now have recipes of our own. Cruiser friends are nearby along the east coast and on email. We do not know how the next few days and months will unfold but that's okay. We're CLODs (cruisers living on dirt) now, Barefeet is off to new adventures and we'll try to take it at a walking pace. If you want to check in with us or just say "hi" please feel free to email either me or Chris at the following email. Thanks for sharing the trip with us. barefeet@NotAllThoseWhoWanderAreLost.com