Back in the USA: May 27 2011
Our time in the Bahamas was at a close and our departure was set for tomorrow morning leaving us nothing else to do but wait for the hours to pass and the next day to arrive. Therefore, we headed ashore for a Cinco de Mayo party at Snappa's Restaurant (May 5). Well, it was Mexican food served in a seafood restaurant in the Bahamas...hhhmmm...we did not have high hopes for the food but looked forward to the festivities. There were sombreros and Mexico flags but, sadly, that is where the Mexican theme ended. "Loaded nachos" consisted of cheez whiz on stale tortilla chips sprinkled with a few chopped jalapenos, tomatoes and black olives; "chicken and cheese quesadillas" were tough to distinguish between the cheese and the chicken and the margaritas were heavy on the mixer but light on the tequila...perhaps just a wave of the tequila bottle over the glass?! Oh well, the company was good as we were joined by Dave and Lynn (s/v Moonbeam) and the Latin music kept things lively; however, we all called it an early night because we were both headed off early the next day for the USA.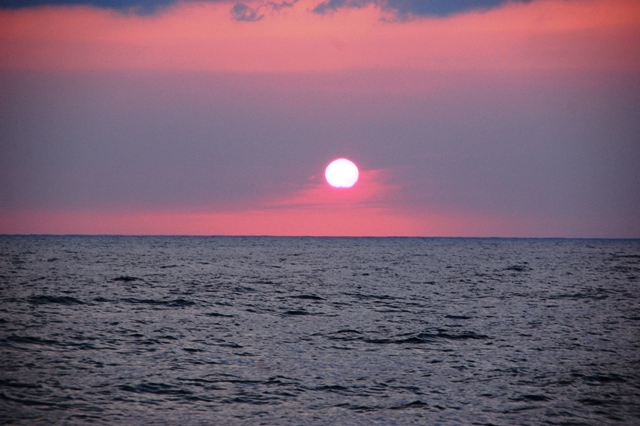 Off we went at 7.30am headed for somewhere on the east coast of the US (May 6). We motored from the Sea of Abaco through the Man O War cut and out into the Atlantic Ocean. There was a two knot counter current that had us slowed to 5 knots of boat speed despite using both engines AND the screecher sail...slurp, slurp went the diesel at a pretty rapid rate. Thankfully, the bumpy sea was more of a roll than short and choppy so we were pretty comfortable. We spotted several man o war jelly fish floating on the surface looking like large water bubbles. They made our skin sting just looking at them. Munjack Cay was passed at 1pm and despite the unsettled weather conditions we were feeling a combined sense of relief and excitement at being at this point in our journey - next landfall USA. Things really gained momentum at 3am when storm clouds rolled in, lightening flashed and potatoes and onions went on walk about from their previously stable passage perch on top of the freezer (May 7). By 8am we were off the coast of Palm Beach, Florida, with calmer conditions but the unsettled seas remained. Our final destination was moving target and in constant flux. Originally hoping for Morehead City, NC, then scaled back to Jacksonville, FL, then clawed up to Jekyll Island, GA. Where were we going to land? Eventually, landfall determination was Charleston, SC. Charleston was chosen largely because the Gulf Stream finally kicked in with two knots of favorable current which allowed us to make plenty of miles before ducking into safety from the forecasted storms anticipated offshore in the Atlantic Ocean. Meatloaf and potatoes provided a satisfying dinner as we slowed our speed in order to arrive just as the sun came up (May 8).
Wow, we are back in the USA (May 9)! Night dock master Butch helped tie us in at the Charleston Harbor Marina at 7.30am (www.charlestonharbormarina.com). Customs and immigration came out to the dock and all went smoothly and quickly. Holy cow, we are officially back home. Our adrenaline was running like crazy and it was tough to sit still. We needed to move around. After three days of overcast skies and uncomfortable seas we headed into Charleston with nothing but sunshine in sight. We played tour guides for Scots friends Dave and Lynn (s/v Moonbeam) as we stretched our legs on the historic peninsula of Charleston. Neither of us had eaten much during our passages so we went straight to Hyman's Seafood Restaurant (215 Meeting Street, www.hymanseafood.com). It was fun to show off the Southern food specialties like hush puppies, po' boys sandwiches and whole fried flounder. Charleston has an elegance and charm unlike anywhere else and spring blooms only enhanced the crisply painted mansions, brick sidewalks and bubbling fountains. But do not forget the palmetto palm. It is the state symbol and prominently displayed on the state flag (along with a crescent moon). The flag of South Carolina is a stately navy blue with white palm and crescent moon; however, every other rendition is fun and colorful...stamped or sewn on anything and everything...in electric pink and green, polka dots and stripes, you name it.
We spent a couple of extra days in Charleston in order to have photos taken of Barefeet so that she could become officially listed "For Sale." Mentally processing the sale of Barefeet is pretty academic (and pushed aside) for the moment but necessary as we move along the eastern seaboard hoping for as much exposure as possible. We cleaned and organized and puffed up Barefeet for her photo shoot. She looks great! Extra time tied up at the dock also gave us a chance to further explore Charleston and satisfy Americana menu cravings. Picture post card beauty is around every corner and on every porch in this corner of the South. Amazing flowering magnolia trees tower beside white steeple churches as splashes of color appear from giant hydrangeas and everything is perfumed by ivory and green blankets of jasmine flowers. But nature is not all that is fascinating in Charleston. Charleston retail has a sense of humor with lovely feminine clothing options available at a variety of boutiques such as the Finicky Filly (www.thefinickyfilly.com). Tee, hee, hee - Erin will definitely have to check that one out. Another day ended with Americana menu cravings deliciously satisfied close to home with juicy burgers and pale ale beer at the marina's Reel Bar...very fun to sit in the sport fishing fighting chairs as we savored our meal.
Photos of Barefeet were "in the can" and we needed to move North. Storms continued to howl offshore which made it an easy decision to travel via the inland Intracoastal Waterway (ICW). Mileage is not as good but conditions are a dream. Offshore we can make 125-175 miles per 24-hour period; however, on the ICW we will be limited to daylight hours and a stop every night...yippee! We made an 86 mile run from Charleston to Cow House Creek during the long hours of daylight (May 12). It was a beautiful day of abandoned rice fields, pine and pollen scented air, dolphins swimming alongside and stately homes generously spaced along the shoreline. Anchoring in Cow House Creek was literally just a wide spot in the road where bird song drowned out any other utterance...magic. The next day was another solid 76-mile leap from Cow House Creek to the charming town of Southport, NC (May 13). Along the way we saw nearly every channel marker topped with an occupied osprey nest and family in residence. No kidding, whoever has been tasked with "Save the Osprey" has done a fantastic job...they are everywhere...and definitely territorial as they stare us down with their beady little eyes and squawk a warning to keep moving as we pass. We lingered at the Southport Marina long enough to stroll the town after a dinner at Fishy Fishy Restaurant (www.fishyfishycafe.com) and relax through a diner style breakfast before departure the next day (www.southport-marina.com). At PJ's diner the walls are covered with college pennants from across the nation. If an alma mater is not represented patrons bring one in and it is added to the collection. The shear breadth of the collection clearly heralds that this is a much visited stop along the ICW.
This ICW travel is a bit of sensory overload after the monotonous ocean passages which keeps the camera clicking away all day long. A slightly shorter day followed with 65 miles to Mile Hammock Bay (May 14). We wove between countless local yokels out in small pleasure boats along the Wrightsville Beach area. It was a lovely, sunny day so we couldn't blame them for having fun be we didn't want to go aground. At points the ICW is not very wide and only deep in the center. We did our best to keep to one side of the channel but I am sure a few of the holiday makers felt squeezed by us. Our eyes were glued to the depth meter in between keeping track of the yokels. That's because the chart plotter is more of a suggestion than the truth and water clarity is all brown which gives no indication of depth. We miss the Bahamas blue water variations which clearly signify depth levels. Anchoring in Mile Hammock Bay is on the Camp Lejeune Marine Base which means no going ashore. That's okay because we are pretty beat. We made an executive decision to stop for two nights at our next destination in order to make our move north feel a bit less like a forced march. The next morning it was a long process to bring up and wash off 175 feet of muddy chain from Mile Hammock but we could not delay too much or we would miss the 7.30am opening of the Onslow Bridge (May 15). Nine boats were queued and ready as the friendly bridge tender ushered us through with a cheerful, "See ya next time." This leg finally had us to Morehead City, NC, and onto Oriental. Flora and fauna change slowly for us but they do change. Additionally, fishing changes, too. We are now in the land of crab pots which require a watchful eye in order to avoid wrapping a pot and its line around an engine's propeller. Oriental is a miniscule anchorage edged out by a marina (www.orientalharbor.com). Expected strong winds had us hoping to tie up at the marina but there was no room at the inn. Barefeet squeezed into a spot with (hopefully) enough room to swing without creating bumper boats. No dramas occurred and we wandered the town. This is a cruiser friendly spot with nearly every shop keeper or cafe owner ready with their own tales of cruising for short or long periods or to destinations near and far. Erin even made a few additions to her wardrobe after current inventory had simply worn out (and through).
Rejuvenated, we departed Oriental on a run to the Alligator River (May 17). Local wildfires had us away early the following day when the winds died and literally socked us in with heavy smoke. Barefeet smelled a bit like a campfire for a few hours (May 18). Scenery was slowly changing from swamps of the south to pine trees of the north. We made a smooth crossing of the shallow Abermarle Sound and onto a decision. At this point we had to decide whether to follow the Dismal Swamp route or the Virginia Cut route. We chose the Virginia Cut because we did the Dismal Swamp last time and wanted to sample the fabled prime rib at Coinjock. The Coinjok Marina is literally an 1100 foot stretch of dock 85 miles north of Belhaven and 50 miles south of Norfolk. The only thing to do there is tie up your boat and have a fantastic meal. We made a reservation for one prime rib (reservations recommended because even on a weekday they can sell out). Erin went with the prime rib and Chris went for a filet mignon. Okay, maybe we have not had wonderful beef in awhile but this meal was off the charts fantastic. The meat did not need chewing because it literally melted in our mouths. Wow, and the accompaniments of homemade potato chips dipped in ranch dressing, ice cold salad, cole slaw, french fries...there was no way dessert could even be contemplated. The official prime rib plate is the Captain's cut at a whopping 32 oz. Erin was more than happy (and only finished half) of the Mate's Cut weighing in at 16 oz. By the time dinner was underway all 1100 feet of dock were packed cheek to jowl with varying sizes of sail and motor boats. We have got to return to this place even if it is by land.
Osprey, osprey, osprey! Yikes, these guys are still on every channel marker and beautifully soaring above our heads - an easy way to pass the time. Don't even ask how many photos we have of osprey and their nests. This stretch of the ICW from Coinjock to Norfolk is peppered with bridges that open only once or twice per hour. It becomes a day of calculations; how far and how fast in order to make the next opening. If you arrive too early you have to hover and wait. Plus, if you're not careful the Norfolk surroundings sneak up on you with a startling abruptness and immediately change from osprey, dolphins and turtles to tugs, battleships and submarines. We made it through all nine bridges and tied up at the Waterside Marina (www.watersidemarina.com) in Norfolk, VA, where we planned to visit with several longtime friends (May 19). Dinner was a great reunion with Graham and Rosie. We swapped stories of the last few years and enjoyed catching up. Another great visit was breakfast with the Ashes who generously came to Barefeet laden with bagels, coffee and fruit. The portable feast allowed us not a moment of wasted time before leaving for Tangier Island. We definitely need more time in Norfolk. See y'all soon! But it was a 60-mile day to Tangier Island so off we went at 10am. Unfortunately, the current again turned against us which meant a 7.15pm arrival at the island. Parks Marina was full but Milton (Parks) squeezed us into the tourist ferry slot for free...just be sure to leave by 10am. Milton helped us tie up quickly so that he could give us a tour of the island in his golf cart with the small bit of sunlight left. Milton is an 85-year old marina owner who ended his career as a fisherman at 75! It was an easy tour of the three miles of road complemented by lore of the island and a bit of humor, too. Milton was quite proud of the two road signs. One says the speed limit is 15 miles per hour and the other says that the speed is checked by radar. The signs seem to break him up every time he sees them. Tee, hee, hee.
Crab is the name of the game on Tangier and it was the theme of our dinner, too; hot and creamy crab dip in a bread bowl with melted cheddar cheese, crab cake sandwiches and sweet potato fries sprinkled with cinnamon and sugar. Oh, and hope you are okay with soda because when Chris asked for a beer the waitress responded, "Oh, no, we don't have that." A nightcap aboard Barefeet and we were sleeping like logs...until 4am...when the fisherman went out en masse. No problem because it gave us an early start to wander the island before skedaddling pre-10am. The quaint island is literally falling into the ocean but you would never know it from the care taken with every lawn. Lawn ornaments seem to have taken on an unspoken competition of their own with neighbors squashing as much as possible into their yards, paths and house fronts...even headstones. No kidding, dry real estate is at a premium and sometimes there is just nowhere else to put Grandpa than beside the front walk (sorry Grandma but you will just have to walk past him coming and going until you join him). Tangier is a charming if not quirky place that we are glad we visited. But we had another long day of motoring to Solomons Island ahead (May 21). It was a long day with chilly temperatures that had us head to toe in fleece. Deb and Terry (s/v Wings) joined us in anticipation of dinner at the Naughty Gull restaurant. Memories of a nacho plate the size of Everest beckoned but...NO...the restaurant is closed. Aaagghh. Plan B was just fine; we laughed and laughed and dined a little, too, aboard wings. Then it was on to Annapolis, MD, to avoid some strong winds (May 22).
It was an afternoon arrival as we picked up a mooring ball due to strong southerly winds. We were tucked in snug and tight next to the Naval Academy and ready to explore the historic town. Hey, extra excitement was generated because it was graduation week with a scheduled overhead performance by the Blue Angels. New neighbors included a new type of bird...ducks. They swam around Barefeet and begged for bread. All we had were crackers but they were gobbled up in no time. Annapolis was full of resources which kept us checking things off of our To Do Lists; haircut for Chris, computer for Erin (hers died with the website locked inside) and a bit more Americana food. The Boatyard Bar and Grill remains a local favorite (www.boatyardbarandgrill.com). Holy cow, the cheese fries were like ambrosia. We are definitely eating our way through the region and loving every mouthful. Breakfast was as much or as little as we desired at the bustling Chick and Ruth's Delly on Main Street (www.chickandruths.com). We missed the Pledge of Allegiance at 8.30am but thought it was a great touch (May 24). Too bad but the Blue Angels had to cancel their performance. Something about flying too low at a previous practice or event?! Oh well, but the cancellation made it easier for us to move on to Georgetown, MD, and some boat work (May 25).
We are now on the hard for a bit of out-of-water work at the Georgetown Yacht Basin on the Sassafras River (www.georgetownyachtbasin.com). This oasis of services is smack in the middle of Amish farm country. Horse farms, roadside fruit stalls, wheat and corn crops (and WalMart) mix together nicely. Our list of chores is lengthy and we quickly became puddles of sweat in the "unseasonably hot" 90 degrees F. Yikes! It has been more than twelve months since we have had the chance to focus solely on Barefeet. No dramas but she needs some TLC. We worked solidly through the Memorial Day holiday weekend. We cleaned and fixed and painted and slotted in outside contractors for work that we cannot complete ourselves. Our reward in the evening is a cleansing shower followed by time with Phil, Lisa and their kids relaxing on their back porch with sundowners. Okay, the air conditioning is pretty great, too. We will keep at it for a few more days before splashing back into the Chesapeake. Soon it will be Boston or bust!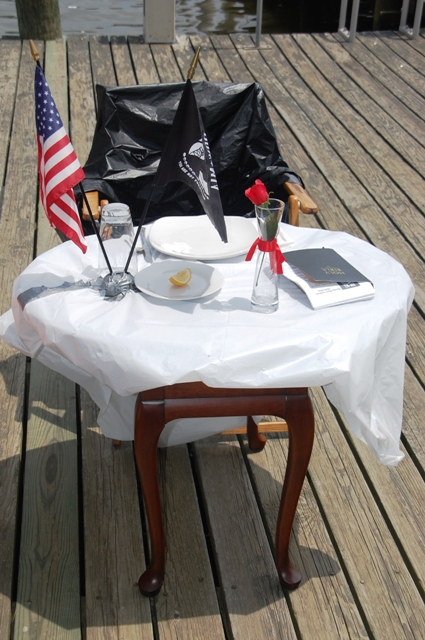 POW/MIA Missing Man Ceremony: The table is round to show our everlasting concern for our missing men and women. The tablecloth is white symbolizing the purity of their motives when answering the call to duty. The single red rose displayed in the vase reminds us of the life of each of the missing and their loved ones and friends of these Americans who keep the faith, awaiting answers. The vase is tied with a red ribbon - symbol of our continued determination to account for our missing. A slice of lemon on the bread plate is to remind us of the bitter fate of those captured and missing in a foreign land. A pinch of salt symbolizes the tears endured by those missing their families who seek answers. The Bible represents the strength gained through faith to sustain those lost from our country. The glass is inverted to symbolize their inability to share this toast. The chair is empty - they are missing. Let us now raise our glass in toast to honor America's POW/MIAs and to the success of our efforts to account for them.