Atlantic Crossing: January 12 2011
It was hard to believe that we were about to depart San Sebastian for our Atlantic crossing. We had been poised and ready in the starting blocks for over a month with adrenaline and anticipation increasing daily. Finally, the opened relief valve of our departure resulted in an explosion of excitement that would need to sit still, literally, for two to three weeks. It will take us a few days to settle into our Atlantic marathon.
We were given a boisterous send off by cruisers still in port with horns and whistles and waving arms (Dec 23). Bye bye guys...see you on the other side. Bouncing seas caused by two sets of ocean swells greeted us as we exited the marina and passed the island. The engines were on as we motored to find wind. Initially, we tried to ignore the movement of the sea. We made overly ambitious dinners served on pottery plates...roasted chicken burritos followed the next night by meatloaf with mashed potatoes and veg. However, the elegance of the evening ritual was spoiled as we ate "prison style;" one hand held a utensil while the other hand firmly gripped the table...all the while ignoring the plate as it bounced from the confused seas. Aaaggghhh. But a hot meal is always comforting and fortified us to enter the night watch schedule. The sun set, night fell and bbrrrrrr was it chilly.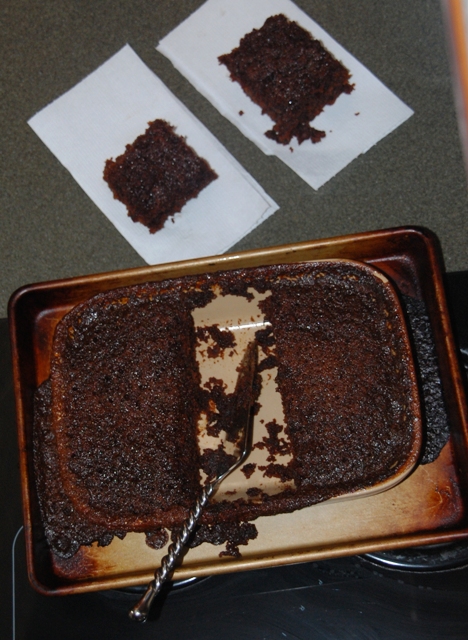 The third day out was Christmas and a bit of a break through for us. The Kiwi sea sickness pills, stugeron, banished Erin's nausea (thanks Becky) and we took a more realistic approach to dinner...simple canned chili heated with a block of cream cheese and scooped with tortilla chips. Yum! It was a wonderfully festive day with gifts exchanged as we ate freshly made hot, sticky gingerbread. Ooops, a sloshing ocean resulted in sloshing gingerbread. The day ended with holiday greetings exchanged over the SSB with Kimberly and Mark (s/v Swanya).
Rich and Black and Sticky Gingerbread (Out of the Ordinary Cookbook by Hingham Historical Society): 1.5 cups flour; 2 teaspoons ginger; 2 teaspoons cinnamon; 1 cup soft brown sugar; 1/2 cup golden syrup, corn syrup or maple syrup; 1/2 cup butter; 1/2 cup black treacle or dark molasses; 1 cup warm milk; 2 teaspoons baking soda; 2 eggs, beaten. 1) Grease 7.5x11 inch baking pan and line with parchment. 2) Sift the flour, ginger and cinnamon together. 3) Combine the brown sugar, golden syrup, butter and treacle in a sauce pan. Heat until butter melts and mixture is smooth, stirring constantly. 4) Remove from the heat. Stir in the flour mixture. Stir in a mixture of the warm milk and baking soda. Add the eggs and mix well. 5) Pour into a prepared baking pan. Bake at 325 degrees F for one hour or until firm. 6) Remove to a wire rack to cool. Cut into bars.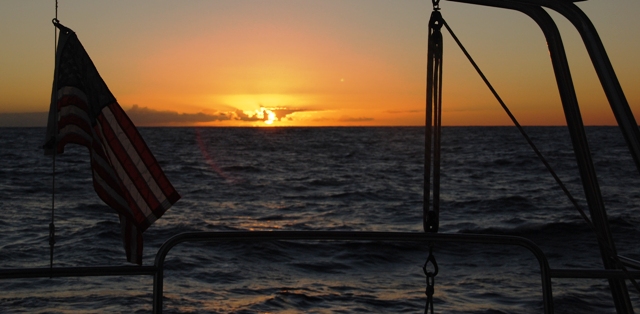 Our passage routine was slowly taking shape. Morning coffee as the sun rose was our relaxing start to the day. Daily SSB check-ins on the Rum Runner's Net at 1000 UTC on 8131 kept us informed about the location of friends as well as real-time weather conditions. Looks like dueling sea swells will remain firmly in our future for the duration of the passage...drat. Later in the morning we send our daily position report to our website and download any waiting emails (also on the SSB radio). The rest of the day is dictated by sail changes...in between which we read, nap, work on small projects and toss around ideas for dinner. Pretty soon it's four o'clock and time for an informal chat with s/v Swanya and s/v Wings. Then it is time for the day's main event...dinner. Will it be chicken, pork or beef? Noodles or rice? Any veggies left? How much prep of chopping and mixing can be done in the current sea state? Once decided and consumed the evening ritual ends with a Twix candy bar...and one evening cocktail to help Chris sleep on shift no.1 at 7pm.
The twelve hours of night are our most structured hours. They are divided into four shifts of three hours each. The rotation follows an age old sailor's strategy of "hot bunking." Erin is on watch, Chris sleeps...three hours later...Chris is on watch and Erin sleeps...and so on. The term hot bunking comes from the fact that the bed is always hot because it has, quite literally, just been vacated. Drowsy shift recaps are made as we pass in the night. It is actually pretty lonely at night...until the sun rises and we again share a cup of coffee together.
Day 4 and we were feeling warmer southern temperatures...encouraging us to swap our head-to-toe fleece for shorts and t-shirts (Dec 27). Equally positive was a more mellow sea state that had both of us rushing to the shower..yes, the first since leaving La Gomera. Our afternoon chat was especially exciting as a friend of Kimberly and Mark said "hello" on the SSB from an airliner flying overhead. Wow, that was really neat! And transmission was clear as a bell.
Day 5 included a couple of milestones; we moved our clocks back one hour (we will do this three more times before reaching Antigua) and we made our right turn for a westerly course (Dec 28). Yippee! Caribbean or bust! The turn required the spinnaker to be moved from starboard to port. All good and our kite continues to be our main source of propulsion. We were feeling festive after these milestones and added one round of margaritas to our pizza dinner. Ah, we are making way across the Atlantic.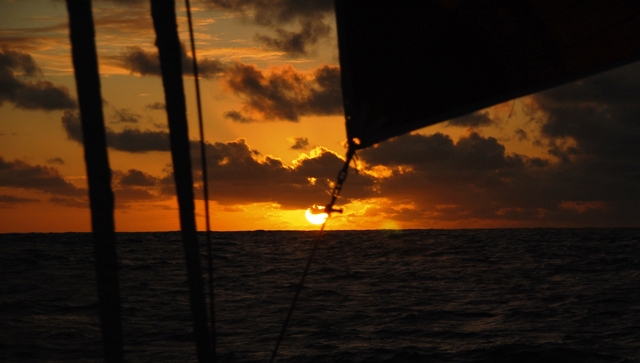 Now that we are so far offshore (between Africa and South America) there is no ambient light which allows the moon and stars to beam brightly in all their glory. However, the darkness between sunset and moon rise is...black as a bat's ass. There is absolutely no visible horizon line. Close your eyes...yep...that's what we see. The positive of all this blackness is that the rare passing ship is a snap to spot (okay, radar helps too). Chris had his heart racing one night when a commercial tanker failed to respond to his calls on the VHF. The tanker was aimed right for Barefeet who had limited maneuverability due to the flying spinnaker. Eventually, communication was achieved with 1.5 miles to spare as the response came back, "Hey, I didn't see you on AIS." Fair enough because we do not have AIS. Looks like AIS is now more the rule than the exception...leaving radar displays to collect dust.
But back to the magical nights. The stars are not small twinkling specks of light that vaguely outline mythological heroes and symbols. Rather, the stars are individual spot lights clearly delineating the immortal society of gods and goddesses in the heavens. The majesty of the stars dim as the moon rises. However, the reduced variety in the sky is transferred to the ocean where phosphorescence dance in the movement of the water around Barefeet. Greenish-yellow dots of light look like water bound fire flies. Wow - spectacular!
The days marched by with squadrons of flying fish zipping along the surface of the sea. The flying fish jump from Barefeet's path just like grasshoppers jump from hiking trails in the woods. Additionally, tunes dispel the vastness of the Atlantic (we love our Bose Sound Dock). The spinnaker steadily moves us forward at 5, 7...even 8 knots. Fantastic! Hey, it's New Year's Eve. We celebrated with caesar pork tenderloin, mashed potatoes and Spanish Cava (champagne). It was a fun evening and it has been a wonderful 2010. 2011 here we come.
Day 9 and we were into 2011 (Jan 1). Clocks were moved back for a second time and we were at our half way point...1410 miles to go (Jan 2). Wildlife has been pretty shy; however, Chris spotted the slow arching back of a whale 50 feet ahead of Barefeet. Stunning! Erin ran up on deck as fast as she could but missed the visit. Ah well, another time. Dinners of chicken tikka masala, apricot chicken and make-your-own quesadillas have slotted in nicely as the spinnaker continues to fly.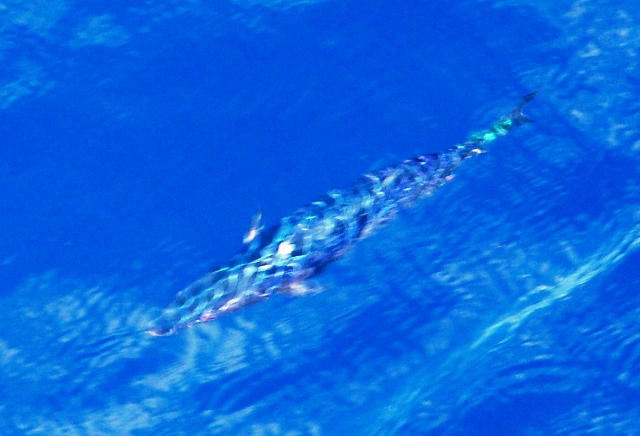 Day 11 arrived with modified conditions in the form of lighter winds (Jan 3). We turned the engine on to continue making progress; however, this makes us a bit anxious because we can only play this game so many times before we will run out of diesel. But for now the engines are still an option in our arsenal of propulsion methods. Further soothing nerves was Chris' freshly made bread spread with butter...still warm. Later, the morning Rum Runner's Net had landfall announcements for several cruisers arriving into Barbados...should be quite a party. But not yet for us as we continue plodding along. Hey, we were joined for hours today by a small yellow fin tuna. Amazing. He kept right beside the boat with jumps and sprints through the surface of the water. Quite the energetic little fella.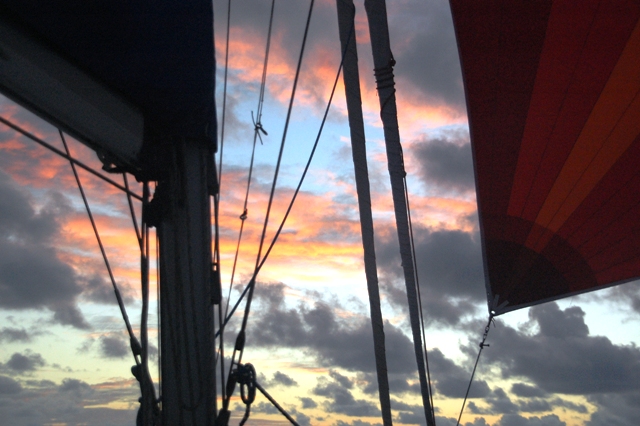 Day 13 was a taxing day (Jan 5). Grey rain clouds covered the sky and a squall settled right over us. We had great speeds (up to 10 knots) but several wind shifts kept us running between rain drops to make numerous sail changes. Thankfully, by about 4pm blue sky was nudging out the grey, winds became a consistent 15 knots and the sea state mellowed into a steady roll. Phew, and with another time change it was an extra long day. We are feeling the length of the passage at this point and eagerly celebrate...anything. Today we dipped below 1000 miles to go. Hooray!
Temperatures continue to climb which now has us in bikinis and trunks working on our base tans...hoping to reduce lobster red skin once in the Caribbean. Boredom is the big enemy at the moment with not much keeping us distracted. The spinnaker has finally been replaced by duel head sails as we go wing on wing...keeping us chugging in a straighter line. Eeek, a flying fish jumped aboard and flopped along the deck and past Erin in the helm seat. Definitely an initial shock but a gentle shove had him back into the sea (Jan 6). Oh, and Chris spotted a large brown turtle swimming...in the middle of the Atlantic (Jan 7)?! We both watched as he non-chalantly eased further away from Barefeet. What does he find to eat our here?!
An increasingly common daytime activity is trading off lying in the bed. This is not so much about napping as it is about relaxing our clenched muscles. It is a real relief not to be bracing with every movement...including sitting. The sea state remains sloppy and makes us weary. Did we mention that the blush is off the rose?! Especially as winds are lighter and arrival seems to be dangling further in front of us.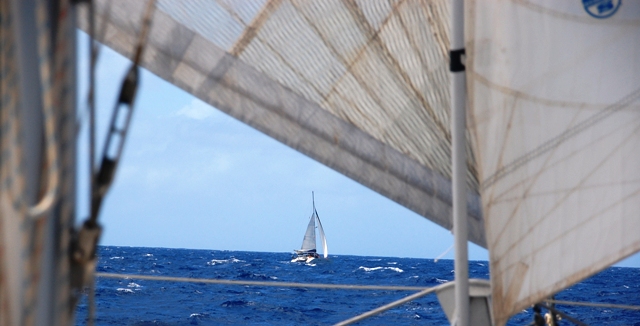 As forecast the winds picked up to 15 knots on Day 16 which had us back zipping at 7+ knots (Jan 8). Oh man, Poseidon is tempting/taunting us with an arrival three days from now. Blow winds blow! The ocean is a big place but we just crossed paths with fellow cruiser s/v Connect 4 heading to St Martin. Crazy. Winds held into Day 18 (Jan 10). The chart plotter shows us getting closer to Antigua but our scenery is unchanged...18 days of sea and sky...that's it. It can be tranquil but monotony also sneaks in. So much sitting has our butts flattening out and developing right angles as they mold into the seats...dubbed freezer chicken ass in honor of Bahamian frozen chickens. Ouch! You see, Bahamian market freezers thaw and refreeze, thaw and refreeze so many times that the once round fryers become square blocks as they settle into the corners of the freezer.
Holy cow, if we can maintain 6.5 knots we will arrive tomorrow. It is sheer will power not to remain glued to the speed indicator. Oh heck, on went the port engine at low revs...we have enough diesel and there is no need to chance an arrival postponed 12 hours by the setting sun. Strong winds and continued washing machine seas carried us into Falmouth Harbour in Antigua (Jan 11). Two turtles were our welcoming committee and a pelican flew overhead. Wow, 4.01pm and we were anchored in the Caribbean. Our 2810 mile Atlantic crossing was a 19 day passage with a total of 48 hours of motoring. Now it is time to relax and enjoy our accomplishment. We cleaned up with showers and toasted our arrival with Deb and Terry (s/v Wings)...first swig to Poseidon as our grateful offering. The completion of the crossed Atlantic has not sunk in but sleeping together in clean sheets was heaven. First order of business ashore after officialdom and clearing in will be to find an internet source followed closely by a burger and fries...with a celebratory cocktail!
We will spend the next few months slowly moving northwest through the Caribbean; Antigua...Barbuda...St Bart's...British Virgins...US Virgins...Bahamas. At least that's the rough plan at the moment. After leaving the Caribbean we will make our way to the Chesapeake in the Spring and New England for the summer. The loop is closing on our circumnavigation but there is still plenty to see...and eat. But for now we will savor our passage arrival.