Antigua: January 31 2011
We have arrived in the Caribbean from the Med, celebrated with a cheeseburger in paradise...but struggle to gain our equilibrium (Jan 13). We were easing into our more favored routine of life in an anchorage but nights were still stop-and-start sleeping due to residual internal shift clocks from the passage...naps helped to soften the edges. It was quite amazing to dinghy ashore, be surrounded by the English language, walk the quiet streets...and find long unseen products on the market shelves such as Lucky Charms cereal, canned pumpkin and Libby's corned beef hash. Boat projects had accumulated but, thankfully, nothing was broken; we had our mail cleared through customs, got an estimate for the replacement of life lines, got connected to the internet and canvassed the supermarket situation. Getting connected to the internet became the now familiar maze of confusion. Internet via a cell phone sim card could only be purchased in St John's (the island's capital) which had us off for a bus ride. Yikes, St. John's is a bustling and busy place with cruise ship docks, duty free jewelry and traffic lights. We found the Digicel cell phone office and were back to relaxed Falmouth Harbour within a couple of hours. Hhhmmm, it seemed to good to be true. Drat, after countless phone calls the internet was still not working...hours of frustration meant that we finally broke down to purchase a HotHotHot internet connection. We will sort out the Digicel over the next several days.
Holy guacamole, this really is super yacht central (read gigantic). The super yacht Mirabella V (247 feet long, largest single masted yacht in the world...whose mast is so tall that she cannot pass under the Golden Gate Bridge) was surprisingly overshadowed...by the dusk arrival of the Maltese Falcon (289 feet long with three rotating masts that hoist 15 sails). At night, the stern tied super yachts become a forest of lights which more closely resemble a metropolitan skyline than a marina. All these masts are topped with red lights which indicate that the mast is a minimum of 100 feet high. Talk about an ego alley?!
Our base of operations in Antigua is on the southern side of the island in the side by side ports of Falmouth and English Harbours. We started out in Falmouth Harbour but later moved around the corner to English Harbour where the dinghy ride is a bit drier and the surroundings are a bit prettier. During the move we filled up with diesel at Antigua Slipway across from Nelson's Dockyard (Jan 14). Sunshades were tied, laundry was begun and we were settling into a laid back routine. Hey, we even caught a Duke basketball game and an NFL playoff game at the Mad Mongoose...live and with American commercials...amazing. Stretching our legs feels pretty strange but we wanted to get back into walking mode. Sunday morning we walked to Fort Berkely Point of English Harbour, across Middle Ground peninsula and out to Pigeon Beach of Falmouth Harbour (Jan 16). Ruins of military fortification were dotted along the ridge which date back to the mid-1700s when Antigua was Britain's main naval station in the Lesser Antilles. In Nelson's Dockyard the buildings were beautifully restored in 1949...and the 12 square miles of land around the dockyard designated a National Park. The buildings are solid stone with hand cut beams that once housed naval officer's quarters, copper and lumber store, blacksmiths, sail loft and other officialdom and repair facilities needed when the British Fleet were stationed here. The Copper and Lumber Store is now a charming hotel with comfy pub and elegant patio terrace (www.copperandlumberhotel.com).
Kimberly and Erin headed to St. John's in search of the much talked about Epicurean supermarket. It blew our socks off! The place was immense. And packed with so many familiar items that it felt like we had taken a plane ride to the US rather than the two bus transfer from the dinghy dock (Jan 18). They had Pop Tarts, Cheez Its, kitchen sponges (yes, a sought after item), shelves of Campbell's soups, Jack cheese, Havarti cheese, Pillsbury croissants and biscuits, more Oscar Meyer products than I even knew existed, Crisco, Woolite, chocolate chips, bagels...it was practically a religious experience. We filled an entire mini-van taxi with just the two of us and our bags...schlepping home on the two buses was not going to happen. We had not planned on buying so much but it just could not be helped. Back aboard and bags were unloaded. Chris was pretty sure the boat larders were already in good shape but he enjoyed the treasure chest as it was unloaded. All of these new ingredients made choosing just one item to bring for sundowners ashore with fellow cruisers a hard choice. Cheesecake bars on a real graham cracker crust was the winner. Picnic tables on the grass made for a nice perch as the guitars played and the skies turned to night (Jan 19). Kurt and Katie planned the evening which was reminiscent of their previous parties on Graciosa Island. Well done! Tall tales were told, Atlantic passages were discussed and future island itineraries were vaguely outlined...as well as faces put to voices previously only heard on the Rum Runner's net.
Cheesecake Bars: 1.5 cups Graham Crackers, crushed to crumbs (8 crackers); 1/2 teaspoon ginger; 1/2 teaspoon nutmeg; 2 Tablespoons sugar; 1/4 cup (1/2 stick) butter, melted; 2 pkg. (8 oz. each) cream cheese, softened; 1/2 cup sugar; 1/2 teaspoon vanilla; 2 eggs. 1) Mix together crumbs, ginger, nutmeg, 2 T sugar and butter. Press firmly onto bottom of 8- or 9-inch baking pan. 2) Beat cream cheese, sugar and vanilla until well blended. Add eggs and mix just until blended. 3) Pour over crust. 4) Bake at 350 degrees F for 40 minutes or until center is almost set. 5) Cool then refrigerate for three hours or overnight. Cut into 16 bars. Store leftover bars in the refrigerator.
We focused on minor bookkeeping as well as basic maintenance for Barefeet as we walked the streets of Falmouth and English Harbors for resources; continued life line replacement chats (Antigua Rigging behind Catamaran Club), generator servicing (engineer Wesley at 764-5525), purchase of spare watermaker filters (Watermaker Services on main road toward Cat Club), sort out taxes back home (really a joy via skype which has a connection ALMOST good enough to make automated payments), refill propane tank (Jane's Yacht Services), receive a mail drop (c/o Nicholson Yacht Charters, Stanly Tavern), hair cut (Akparo in Nelson's Dockyard)....and other odds and ends. Some walks are fairly long but amply rewarded with lunch under a shaded porch...like at Sweet T's with delicious marinated chicken breast sandwiches and fries (Jan 20). Or the wonderfully refreshing Caribbean soft drink called Ting...like a fruity Fresca...helps after hot treks under sunglasses, hats and sunscreen. Have we only been here nine days?! Cruisers continue to arrive making the social whirl of the Med replicated here in the Caribbean. And it is quite amazing to see so many American flagged boats...we are still getting used to this fun bit of familiarity.
Sundays are a 29 year institution on Shirley Heights above English Harbour and not something we wanted to miss. Dinghies from Barefeet and Interlude helped shuttle a dozen cruisers to Galleon Beach where we hiked up a dirt trail to the cleared hilltop party (Jan 23). The hike was drippy sweaty but the views from the lookout were amazing and accompanied by a gentle trade wind breeze. The cleared hilltop was starting to get crowded and ready for the "jump up." Shirley Heights is a wide open grass lawn scattered with wooden picnic tables, several grills smoking with jerk chicken and burgers, additional picnic tables on flagstones laid during the time of Horatio Nelson...and glasses of ice cold rum punch topped with grated nutmeg. Mansfield the weaver wove hats, baskets and miniature palm trees from palm fronds...while you waited, swaying to the music. The dozen plus Halcyon Steel Orchestra energetically added to the island feel with their steel drums that did not stop for four hours. Some drums were polished and shiny while others were, quite literally, 55 gallon steel drums. What a spot! The sun slid into the ocean and the super yacht mast lights turned on below us at Falmouth Harbour. We had a great time...and even enjoyed the hike back down Lookout Trail after our rum punch(s) with head lamps and flashlights.
We continued with projects...Erin into St. John's for provisioning and Chris on the boat for oil changes to both engines. It was a long hot day for both of us but it was a lovely evening (Jan 24). Wind in the anchorage was tranquil rather than bulleting so we grilled chicken with marinated asparagus. But the real star of the plate was an Idaho baked potato with crispy skins...topped with butter, salt, pepper...and sour cream. Wow! It was an amazing meal that we had not had for...going on three years (thanks Epicurean Market). And who knew that Idaho potatoes were so unique?! They put the golf ball sized potatoes we have been having to shame...and the Idaho skins are in a class unto themselves. Sorry Idaho, we will not take your spuds for granted ever again. The next morning Erin made an early morning walk up to Shirley Heights for photos with the light from behind (Jan 25). The peaceful morning was cool as the sun slowly rose beyond the lookout.
Friends are moving on and we are feeling itchy to see new places. However, we continue to wait for confirmation of an installation date for the replacement of our life lines. The job will take only a single day but parts arriving from off island are proving to be a hurdle. Erin filled this extra time with a cooking class (Jan 26). It was called Cooking With Rum...a great intro to the drink of choice for Caribbean pirates, buccaneers and dispatched navies...as well as a great flavoring for sweet and savory dishes (www.NicolesTable.com). The class was taught by Nicole, a warm and friendly woman who has returned to her native West Indies to raise her family after living and working in the United States. We were a class of three with hands on preparation of a three course meal...and a bit about the history of rum.
Rum is made from sugarcane byproducts such as molasses and sugarcane juice and usually aged in casks. Antigua rum is generally a bit darker with a fuller taste and stronger underlying molasses flavor...as opposed to French rums that are fiery in taste and produced exclusively from sugar cane juice (e.g. Guadeloupe and Haiti)...or Spanish rums that are light with a clean taste (e.g. Cuba, Panama, Puerto Rico). We chopped, measured and prepared...sautéed, simmered and grilled...creating heavenly aromas that scented the trade wind breeze. Nicole's assistant Connie was ever eager to help with the destruction (that is...opening) of a coconut...for coconut milk made from scratch?! Wow, that is a new skill. The result of our introduction to West Indian flavors was sweet potato soup with rum, rum and brown sugar marinated flank steak, plantains wrapped in bacon, red beans and rice (cooked in coconut milk), garlic green beans and ginger rum cake. Lunch was delicious and relaxed as we sat high above St John's Harbour on Nicole's porch gazing at the expanse of the turquoise blue sea.
Rum and Brown Sugar Marinated Steak: 1/2 cup soy sauce; 1/3 cup dark rum; 1/3 cup packed brown sugar; 1 Tablespoon Dijon mustard; 2 lbs flank steak. 1) In a small bowl combine soy sauce, rum, brown sugar and mustard. Mix until sugar is dissolved. 2) Place the flank steak in a shallow baking dish and pour the marinade over the meat. 3) Let meat marinade at room temperature for 30 minutes. 3) Remove steaks from marinade, shaking off any excess liquid. Reserve marinade. Grill to desired doneness. Remove from grill and let steaks rest 5 minutes before cutting. 4) Pour marinade into small saucepan and boil over medium heat until syrupy, about 3 minutes. Slice the steaks thinly across the grain and serve drizzled with the sauce.
The return dinghy ride from the cooking class was accompanied by a jaw dropping example of material science gone wrong. Ooops, a super yacht had their boom "fall off" in light conditions...crushing the coach roof and creating endless havoc. Hey, that's our riggers with head sets directing a crane to remove the final bits of broken detritus. Massive! Guess the riggers are a bit busy...and we still only have a "definite maybe" for life line replacement in three days. But we needed a change of scenery. So off we went to rendezvous with Kimberly and Mark at Deep Bay (Jan 28). Ick, the anchor chain was COVERED with thick furry moss that was loathe to come off...seems we had the anchor down too long.
It was a windy motor around to the northeast corner of the island...but not a long distance since the entire island is only 2.5 times bigger than Washington D.C. We felt a bit jittery as we exited the harbor but soon settled into the move and a new anchorage. Deep Bay is a peaceful spot with a long, white sand beach, turtles constantly surfacing nearby Barefeet for air, ruins of Fort Barrington perched on the hill above and the wreck of the Andes submerged below within the anchorage. This was a wonderful spot for our farewell grill with Kimberly and Mark...tomorrow they continue towards the Panama Canal and, ultimately, to San Diego, California. Fair winds guys - we will miss you. We stayed another day in Deep Bay...walking up to the Fort and swimming on the wreck (Jan 29). The wreck is so shallow that snorkeling is all that is needed to have a Titanic moment as the three-masted barque majestically rests upright on the bottom of the sea with its prow pointing valiantly to the surface. Wow, lovely sea fan coral swayed as gracefully underwater as the palm trees on the beach. Schools of fish dart in and out of the ship's skeleton which is amazingly intact leaving little to the imagination and adding to the fascinating maritime history of the Caribbean. In 1905 a fire in the Andes' cargo hold (containing pitch) resulted in a rapid fire that burned the wooden deck off of the steel frames...and quickly sunk her.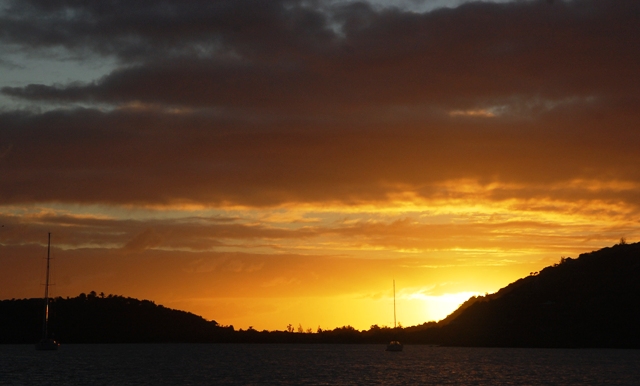 Good news from our rigger had us pull up the anchor and headed back to Falmouth Harbour. Bye, bye turtles! We motored back over large seas...no dramas. We were anchored beside s/v Stardust and it felt good to enter a familiar harbor (Jan 30). Sundays are quiet in Falmouth...just the way we like it. We will move to Barbuda island in the next few days as we make our way to the British Virgin Islands.