Sardinia...Corsica...Mainland France: July 14 2010
We continued exploring the Italian island of Sardinia with a rental car along the northeastern coast, also called the Costa Smeralda (Emerald Coast), scouting anchorages for the next several days (June 25). The distances are small (the entire Emerald Coast stretches a mere 30 miles) but the anchorages are plentiful and spectacularly pristine. Resorts abound but are neatly and discreetly tucked into the folds of the hills so that Mother Nature's beauty remains front and center. Rugged coastlines alternate with sandy beaches as sailboats zip along in generally favorable wind. The annual Maxi Yacht Rolex Cup sailing race attracts some of the most expensive sailboats in the world...and the glittering social scene that whirls around them. We were between race seasons and missed any race hoopla but were spellbound by the scenery. There is a lot still to see...and with friends about to arrive from Boston...we were thrilled. Lino and Phyllis arrived into Olbia with bags in tow...yippee, and a first for them because previous visits to see us in Fiji and Greece resulted in lost bags a la the airline. Immediately ready to go we first stopped at the Super Pan market for a bit of provisioning before relaxing aboard Barefeet for sundowners. The next day it was an easy motor literally around the corner to anchor in lovely Golfo Marinella (June 26). Colorful windsurfers flew above the water that was colored several shades of blue. Jet lag easily fell away with a leisurely steak dinner aboard Barefeet in a tranquil setting.
Porto Cervo (pronounced chair-vo) was our next stop (June 27). It is supposed to be quite the place for the rich and famous thanks to billionaire sailor Prince Karim Aga Khan IV. The Prince has developed Porto Cervo into an "elite retreat," considered one of the most expensive resort towns in the world. The Yacht Club Costa Smeralda is the center of the action and often home to gigantic mega yachts. We squeezed into an anchor spot just outside the private club and heard the piano playing at sunset...nice mood for our cocktails, too. We explored the streets but believe most of the luxury is behind the closed doors of villas...several spotted from Barefeet's decks. Oh, and tied up nearby was 370 foot long Dilbar...the 17th largest private yacht in the world. Wow - the scale was hard to fathom as we saw crew cleaning hulls looking like mere specks on her massive sides. We got an even closer look at several of the mega yachts when we topped up the fuel tanks. Yikes, don't get cut off by the tenders...they are aggressive in queuing. The fuel attendant mentioned that high season does not start for another ten days but you could have fooled us. We continued to be spellbound by the villas and natural beauty as we moved further north to Golfo di Arzachena. The deep bay has two harbors but we opted for a shallow 8 foot spot off of Capo Tre Monti (June 28). We swam off the boat to cool down and watched the apricot sunset blend with the pink beach umbrellas in a coordination of efforts that had to be planned.
We hope to return to Sardinia some day but for now we needed to keep moving. We pulled up the anchor at 7.30am in the hopes of arriving in Bonifacio, Corsica, in time to get a slip (June 29). Conditions were calm through the strait and we made it into the gorge carved harbor at 11am. It really is an amazingly busy highway in this sliver of a harbor with sailboats and motor boats moving to accommodate bigger and bigger boats while dock hands zip here and there seemingly underfoot directing newcomers to available slips as quickly as the slips are emptied. Phew, we had a spot and could now sit back and watch the circus...rather than be a part of it. Bonifacio is the self-proclaimed land of extreme beauty...and it is an impressive spot. Okay, beauty has a price. It was approx $110 to tie up per night but that was better than we had been led to believe through the cruiser coconut telegraph. Limestone cliffs support the town which now resembles a deck perched over the sea created by carved out ledges. Looks a bit precarious to us but certainly makes a one-of-a-kind impression. This spot has been unique for a long time...likely referenced by Homer as the harbor of Laestrygonians from the Odyssey. Later the Romans, Genoese and finally the French laid claim to the area. Our arrival to Corsica means that we have now traded the cannollis and olive oil of Italy for the croissants and butter of France. Erin is having fun using her French but is experiencing initial stage fright. Did I just ask for two stamps...or two posters?! Happily settled we walked up the hill from the harbor to the old town. Homes rise four and five levels high blocking out the often howling winds of the cape location. Back to Barefeet and the circus continued in the harbor. Our snug spot was lovely as night fell and lights were illuminated...and the limestone reflected the light such that it resembled clouds hovering above us. Amazing!
To stay another day in Bonifacio or to go?! We vacillated back and forth and back and forth but simply could not ignore the forecasted calm conditions which would make for a mellow motor to mainland Europe and the French Riviera. Off we went at 10am for the 190 mile, overnight passage (June 30). This was an especially restful passage for us because Lino and Phyllis slotted into the night watch schedule. Thanks guys. A pizza dinner evolved into the first shift and all was well. No dramas at all until the black of night...WHAM BANG...something happened to the port engine. Did we hit a log? Or a fishing net/buoy? Or did something snap? It would have to wait until the morning to be sure but in the meantime the port engine was shut off. Calm conditions and the light of the sun allowed Chris a look at the propeller. Hhhhmmm...cutlass bearing ripped apart...aaaggghhh. Sadly, replacement can only happen with the boat OUT of the water. For now we will only use the starboard engine while investigating haul out options and part deliveries (from the US).
As we neared the French Riviera it was clear that we were in a new locale. There were super yachts everywhere...and their wakes were a real challenge to avoid. It was an afternoon arrival and we anchored in the charming bay of Villefranche...a small village located between Nice and Monaco (July 1). Oh, and the speed limit in the bay is 5mph...fantastic! The water seems to draw many sun seekers...clothing pretty much optional...hhhmmmm. Ashore is a compact little town easily walked in 15 minutes. Tucked in a tiny alcove of a street (rue Obscure) was the marvelous L'Aparte restaurant (ph+330493018488, www.restaurant-laparte.fr). Wow, what a meal; sashimi, goat cheese bundles, baked brie, steaks with butter or homemade barbeque sauce, duck with maple/brown sugar...definitely no room for dessert. The friendly female owners previously spent 14 years in the Caribbean and finish each meal with complimentary, homemade rum...we chose the coconut as well as the banana/vanilla. Yum! July 2 we got down to business by locating a self-service laundry, finding provisions (including a boulangerie) and getting the train schedule to nearby Nice and Monaco. Villefranche has all that we will need as a base to travel in the area. Our first travel was 15 minutes on the train to Nice ($5 each round trip) (July 3). We found a one month internet plan and were off to the old town. Today, Nice is the capital of the Riviera but it began in 350 BC as a small trading post for the Greeks. Later it was favored by the Romans, the Duke of Provence, the House of Savoy and finally as part of France in 1860. We were impressed by the miles of sandy beaches covered in umbrellas and the colorful shuddered buildings with awnings. We settled into a sidewalk cafe below bright red awnings and watched the activities of the vegetable market and the promenade of people.
It's the Fourth of July! We decided to spend the day on the boat swimming, sun bathing and indulging in a hamburger barbeque. It was a scorchingly hot day and all of Villefranche seemed to be on the water with us. The atmosphere was festive...even if the French weren't quite celebrating what we were celebrating. Coincidentally, there was a US military ship in port. The USS Taylor FFG-50 was bedecked in flags but, sadly, no fire works. This straight from commanding officer CDR Hall. Oh well, next year. Wow, the burgers were works of art...nothing better.
First thing the next day...what trundled by but a trash barge?! Great help for post party clean-up and much appreciated by Erin. Lino tossed our bags of garbage into the bins...trash is done. Followed by a beer for each trash guy tossed at the end.
Our next travel plan was 20 minutes to Monaco via train ($8 each round trip) (July 5). It was again a hot and humid day but we dressed a bit nicer for the glitzy destination. The small country is quite vertical as it climbs along the hills not leaving a single inch unutilized. The city was as clean and manicured as Disneyland with oodles of money seeping from ornately decorated casinos. But try as we could...how do we find a casino that is open and humming? Enough walking for the time being so we took a break in the lobby of the Fairmont Hotel. It was cool and quiet with huge plate glass windows onto the sea. Revived by cold sodas we entered the Sun Casino for a bit of craps. Although only 5pm we had a fun couple of hours and managed to end ahead. Okay, just a small bit ahead...but ahead. We strolled the harbor and were truly amazed at the size and numbers of the enormous yachts. Monaco is quite a place.
Back to Barefeet and we slowly slipped through the next few days. Meals aboard and ashore, dips into the water between tanning sessions and World Cup excitement. An afternoon ice cream from the passing ice cream boat or a curious gaze at the lack of bathing suits...or speedo styles. The World Cup was a big draw and our TV spot was at Le Cosmo Brasserie and Restaurant (ph 0493018405, www.le-cosmo.com). We sat under the stars (games started at 8.30pm) in the warm summer night with cool rose wine or liter beers. Is that really how big a liter is?! Yikes! Before long it was our last night with Lino and Phyllis (July 8). We headed back to our "favorite" restaurant L'Aparte. We ordered some already adored items as well as some new ones...rose and strawberry tiramisu with vodka infusion. Holy cow, it was amazing. It seemed odd as we returned to Barefeet with just the two of us but the calendar always marches on. Our replacement cutlass bearing was ordered from the USA (thanks for the phone, Phyllis) and would arrive in Toulon for our haul out at Port Pin Roland. Time for us to move along, too.
We moved along the coast and anchored off of Cannes in a sand alley between Sainte-Marguerite Island and Saint Honorat Island (July 9). The spot was too picturesque to leave so Cannes will have to wait for a future visit. The anchorage was crowded cheek to jowl during the day but emptied out to just a couple dozen boats by the evening. An offer to deliver hot croissants and a newspaper the next morning was tempting but we needed an early start to arrive in St Tropez around Noon in hopes of finding an anchor spot. We found a spot beyond the weed in Brigitte Bardot's Canoubiers Bay just around the corner from St Tropez (July 10). However, it seems we have also uncovered the dirty little secret of the Cote d'Azur...mega yacht wakes. No joke, these are yachts that sprout from the sea like a village of high rise condos. And, the engines that go along with these yachts are equally massive and not generally whisper smooth. The anchorage rolled like we were on passage and the dinghy ride into town was more like river rapids. Yes, there is a 5mph speed limit but it does not seem to apply to anyone in the bay. Hhhhmmm. St Tropez was a lovely town with a crescent shaped harbor lined with sidewalk cafes and the few super yachts that would fit (and were successful in out bidding the dozens outside the harbor). Despite the mountains of steaming mussels, sweet crepes, flaky croissants or creamy tarte Tropezienne we decided on lunch at a tiny Thai restaurant on the Quai Jean Juares. We have not had anything Thai since leaving Phuket almost 1.5 years ago and we miss it. The chicken pad thai was great and took us right back with the noodles, cilantro and sweet/spicy sauce. We finished the afternoon with a bit more wandering before stopping into the Casino supermarket. Wow, they had cilantro! This was awesome. In honor of finding this long lost herb we decided on homemade salsa and tortilla chips with margaritas for dinner. Yum, the flavors were a welcome change...not leaving anything to waste we slurped the liquid too thin for the chips.
Salsa: small onion, chopped; 3 tomatoes, chopped; bunch cilantro, chopped; 2 cloves garlic, chopped; juice of one lime; splash of tequila; salt and pepper. Combine all ingredients in a bowl. Bon appetit!
St Tropez was alright but the wakes really made the anchorage untenable. As a result we scedaddled to the National Park Island of Port-Cros (July 11). The island was a pleasant change of pace with hiking trails through wooded hills, crystal clear water brimming with fish and a couple of casual spots ashore for a cocktail and for viewing the World Cup Finals (www.portcrosparcnational.fr). Such a combination of National Park with a pinch of tourism has definitely been rare along our travels but is a real favorite of ours (thanks for the tip m/v Frog Kiss). We eeked out a second day of hiking and snorkeling before moving onto Toulon to check on our package delivery and haul out marina (July 12).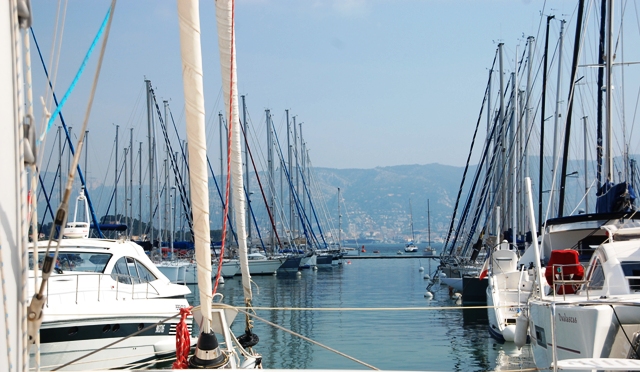 No real love was felt as we tried to get the particulars about the next day's activities. We were simply told to show up the next day whenever we wanted and we would be hauled. It all sounded a bit too vague but that was that. It was a bit of a gamble for us to be hauled without the part in our hands because the only reason to come out of the water was the cutlass bearing replacement...which was "nearby" according to the DHL website. But waiting one more day would actually mean waiting two more days because July 14 is Bastille Day (France's Fourth of July) when everything would be closed. We decided to roll the dice and arrived at 10.30am for the haul out on July 13. The busy marina was certainly a commercial contrast to our National Park anchorage with cranes lifting, fork trucks buzzing and workers carrying out tasks of all kinds on grease and oil stained, dusty concrete. Chris squeezed down an alley of moored boats into the haul out slip with a mere foot or two on each side...BACKWARDS...and with a sickly port engine. Well done, and not a scratch anywhere. All we could do now was sit and wait to begin our daunting repair.
Here is how it went...
10.30am * tied up in the haul out slip awaiting "imminent" lifting.
2.30pm * Barefeet hauled and pressure washed (copper coat looks pristine, by the way)
3pm * work began
3.30pm * part arrived via DHL
8.45pm * called it a day after disconnecting the drive saver from the transmission, removing the dripless shaft seal, decoupling the propeller shaft, removing the shaft and propeller completely from the boat (soap eased the slide) and removing the shredded cutlass bearing with a combination of pounding, tearing and ripping.
We were beat but thrilled with our progress. Off we went with shower tokens in hand to clean up for a much needed meal.
The next day we put it all back together again. Clearances between cutlass bearing and shaft P-bracket are thinner than thin so we left the cutlass bearing in the freezer over night to "shrink" as much as possible. Well, it all worked and the shaft slid into place through the new cutlass bearing. This has been a nerve-wracking, major repair with alligators up to our armpits. However, it looks like we have done it and will be ready to go back into the water tomorrow July 15. Chris has once again been an amazing mechanic persevering through broken hacksaws, tedium, yoga positions and improvised methods. Oh, and Erin was gopher extraordinaire and cheerleader. Tonight we will relax before getting back to our itinerary of exploring the Mediterranean coast of France.