Morocco: October 13 2010
Back aboard Barefeet after an exotic visit to Marrakech, the Atlas Mountains and Casablanca...and Erin collapsed into bed where she gave into her flu and slept for 24-hours (Oct 1). It was good to be home. We slowly unpacked and picked away at a few boat projects while enjoying the magical view of Rabat's Kasbah across the river. However, necessity has a way of re-ordering the list of To Do's. The weather forecast indicated an extended stay in Morocco which meant that it would be a race-to-empty between our water supply and our propane supply as to which would run out first. The propane has been dwindling ever since we left Greece and unable to be refilled in Europe due to regulations across European borders that only allow the refilling of a respective country's bottles...long live the EU?! Propane is pretty important to us because we use it for cooking...on the grill, on the stove top and in the oven. After originally being told that we could fill our bottles in Rabat by marina staff...that did not pan out (determined after 8-hours of driving around the city in a cab). So Chris and Bob changed gears and instead scoured the city for parts to gravity feed propane from Moroccan bottles into North American bottles (Oct 5). Bingo! Both boats are now filled to the gills and should be all set until the Caribbean...where North American fittings are no problem for a refill. Baking and grilling remain on the menu! Our water strategy is a bit simpler...use as little as possible in order to avoid filling with dock water (marina water will too quickly clog our watermaker filters). This might seem a bit paranoid but we just don't want to chance a belly bug if we don't have to and it is unclear how long the weather will keep us here. Using as little water as possible means showering in the marina showers, washing dishes with a rinse of dock water first...and flushing the fresh water toilet African style with a bucket of fresh water from dock water.
The days slid by with a bit of gel coat ding repair and food shopping finished in the evening by the clinking of NyQuil shot glasses. The quality of local produce is surprisingly poor...literally not even worth the time to undertake the lengthy process of finding a single, reasonably unblemished tomato or lemon from a pile the size of a western fridge. However, other options exist. For example, the "soup lady" who works from a stall in the Sale medina barely larger than a closet. In her small space she churns out harira...a thick peppery, tomato-and-chickpea soup that is Morocco's second staple after couscous. She happily filled Erin's Tupperware container for 10 dirhams...$1. And matlouh (Moroccan flat bread) is grilled up on nearly every corner. Really best if eaten as soon as it comes off the pan. Additional exploring led to the further discovery of Moroccan and North African spices...ooohhh...the green harissa. This is a sinus clearing condiment that tastes as if limes were mixed with hotter than hot chilies...it livens up everything it is added to. And the tiny red sausages that sizzle up wonderfully on the grill...yum. Eeek, but we will pass on the live chickens (killed and de-feathered with the simple point of your index finger) or the beef hanging on hooks in the open air...gulp...our freezer inventory of meat from Gib will be just fine. Alcohol can be found at the hypermarket Marjane just a 15-minute walk away...along with French butter and other more familiarly packaged items. Alas, we still have a bit of our western squeamishness.
Food is not the only area of new discovery for us. Clothing is also different than we have seen in other African and Muslim countries. The full burkas of Sudan and Yemen are not in as much abundance as is the djellaba. The djellaba is the traditional dress of Morocco...seen frequently on both men and women. The robes remind us a bit of the lawn ornament gnomes back home but in actuality they are a long, loose fitting outer robe with full sleeves and a pointed "cobb" hood. Good protection from the sun and the sand...but the hood...tee, hee, hee. That said, there is plenty of western dress on men and women in the form of jeans, boots, t-shirts and sweaters...sans headscarf. Barbara Eden would be right at home with the babouche slippers. Tiny stalls are packed to the gills with these toe covering/open heel shoes. They are in every color imaginable and often embroidered with silver or gold thread. Erin is having no problem shopping because French is spoken in addition to Arabic. Thank you is said "showkrun."
Our current base of operations has a rich and vibrant history reaching back beyond antiquity. The marina is on the Sale side of the Bouregreg river...which is just a short walk over the bridge from Rabat. Dominating the landscape of both cities is Rabat's fortified Kasbah which was originally used as a war base for the Almohad Dynasty as they took over southern Spain. Once rivals in piracy Sale and Rabat are now peaceful with Rabat the sophisticated capital city of Morocco and Sale its more traditional suburb. Rabat is Morocco's second largest city (after Casablanca) with a population of 1.8 million people. Its ancient past reaches back to the days of the Phoenicians and Carthaginians who valued the area for its fertile plains as well as the Romans who created, here, their furthest colony south of Rome (a bustling trading post starting in 40 AD). Evidence of this crossroads can be glimpsed even today. Roman ruins remain at the Chellah Gardens alongside a medieval Muslim necropolis (14th century royal burial grounds). Erin headed to the Gardens solo with fellow cruisers because the flu had passed solidly to Chris (Oct 8). He would see the photos later. The orange dirt, delicately carved walls were majestic against the blue sky with distant vistas clear as a bell. Walls and trees and minarets were dotted with nesting storks (a sign of good fortune). Lush gardens flowered purple, orange and yellow. It was a tranquil place where we were free to roam as we liked beneath cool shade trees or under the warmth of the shining sun.
Whoa, what a difference a day makes. As forecast the rain and wind rolled in accompanied by cooler temperatures...set to stay for several days (Oct 9). It was a good excuse for Chris to lay low with his flu and for us to watch some movies. Including "Casablanca." Oh, it's not Bacall with Bogart...it's Ingrid Bergman...good to know. Also, we watched "The Man Who Would Be King" with Sean Connery and Michael Caine...shot in...the Atlas Mountains of Morocco?! Okay, it was supposed to be Kafirastan near Afghanistan but as the credits rolled, sure enough, it was Morocco. Amazingly, the hills and villages look the same today as when the film was shot in 1975...stunning. The computer was running overtime and we bundled under blankets as the rain continued to pelt down outside. Later, a break in the rain gave us the motivation to view the river entrance and see what we were missing by being tucked into the marina (Oct 10). Yep, no need to leave hastily. Rollers crashed and whitecaps ran out as far as we could see...but the surfers were happy. A slow walk back to the marina through Rabat's Kasbah des Oudaias and the medina was full of colors and delights despite the periodic downpours. The brightly painted walls of crisp white and blue inside the Kasbah caused a double take...are we in Greece or Morocco?! And the doors were spectacular. They were unique in color, shape and even knocker...each more interesting than the last. The medina stalls spilled to overflowing with lanterns, leather goods, ceramic plates and tagines, swords, rugs, inlaid wood pieces and countless other items. Overwhelming.
The wind and rain continued...and boats remained where they sat (Oct 11). Afternoon sunshine saw laundry strung outside every boat and scurries here and there for provisions before the next storm. Erin could not be kept away from the Kasbah and medina with camera in hand for just a few more photos between the raindrops. A bit of excitement occurred late in the afternoon as a large SUV was pulled out of the marina waters. What happened?! The wind could not have been strong enough to "push" it in...one too many whiskeys...a forgotten handbrake...we will keep digging for details. Feeling a bit stronger after flu/cold/belly bug we headed into downtown Rabat for the evening with Martin, Sylvie and Wendy (s/v Otra Vida). We started the evening with cocktails at bar Trianon. It was a smoke filled, red walled, dimly lit place with cranking Spanish music and complimentary hors d'oeurves...belly bug or not...hhhmmmm? The small, individual plates of curried chicken bites and rice were tasty and so far so good...constitutionally speaking. The three gals from our group were the only women in the bar with the exception of two tank-top clad female bartenders. All felt fine and was followed by a French dinner at Le Grand Comptoir Brasserie (www.legrandcomptoir.ma, 279 Blvd Mohamed V). Steak and frites was the most common offering but Erin and Chris could not pass up the "fameaux" cheeseburger. Oh la la...with grilled onions to boot. Yum! Another day and again the rain and wind kept us boat bound (Oct 12).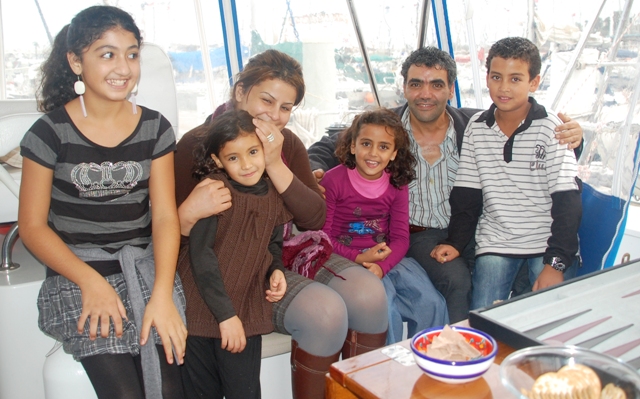 Morocco has been a wonderful stop full of colors and spices and wonderfully friendly people. Whether in public or in a private home we found the Moroccan people welcoming and always helpful. We had a wonderful evening at the home of Samir and Elhim where we feasted on spiced kebabs of beef and chicken along with noodles and several salads. They could not have been friendlier and loved practicing their English. It was a great evening and we penciled in another visit. However, Mother Nature has given us a weather window to move south to the Canary Islands. We will be off at first light tomorrow (Oct 14). The passage is approximately 500 miles and should take about three days. Once in the Canaries we hope to explore a few of the islands before crossing the Atlantic in late November. Our time spent boat bound by the rain has allowed us to focus a bit more seriously on where we will make landfall in the Caribbean after we cross the Atlantic. For now we are planning on the Leeward Island of Antigua due to its breadth of services and supplies, proximity north and its range of anchorage options. But, as always, we will first see how the winds shape up.