More of the Same on Corfu: March 15 2010
Our routine has settled into more of the same with boat projects, explorations of Corfu and relaxing with our friends. In order to take advantage of a clear, dry day we headed to Mount Arakli for a cliff-top walk (Feb 21). We drove through the villages of Skripero and Troumpeta...and almost to Makrades before pulling off to the side of the main road. We strolled up to a local chapel and then down to the village of Lakones. The path was lined with stones that must have been laid ages ago...stones now smooth and flat from so many footsteps. The walk was lovely; the Ionian sea bordered one side of the path while the other side was filled with olive groves and pencil straight cypress trees. Wild flowers were scattered as if a purple paint brush had been flicked across the green grasses. And even the mosses on the stones seemed colorful in the bright sunlight. At over 1200 feet above sea level we had a great view of the Paleocastritsa coastline on the north-western corner of Corfu island. It was a stunning day.
American football and the winter Olympics are, sadly, not anywhere near our time zones. Although we do catch up online, we miss the live competition and laid back afternoons viewing the games. Thankfully, rugby has again stepped in to fill the gap. We are currently following the Six Nations Tournament (www.rbs6nations.com). National rugby teams for England, France, Italy, Wales, Ireland and Scotland compete in three games per weekend for about a month and a half. Points are accumulated throughout the tournament for wins as well as for quality of play. The squad from Ireland are the defending champs but the national rivalries run deep and result in intense passion and clashes regardless of ranking. February 27 was a double-header day with back-to-back games. It was a wonderful break from the boat where we were being tossed around like a cork in 35 knot winds...inside the marina. We were slowly becoming sea sick as the waves splashed over the dock onto the stern windows and lines creaked and groaned. Off we went ashore to see the games. Stav's Bar was packed to overflowing as charter boat crews trickle back for the summer season...many are strong rugby enthusiasts. Our common gang of eight cheer on England, Wales, Scotland and anyone playing England (tee, hee, hee)...while we Yanks try to evenly spread our cheering across them all. Heckling is in booming voices, "You dirty xxxx bastards," being the most common refrain. Chris is well versed in the sport but Erin has been learning the game on-line before each contest...it is great to watch and enjoyed by both of us!
Daily we are watching our To Do list shrink...fabulous. The cockpit table continues to move forward and our "entry hall" is once again passable. Varnishing is the name of the game at the moment with coat after coat of varnish being applied, dried, lightly sanded (320 grit sandpaper) and varnished again 24-hours later. There is nothing for it but a timetable of a couple of weeks since there will be a total of seven coats per side. One leaf of the table is in the cockpit while the other is in the guest bedroom on a sheet of plastic. The grain looks more and more amazing with every coat as the varnish brings out the natural glow of the wood. The third time looks to be the charm for this cockpit table.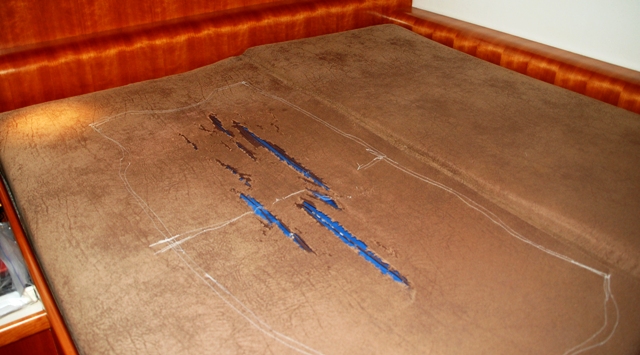 Continuing through our list and yet another project was crossed off our list. The mattress cover was repaired (Mar 1). Not quite sure what dragons Chris is slaying in his sleep but his side of the bed was literally in tatters. Erin cut up a t-shirt to make a giant patch and sewed it onto the underside of the mattress cover. Voila! Although the final step resulted in the removal of a bit of skin around her knuckles she eventually man-handled and squished the mattress back into the repaired cover and zipped it up...truly a five pound sausage into a three pound wrapper. And, of course, there are other random To Do items that were completed like emptying the fresh water from under the port engine, softening sail lines, emptying gallons of water from the mainsail bag, replacing the battery in the bathroom solar fan and eradicating all sawdust from the cockpit. Phhheeww.
Although we still enjoy our evenings of gyros we do miss the variety of any other national cuisine...like Mexican or Thai. Refried beans in a can have not been seen on grocer's shelves since Australia and Erin has finally decided something has to be done. Necessity again became the mother of invention and recipes from scratch have come into play. A quick review of the internet for recipes and off she went. Yippee! Okay, not quite as simple as opening a can but the result was delicious and really filled a taste bud gap (and it was pretty simple to make, too).
Refried Beans: 3 cups of beans (pinto, kidney, black or a combo); 2 medium white onions, chopped; 4 garlic cloves, chopped; 3 Tablespoons lard; salt to taste. 1) Melt lard then add onions and sauté for 5-10 minutes until soft. 2) Add garlic and sauté for approx 30 seconds. 3) Slowly add beans a bit at a time without liquid and mash in the frying pan so that all are good and fried. 4) Add bean liquid as needed until desired consistency is reached. The consistency will firm up a bit as they cool. 5) Salt to taste. Freezes well, too.
We really appreciate the loaned car from Martin and Tracy...allowing us to see much more of the island than would have otherwise been possible. Our next itinerary was taking a drive to the northern portion of the island (Mar 3). It is crazy to think that we have not yet visited the north...after all, the island is only 40 miles from stem to stern; however, the cold and rain drastically curtail our explorations. But not today. Today we headed for the summit of Mount Pantokrator...the highest point on the island (2972 feet). Unfortunately, maps are a bit more of a guideline in Corfu rather than a solid navigational tool...a fact that quickly became clear to us. We approached the summit from the south via Nissaki and Vinglatouri. Sadly, the road deteriorated from a narrow paved road to a gutted and muddy dirt road to, finally, a completely impassable road of landslide and rocks. We think the earth mover operator could have mentioned the road closure when he had to stop his work, scooch to the side and let us pass...but no. Oh well, the hills were dramatic and we saved the summit for another day. Instead, we headed around to the northern side of the island for an approach to Old Peritheia. Old Peritheia is a picturesque village that has been abandoned for about 40 years. Okay, current population is logged as six but that seems pretty close to "abandoned" to us. The ruins of stone buildings are nestled in a valley below Mount Pantokrator which makes for a picturesque spot. We were the only folks looking around and decided to return again when the tavernas are open in order to have a meal...only open in the winter on Sundays.
The house build continues to make progress, too. All beams were sanded and readied for placement on the roof of the second floor and top of the house (Mar 5). It was impressive as Steve, Chris and Martin heaved and grunted the beams into place. Wow! It looks awesome. Then a bit of securing and the skeleton of the roof was finished. What a fabulous milestone! Off we went to Navi's for celebratory cocktails. Plastic sheeting was later spread across the roof beams and secured with battens in the hopes of keeping out the forecasted rain storms. Hhhhmmmm, worked pretty well. Hey, we even squeezed in a first pruning of the vineyard grapevines (Mar 7). Generally the Greeks save these branches to roast the Easter lamb. Instead of roasting our own lamb we have decided to find a small village for Easter; therefore, a small bonfire made quick work of disposal.
After a "rest" week for the players it was another great weekend of rugby and the Six Nations Tournament. Saturday was a double-header (Mar 13). Game number one: Wales was up against the defending champs of Ireland. We started with drinks on m/v Firedream followed by a walk to Stav's. It all felt wonderfully like tail-gating before a football game. We borrowed jerseys and were a mass of red as we entered the bar...and hoped to channel support to Wales. Unfortunately, it was not the day for the dragons and the Irish were victorious. Erin ducked out between games to George's Grill House and returned with gyros, french fries and tzatziki all around...perfect mid-point meal. Then it was game number two: England vs. Scotland. The game ended in a...tie?! No overtime in rugby. The score ping ponged back and forth and back and forth...neither team was ever able to gain the lead for very long. But it was a well fought game and exciting to watch.
March 14 started with this strange bright light...oh, yeah, that's the sun. It was Erin's birthday and her best birthday present was the brightly shining sun ALL day. We took a walk around the marina wearing sunglasses the ENTIRE time. Great wishes from home felt almost as warming as the sun. It was a mellow day then a full roast dinner in the afternoon at Martin and Tracy's place. Tracy outdid herself with a beef roast, crispy potatoes (that means potato chunks browned in the oven with lard...until crispy), mashed potatoes, Yorkshire pudding, peas and carrots, cauliflower with cheese sauce...all topped off with an apple pie and homemade whipped cream. It was a wonderful feast and a great celebration. We positively rolled ourselves home down the hill...yum!
Our reward for working hard on boat projects means that we have time to do some land travels before heading west in May. We are headed to Athens March 17-27 then London March 27-April 1. We are looking forward to the "big city" experiences and all that that entails. Maybe we'll even gain additional insights into the troubled Greek economy...oh yeah, but first we have to get to Athens. Airline tickets have been purchased; however, there is a massive public and private sector strike scheduled for March 16...all ferries stopped, airports closed...the works. Oh well, we have flexible schedules and we know that we will get there...it's just a matter of exactly when.