Holidays 2009: January 6 2010
Cool, crisp weather made for good walking temperatures...and a real change from last year when we were in Phuket, Thailand. We explored nearby coves and roads that were pretty quiet this time of year. But boy, the fates really have a way of upsetting the apple cart. We received a call from Chris' parents on Saturday, Dec 12, and learned that his Dad would be going into the hospital for open heart surgery early Monday morning...less than 36 hours away. We quickly mobilized...looking online, calling airlines and ferry companies as well as every other possible mode of transportation linking Corfu and Boston. Our efforts paid off and Chris was on a plane Sunday, Dec 13. After 14 hours of travel he arrived in the hospital room with his family the night before his Dad's operation. The long and short of it is that the operation was a success and the recovery is on track.
While Chris went to Boston, Erin stayed with Barefeet. All was okay in the marina despite a mixed bag of weather. It was noisy and a bit rolly but lines remained secure. Daily calls to Boston brought good news and steady improvement - but Chris decided to stay a bit longer than anticipated and Erin was alone for Christmas. Erin was well looked after by fellow cruisers and friends in nearby homes - but after almost three years together...never further apart than the length of an arm...it was a bit lonely!
Erin kept outstanding boat work moving with the canvas loft, picked up ordered parts, filled the boat with water, worked on courtesy flags and generally busied herself cleaning and decking the halls. It was also a fine time to tackle some Greek cooking...Pastistio. Pastitsio is a creamy, pasta based casserole often a favorite for Erin in tavernas...it's a tantalizing combination of meat, cinnamon, nutmeg and béchamel sauce. The inaugural attempt turned out really well and is now a quick reheat meal until Chris returns. Chris was a headless chicken in Boston as he bounced between his Dad in the hospital, and helping to clean out his Mom's office (after her recent retirement), visiting his Grandmother and generally filling in any gap that needed filling. Oh, and the impromptu visit to the states meant a whole new list of boat related tasks...renew driver's license, order cruising guides and pick up our mail. Eeegads...it was exhausting.
Ex-pats slowly drifted home for the holidays and our little community became even smaller. But December 25 dawned warm and rain-free (Erin focused on it simply as "Friday"). In Corfu it was off to Jean and Keith's for dinner aboard s/v N'Oubliez Jamais (or "Nobby" for short)....our Quiz night teammates and frequent dinner partners. It was a leisurely day of nibbles and champagne followed by a dinner of roast duck with all the fixins...even mincemeat pie with brandy butter and whipped cream for dessert. Erin contributed the nibbles after being over-the-moon that Oscar Meyer bacon could be found in the neighborhood supermarket. Nibbles were bacon wrapped breadsticks dipped in either Parmesan cheese or brown sugar and cayenne pepper. Cooking left a bit of eau de pork hovering around Erin but it was worth it. They were delicious and super easy to make. In Boston Chris orchestrated a sirloin beef roast baked on a bed of potatoes and onions with Greek salad...a prelude to Winston's incredible pound cake. We all rolled from our tables in our respective time zones...sated for another year.
Bacon Wrapped Breadsticks: Sesame breadsticks, broken in half; bacon (not thick cut), halved lengthwise; 1 cup Parmesan cheese, grated; 1 1/2 cups brown sugar; 1/2-1 Tablespoon cayenne pepper. Wrap halved breadstick in bacon strip; bake at 350 degrees F for 15-20 minutes; sprinkle with Parmesan cheese. Serve warm or at room temperature. Combine brown sugar and cayenne in a small bowl; completely cover bacon strip in sugar mixture; wrap halved breadstick in sugar coated, halved breadstick; bake at 350 degrees F for 15-20 minutes. Serve warm or at room temperature.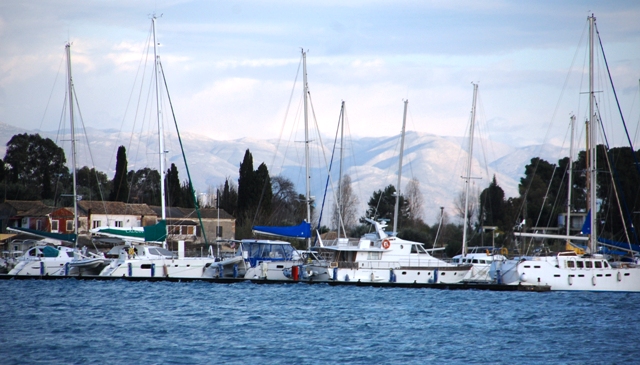 The Christmas holiday continued on December 26 with Boxing Day. This is another largely British (and colonies) holiday. Wikipedia describes it as a "day of goodwill" in which labor and servants had the day off and gentry made do with cold cuts for a buffet lunch. Today it has morphed into a day of friends and sports...oh, and shopping in big sales, too. England and Scotland have rugby games, Australia plays cricket, horse races abound and the Sydney to Hobart sailing race takes off. Pubs are a common meeting place and that is where I ended up with Steve and Deb. Sixty-year-old Billy Trumpet was the DJ of the night...great fun. It was a real multi-generational party with sons (who looked perfectly suited for a ZZ Top/trucker convention) dancing with their moms. Revelers danced on tables and everything sparkled in the twinkle lights and tinsel of the Christmas decorations. It was a great night and an good way to pass the time until Chris returned.
December 28 at 7.10pm the plane landed from Athens and all was great. Chris' bags literally exploded with presents and a few novelties from the states...yes, ziplock baggies and Reese's peanut butter cups constitute Christmas presents. Not to mention the few boat odds and ends that could be ordered and delivered before his return flight. We had our own Christmas and simply relaxed for a couple of days. The weather stayed chilly with North winds...blowing off the snow covered Albanian mountains. However, 50 degrees F in Corfu was positively balmy for Chris after minus 18 degrees F in Boston...everything is relative. Winter jackets and flip flops seem like a reasonable combination?!
New Year's is a huge holiday in Greece...nearly eclipsing Christmas. The day is known as the Feast of St Basil (the Greek equivalent to Santa Claus) and is marked by the exchange of gifts and eating vassilopita cake (baked with a coin inside...whoever gets the coin has extra good luck for the year). For us, this holiday means that stores keep even crazier hours than usual so we shopped early for our night of margaritas and pizza a la Chris. The most difficult ingredient to find turned out to be ice. Yikes, two hours and countless stores later we had a bag of ice for a whopping $11. We would ask a shop keeper for ice (some even displaying signs that said, "we sell ice")...only to receive a deadpan response mixed with true bewilderment, "It's winter." There was really no explaining our reasoning and we have upheld the "crazy American" label yet again. Ah well, the margaritas were delicious and a great start to a meander to Stav's and then Navigator's with Steve and Deb. Our stamina is less than the average around here...we lasted through midnight but were back aboard Barefeet before the music stopped playing. Happy New Year 2010!! Kali Kronia 2010!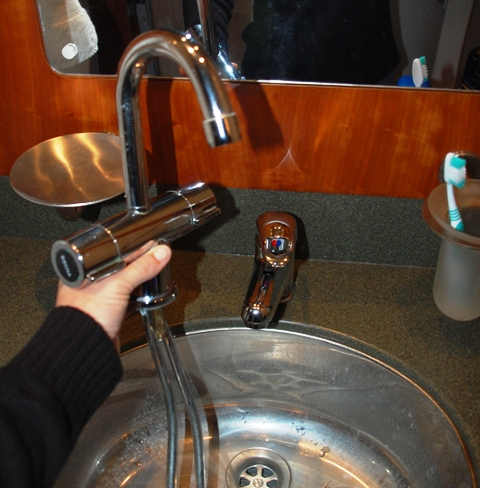 The holidays are over and it is time to start chipping away at our list of To Do's (Jan 4). Chris swapped out the faucet in the starboard bathroom, closed up the generator, dropped off the out of date fire extinguisher for recharging and changed the water pump filter...while Erin updated cruising guides, delivered clothes for alterations, did laundry and shopping runs. We are picking the low hanging fruit first...not quite ready to bite off the larger projects...like gel coat touch ups and fiberglass reinforcement.
January 6 is yet another Greek Orthodox holiday, the Epiphany, and a holiday in which all stores and businesses are again closed. The holiday celebrates the baptism of Christ and water is ritualistically blessed. Often a priest throws a cross into the harbor followed by young men trying to recover it in order to gain a special blessing. The village of Kontokali celebrated this ceremony at Gouvia Marina at Noon. Women were dressed stylishly in high heeled boots and tailored jackets, men wore ties and kids were in holiday finery. Gosh, there were loads of people! We didn't know the village had such a population. But we were sure to get ringside seats to witness the procession, water jump and spread of sweets, coffee and Metaxa afterward.
Pastitsio (from Rick Stein 2007) For the meat sauce: 4 tbsp olive oil; 1 medium onion, finely chopped; 4 garlic cloves, finely chopped; 2 celery sticks, finely chopped; 1kg/2¼lb lean minced beef; 200ml/7fl oz red wine; 400g/14oz can chopped tomatoes; 2 tbsp tomato paste; 10cm/4in piece cinnamon stick; ¼ tsp ground cloves; 1 tbsp dried oregano, Greek if possible; 2 tbsp fresh oregano, chopped; 3 fresh bay leaves; 100ml/3½fl oz water; 1½ tsp salt; freshly ground black pepper. For the pasta: 8 tsp salt; 500g/1lb 2oz tubular pasta, such as rigatoni, tubetti or tortiglioni; 2 eggs, lightly beaten; 50g/1¾oz Greek kefalotiri cheese (or parmesan or pecorino cheese), finely grated; 2 tbsp melted butter; 10g/½oz fresh white breadcrumbs. For the white sauce: 115g/4¼oz butter; 115g/4¼oz plain flour; 1.2 liters/2 pints whole milk, plus a little extra; ½ tsp nutmeg, freshly grated; salt and freshly ground black pepper, to taste. 1) For the meat sauce, heat the olive oil in a medium-sized pan, add the onion, garlic and celery and fry until just beginning to brown. Add the minced beef and fry over a high heat for 3-4 minutes, breaking up any lumps with a wooden spoon as it browns. 2) Add the red wine, tomatoes, tomato paste, cinnamon stick, ground cloves, dried and fresh oregano, bay leaves, water, the 1½ teaspoons salt and freshly ground black pepper, to taste, and simmer for 30-40 minutes, stirring now and then, until the sauce has thickened but is still nicely moist. 3) Remove from the heat and discard the cinnamon stick and bay leaves. 4) For the pasta, bring 4.5 liters/8 pints water to the boil in a large saucepan with the eight teaspoons salt. Add the pasta and cook until al dente, about 13 minutes, but take care not to overcook as it will cook a little further in the oven. Drain well, transfer to a large bowl and leave to cool slightly.
5) For the white sauce, melt the butter in a medium-sized non-stick saucepan, add the flour and cook, stirring, over a medium heat, for one minute. Gradually beat in the milk, then bring to the boil, stirring. Lower the heat and leave to simmer for 5-7 minutes, stirring occasionally. 6) Season with the nutmeg and some salt and pepper to taste. 7) Preheat the oven to 180C/350F/Gas 4. Stir 250ml/9fl oz (about one-fifth) of the white sauce into the warm pasta with the beaten eggs and half the grated cheese. Keep the remaining sauce warm over a low heat, stirring now and then and adding more milk if it begins to get a little thick. 8) Use the melted butter to grease a large, shallow ovenproof dish that measures about 23cm x 33cm (9in x 13in) across and 7cm (2½in) deep. Spread one-third of the pasta over the base of the dish and cover with half the meat sauce. 9) Add another third of the pasta and then the rest of the meat sauce, then cover with a final layer of pasta. Spoon over the remaining white sauce. 10) Mix the remaining grated cheese with the breadcrumbs and sprinkle them over the top. Bake for 40 minutes until bubbling hot and golden brown. 11) Serve with a green salad, crusty bread and a gusty red wine. Serves 8-10.