Dusting Off Winter Cobwebs: May 17 2010
The last week of April was a blur of boat work; constant fittings for the replaced full enclosure, engine servicing and liquid replacements, sail repair and hoisting, back and forth the quarter mile dock for more parts, provision inventory, water maker start-up, generator TLC, exploded bags of tools everywhere (oops, that was the 10mm socket wrench that just fell into the ocean)...and on and on and on. Yikes! But it felt fantastic as we slid off the dock on May 1. We are cruisers again and it feels great! Initially, it was just a quick hop to Komeno Bay...still within eyesight of the marina but on the HOOK. Days were hot and winter white skin was getting a bit pink...okay, red. Which cupboard was the sun block in? Happily, the nights are still quite cool which keeps the boat power plant effortlessly topped up...cool nights mean the refrigerator barely runs at night (our main energy hog)...and during the day the strong sun keeps the solar panels stuffing power into the batteries.
Feeling a need to move, forecasted winds from the South was all the encouragement we needed to head to a new bay for better protection. We motored 10 miles North through the Corfu Channel to Galietes Bay (May 4). The waters were calm with barely a breath of wind. "Precision" anchoring allowed us to drop the anchor in a patch of sand amongst a canvas of weed...our anchor likes sand but does not like weed (too slippery). All settled and we three jumped into the dinghy and headed for Kassiopi. Kassiopi is a small fishing village that becomes a tourist mecca in July and August. Gin clear water with shades of blue and green could not be more inviting. We settled into comfy chairs on a balcony and simply watched the afternoon slip past. Oh, then a bit of excitement began as charter boats squeezed into the tiny harbor for the night. They dropped anchors and nosed into a Med moor orientation along unforgiving-ly solid stone walls with rusty rings for ropes. All looked good but the pulling up of anchors in the morning might be a different story...we'll take our nearly deserted bay.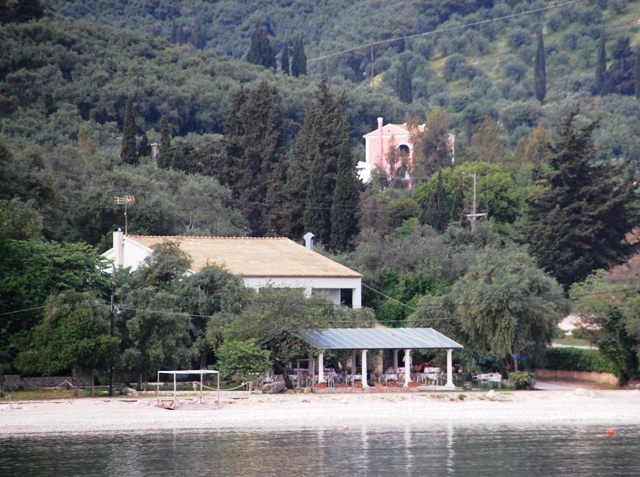 An additional reason to move Barefeet was to check out all the systems after a long and sedentary winter on the dock...all looked good...except the salinity of the watermaker water. We'll keep working at it. But so far so good as we reacquaint ourselves with Barefeet as a self-sufficient home. So good in fact that we had margaritas in honor of cinco de mayo for sundowners. Ole! Alas, we could not continue the Mexican theme ashore. Instead, we had a delicious Greek meal at Avlaki Beach Taverna on the shores of Galietes Bay (ph. 26630 81051). It was a wonderful spot where the sun dipped behind the mountains, lights became illuminated across the channel in Albania, the village wine was some of the best we have had in Greece and the fire flies danced in the bushes. Recently opened for the season this was day three which meant menu options were limited; however, all was delicious; tzatziki, moussaka, lamb chops and Greek salad with tomatoes that tasted like candy.
The winds soon changed and back we went to Komeno Bay (May 6). We maintained a leisurely schedule of reading, napping and eating...but some work could not be avoided and needed to be dealt with. The watermaker...hhhmmm...it is ALMOST making good water. Chris performed a 7 hour regime of flushing, soaking and purging the watermaker with a citrus cleaner in the hopes of "cleaning" the membrane...even toting the water to the stove and back so that it was a warm 120 degrees F for the process. Sadly, the new pump head, new filters and membrane cleaning are just not enough. Looks like a new membrane is in our future. But we did not let this dampen our spirits and broke out the grill for burgers and margaritas! It has been great to have an additional partner in crime but we are now back to just the two of us after Parker returned to Boston. But yikes...Erin caught a flu that packed the punch of a freight train (May 11). Lungs and nose had a tug-of-war to see who could drown or suffocate me first...luckily, a cocktail of pharmaceutical products came to the rescue and the tug-of-war ended in a draw.
This seems to be our season of goodbyes as we are now fully focused on a weather window to head West to Sicily. But not without a bit more celebrating first. We hosted a few Corfu friends aboard Barefeet for burgers and margaritas (sounds like a pattern?!). It was a warm sunny day with just enough of a breeze to keep things from getting too hot (May 13). We spread out on the fore deck for some late afternoon rays before the grilling began. As Americans our burgers were under heavy scrutiny. We did our best and the burgers were piled high with all that you could imagine; tomato, cucumber, onion (grilled and raw), cheese (feta and gouda), bacon...and even an egg for Steve. Oh, and the surprise arrival of Miriam and Cliff as they zipped around in their new boat for an inaugural spin only added to the festivity. It was a great evening!
It seems Mother Nature is not fond of complacency. Winds were again forecast to be from the South so off we went back to Galietes Bay (May 14). Change always happens fast but continues to amaze us. The two hour motor in the afternoon (and a bit of a sail) was idyllic with the sun drenching the lush hills and the water reflecting a deep sapphire blue. Wildflowers dotted the green hillsides under a clear blue sky. It was hard to believe the predicted tempest forecast for the evening. However, we battened down the hatches before going to bed...and the winds certainly did arrive. We were glad that we made the move when the winds howled at 38 knots...when else...at 3am. Yikes, and were accompanied by pouring rain and lightening. Our anchorage was noisy but very little waves. Thankfully, we stayed stuck after our hour of hunting for good holding and everything was okay...except for a few hours of lost sleep. Then it was a bumpy ride back to Komeno (May 15).
Likely our last Saturday karaoke night at Navi's was a doozey (May 15). All our friends were there and the mood was hopping. Deb even got Billy Trumpet to play "What a Wonderful World" for us...accompanied by Billy on the trumpet. We all danced and will fondly remember the many fun evenings had there. The dinghy ride home at 2am was dark but uneventful...what a place...we will miss our friends a lot. But it is Spring and we need to start moving West. Weather gribs indicate a possible weather window around May 20 so we went into overdrive to finish our last provisioning and tasks; purchased and installed new watermaker membrane, started the freezer and filled it with meat, linen laundry, fill up gas bottle, supermarket runs, pharmacy run to fill medicine chest, disassembling of bikes and stowed, casserole made for the passage and other bits and pieces. We will be ready for the passage and expect to take three days and two nights to arrive at Siracusa, on the East coast of Sicily...approx departure date is May 20. Keep an eye on our website location tracker for our progress. Oh, hey...the watermaker is back online and producing mountain spring water! Yippee!! Once again it was Super Chris to the rescue!