Canary Islands, Part 2: November 23 2010
The winds within the Canary Islands certainly are odd. Net check-ins reported little to no wind everywhere (including boats on passage from Rabat, Morocco) EXCEPT in Playa Francesa, Graciosa. Eeegads, the November 4 forecast was for strong winds which will be unfavorable for the anchorage...arriving at 3am. To move or not to move?! We chose not to move until the winds could be confirmed and the sun was up. Yep, you guessed it, the uncomfortable winds arrived (in the dark) at 2am to the tune of 35 knots. We left as soon as there was enough light...7am...just behind m/v Wind Horse who left before sunrise. Departure was a bit dicey as our anchor chain wrapped a rock and momentarily sent us hurling towards a neighbor boat. Wind gusts were tough to power through but soon steerage was restored and our exit was complete. We motored across the channel to Playa del Risco on the northwest coast of Lanzarote Island where we anchored to wait out the blow. Nearly the entire Playa Francesa anchorage emptied and followed suit in hopes of calmer waters. The mass departure during such strong winds left a trail of boat hardware on the sandy bottom; snapped anchor snubber shackles, dumped anchors with chain...lat and long recorded in the hopes of retrieval later. The waters were smooth across the channel but winds at 48 knots bulleted down the steep cliffs just beyond the beach (and our anchorage) creating howls and bellows that set us all on edge as they screeched through rigging and across decks. Later, strong wind against tide sent boats pointing higgledy-piggledy as anchor chains sat at right angles to boats. It had been four nights of fitful sleep with periodic anchor watches...and counting. A much needed lull occurred at sunset as winds abated and blood pressures were lowered. Feeling that the end of the tough winds were in sight we gave into our cabin fever and headed over to s/v Stardust with hot banana bread in hand. We passed the time chatting and playing hearts with Becky and Bob until the afternoon when we could return to Playa Francesa due to improved wind conditions (Nov 5). Sundowners on the beach were much enjoyed after the low level tension of the previous few days. Plans were made to retrieve the remaining boat hardware from the bottom and borrowed anchors were returned. Phew, that was enough of that for awhile...and quickly in the rear view mirror as the anchorage focused on the arrival of three boats from Rabat...motoring to Graciosa (Nov 6). Hopefully, they will bring their calm passage conditions with them.
Conditions did become calm which meant that we could again dinghy into Caleta del Sebo town (Nov 7). It was time to dispose of garbage, get a few more provisions and have a coffee. Spanish is spoken in these islands and Chris is having longer and longer conversations the more he practices...with grocers, waiters and anyone he can corral into a chat. Well done! Caleta del Sebo was just as we had left it before the winds. The sand streets and white washed houses remained neat as a pin. Older residents often wear a distinctive low brimmed straw hat with a black band. Many were on display as we relaxed with a coffee in the cafe. The hat's structure seems well suited to the environment of sun, wind and sand...and seems to be a bit of an island symbol. The hat is represented in the stained glass window of the town's small church as well as on t-shirts and post cards. Since it was Sunday the church was open and we discovered for ourselves the charming nautical themed wooden carvings and decorations everywhere; scallop shelled chair with fish feet, anchor for an alter base, fish candle sticks standing two feet high, wooden ships' wheel for a pulpit and an inverted tortoise shell for a baptismal font. Isla Graciosa has been a wonderful place as our introduction to the Canary Islands.
However, the calendar keeps progressing and we need to make our appointment with sail maker Jorge. Off we went to Rubicon Marina at the southern tip of Lanzarote Island...just 35 miles away (Nov 8). We motor sailed through calm conditions (with seas a bit lumpy) and maintained 6 knots. Gosh, Playa Blanca and Rubicon Marina are a bit different than Graciosa (www.marinarubicon.com). Volcano cones and lava rock remain but palm trees, restaurants and swimming pools have been added to the landscape...and it is not unappealing. We secured lines, hooked up to power and visited fellow cruisers who have also moved from Playa Francesa...a couple of them are readying for a haul-out and bottom painting. We ended the day with a romantic evening at Casa Roja Restaurant. We felt quite relaxed as we feasted on steamed mussels, goat cheese and tomato salad, tuna in soy sauce, steak with truffles and fois gras...and molten chocolate cake with mint. The moon dangled in view and fish swam in the lights below our balcony seat. Then it was down to business; the sail was picked up, generator serviced and laundry strung out to dry (Nov 9). Morning walks along wide, cliff side promenades were rewarded with spectacular sunrises...and the green flash. But a bit more business needed to be done...officially checking into the Canary Islands. The islands are part of Spain with lax EU bureaucracy...it's okay with us but it might not be okay with officials when we make land fall in the Caribbean. We rented a car, rolled into Arrecife with Becky and Bob, were checked in by the Police and continued with a bit of shopping (Nov 12). Hey, there's an IKEA and a Lidl right next door. The sail was returned and hoisted, air conditioner fixed, fishing lures purchased, hand-held GPS replaced and more laundry strung out to dry.
Our list of to do's were getting checked off which meant it was time for a bit of sightseeing (Nov 13). The island of Lanzarote was created by volcanic eruption 35 million years ago. It sounds like a long time ago but the moonscape landscape makes it clear that eruptions have continued into the 1800s...with the mid-1700s seeing the most violent period which created 32 new volcanoes. Lava fields and cactus dominate the entire island. We headed to the northern portion of the island and started with the Cactus Garden created by artist and architect Cesar Manrique (www.fcmanrique.org). Manrique was a native of Lanzarote and instrumental in the building regulations of the island which "encouraged sympathetic development of tourism." Hhhmmm...not quite sure what that means but he did make some cool buildings, iron sculptures and gardens. The Cactus Garden has more than 1400 types laid out in an old volcano crater. The variety was impressive...including several in bloom and others that looked more like they were coral under the sea. Next we walked through the lava caves. They are lava tubes from an eruption 3,000 years ago which resulted in caves...used historically as a hiding place by island inhabitants avoiding Arab pirates and as a concert hall today. Sometimes large rooms and other times single-file, low ceilinged paths these tubes/caves were fascinating. The colors were beautiful and the hardened lava resembled the peaks atop a lemon meringue pie...crazy. Our final stop was at the northern tip of the island at the Mirador del Rio lookout. We could see the anchorage at Playa Francesa...still well populated with cruisers. All done and we were pooped by the time we arrived back to the Marina. We literally dropped into Lani's Snack Bar for a couple of chicken burgers, fries and cocktails.
We slept fast because we had the car for one more day and we had one more sight to see (Nov 14). Timanfaya National Park is in the south western part of the island and is also known as the Mountain of Fire (Montana del Fuego). The park is 19.72 square miles of volcanic soil. Not much volcano activity is left but hot temperatures just below the surface provide steam geysers and enough heat to barbeque chicken for a sunset grill (200-1100 degrees F). Visually, the Park was composed of sand dunes, sections dotted with scrub and lichen, hardened lava flows (some rounded, some jagged) and volcano craters. The flora and fauna is so heavily protected that the only way to view the interior of the park (that is, everything except the parking lot) is from the inside of a bus...never once stepping outside. Well, it is protecting the ecosystem but it didn't feel right to us. Kinda like our Aussie friends Paddy and Kevin used to say about the Australian Park Service, "They don't want PEOPLE in their parks." All that aside it was stunning scenery...and the photos taken through the window turned out pretty well. One more provisioning run in the car and we were back at the Marina. Wow, winds passing through have brought many familiar faces into the marina and it was a very social afternoon and evening.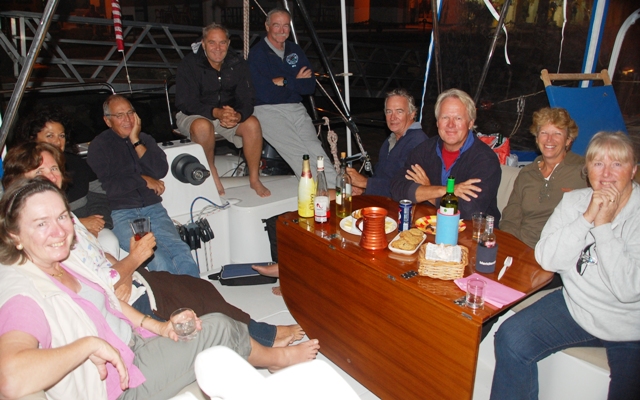 It's a bit of a waiting game for us at the moment...to cross the Atlantic sooner or later?! How many more Canary Islands do we want to see? Will we be at sea or on land for Thanksgiving? Have the hurricanes petered out for the season? Will the water temperature continue to trend cooler in the Caribbean (an indication of the unlikelihood of a new hurricane being created)? Will we be in Antigua for Christmas or at sea on passage? Do we make a passage provisioning run on Lanzarote or wait to do it further down the line? So many questions with the best answers only gained in hindsight. Gosh, we feel like one giant question mark. Two cruisers from the Rum Runner's Net have already begun the Atlantic passage...and the ARC leaves at Noon on November 21 (five days away). Are we behind? Only one thing is for sure...we need to start thinking about an exit strategy from the Canary Islands. But first, a bit of social fun to keep us happily distracted. It was time for a party! We had six boats aboard Barefeet for a game of "Name That Tune" (Nov 16). Chris was the energetic MC who kept the competition lively and raucous. There were lots of laughs with dessert nibbles and drinks throughout. Kudos to Liam and Annie (s/v Gone With The Wind) for their winning score! Hhhmmm...despite the fun, departure strategies were never far from thoughts...continuously weaving in and out of the music.
Our Lanzarote stopover expanded from a 3-day sail repair to a 10-day respite...all enjoyable but we needed to keep moving. We departed Rubicon Marina and anchored around the corner at Papagayo Beach (Nov 18). The bottom got a quick scrub and we grilled steaks for dinner. Then we were off for an overnight run to Tenerife Island (Nov 19). Yikes, there are TONS of cruise ships out here...all lit up like Christmas trees at night. It was a good passage with light winds, motor on. Swells were spaced far apart which made them a gentle roll rather than a jerky shake...always appreciated. We were outside Santa Cruz, Tenerife, at 8.30am (Nov 20). But look at all the development?! It was wall to wall high rise condos and the harbor was full of anchored container ships. The mountains looked gorgeous but there was just too much going on for us. We made a quick change of plan and pushed on to La Gomera Island. With both engines in full we made it into the marina in San Sebastian just as the sun was setting...perfect timing. Our westing passage from Lanzarote to La Gomera took 175 miles off of our upcoming Atlantic passage...one day at sea already completed (and hopefully only 20 more to go). The small island of La Gomera is a mere 15 miles in diameter and much more our speed with the seventeen block town of San Sebastian just steps from our marina slip and several hiking trails a short bus ride away (thanks for the tip Finn & Tove, s/v Xanadu). Oh, and when Columbus left for the New World in 1492...he left from La Gomera. Cool bit of symmetry, we think.
Our plan is to remain here until a good weather window allows us to cross the Atlantic to Antigua...roughly 2800 miles. The voyage took Columbus five weeks to arrive in the Bahamas...gulp...we hope to take less than that to reach the Caribbean. Our target departure date had been Nov 26 (after a Thanksgiving dinner) but a new storm system off the coast of Boston looks like it will delay our departure until the first of December. We will just have to wait and see...it is all up to Mother Nature.