Bummin' Around the Balearics: August 31 2010
We really enjoyed ourselves in Barcelona but a good weather window nudged us to keep moving so we tossed the lines from Marina Port Vell at 11am on August 18. All systems were "go" as we sailed at 7-8 knots in 20 knots of wind on the beam. Oh wow, and we had a fish on the line! Yikes...the line was screaming off the reel...no fish or fin in sight at the surface. Chris considered trying to slow the line down but the tension on the rod was too much. Quickly the line was cut and off rocketed at least two weeks of fish dinners. Drat! We saved the rod and reel but lost a lure and loads of line. Oh well, glad to know that fish are still part of our journey...and our meal plan. Sadly, the great sailing conditions didn't last as wind turned onto the nose after dinner. We furled the sails and started the engine...and bounced around like a demo derby for the rest of the night. Not much sleep occurred but we were anchored the next morning at 9.30am in Fornells Bay on the island of Menorca (August 19). This was our first stop in the Balearic Islands of Spain. The island group is made up of four main islands; Mallorca, Menorca, Ibizia and Formentera...and we think we have enough time to visit all of them. Menorca is the island furthest to the east of the group and the oldest of the islands. Our anchorage spot in Fornells was impressive and resembled a lake once we were tucked inside. This harbor is two miles long and the ocean is barely visible in the distance. Unfortunately, our arrival was a bit ahead of schedule which meant the sun was not yet high enough in the sky to help us eyeball sandy patches. As a result we made several failed anchoring attempts sliding through weed before the anchor eventually dug into sand and held tight.
Most of the harbor's surrounding hills are natural and unspoiled due to restricted development in the area. Pine trees and dirt trails made for a pleasant morning walk as we hiked up to La Mola for a birds eye view (approximately 400 feet). There is only one, small town in the harbor, a former fishing village that is now a popular vacation destination. It is charming with whitewashed walls and deep green shudders and doors...all neat as a pin. Holiday makers abound with ice cream and beach paraphernalia the most common inventory of local shops. Our next anchorage in Algaiarens Cove was a contrast to Fornell's rolling green hills and murky water...reinforcing the Imray cruising guide's description of the varied landscape across the islands (August 21). Algaiarens Cove was steep sided with clear water over a white sand bottom...marvelous. There are no structures ashore...heck, they wouldn't fit between the cheek to jowl sunbathers and umbrellas. Most boats that were anchored in the cove during the day departed in the late afternoon...except for a rollicking boat of Spaniards that spent all day and night periodically breaking into song. It made for a nice background to the place and all seemed fun but we were amazed that their voices lasted as long as they did. The next morning dawned with thick fog...hhmmm...we haven't seen that for awhile. Pollensa was our next stop as we made our way from the north coast of Menorca to northwest coast of Mallorca (August 22). Pollensa is a large, protected bay. Protected from Mother Nature that is...not the countless water craft continuously zipping to and fro...jet skis, motor boats towing water skiers or inflatable anything, big motor boats with gaggles of sunburned passengers...even a sea plane that looked a bit like the Spruce Goose as it taxi-ed a mere 40 yards from Barefeet. All the action made for a VERY bumpy anchorage until it was actually dark and all the boats went home for the night.
The jostling at Pollensa made it an easy decision to move further west along the Mallorcan coast the next day (August 23). Conditions were as expected except for a large west swell...creating a bit of nausea for Erin. The coastline was undeveloped and comprised of jagged, steep cliffs lightly covered in greenery. Pointed peaks added to their dramatic feel and made the time pass quickly. Our destination anchorage of Soller was not visible until we rounded its relatively small entrance. Gosh, what a great spot! Pine trees scented the air of a circular harbor bordered by peaks in the distance and umbrella-ed seaside cafes up close. We shoehorned ourselves into an anchor spot in 30 feet of depth...delicately maneuvering around an anchor buoy...hhhmmm...not really suited for such close conditions, in our opinion. Our anchor set on the first try and into the water we went to cool off. Then it was time for sundowners. Fellow cruisers of s/v Stardust (from Oregon) and s/v Bondi Tram (from Sydney) came over for margaritas and to tell a few lies. We have all been chatting on the morning Drag Net but it was the first time we could put faces with voices (6516 USB at 8am). We had a great time, swapped DVDs and look forward to additional meetings down the road...pretty likely since we all plan to cross the Atlantic this year.
The port of Soller is a charming anchorage but ashore there really is no "town," just remnants of a once thriving merchant fleet, still active fishing vessels and passenger ferries unloading tourists. The reason for the lack of a port metropolis is pirates. The actual town of Soller is located well inland from the port as a first line of defense against marauding pirates and Arab bandits. The town is linked to the port by a vintage open-sided tramway made of beautifully varnished wood and ribbons of iron. Traveling inland approximately three miles we saw orange and lemon groves, fig trees, village gardens and flowering bougainvillea which made it easy to understand the origins of the town's name...Sulliar, meaning golden valley in Arabic (August 25). The lovely streets of Soller seem barely wide enough for two passing scooters; however, cars and trucks managed to thread their way through the pristine stone streets as we watched in amazement. Homes several stories high encroach as far into the road as they dared with street lamps, balconies and merchant signs protruding even further. We wandered the charming streets ooh-ing and awe-ing at yet another oasis courtyard or artistically shuddered window. But the temperature kept rising and we longed for a swim. Off we went back to Barefeet and the giant swimming pool that surrounds her.
As we wander this beachy port town we have seen many people dressed head to toe in hiking clothes complete with boots, walking poles and backpacks. Where are they all hiking? We dug deeper into stores and found several books with maps about hiking on Mallorca. Mystery solved. We joined the trend and hiked from Puerto Soller to Soller via centuries old paved trails worn smooth with use...clearly the superhighways of old (August 26). It took us three hours in alternating bright sun and cool shade passing through pine forests and olive groves while periodically seeing a donkey or some sheep...beautiful. Fresh squeezed orange juice in the square and a ride back to the port on the tramway finished the day off well.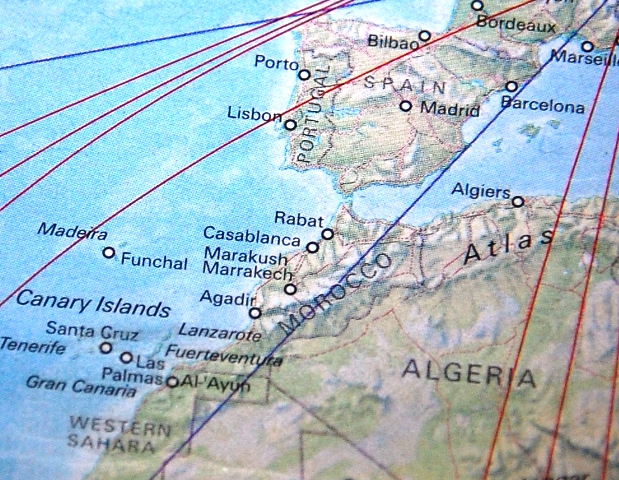 Traveling through a sailing season we sometimes feel stretched like silly putty. We try to keep two feet rooted in the present country and harbor but at least one arm is stretched out looking two, three or even four months ahead. While we explore Spain we have been setting up a basic game plan and making necessary reservations for late September/early October in Morocco and late October/November in the Canaries. Morocco has come together smoothly with reservations at Bouregreg Marina in Rabat. The marina is a secure spot from which we plan to do some hiking in the Atlas mountains (basic routing already outlined) and explore imperial cities like Marrakesh. The Canaries have been a bit tougher and we are still in limbo. The area is prone to wind acceleration zones and periods of strong winds...both are reasons why it is a nice idea to have a marina lined up for protection (and land travel). Unfortunately, the ARC Rally will be passing through the same time we, and most other cruisers, pass through. There are 250 boats signed up for the rally. Eeek, that puts a real crimp in slip availability in marinas as well as emptying supermarket shelves. Hhhhmmmm...we have been trying to make marina reservations but no luck yet...all is full at the inns. For the moment we will keep our schedule loose without committing to a marina for a particular time period...miles and Mother Nature just cannot be nailed down yet.
In the meantime we have moved around to the southwestern section of Mallorca and anchored in Ponsa (August 28). Ponsa is a large bay with good holding and good protection. Ashore it is a bit of a package holiday mania with condos and tours from the UK and Ireland. Although a bit much during Irish football games (yes, it is a real sport...some type of soccer and rugby combination), this type of tourism has an upside because it comes with easy resources for a rental car, supermarkets...and real bacon and egg breakfasts. We rented a car for three days and were off (www.rosslind.com, tel.34 971 692 985). It was Sunday so the capital city of Palma was pretty mellow making driving less chaotic (August 29). We started with the magnificent Gothic Catedral called Le Seu. It took more than 300 years to build and overlooks the Old Town and the seaside. Despite its enormous scale the Catedral feels welcoming...but maybe that is because we arrived during a mass with voices singing and the organ playing. A period of great prosperity for Mallorca was due to the Moors (beginning in the 10th century). Unfortunately, almost nothing remains of this period except for the Arabian baths in Palma. Their tranquil garden and interesting architecture were a fun discovery amid the rabbit warren streets of the Old Town. A bit more driving took us to the mountain villages of Deia, Banyalbufar and Fornalutx as well as the central plains village of Algaida. The regions of Mallorca are geographically diverse with the mountain villages a collection of stone buildings perched high above the sea with peaks rising even higher beyond them...all green and lush. In contrast, the center of the island consisted of sleepy villages such as Algaida in the flat, golden plains of commercial agriculture as far as the eye could see dotted with windmill after windmill.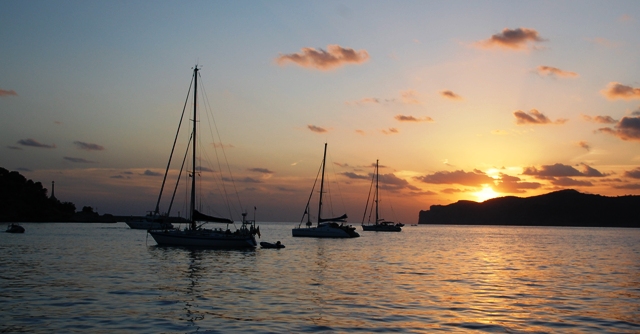 The Balearic Islands continue to slide by and another summer is coming to an end. Tomorrow, we will head off early for a 70 mile run to the island of Formentera and the anchorage of Espalmador (September 1).