Red Sea: April 3, 2009 - apologies for the long gap in posting but we have not seen any internet since Aden, Yemen (four weeks ago)
Holy cow, the Aden anchorage is really starting to fill up. It looks like a summer weekend in Block Island...no wind shifts, please, or there will be tangled anchor chains and games of bumper boats. And the baksheesh is increasing, too...the $60 visas that we paid $67 for are now $85. We completed our last bits of provisioning and were ready to leave Yemen (Mar 3). Eggs were white and actually kept in the supermarket's fridge...something we have not seen since...not sure when. Okay, so they do need to be individually wiped and cleaned...were they gathered from the FLOOR of the chicken coop?! Ah well, it is all part of our vigil to keep unwanted stowaways from joining Barefeet. Fresh produce has a decontamination period, too. Soak in a bucket of salt water then rinse with fresh...voila...pest free. These precautions have kept us in good stead.
We used a shoehorn as we pulled up the anchor (Mar 4)...wedged between two boats...one anchored literally 3 feet from us awaiting our departure so that they could have a spot. The engine was a bit sluggish which made maneuvering in such tight quarters a bit of a challenge...maybe we snagged a plastic bag or have some barnacles growing?! Fifteen knot winds from behind and a made-ahead dinner of chicken divan eased us into the passage. Several boats left together; Barefeet, Xanadu, Vagabond Virgin and Talulah...followed soon by Adriatica and Eos. The Viking Red Sea net was smaller this time around with Erin and Chris tag teaming as the net controllers (0600 UTC 8101 and 1400 UTC 4069). At 6am on March 5 we rounded the corner of Bab el Mandeb...exiting the Gulf of Aden and entering the Red Sea! Later we did a bit of shuck and jive as we crossed between tankers at the traffic separation scheme South of the Hanish Islands. We continued to have a full dance card with the commercial traffic but there were no close calls. Night watch was pretty amazing with incredible phosphorescence in the dark waters. Dolphins were seen like radioactive torpedoes riding the waves beside and under Barefeet. It was quite a light show! The winds picked up March 6 to 35+ knots...with Barefeet zipping along at 6 knots under bare poles (no sails). Because the wind was behind us...despite the large waves and big wind...it was a gentle ride and one of our best passages to date.
March 8 we anchored at Khor Nawarat in Sudan...three boats soon became eight boats...all glad to be out of the wind. This is a well protected spot...virtually an enclosed harbor (khor). And there are CAMELS on the shore....and pelicans and herons and hawks. What an unbelievable sight.
Making one hop to Sudan from Aden has given us a leg up on traversing the Red Sea...nearly 50% completed. We now have a comfortable cushion of time to day hop through the magical waters of...Sudan?! Hard to believe but it's true. Sudan, the largest country on the African continent, is a study in contrasts; ashore the nation continues to be ravaged by civil war and famine...but the coast and its coral fringed waters have been enticing divers for decades...including pioneers such as Jacques Cousteau and Hans Hass. Once anchored we gave Barefeet a thorough cleaning inside and out...trying desperately to stay ahead of the Red Sea sand. The sand coats everything; lines, solar panels, sails, decks, even the side of the mast! Kind of annoying to leave muddy footprints every time you walk on deck (or back inside). We also cleaned the bottom of the boat...Chris scraped barnacles from the props which more closely resembled footballs of crustaceans (answer to the sluggish engine question)...and Erin scrubbed the mossy water line (Mar 9). Work done and it was ashore to check out the birds and shells on Bushy Islet. Blotched rays and bluespotted stingrays darted along the shallows. Additionally, there were giant shell graveyards created by scrubby bushes and grasses at the shoreline...very cool. And the camels on Shatira Islet...how did they get there? Did they swim? Or were they dropped off and will be picked up later? These windswept islands have little in the way of protection with minimal ground cover of purple wildflowers and tiny succulent plants. Initial thought is desolation but the scene is magic.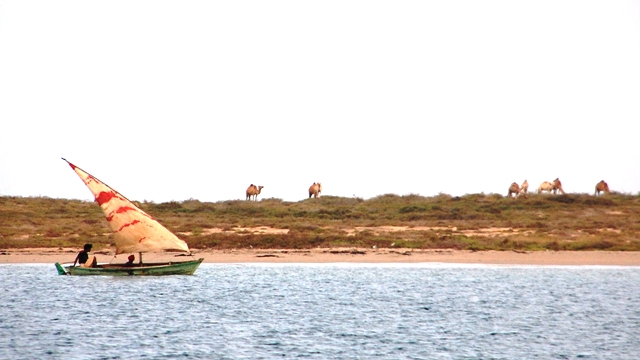 We eight cruiser boats have been completely alone without any sign of locals until a ramshackle Sudanese boat ventured through Mar 10 with a crew of smiling fishermen. We passed along some cigarettes and they could not have been happier. Sundowners with neighbor boats is a nice way to end the day and the quiet of the anchorage is a welcome change from busy Aden Harbor (and the multiple calls to prayer by the Imams). Happily, the wardrobe is again the comfortable bathing suits and t-shirts once away from "civilization" and the long sleeve, long pant requirements. Oh, and the sundowner floorshows are hard to believe...camels in the sea...swimming?! Crazy! What were they doing?!
March 11 we had a quick snorkel while the sun peeked out from the clouds. The fish literally swarmed us on a nearby reef; goldfish-esque fairy basslets, bearded trigger fish, parrotfish (the size of house cats), purple hued waving coral, unicornfish, bannerfish and schools of black fish with white bands at the start of their tail. Weather became good for moving so off we went March 12...departing under a full moon at 6am. It was a smooth 53 miles to Long Island of the Shubuk Channel. Our late arrival meant an immediate lowering of the dinghy to look for flamingos in the nearby lagoon. We only spotted four but we were treated to bright pink wings as they flew off...gosh are they long! A bit of excitement occurred when a nearby shorebird relentlessly shouted at Erin and gave low fly-bys as she walked along the beach...must have gotten too close to the nest. It was an early night of grilled steak and a movie.
March 13 we pulled up the anchor and snaked our way through the Shubuk Channel...a well protected route behind the coral. Out the other side at Marsa Esh Sheikh and we caught our first glimpse of mainland Africa! It is just as we have seen in photographs...flat sand dotted with low-lying shrubs stretching endlessly into the distance. The multiple shades of blue ocean surrounding random coral is simply amazing...and a good warning regarding changes in depth. Entering the channel to Suakin Harbor is a slice of civilization dropped in the middle of desolation. Oh wow, the ruins alongside the anchorage are a spectacular sight. Old Suakin was an ancient trading post used by the ancient Egyptians (1000 BC) and later by the Ottoman Turks (19th century) with the dubious, contemporary, distinction of being the last slave-trading post in the world (until the end of WW II). Today the coral buildings are deserted ruins beside a quiet port town offering a relaxed place for cruisers to check into Sudan. Mohammed was quickly aboard Barefeet to check us in within minutes of our arrival...and diesel tanks were full before sundowners. That's efficiency!
We were concerned about arriving into Suakin after hearing news on the single sideband that an arrest warrant had been issued for the President of Sudan (crimes against humanity) and the US government had ordered all nonessential personnel out of Sudan...but not to worry, the 21st century was miles away. When we went ashore we felt transported to another time and place...camels and donkeys were beasts of burden, curly haired goats roamed freely and men carried swords as big as Erin...but the children still smiled and joked (Mar 14). Wandering the dirt streets we saw crumbling buildings, faded facades and corrugated tin roofs. The people were proud and welcoming...eager to say "hello." Despite the incredible poverty there is a whiff of energy and excitement with a few three-wheeled chuk-chuks buzzing past, men stepping with purposeful strides and tea being delivered through the streets on shiny trays. The fresh vegetables looked good; eggplants, giant carrots, green peppers and red tomatoes...and puffy bread was available from the bakery carts. Enough exploring for one day and we were back aboard Barefeet. Chris made a birthday dinner for Erin of burritos...the handmade tortillas were Erin's favorite part. And Tove and Finn brought over chocolate cupcakes (unfrosted, of course). It was a wonderful birthday...although the location was certainly...unique.
Officialdom means passports are traded for shore passes and passports are returned when checking OUT of the port. Our passports were kept "safely" in the trunk of Mohammed's Mercedes...not quite filling us with warm and fuzzies...but that was the only option for us and all went fine. We wandered back into town March 15 in search of a sword for Chris. It was fun to roam with a singular purpose but we were definitely salmon swimming upstream ready for gaffing. Negotiations were slow and accompanied by the ubiquitous offer of tea or coffee. The acquisition was at the last minute just steps from the dinghy. We used a combination of our last Sudanese pounds and some US dollars. It is a fun memento...and popular with most of the other sailors, too...sword fight anyone?! Sundowners aboard Barefeet to celebrate a repaired engine gearbox (Xanadu's) and we were ready to move further North.
March 17 we left Suakin for a short hop to Marsa Daror (32 miles). It was a good thing that it was a short hop because we had 15-20 knots of wind on the nose. After filling up with diesel in Suakin we think we have enough fuel to make it all the way to Hurghada, Egypt, but headwinds and adverse current would not make our calculation possible (600 miles)...and fuel options are practically non-existent at this point in the Red Sea. Thankfully, there are many places to duck into and wait for better weather. Most anchorages in Sudan are either well protected or exposed on the reef...Mother Nature dictates which is best for a particular night. A "marsa" is a natural bay and often synonymous with a "khor" - a virtually enclosed harbor (we need a scientist for a clearer distinction). Marsa Daror was not much more than a protected wide spot in the road to pull over for the night. We offered nearby fisherman some snacks and drinks...yikes, they were in the same spot when we pulled the anchor as when we went to bed. Tough life in an open boat in the cool, damp night. Weather was better March 18 when we had hoped to stay the night on a coral reef, Shab Suadi. Unfortunately, we could not find a clear path through the coral. It was a real bummer because the spot looked amazing! Crystal clear waters with fringing coral...and nearby to Jacques Cousteau's immortalized Shab Rumi reef (underwater habitats, Conshelf I and II, that he and other divers lived in for days at a time). Maybe we could have made it into the crystalline waters of the reef but we were too chicken to nose Barefeet across the jagged coral sentries. Oh well, plenty of daylight left so we headed inland to Marsa Arakiyai. Military officials came aboard s/v Vagabond Virgin during sundowners to check for cruising permits and review passports. They were friendly fellas likely bored being stationed at the desolate outpost...as they left we gave them a couple of beers and they positively giggled with excitement. Our exit the next morning was thanks to our track in on the chart plotter in good, afternoon light the day before...zigzagging our way out through the virtually invisible coral in the morning light would not have been possible without the track.
The Red Sea is notorious for winds on the nose and steep seas...something we were able to avoid until today (Mar 19). We have been taking down weather gribs every morning via SSB in six hour intervals in order to try and keep informed about Mother Nature's itinerary for us...but the Red Sea is known to be very fickle with quick changes. Conditions became stronger than forecast which made for slow progress to Marsa Inkeifal (43 miles). We had water splashing over the decks as we pitched like a rodeo bronco. However, all was forgotten when we were anchored and walking ashore. Did you know that camel poo more closely resembles rabbit poo than horse poo?! Much like small dates. The scenery was sand flats bordered by dark, jagged mountains...no trees, no bushes, no shelter of any kind. The shallow lagoon had the most animal activity with camels and shore birds. Gosh, the desolate landscape has beauty but it also feels quite forbidding. The sun dipped behind the mountains as an amazing backdrop to our margarita and burrito dinner.
Next stop was Khor Shinab...50 miles. The day started at 5.30am when we pulled up the anchor in twilight...Erin donned the "sexy" headlamp to pull up the anchor and we were off. The calm morning and flat seas allowed us to make good time...and we even did a bit of boat washing. The solar panels, and everything else, continue to be covered in sand. Arrival Mar 20 to Khor Shinab was breathtaking. The clear blue water was like the Bahamas with a shore landscape from Lawrence of Arabia. This is a popular stop for cruisers but the charts were terrible...it appears that we were anchored well on land...tee, hee, hee. Eyeballs and polarized sunglasses provided the best visuals of coral bommies, rocks and sandspit shallows. Securely anchored and the fading afternoon brought thousands of birds...grey geese headed for Northern Europe. Wow!
March 21 we explored Khor Shinab with Finn and Tove (s/v Xanadu). We were the only boats in the anchorage and the only people we could see ashore...except for the Bedouin and his herd of camels. We started with a walk up Quoin Hill. Although only about 185 feet high the views in every direction were amazing. During the walk a curious fox came out and had a look at us...quite a fluffy tail but then he was gone. The sand and "dirt" under our feet seems to have been the ocean floor many moons ago because we could see coral and shells clear to the top of Quoin Hill...wacky. A mid-day break then we explored the underwater coral reefs. Wow! Loads of fish, an octopus and sheer drops into the depths made for some lovely sights. Visibility was a bit cloudy but still impressive. Walks on the beach found shells and a gigantic stork-type bird. Yikes, his footprints were the size of ours...and his wingspan must have been 12 feet. The next day blew like stink (Mar 22)...a bit more than forecast (40 knots) but we were staying put anyway.
A small weather window to move further North opened up March 23 and all cruisers along the coast were on the move. We made a quick 36 mile hop in calm conditions until the last hour...definitely got as far as was possible for this weather window. Khor El Marob had a bit more coral on the ground than we like but the anchor seemed stuck...a must with several days ahead of strong winds. Xanadu is again the only other boat in the anchorage; however, one mile ashore there is a Sudanese refugee camp (population estimated at more than 2000)...we will keep a low profile. The quiet conditions at sunset the first night were perfect for grilling. And wow, a dugong came past during the inaugural sundowners...a real treat because they are shy critters (similar to manatees). As forecast, the wind howled (up to 47 knots) but anchors did not move. Unfortunately, a sandstorm on land accompanied the winds on the water which deposited sand dust thick enough to write your name in...after just two hours. Playing hearts aboard s/v Xanadu was a fun way to pass the hours but we were all getting cabin fever by day four of being boat bound due to the heavy winds (kept steady at 25-30 knots). March 27 we made a soggy dinghy ride to shore. The wind was still strong enough to blow off baseball caps but the change of scenery was good. We found grazing camels and piles of sand dollars...side by side...crazy stuff. The sand dollars had become packed full of desert sand and felt like clay poker chips...solid not fragile. Weather gribs showed a possible weather window...in four days...eek, Mar 31. This bit of excitement started the calculators smoking; how many miles could be motored with how much diesel in how strong of headwinds?! Erin made snickerdoodle cookies (thanks for the sailmailed recipe Mom) and there was a noticeable tick up in mood (Mar 29). Snickerdoodles: 1/2 cup butter, softened; 1 teaspoon baking soda; 1/2 cup shortening; 1.5 cups sugar; 1/4 teaspoon salt; 2 eggs; 2.25 cups flour; 1/4 teaspoon cream of tartar; 2 Tablespoons sugar; 2 Tablespoons cinnamon. Heat oven to 400 degrees F. Mix thoroughly butter, shortening, 1.5 cups sugar and eggs. Blend in flour, cream of tartar, baking soda and salt. Mix 2T sugar and 2T cinnamon and keep on the side. Shape dough by teaspoon, roll in sugar/cinnamon mixture and place on baking sheet. Bake 8-10 minutes and immediately remove from baking sheet.
March 30 and we were day seven boat bound at Khor El Marob. Chris's root canaled tooth is bothering him so high dose antibiotics have been started...plus, just soft foods for now. Talulah has joined the anchorage and the winds continue to howl. There has been so much wind that birds are seeking sanctuary in our cockpit...aviary Barefeet. Most cruisers have been socked in like us and all are focused on the weather gribs...will tomorrow be the departure day?! Mar 31 off we went...maybe a bit early since we were only making 2-3 knots in seas that resembled meringue...peaked and random. Ah well, we just settled in for the motor with periodic bits of sailing assist. Three jerries of fuel were added enroute and that was all we had left...keep chugging Barefeet. We arrived into Egyptian waters with a dolphin welcome. Very cool! Then it was into Port Ghalib (www.portghalibmarina.com). We had hoped to make it just 100 miles more to Hurghada but we did not have enough fuel. However, thank goodness for the fabulous Tank Tender gauges that kept us knowing exactly how much fuel we had left (Chris installed them in Brisbane, Australia). There were half a dozen boats filling up the immigration dock so we tied onto s/v Aldora of Block Island, RI...small world. Four hours later as the apricot sun was setting we had filled our diesel tanks, were Med moored (stern to the dock) and officially in Egypt!! Yippee!! The only bummer is that Finn and Tove are still a day out and their engine is having problems again...and winds are due to pick up on the nose. We will have to celebrate twice at TGI Fridays with mozzarella sticks and margaritas when they arrive...in the meantime we left the VHF "on." Now it is a bit of cleaning, washing, provisioning, pyramid visiting...and getting Chris's tooth sorted out. The marina is part of the gigantic Coral Beach Diving Hotel with all the luxuries associated with a resort...aaahhhhh.