Peloponnisos Arrival: August 20 2009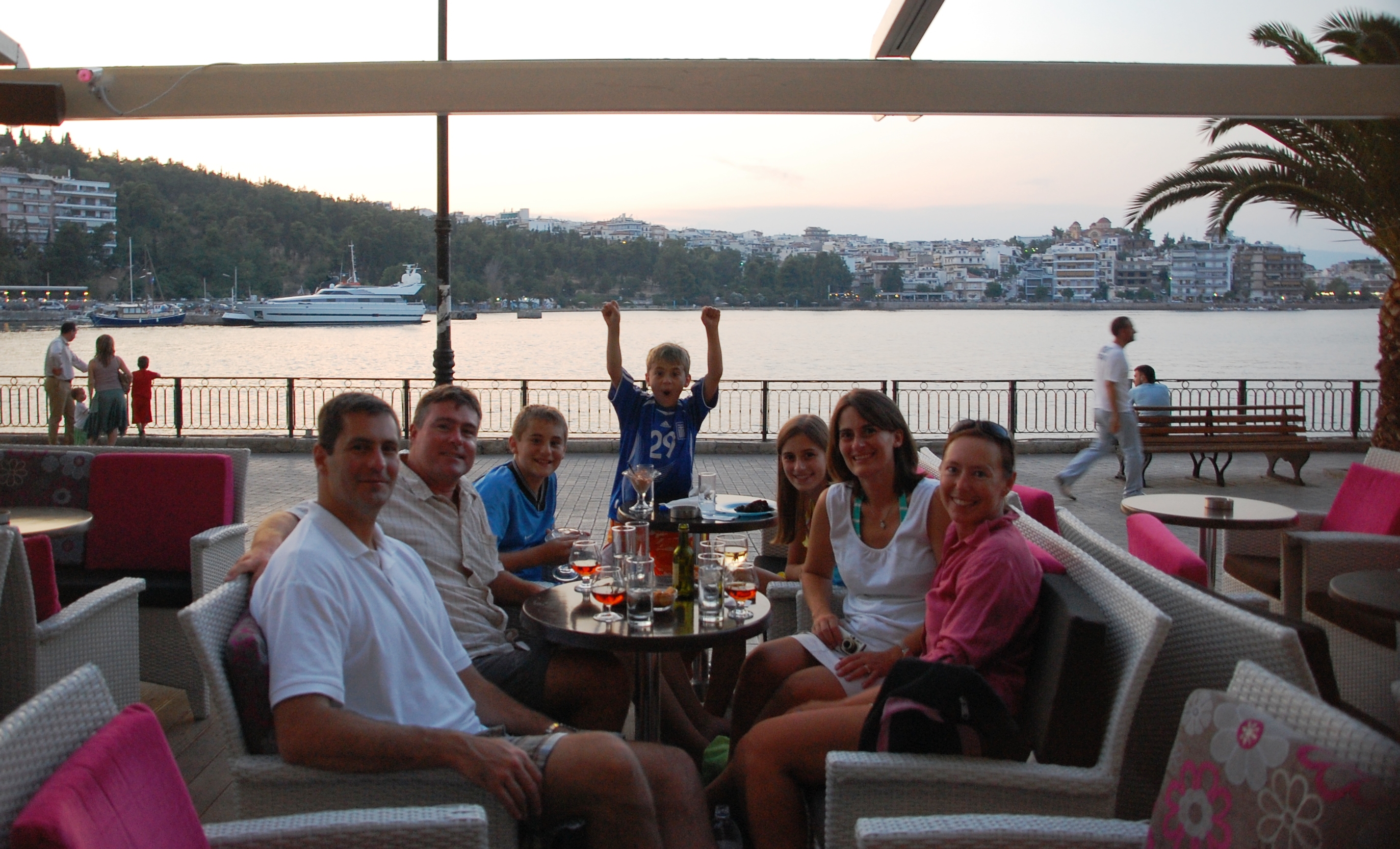 Khalkis was a real human crossroads for us: Hughie departed; George and Lisa passed through and Caitlin and Manolis came aboard. It was after a flurry of emails that we strategized to meet George and Lisa in Khalkis (friends from the States). They were on a quick tour through Greece tracing George's family roots. His Dad was from Khalkis and they made a one day visit on the bus from Athens. It is a small world and it was great to see them and their kids. We swam at the beach, had gyros for dinner and watched a bit of the evening promenade along the waterfront...and found George's Dad's house and church. There were lots of pictures that will likely be a big hit when they share them back home with Grandpa and Grandma.
There is a nice familiarity to Greece. Chris spent one year studying in Athens when he was in college through a program that spanned all universities (College Year in Athens, CYA). Caitlin was a fellow student who has remained a good friend. Now she has made Greece her home...PhD in hand and she teaches at the same CYA program in Athens. She and Manolis joined us for a portion of the Greek's vacation month of August. Together we continued South from Khalkis through the Gulf of Evia to Voufalo (August 7). The bay was almost completely landlocked...a good place to wait out some passing wind. We swam off the boat and eventually made it ashore to the sole taverna...on night number two. August 9 we made a quick hop to Megalo Petaloi Island. The wind was still pretty strong so we got to sail...silently passing the storied battlefield of Marathon. Our minds swirled at the vastly outnumbered Athenians that defeated thousands of Persians in a battle often described as the most pivotal in European history. Byron solemnly penned, "The mountains look on Marathon - And Marathon looks at the sea..."
Megalo Petaloi Island was another protected spot which kept us snug for a couple of days with winds swirling around beyond the bay of Vasiliko. We hiked ashore around some abandoned shepherd huts and fished with the Hawaiian sling (manual spear gun). A quick intro about the Hawaiian sling by Chris and Manolis was off and running. Wow - well done! Chris and Manolis caught several glossa (flounder) that made a tasty appetizer. Compliments to chef (and cleaner) Manolis.
August 11 we crossed west and anchored below the Temple of Poseidon at the Cape of Sounion. This sight is simply spectacular. The southern most tip of Attica is crowned with an ancient temple which is so discernable from the sea that it is practically a navigational aide...and wrapped in Greek legend. The legend tells the story of King Aegeus (King of Athens) who restlessly waited on the cliffs of Sounion for the return of his son (Theseus) from battle. A pre-arranged code had been agreed between father and son...in victory Theseus's ship would display usual, white, sails whereas in death Theseus would display black sails. Theseus was victorious; however, in the excitement of the victory celebration the black sails were not changed to white sails. A heart broken King Aegeus, upon seeing the black sails, leapt to his death from the cliffs...thus giving his name to the sea...the Aegean Sea. We hiked up to the temple, found Byron's "graffitied" name in a column (likely during his visit in 1810), were mesmerized by the view and continued ogling the temple from a seaside taverna. The sunset here is supposed to be one of the most beautiful in Greece...we were not disappointed. Off again August 12. We waved to Athens as we passed it by headed for Hydra (Idra) Island in the Saronic Gulf.
The island of Hydra is a quick ferry ride from Athens which makes it a favorite summer spot for fashionable Athenians escaping the heat of the city. A catwalk of fashions stroll past stone mansions built by wealthy ship captains. Narrow streets with taverna tables spill into the roads without interference of the zipping motor scooter or lumbering delivery truck because vehicles are not allowed on the island. Donkeys and oversized wheelbarrows take care of the heavy lifting (both crates of tomatoes and tourist luggage). The quiet is refreshing and quite hypnotic. While visiting Hydra, Caitlin and Manolis introduced us to several Greek sweets...like the powdered sugar covered tiny cakes called...oops, cannot quite read it through the smudges of powdered sugar. They were the consistency of moist cornbread but tasted of almond/marzipan and rose water...exotically delicious. Later, after a familiar meal of gyros Manolis introduced us to kiounefe with kaimaki ice cream. Wow - this was a fantastic combination of salty and sweet; a pancake round of cheese wrapped in fried, shredded phyllo dough drizzled with honey and sprinkled with chopped pistachios...topped by ice cream sweetened with gum mastic. We all kept spoons working at a quick pace to avoid missing the delicious treat. This really was a stunning place and we wish we could have stayed another day. Unfortunately, the wind changed unexpectedly and our Med mooring to the rocky shore became a drama filled departure as anchors were tangled, ropes snapped under tension and tempers flared. Yikes, we had hoped to escape such craziness by avoiding the main harbor of Hydra (where boats were stacked four deep). Ah well, it is still at the top of our list for favorite places. Speaking of lists...our "favorite places" list is really looking a bit like a mushroom in shape...nearly every place we have visited is clumped at the top of the list. Greece is amazing!
Hydra's neighboring island of Spetsi was untenable for anchoring due to wind direction but we took a spin through the idyllic harbor for a quick look on our way to Porto Kheli (August 13). Porto Kheli was a large bay that reminded us of summer weekends in Rhode Island...lots of folks escaping the heat, swimming off boats, motor boats side by side with sail boats, grills fired up and a real feel of summer. We fell right into step here (August 13). Plus, this anchorage marks our arrival to the Peloponnisos! We plan to work our way around the fingers as the winds allow and pass the time "waiting" in small towns. Nafplio was our destination August 14 and a place we hoped to spend several days. Nafplio is a real combination of old and new Greece. It was the first capital of modern Greece (1821-28) AND it is a short car ride from several spectacular ancient archaeological sites; Epidaurus, Mycenae and Tiryns. We found a spot for Barefeet along the town wall and set about exploring the beautiful seaside town; bougainvilleas dripping from balconies, colorfully painted shutters hung on stucco and stone buildings, gentle paths along the sea gazing out to the island bourtzi fortress and an enormous fortified castle looming from above. All of this linked to Athens via superhighway. It was here that Caitlin and Manolis returned to Athens and it was again just the two of us on Barefeet. We look forward to seeing them again in the winter in Athens.
As luck would have it there was a live performance at the ancient theater of Epidaurus (August 15). The theater was originally built in the 4th century BC and later expanded in Roman times. The theater seats 15,000 people today just as it did in ancient times...gently backed against the mountainside. We scurried to find an English translation of the Birds by Aristophanes since the production was all in Greek...phew, success. We arrived early and watched as the troupe completed last minute rehearsals. No tickets were requested until about an hour before the show when the masses entered. It was general seating within sections which created entertainment unto itself. We have observed the single-minded focus of Greeks waiting and hovering for a favorite seat to have a frappe...which clearly paled in comparison to this bit of seat selection. Families arrived with Moms wanting one spot, kids off in another direction and Dad confidently pointing to the "best" seat...all the while seats were disappearing at a rapid rate. There was jockeying and arm waving...all quite a spectacle. We thought the show had a tough act to follow. The seats were packed and the show was entertaining...even though we only understood one joke. Thank goodness we had read the translation ahead of time. The theater is acoustically amazing as no sound system was used during dialogue but was heard clear as a bell.
We visited the Peloponnisos in 2001 and enjoyed strolling down memory lane in Nafplio. Another eagerly anticipated return visit was to Mycenae. The myths and events of the Mycenaean culture with Elektra, Agamemnon and the Trojan War have affected 3000 years of world culture...a heady description read as we entered the archaeological site. Mycenae was the home of Agamemnon; the ancient king who united and led the Greeks in the Trojan War. The first glimpses of the ruins melded gently into the landscape until the Lion Gate jumped into view...an eye-popping marvel. We were again awed by the single touch of artistry among massive building blocks said to have been only built with the help of the massive Cyclops. Myth is intertwined with reality which makes this a magical place. We lingered and soaked in the vast plains of Argos before returning to Nafplio.
Winds picked up and made our wall tie-up a bit bumpy...so we wandered the nooks and crannies of Nafplio. Some chores were done, too, and Barefeet is now fully provisioned and clean inside and out. We climbed the more than 900 steps to the top of the Palamidi and repeatedly walked along the shore path. Erin is a sucker for textiles and found a hand woven wool wrap for the winter ahead...but it is hard to imagine its necessity in the current 90+ degree days (www.gonidou.gr). The buzzing center of Nafplio is the town square. It is ringed with cafes...Erin had her first yogurt and honey here in 2001 and has been hooked ever since. Every generation is represented as kids ride bikes in the open center, parents strut in the latest fashions and grandparents sit and watch it all with wise eyes. We often ended up here after a casual dinner or scoop of ice cream. A favorite dinner was had at Taverna Old Mansion (7 Siokou) where we added veal in lemon sauce and chicken with mushrooms in cream sauce to our steady stand-bys. The proprietor's 12 year old daughter helped out and it felt like a neighborhood's local spot (August 18). Desserts are rarely eaten at the same place as you have dinner (an unwritten Greek thing). So we took the opportunity to wander to the local ice cream shop Antica Gelateria di Roma. Recipes are straight from Italy and perfect on the warm summer nights (3 Farmakopoulon and Komninou St; www.anticagelateria.gr).
We have paid our port fees and sadly need to move on otherwise winds will make a racket for us on the wall at Nafplio (August 20). The calm morning was a great send-off and we will certainly be back again. We will continue along the edge of the Peloponnisos and onto the Ionian with Corfu our final stop for cruising this year...and where we will spend the winter.