Paradise and Pirates Phuket to Aden: February 17 2009
Parker arrived Jan 8 and kept us nicely distracted from obsessing about our next passages to the Red Sea. We had fun introducing him to our new neighborhood and he fell right into step back aboard Barefeet. We attended Muay Thai (Thai boxing) at the Suwit Stadium in Ao Chalong (www.BestMuayThai.com) (Jan 9). It was a humble spot that felt a bit like attending a high school basketball game back home; cars parked on the grass around the cinderblock stadium, snacks and team t-shirts for sale inside and stepped, bleacher seating for viewing. We splurged and bought VIP tickets...up close and seated in individual barca-lounger type chairs. They were quite comfy for the eight fights...the majority of fights were men but two fights were 10 year old boys and one fight was ladies. Each fight was five rounds (women were four and kids were three). Unique Muay Thai music played throughout and the boxers appeared to be almost dancing. It was fun to watch and taken quite seriously by the audience. Cheers and heckles and betting were animated during every fight...making the audience almost as captivating to watch as the fights.
We wandered around Patong walking on the beach, checking out the souvenir stalls and sampling more street food. A particular favorite was fried sweet potato balls, lightly sugared. They were about the size of a doughnut hole and sold one dozen for $1...yum! The Thai language is still tough but the Thainglish fills in the gaps nicely. When a question is asked, if the response is affirmative...a chirpy "same same" is said or if the response is negative...a sullen "don't have" is used. And the general greeting for every situation...a sing-song "hellomassage." We also did a few errands when Parker got to see supermarkets, dental offices and gas stations.
Evenings were eye-opening on Bangla Road. At 6pm this street is closed nightly to all but foot traffic. The road is lined with bars that spill onto the sidewalks and street; hawkers selling flashlights, lighters and laser pointers; and Lady Boys. Lady Boys are men dressed as women...gorgeous, feminine women. The carnival atmosphere is multi-generational with families, young kids, grandparents and teens all strolling in the cool evening air. Finn, Tove and Erik joined us, too, and we all had fun chatting about the parade of people as we sat with cocktails at the open air bars. Snacks on the walk home were easily found at the crepe carts...banana with a splash of condensed milk and sugar...mmmmm. We pushed back our "cruiser midnight" and managed to stay out until 11pm!
Unfortunately, Parker's week was coming to an end. We finished the time with a visit to our favorite beach of Nai Thon for a quiet day of reading under the beach umbrellas and swimming in the crystal clear waters (Jan 13). We were sad to see Parker go but it was great to see him. Finn and Tove departed, too, and it was now left to us to pick our departure date. Oh, but not so fast. Terry and Karen (s/v Sora) just arrived from Langkawi. We stayed another couple of days to catch up with them...showing them all our favorite spots and filling their heads with boat contractors. They zipped over to Patong from Nai Harn on a rented scooter.
Jan 17 we took Terry and Karen to...where else...Bangla Road. Not wanting to scooter home in the dark they stayed the night aboard Barefeet. It was a great night. Barman Popcorn remembered us from earlier visits and the Lady Boys and frivolity did not disappoint. A few cups of coffee the next morning then it was back ashore for Terry and Karen and we were off to the Maldives (1541 miles). It started as a slow shuffle with just a 105 mile day. We gradually settled into the passage with reading and dinner planning. The winds filled in but were, unfortunately, on the beam. This makes for fast speed (193, 173, 181 mile days) but a very bumpy ride. Evening meals were barely eeked out...apricot chicken, crostini, smoked salmon cakes and pizza...but a couple of nights it was too bumpy for anything more than basic cheese and crackers...or cream cheese and chili with corn chips. Showers were athletic events and often postponed longer than desirable...ppeeuuu. But the sails did most of the work and we only turned the engine on a couple of times to get through becalmed bits.
Our route was straight forward. After departing Thailand we traveled across the Andaman Sea; through the Great Channel between the tip of Indonesia and India's Nicobar islands and into the Indian Ocean. The washing machine seas resulted in daily morning walks around the deck to toss off marooned flying fish that landed throughout the night...generally half a dozen or so were found. One particularly cheeky flying fish scared Erin to death when he jumped INTO the cockpit during a night shift and nearly flopped into the saloon. Thankfully, Barefeet also caught a fish we could eat. It was a beauty! Chris reeled in for at least 30 minutes against a feisty 15 pound skipjack tuna. The rod snapped at the last minute just as the fish was netted by Erin. Phew! In the transfer Chris grabbed the net and sloshed fish and ocean over Erin's head...not a great way to start a day at just 7am...is my sleep shift even done yet?! This fish made two great meals. Chris started with sashimi...lightly seared with pepper and chopped onion rub. It was a work of art as the medallions were laid on the plate with a bit of pickled ginger and sliced onion. Then just as Chris turned his back...the entire plate upended onto the kitchen floor. Aaaggghhh! That was a real bummer; however, the dinner was delicious despite the slightly less artistic final presentation (Jan 24).
Jan 25 the seas really ramped up and the washing machine became a bobsled! We were 50 miles off the coast of Sri Lanka in this crazy sea when a fishing trawler made a u-turn straight for us at full power. We were under sail so we didn't alter course or slow down. Hhhmmm...a bit nervous about how this would go but we hoped for the best. As the trawler got closer we saw the seven man crew waving and yelling from the top deck. Eventually, after some pantomime with fish and coconuts displayed...it appeared that they wanted some "treats." Oh, got it. Chris tossed cold beers to a smiley, cheering crew. A couple missed and landed in the ocean resulting in loud boos from the deck. Once the toss was complete they immediately turned around and headed off. Okay, that went well. We continued past Sri Lanka and past the tip of India. Mexicali fish was Erin's fish meal contribution. It was baked tangy and gooey with salsa, sautéed peppers and onions blanketed by cheddar cheese. The night skies were amazing with brilliant, bright stars...even a possible last glimpse at the Southern Cross. Jan 27 the winds mellowed enough for a pancake breakfast with just 112 miles to go and eventually the wind disappeared all together. The last stretch was motored at 4 knots in order to time a daylight arrival to Uligan, Maldives. Wow - we made it! Anchored at 8.39am Jan 28 after the ten day passage! Feels great and it looks like paradise!
Holy cow - this is definitely the sailing season....there were no less than 30 boats anchored in this tiny spot hundreds of miles from anything. Annual boat count is usually just 100 but this year there seems to clumping with large numbers arriving at the same time...and early (we were boat number 43). The white sand beaches of the island dip into multi-hued blue waters ranging from turquoise to navy with clarity not seen since the South Pacific. Below the surface are coral formations swarming with brightly colored fish. A pair of mantas swim through the anchorage twice per day...and dolphins, too. Ooops, we need to get official before frolicking. We waited aboard Barefeet for the customs, immigration and other officials to process our arrival. It was quite a gathering in our cockpit with papers, signatures and boat stamp flying. Everyone was wonderfully helpful and welcoming. Later, Xanadu came by and welcomed us with tid bits about Uligan...diesel is available ($1.10 per liter delivered to the boat), trash can go ashore for disposal, supplies are sparse, people are wonderful, town is neat as a pin....enjoy!
The Maldives are a collection of 19 major atolls with approximately 1200 coral islands. Most of these islands are small and generally not more than 8 feet above sea level. Global warming and the associated rise in sea level theorizes that a continued rise of 3 feet by the year 2100 will result in most of the Maldives being uninhabitable. At the moment this geographic condition results in spectacular beauty but it is a source of understandable concern for the Maldivians. However, to us they seem one of the most gracious and sincere group of people we have met thus far. We took an island tour Jan 31 led by Imad of Sailor's Choice. It was a full day with visits to a school, medical clinic and general strolls through the immaculate towns scattered on nearby islands. Lunch was beneath palm thatched roofs consisting of fried noodles topped with a fried egg and accompanied by an endless supply of papadams (Indian potato chips). The day finished with a quick snorkel before returning to the Uligan anchorage. Our excitement continued as a giant manta ray swam beside Barefeet. Chris immediately re-donned his bathing suit and plunged in for some swimming. Wow - their mouths are enormous! Really spectacular!
The coral and marine life were quite the siren call to Chris, Finn and Jorn who made three dives exploring the underwater beauty. Erin and Tove were drawn to shallower depths snorkeling and walking ashore looking for shells. It was a wonderful treasure hunt with rewards at every footfall. Our good luck added many new varieties to our growing shell collections. Do we really need all those engine spares?! It was hard to leave this wonderful place but with a final sausage sizzle ashore for Eli's birthday (s/v Silene) we were checked out of the Maldives and off to Aden...1850 miles.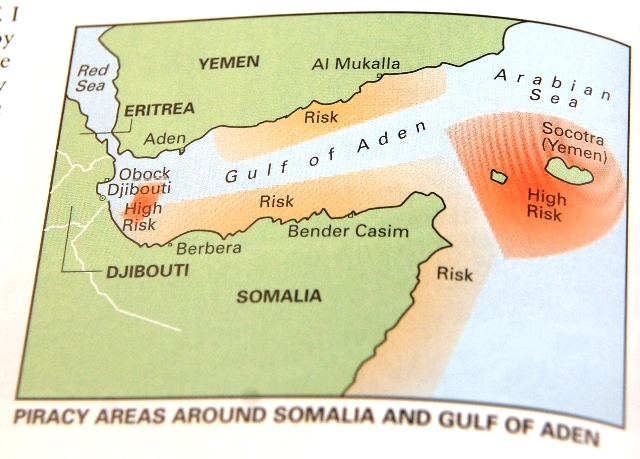 Our route was not quite the rum line from A to B this time in the hopes of smoothing out the waves due to the forecasted Northern winds. We headed North beside India before turning West across the Arabian Sea toward Salalah, Oman, and finally into the Gulf of Aden. This passage definitely had us spooked. Although we are not a likely pirate target (supertankers are preferred), piracy is alive and well in this part of the world. The real trouble starts after approx 1200 miles between the island of Socotra and the mainland of Yemen (human trafficking) and continues for approx 400 miles past the shores of Somalia (state of anarchy prevails with warlords controlling portions of the country). We played it safe and took the generally accepted precautions; sailed with a number of other boats, checked into a twice-daily SSB net and implemented a "secret" VHF channel for close communication. Once inside the Gulf of Aden we would travel in the international transit corridor...patrolled by coalition warships and helicopters (20 warships from 14 countries all a VHF 16 hail away). We departed Feb 4 in the company of 15 boats all headed in the same direction...to either Salalah, Oman, or Aden, Yemen.
The first six days were with good wind and good speeds under blue skies (averaging 155 mile days). A bit bumpy at times and it seemed as if the Seven Dwarfs were mining under our boat with the banging racket as the waves slapped the underside of Barefeet. Oh well, there really was no drama. The self named "Viking Red Sea Net" (because there were so many Scandinavians in our flotilla group) provided a twice-daily time for reporting positions and passing along chit chat (0400 UTC at 8101 USB and 1700 UTC at 8111 USB). Surprisingly, we saw very few birds and similarly scarce commercial traffic. Except for one kamikaze fishing boat that had our hearts in our throats. We were approx 300 miles from the international transit corridor when a fishing trawler three times our size made a straight line for us from three miles off. We kept an eye on its direction...seemingly headed right for us. Once closer it literally corrected course directly FOR us. This was getting too close for comfort...and without waving, smiling faces on deck...just a giant bow wave looking to make us a hood ornament. Chris put both engines in full and Erin manhandled the spinnaker to the deck (no time to stuff it first with the sock...just haul it down and sit on it). Well, we seemed to be able to outrun the trawler and/or it lost interest and headed off...that definitely got the heart pumping. We kept an eye on the radar but the trawler seemed to be gone for good...phew.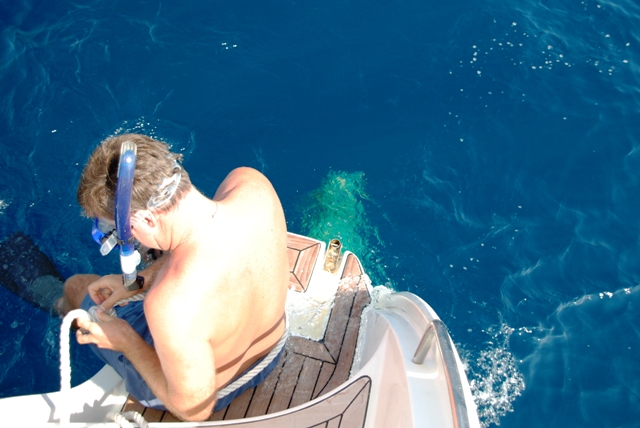 The next few days saw the winds slow and then die completely. We motored at low revs. We kept it to 2200 RPMs for 4.5 knots of speed...Barefeet really impressed us with her mileage range at these single engine, low revs. However, our daily averages did slow to just over 100 miles per day. Oh well, we can't have it all. Days were still warm with bathing suits de rigueur but nights became pretty chilly with fleeces and sweatshirts worn on watch and blankets needed while sleeping. The entire Viking Net had similar conditions and we all sat back and enjoyed the calm. Drat...clunk, clunk, clunk went the engine. Seems we snagged the prop on a fragment of submerged, green fishing net the size of a bed sheet...aagghh. Chris bravely went over the side and cut the net off the prop (thanks for the knife Hughie). Erin's job was to look for oceanic white tip sharks (no joke - it is a desert out here and they are hungry...with finely tuned senses to notice water disturbances miles away). Of course, Erin also pulled out the camera...what, trying to get a picture of Chris being eaten?! No way, just wanted to document his courage.
Thankfully, it was gloriously boring after that. The waters were satin smooth and the white, fluffy clouds simply added variety to the endless blue sky. We positioned chairs on the fore deck for sundowners and spotted crabs dancing (okay, swimming) along the surface of the water...crazy! We were nearing the international transit corridor and began hearing reports of conditions inside via the Viking Net. All very positive with lots of warships and helicopters patrolling the corridor (US, UK, France, China, India, Russia...and on and on). The yachties were saying that the US guys were the best because they will talk to you and give you advice, the other countries were too snotty and did not even answer. Go USA (nice to finally get some positive press). Additionally, more than twenty pirates and associated boats have been arrested in the last week. We think this is all good. However, the seas have again turned bumpy and the fog seems to have rolled in...odd. Keeping us on an even keel Erin baked a great comfort food casserole for dinner...California Scalloped Potatoes from Crazy for Casseroles...no leftovers. Tiny recipe note...do NOT fry sausage in a bikini...ouch. California Scalloped Potatoes: 1 cup shredded cheddar cheese; 1 cup shredded Monterey Jack cheese; 2 Tablespoons flour; salt and pepper to taste; 4 medium-size baking potatoes (about 2 lbs), peeled and very thinly sliced; 1 can (10 oz) green chiles, drained, peeled, finely chopped; 1/2 stick butter, cut into pieces; 2 cups milk; 1 pound browned hamburger or sliced and browned sausage (meat is Erin's addition for a one pot dinner). In a medium mixing bowl, combine cheese and flour, season with salt and pepper, toss well and set aside. Brown meat, if used, and set aside. Layer one-third of potatoes overlapping across bottom of well buttered 2-qt casserole dish. Sprinkle half the chiles and half the meat over them, dot with 1 Tablespoon of butter and sprinkle one-third of the cheese mixture evenly over the top. Repeat two more times, saving the last Tablespoon of butter for the top layer and ending with the cheese mixture. Pour the milk around the edges and bake until golden brown...1.25 hours at 350 degrees F.
Well, here we are at the long stretch of concentrated pirate activity. We entered the international transit corridor and remained off to the side at the edge of our "traffic lane" (approx 50 miles off the Yemen coast). The corridor was established by the international coalition forces and is designated by waypoints for the 500 miles through the Gulf of Aden. It is composed of two five mile wide traffic lanes (one in each direction), separated by a 2 mile wide no man's land. The corridor is closely patrolled by 20 warships and multiple helicopters from 14 nations. Everyone takes the pirate situation quite seriously with direct inquiries and responses on VHF 16 and coalition forces making courtesy calls as they pass. Visibility is poor (at the moment) due to a recent sand storm ashore...ignorance is bliss as we only have max 1 mile eyeball visibility (but radar showed many tankers around us at all times). An American helicopter circled us numerous times on Feb 15 (off the coast of Mukalla, Yemen). We got a good picture of them and received some real-time info. Amazingly, they were the helicopter that nabbed the two separate flotillas of pirates just a few days ago...and they were sure to impress upon us the need to "keep moving at all dispatch." We assured them that we would and they snapped a photo of us for THEIR website...hopefully without a caption such as "numbskull sailors cross the Gulf." The next couple of days periodically found a return flight by the same helicopter...we can only imagine it was in an effort to keep an eye on us as our guardian angel. Much appreciated!
Feb 17 we entered the Port of Aden, Yemen...a 13 day passage that feels great to have behind us. First, we announced ourselves to the Port Authority and second we wound our way through officialdom...immigration, customs and Harbor Master. Officials were kind and full of smiles...sharing photos of their children snapped on snazzy cell phones. All checked in and we were off to stretch our legs and explore. Cheeky crows buzzed the anchorage and the roads ashore. Squat, cinder block buildings creep up black, craggy mountains with streets filled with foot traffic, suicidal cabbies, fresh produce and playful kids. When the kids spotted Erin's camera they politely asked her to take their picture..thrilled with the result seen immediately. As we continued our stroll along the streets they returned every few minutes with a new friend in tow for a photo...tee, hee, hee. Wow, it really looks like a movie set here. Women are wearing black burkas and black gloves with only the smallest of slit for eyes. Beautifully, the burkas are made of a light chiffon and studded with rhinestones...creating an elegant image in the breeze. But they are shy as shadows and Erin has not yet become bold enough to ask for a photo. The men often wear cloth wraps around their waist like a sarong, leather sandals on their feet and periodically have a jambiya stuffed in a belt (curved dagger). We plan to stay in Yemen for a week or two before heading into the Red Sea; Eritrea, Sudan and Egypt. We hope to mostly day hop through the 1000 miles of the Red Sea...exiting via the Suez Canal...and into the Med!