Escape to Italy, Part I: October 20 2009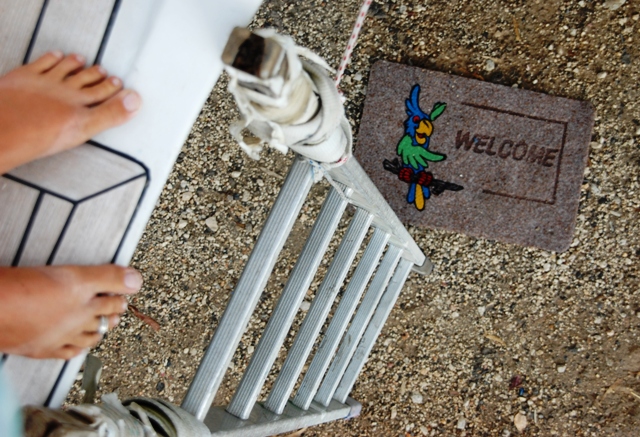 We have spent the last week doing boat projects while living in the parking lot. We seem to start each day with 3 To Do items and end the day having completed 15 items. This is not a mark of uber efficiency on our part but rather the myriad of bureaucratic steps previously unforeseen by us manifested in the form of Greek bureaucracy. We still love Greece but transitioning from a tourist to a "home owner" has shown us a whole new side of Greek life. The most maddening task was getting our mail from the states. Usually very straight forward (in places like the Galapagos and Thailand) but not this time. After 14 days, countless phone calls and numerous never sent emails from the courier service we paid $210 in importation fees for a package with a stated value of $140 (one pair of shorts, one pair of sandals and two pairs of flip flops). Eeeegads! And that was after the already paid FedEx charges for 5-day international delivery. We seriously considered simply leaving the package in customs (as we did in Indonesia) but the package contained our tax documents and Erin's ATM card. So we sucked it up and paid the larcenous fee. We have heard that the process works more smoothly if items are sent from the US to the UK and then shipped to Greece...we will look into it.
Barefeet was in good hands with Martin and Tracy as they removed the bottom paint and prepped for the new coppercoat bottom paint (GRPro Clean +30 69325 36 126 www.grproclean-greece.com). With nothing for it but to let Barefeet drip dry for a few weeks we escaped to Italy (Sept 25).
We took the overnight ferry from Corfu, Greece, to Bari, Italy (Sept 25). The ferry was largely populated by wagon drivers (truck drivers) who drank vodka in the lounge...as we boarded the boat...and were still in the same spot...when we emerged from our bunk-bed cabin in the morning. Ah, the open roads! Some sort of ferry arrival delay meant that we cooled our heels in Bari until the afternoon train whisked us to Naples...happily, a pizza was the perfect diversion in the historical center of town. And a very chic bride with attendants organizing themselves in front of our sidewalk pizzeria around the corner from the wedding church of San Sabino Cathedral was a fascinating floor show. Upon our arrival Naples (Napoli) seemed compact and teeming with scooters. We carefully wound our way to our bed and breakfast (www.bellini67.com). The large bedroom opened onto a post card view of an Italian boulevard...wow! However, the shower was a different story. As we continued to find throughout Italy, Barefeet's shower was bigger than any found at any of our accommodations. Chris brushed up on his yoga moves but came out sparkling clean every time. Erin was not as lucky and often had a few extra nicks after shaving her legs. Dinner was a harrowing walk to Pizzeria Il Figlio del Presidente (www.ilfigliodelpresidente.com ph 081.0330913). No kidding, the scooters were like jackals...nothing slowed them down and we often found ourselves flung against building walls in an attempt to be less than we were. Streets in Egypt, Indonesia and Thailand had nothing on Via Tribunali! The odd Italian bull elephant (dapper older gentleman) would stand his ground...resulting in the teenage driver (and two or three passengers) slowing to a civilized passing speed. However, we did not share this level of confidence in the scooter drivers...so we kept close to the buildings. In the birthplace of pizzas we enjoyed our pizza dinner; however, Chris is not out of business as a piazzalo with his hamburger and jalapeno pizzas...Naples...more cheese, please.
Our focus while in Naples were twofold; Herculaneum and the National Archeological Museum. Herculaneum is the smaller excavation site beside Pompeii. We hoped it would be a more manageable day of exploring but the five cruise ships in port meant that we were rarely alone. No worries, the public subway (circumvesuviana railway) to the Ercalano Scavi stop was just a 20 minute ride from the city center of Naples (Sept 27). The eruption of Vesuvius in 79 AD covered the city of Herculaneum with more than 25 feet of mud and volcanic debris. We walked the narrow streets, entered homes, were wowed by mosaics and could not shake the brilliance of the red/orange paint of so many of the buildings. It was spectacular! Our only disappointment was not being able to see the excavations of the Villa dei Papiri...closed at the time of our visit. The Villa dei Papiri was the architectural and landscape basis for the Getty museum in Malibu...an early date spot for us and still a special place. Ah well, a reason to return.
The next day we headed to the National Archeological Museum...said to be the oldest in Europe (Sept 28). Originally a 16th century palace meant that there was an enormous amount of square footage...all of which was filled with treasures from excavations at Herculaneum, Pompeii and Stabia...including the Farnese Collection of sculptures (centerpiece is a massive 13 foot sculpture representing the torment of Beotia as she is tied to a bull), countless paintings from the cities buried by Vesuvius...and an entire room of objects from the Villa dei Papiri (www.archeona.arti.beniculturali.it). Thankfully, the Villa dei Papiri rooms were open during our visit and several items were certainly similar to objects at the Getty. We stared eye to eye with statues void of any rope or barrier. Very cool. In the afternoon we did a bit more wandering in the narrow streets of Naples. Churches appeared to be squashed into the tiniest of corners only to explode in size and grandeur once we stepped inside. Daily laundry hung cheek to jowl between buildings that were styled like rococo on steroids...nearly every corner covered in details seemingly applied with icing for a fantastical iced cake. Pizza was around every corner and rum baba dessert was crammed into small windowed display cases...snacks were always an option...but best eaten if you stood. Sitting is not in fashion...okay, maybe the wrinkling of an outfit is frowned upon or maybe because VAT is attached if you sit but we missed our languorous Greek cafes.
Yikes, Rome was overwhelming in every possible way; architecture, piazzas, traffic, ancient ruins, museums, people, fountains... We arrived via train from Naples for a six day visit (Sept 28). Little did we know that this would be way too little time...even though it is a repeat visit for both of us (Chris is nearly in double digit visits). We started with three nights smack in the historic/fountain center of the city...just a few blocks from the Spanish Steps at Hotel King (www.hotelkingroma.com). The accommodations were nothing to write home about...not much more than a bed in a closet; however, the location was magical. We saw the evening lights come on while sitting at the Spanish Steps, tossed a coin into the Trevi fountain (solidifying a return trip), shopped in small alleys behind the Piazza Navona and explored the Palatine hill above the ancient forum for hours. For a bit of peace we found...on the outskirts of Rome proper...the Private Cemetery for Non-Catholic Foreigners (the result of an 18th century ecclesiastical law forbidding the burial of non-Catholics in consecrated ground). It is a lovely place but emotion overcame us when we saw the weeping angel headstone sculpted in 1894 by William Story for he and his wife upon her death. The small space has romanced others, too, Oscar Wilde described it as, "the holiest place in Rome" and Percy Bysshe Shelley wrote, "It might make one in love with death to think that one might be buried in so sweet a place." (Piramide subway stop, East of the Tiber and well South of the Victor Emmanuel wedding cake building).
Food can be a bit generic with so many tourists but we searched a bit and found some real jewels...such as fried artichokes...tender and flavorful. Trattoria da Giggetto is located in the Ghetto of Rome where a Jewish community has thrived since as early as the 1st century BC (www.giggettoalportico.com ph.39 06 6861105). Fried artichokes are a specialty which we did not pass up. Giggetto openly shares its recipe...not a real competition for the home cook because a bit of labor is involved and sitting on the shaded patio is much more appealing.
Fried Artichokes (Giggetto style): 1. Remove outside green leaves of the artichokes and cut out the core up to the white part. 2. Using a sharp, pointed knife cut into a spiral shape (starting from the core towards the top in order to eliminate the tough parts. 3. Salt the artichokes and then fry them with a lot of oil (they must float in the oil). 4. After 20 minutes remove the artichokes and open them like a rose. 5. Put the artichokes back into the pan and fry them for two minutes on a high flame. 6. Drain the artichokes and serve hot.
Rome is a "full occupancy" kind of place and we needed to move accommodations for October 1-3. We moved to the charming Comfort Reginella B&B (www.bestcomfort.org). Wow - bigger than a bread box for sure! We had a studio apartment with full kitchen...perfect since our friend Mike joined us for some time in Rome (and Florence)...and cheaper than the closet Hotel King. Reservations for museums is the name of the game in Italy so we reserved space to visit the galleries of the Villa Borghese (www.ticketeria.it). In the meantime we visited the Pantheon, the Vatican (St Peter's Basilica, Vatican Museum and St Peter's Square) and the ancient forum (Palatine Hill, Coliseum and Forum). The Pantheon is one of the oldest building still standing in Rome (originally built in 27 BC and later rebuilt by Hadrian in 118-125). In order to lighten the weight of the cement rotunda ceiling empty amphora (two handled vases) were placed in the cement...and resulted in the largest unreinforced concrete dome in the world. Next stop...the Vatican...its own sovereign state complete with its own army (the Swiss guards). The Vatican is remarkable but difficult to put into perspective because of its sheer massiveness and museum that literally overflows with masterpieces...a connoisseur pack rat's lair for hundreds of years. The open spaces of the coliseum and forum were a welcome compliment to the crowded, small spaces of the Vatican. The marvelous ruins were closely skirted by modern traffic jams creating a surreal experience. All of Rome certainly still thrives. We read Memoirs of Hadrian by Marguerite Yourcenar in preparation of our arrival. It was fun to read of Hadrian's observations as we walked through his realm...putting flesh on the bones and life in the ruins. Flaubert inspired Marguerite Yourcenar with his lines, "The melancholy of the antique world seems to me more profound than that of the moderns...Just when the gods had ceased to be and the Christ had not yet come, there was a unique moment in history, between Cicero and Marcus Aurelius, when man stood alone." Of this melancholy Marguerite Yourcenar believes Western civilization is the poorer for having lost.
October 4 our band of three traveled by train from Rome to Florence (Firenze). It was expected to be 1.5 hours but clocked in at 4 hours...hhhmmm...I guess we need to brush up on our Italian train schedule skills?! Ah well, it was a good time to rest so that we hit the ground running in Florence. Hotel Bavaria was a cozy spot just steps from the Basilica si Santa Maria (Florence's Duomo) in the heart of the historic town center (www.hotelbavariafirenze.it). Florence was all about the food for us. Our first dinner set the trend and we were in heaven. We ordered four items and shared; parmesan cheese and porcini mushroom pizza; wild boar ragu on tagliatelli; smoked cheese and zucchini risotto and grilled chicken and vegetables...oh yeah, and some house wine, too. Simply awesome! Mike was so thrilled he bought t-shirts for all of us (Borgo Antico in Piazza Santo Spirito www.borgoanticofirenze.com). Days were filled discovering beauty integrated into everyday life; from metal workers to leather workers to jewelry studios to textile/clothing studios to furniture restorers. Fantastic. Food was, of course, also front and center with the sprawling Piazza del Mercato Centrale (1874 built iron and glass fresh market) and countless specialty food and kitchen ware shops both big and small. Not done yet, we did not sidestep the Renaissance art with a visit to the Uffizi Gallery...another spot where reservations help with scheduled entry times (www.uffizi.firenze.it). With so many masterpieces it is hard to realize how unique each and every one actually is...but Botticelli's Birth of Venus rising out of the ocean on a shell is elegant and truly a standout.
Vistas and views amazed us around every corner. The Ponte Vecchio...oldest bridge in Venice (current version was built in 1345). It was originally home to all the city's butchers until Cosmo I decided the smells were too offensive...they were replaced by gold and silversmiths that remain today. We decided to have our large meal of the day at lunch on Oct 6...another huge success at Trattoria La Cassalinga (Via dei Michelozzi, 9r www.trattorialacasalinga.it). It was a bustling locals spot that didn't mind translating the menu for out-of-towners who wandered in. We all focused on specialties of Florence; Ribollita (canellinni bean and cabbage vegetable soup thickened with bread and seasoned with garlic) and Bistecca alla Fiorentina (thick porterhouse steak lightly seasoned with olive oil and salt served with a lemon wedge). Wow...hearty soup and perfectly cooked, three finger thick steaks...finished off with an espresso and homemade desserts. Nap anyone?
Oct 7 we knew we needed a lot of walking so we headed for Fiesole in the hills above Florence. The walk took a couple of hours through olive groves and stately villas (often with steep grades)...topped off with lunch in the square. We took the bus home and were glad to have seen the spectacular views. We continued peeking into churches, ogling the sculptures and generally soaking in all that we could. Sadly this was where our band of three again became a duet. It was great to see Mike and it looks like he will be back...maybe in Greece?! Mike returned to Boston and we continued on via train to Venice (Venezia) on October 8. But no need to rush for our afternoon train so we took the day slow with breakfast of coffee and pastry and watched the green grocer set up his wares...serene.