Eastern Sporades Islands: June 17 2009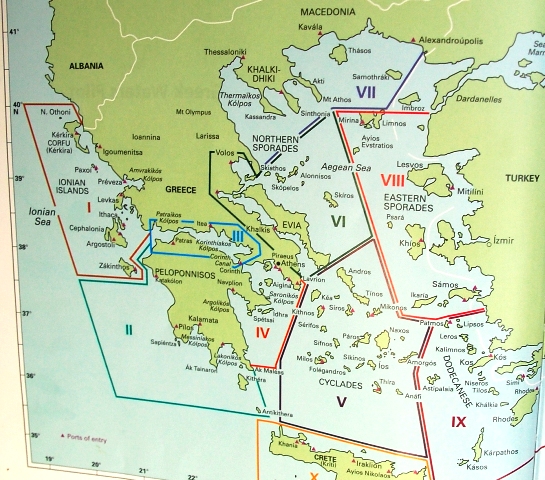 Our arrival at the island of Samos marked our departure from the Dodecanese island group and entrance into the Eastern Sporades island group (May 30). Priority number one was to figure out how to get ourselves to Ephesus in Turkey. Back and forth on Barefeet seems to be a bureaucratic nightmare with most cruisers simply passing back and forth illegally...alternately raising a Turkish or a Greek courtesy flag depending on their location. Ferries are pretty common so we did not anticipate too much hassle. We walked into Pythagorion town from the marina along a dirt path in the early evening. We easily found a travel agent and booked passage on a ferry the very next day at 8.30am with return the same day by 7pm. Mission accomplished. All set so we settled into a little taverna where we learned that Samos is well known for its high quality wine...even the house white (kilo krassi aspro) was wonderful and fruity.
It was an early rise and shine May 31 for our trip to Ephesus. Since its initial settlement in 6000 BC Ephesus has been under the protection of every imaginable ruling body you can think of that spent any time at all in the region...the Persians (a liaison attempting to keep the Cimmerians at bay), Athens (legend says that Androklos built Ephesus after the oracle of Delphi identified a spot where "a fish and a boar will show you the way"), Cimmerians (razed the city), Athens (one of twelve cities of the Ionian League, member of the Delian League and, later, warmly welcomed Alexander the Great after the Battle of Granicus in 334 BC), Syria (part of the Seleucid Empire), Egypt (263-197 BC), Roman Republic (taxes rose considerably and treasuries were systematically plundered), Byzantine Empire (its most important city after Constantinople in 5th and 6th centuries), Turkey (flourishing period in the 14th century), the Ottomans...and finally totally abandoned in the 15th century (largely heralded by the silting of the river). Despite the large size of the current site it is believed that only 15% has actually been excavated...excavations continue even today. The hodge podge of building, destruction (by earthquakes, warfare and zealots) and rebuilding over 7500 years was spectacular to see. However, the Library of Celsus really awed us. The facade has been carefully reconstructed and exudes stately grandeur...okay, so it was originally designed (in 125 AD) with an exaggerated entrance to enhance its perceived size...well, it worked. We took our time walking through this "outdoor museum" and waited for the ebb of the tourist flows and we were able to feel almost alone in the place at times.
Back in Samos we waited for a good weather window to move further North. We strolled the streets of Pythagorion town and did some provisioning...but it was hard to believe that we did not have to fill Barefeet to the gills with supplies before leaving town since populated islands with multiple sources of food are always nearby (including tavernas). But old habits die hard. However, we have turned off our freezer and only buy meat as we need it...helps with the energy draw and the provisioning learning curve. Erin found some locally made plates at Oinologos Arts and Crafts (www.oinologos.com.gr) but stopped at only two purchases due to our storage limitations and their fragility. Pythagorion was named after Samos' famous native son Pythagoras and was a lovely harbor town set below pine-covered hills with Turkish mountains seemingly within grasp. Weather gribs indicated a good overnight period that would allow us to get to Lesvos (approx 120 miles). We looked forward to a "civilized" passage with light winds from behind...at most. Well, Mother Nature likes to mix things up and what we got was wind from every direction and gusts, at times, of 38 knots blowing both cold and hot wind. Yikes, it might have been due to passing between islands but these conditions were definitely not forecast by either the gribs or Poseidon weather. Oh well, the worst of it was a difficult time sleeping.
We tied stern-to at the Plomari city wall on the island of Lesvos on June 3 ($7 per day). Strong Southerlies kept up a pretty large swell in the harbor...so we dingied ashore instead of trying the acrobatics that would have been necessary to cross the gangplank...but, thankfully, the winds only lasted the forecasted 36 hours. However, they went out with a bang on June 4 just after breakfast. The sky darkened and wind "freshened" (gathered strength). All three boats on the wall, including us, had engines in full in order to keep from slamming into the rock wall as cold wind and rain pelted the island. Out came the foul weather gear. After about 20 minutes, the winds lessened and stabilized...Erin stayed on Barefeet monitoring the engine and our proximity to the wall as Chris jumped into the dinghy and helped a neighbor boat to set an additional anchor. They had literally turned sideways against the stone wall and were vainly trying to get more and more fenders between them and the wall. Thank goodness they were an aluminum boat so there was not too much drama, just some scratches in their paint. Happily, the weather soon settled into a marvelous calm and we kicked back after the busy, adrenaline pumping morning. Off-and-on rain showers kept us aboard until the afternoon when we wandered to the town square for a frappe. While taking in the activities of the square an apricot seller arrived at the edge of the action...but he was clearly not unknown and was soon peppered with buyers...including us. The square was definitely the soul and heartbeat of the town with all generations and genders represented as they exchanged news and gossip of the day.
Lesvos is the third largest island in Greece with a population of nearly 120,000 (www.lesvos.com). We rented a car to explore the eastern portion of the island; from the Church of Taxiarches in the north with its miracle working Saint to the castle at Mitilini in the south built variously by the Romans, Byzantines, Venetians and Turks. There was definitely a lot to see (June 5). This area of the world has exchanged hands and rulers numerous times. The book The Lords of the Horizons, by Jason Goodwin, helped us sift through the changes by concentrating on the 600 years of the Ottoman Empire (thanks Mom T.). Back closer to home, Plomari is the Ouzo capital of Greece. They host an annual Ouzo Festival held the third week of July that looks like a fun outdoor party...dinner below an enormous plane tree attended by hundreds of people (www.plomaricity.gr). We learned that some ouzos are distilled while others are simply mixed and bottled. Ouzo is a tough sell for us with its thick, strong licorice taste but we bought a bottle of Ouzo Giannatsi...distilled the old-fashioned way in a wood burning still (www.ouzo-giannatsi.gr). Taste test yet to be conducted...we'll keep you posted. Good weather for moving arrived June 6 so we were off around the corner of Lesvos to the town of Sigri (approx 30 miles).
We dropped the hook in Sigri Cove just South of the town. It took a couple of tries to set the anchor due to patches of weed but a snug tug and a quick dive on the anchor gave us confidence that it was well dug in. Summer temperatures are still ramping up which means that the surface of the water was MUCH warmer than 20 feet down...refreshing, we called it. Chris made a delicious dinner of chicken tikka masala...with the requisite leftovers ear-marked for pizza in the following nights. June 7 we dinghied into town and visited the Natural History Museum of the Lesvos Petrified Forest (www.petrifiedforest.gr). The museum was created by someone who cares about it quite a lot and was stunning with computer stations, multi-media displays and life size pre-historic animal casts...all chronicling the ecosystems of the last 20 million years. Leaving the museum we strolled along the beach road amazed at the stark contrast of environment from Plomari. Plomari had been pine covered and verdant whereas Sigri was covered with willowy, golden grasses barely eeking above the lava and rock. Hey, Chris found his own bit of petrified wood...cool!
The wind kept us in Sigri for a few days which let us better discover the rhythms of the town. Every morning, while aboard Barefeet, we heard a very unhappy donkey...what was that all about?! Turns out that the beach cantina owner (from Canada, born in Sigri) has two donkeys...one named Socrates and one named Tarzan...inspired by their individual personalities. This man loves his beach...and his donkeys...quite a character. Tarzan likes to be greeted and met first thing in the morning...and gets grumpy if he feels that he is being ignored...hence the caterwauling. The cantina is a popular gathering place and we quickly learned where Chris could have his haircut...in a local home where the husband gave Chris a ride to and fro...oh, and some home grown potatoes and radicchio were thrown in for good measure...very nice. Barefeet was the afternoon entertainment with several shuttles back and forth as we hosted folks aboard for a beer (June 8). We saw more of the island's varied microclimates while driving around the western part of the island (June 9). We passed through the small mountain village of Vatoussa, the beach town of Petra and the lovely seaside village of Molivos at the northern tip of the island. Molivos is a village of beautiful stone mansions with colorful wooden shutters that stretch from the waters of the harbor to the spine of the hills...topped by a castle on the acropolis. We relaxed with frappes in the harbor before scaling the steep walk to the top and enjoying the panoramic view.
We came to feel very comfortable in Sigri and found it hard to move on when the weather changed. However, on June 11 we jumped to Thanos Bay on Lemnos island...a small cove with dozens of sun beds and umbrellas ashore on the sandy beach...and sheep grazing on the steep hillsides that dropped to the sea (www.thegreektravel.com/limnos). It seems that this is a spot where Greeks come to vacation...they have kept their secret well. The seaside village is beautifully isolated...not easy to spot unless you have a car or a boat because it is tucked quietly between the hills. Lemnos is no longer on many minds...tourists rarely visit and ships no longer call. However, this was not always the case. It is likely that Troy was founded from Lemnos and its geographical location in the center of the Aegean made it a perfect stepping stone for trade between Europe and Asia Minor...creating one of the most advanced Bronze Age civilizations in Greece (roughly 2000 BC). More recently Moudhrou Bay, a spectacular fleet anchorage, was the launching pad for the ill-fated Gallipoli campaign (1915). We waited out light meltemi winds (30+ knots) in the quiet hamlet of Thanos before moving around the corner to Myrina harbor (June 13).
Alright, it is official...we have really got to be more aligned with Greek time. But it is hard for us. The Greeks are up in the morning with activity going strong and shops open from 11am until about 2pm...we are usually ready to go by 7am. At 2pm everything shuts down until about 6pm...you could literally shoot a canon through the streets and not hit a soul. And dinner does not even think about getting started until 8pm! Yikes...we are thinking about going to bed around that time. We are trying to take naps but we just cannot readjust our clocks; therefore, we usually feel like we are walking around in ghost towns. But another Monday has arrived and we will try again (June 15). Grocery shopping at 11am, boat projects in the afternoon (Chris jimmied some screen mesh onto the port windows that have become de-screened by splashing waves), Greek language tapes and whatever else we could do until we headed into town at 7pm (still pitifully early by Greek standards). Dinner was a repeat visit to a gyros spot. Yes, we are pathetic but they are delicious. The Greek language tapes have given us a bit of confidence and we are piecing words together here and there. The place was empty except for us so we chatted with Caesar...even learning his recipe for tzatziki. You will need to modify the quantities because the recipe is for his restaurant size needs.
Tzatziki a la Caesar: 10 kilos strained yogurt (use cheesecloth in the fridge overnight); 8 grated cucumbers; 2 heads minced garlic; 2 Tablespoons salt; and 1/4 cup olive oil. You can add chopped dill if you like and/or tweak the proportions to your taste, too.
June 16 we made an early start for the island of Thassos. It was a 10 hour day of motor sailing but it was great to have arrived. We have now made it through the meltemi (strong winds from the North) with minimal bashing. Future meltemi experiences should be with them as we move slowly South. Additionally, we have made it to our rendezvous point with Fran and Hugh who will arrive on June 19. Yippee! We will take the ferry across to the mainland and meet them at Kavala...then ferry back to Barefeet.