Dodecanese Islands: May 30 2009
Our plan for the next several months has gelled and become better defined after inquires of local sailors and seasonal weather reviews. We will head North between the islands of Greece and Turkey to Thessaloniki (hopefully before the Meltemi winds blow strongly from the North), turn South along the mainland, past Athens, round the Peloponnisos, around to the Ionian Sea and finish the season in Corfu where we will winter beginning October-ish. Luckily, we are moving at a slower pace at the moment and should have plenty of time to take in as much as possible. But before moving on we planned to see more of Rhodes and other Dodecanese islands. We rented a car but kept postponing the pick-up as we continued committing to boat appointments; sail guy to re-stitch the trampoline (stitching all but burned out in the sun of the tropics), house bank battery delivery, miscellaneous engine part clarifications, etc. May 12 it looked like everything was in-motion so off we went via auto to Lindos. Lindos is on the east coast of Rhodes approximately 10 miles from Barefeet. Before the Knights of St John arrived Lindos was the most powerful town on Rhodes (12th century BC). Naval power led to the development of the town (7th-6th century BC) with two harbors and an impregnable acropolis...as well as talented artisans and diplomats. Kleoboulos ruled Lindos for many years and was included as one of the "seven sages" of the ancient world. The Temple of Lindian Athena atop the acropolis was our goal as we wandered through the narrow streets and alleyways where cars were not allowed. Tourists rode donkeys at express train speed for the acropolis at the top of the hill...bouncing along the passageways and warning walkers with hooves clacking along the ancient stone paths. The view from the acropolis was spectacular...multi-hued blue sea, scattered islands and protected anchorages. Maybe we will bring Barefeet here?! After tramping in the hot sun we had lunch at Dionysos (+30 22440 31810). We lingered in the shade with delicious mezes (appetizers), wine and a panoramic view of the whitewashed town of Lindos.
A few more errands in the car for provisions and boat bits before additional fun exploration of Rhodes. May 15 we headed south along the west coast. We passed through Sianna with its high quality honey, Arnitha with its fields of Queen Ann's Lace and finished in Lahania for lunch in a courtyard shaded by a canopy of trees. We visited a small shrine with oil burning flame inside...no caretaker in sight...the door never locked as the keys were left in the door. A bit of amusing "borrowing" was found there, too. The bell outside the shrine was labeled from Symi...an island 21 miles away. Back to Mandraki and we had a farewell dinner at Steki's Fast Food (where else) for s/v Adriatica's departure the next day. Inga and Johan have been hopping anchorages with us ever since the Maldives but now our paths will part. It turned into an impromptu party when s/v Nomad Life happened past and joined in the fun...all relaying mutual woes of Egypt and the passage from Suez. We all seemed to have similar experiences and shared the same unanimous joy at arriving in Greece.
Our big "To Do" for Rhodes was to replace the house bank of AGM (absorbed glass mat) batteries for Barefeet. No dramas, they are simply at the end of their lifespan and need to be replaced. We ordered the batteries when we first arrived but we kept getting the runaround regarding actual delivery date...they have left London, arrived in Athens...oops, still in London. Aaagghh. We had hoped to have them installed "soon" so that we would be fancy free when Tracy and Gina arrived. Drat; unfortunately, that was not to be. Ah well, that is okay because we have been promised (wink, wink) that we can go to Lindos for a couple of days and return for their installation. Tracy and Gina arrived from Boston via Athens (May 17)...a bit delayed due to flights but with the sole concern of not wanting to miss sundowners. No worries! We had sundowners on deck before walking into the old town for dinner at Yianni's Taverna. The days passed leisurely with equal parts exploring, shopping and eating before tossing the lines from Mandraki (May 20). Off we went in light winds for a quick motor to Lindos. We anchored in Lindos at Noon...happy to be one of only two boats in the bay with the acropolis of Lindos above us on the hill. We waited to climb to the acropolis until later in the afternoon when the busloads of tourists had left and the temperatures were cooler. In the meantime we read, napped and watched sheep scamper across sheer rock faces that could only be explained by suction cups on their feet. May 21 we again headed ashore. We visited several sites including the Church of Our Lady. Erin and Tracy borrowed skirts in order to be modestly dressed...no knees or shoulders showing, please. Chris's Greek was really coming along thanks to the audio tapes. We visited a traditional home and were shown around by an elderly woman with Chris as translator. Her walls were covered with traditional plates and several pieces of needlework were also displayed. Lindos has architecture in the form of "Captain's Houses" that dot the town from the 16th, 17th and 18th century. Their architecture and decoration is unique in Greece and quite beautiful....we stopped for afternoon frappes at the Captain's House Bar and soaked in the stonework.
Yippee - our batteries were ready! We returned to Mandraki to the commercial harbor for their installation and a farewell visit to Rhodes town (May 22). Oh geez, the batteries were not quite the right size. Magician Chris got out the dremmel to grind a bit more room for them and in they went. All set and weather looked good, too. Early AM we departed Rhodes for Symi (May 23). It was a mirror smooth 21 mile motor. We Med moored in the stunningly beautiful harbor of Yialos. It is as if we have walked into a postcard! Colorful, multi-hued Greek mansions with pediments line the hillsides right down to the harbor's edge. The water was nearly gin clear with shades of blue and green depending upon depth. We walked the shore road, climbed the hills and rented a car for adventures further a field. The Family Taverna Maraklis was a delectable traditional dinner of homemade mezes...stuffed grape leaves, tzatziki, french fries, cheese balls, chick pea balls, Greek salad...and complimentary ouzo. Opah! Symi is an island of less than 50 square miles with just a single road through the island. At the southern tip is the renowned Panormitis Monastery. It is dedicated to Archangel Michael, patron saint of seafarers. We drove there in our bumblebee yellow rental car driven by Tracy...the only one of the four of us with both a driver's license and a confident grasp of driving a stick shift car up and down the steep and winding mountain roads. Snaking through the mountain switchbacks gave panoramic views of hillsides dropping into sapphire blue bays. Cypress and pine trees replaced the scrubbier bushes closer to the harbor and it seemed like we were on another island (May 25).
We first spotted the monastery from atop a hill viewing the bay on which the monastery lies. The monastery is a complex of chapels, museums, elderly alms house and a taverna or two. The main chapel within the monastery was small but spectacular (not more than 600 square feet). The walls were covered floor to ceiling (including the ceiling) with painted icons; shining silver oil lamps hung like dozens of stars in the sky; elaborately carved wood pieces provided a weightiness that might otherwise have allowed the room to float away...and a solid gold icon of Saint Michael sat in the corner the size of two movie marquee posters. (Sorry that there aren't any photos but they were not allowed.) Outside the chapel was a courtyard laid of black and white pebbled designs, flowering hibiscus, oleander and bougainvillea with the sea just a stones throw away. All the while an orthodox monk offered homemade caraway seeded bread and black clad elderly women polished silver oil lamps in the shade. The place literally took our breaths away. The return drive was a slow meandering through isolated hillsides periodically stumbling across a deserted bay, a lone taverna or a solitary cemetery. Almost home we stopped in the harbor town of Pedi. A lovely path clung to the hills connecting Pedi to Agios Georgios. The walk was almost entirely our own and we marveled at the abundant growth of wild oregano, mint, sage and...onions?! The smells were unbeatable! Returning to the town of Pedi we had afternoon frappes at the water's edge. Unfortunately, May 26 was departure day for Tracy and Gina. They took the ferry from Symi to Rhodes and then a flight from Rhodes to Athens. Chris downloaded as much info as he had about Athens and they were ready to hit the ground running.
May 27 it was back to just the two of us aboard Barefeet and it seemed too quiet. We settled into a routine of provisioning and cleaning as we watched for a weather window to head further North. We had a quiet dinner at Tholos just a short stroll along the harbor...and still on the water. Our agent's co-worker, Fani, suggested it and since she is from Symi we thought it sounded like a good bet. We had our first moussaka...literally melted in our mouths...yum. The sun set slowly down the hillside and across the colorful mansions...wow, what a place! May 28 we made use of a short weather window to go 7 miles to the bay at Panormitis Monastery. Drat, pulling up the anchor we experienced our first anchor snag...but there was no wind so we were able to drop our neighbor's anchor where we had picked it up...keeping his dislocation to a minimum. After the bustle of Rhodes' and Symi's main harbors it was a nice change to be anchored in a bay...only hearing the toll of the monastery bells and the bleating of goats on the hills. By sunset the two boats at anchor had mushroomed into a dozen but it was still peaceful. Erin made peanut chili chicken on angel hair pasta that we ate on the deck while watching the sun dip behind the hills. The next day started early so we could make the 45 mile run in light winds to the island of Kos (May 29). It was nice to re-jigger our brains back to reasonable boat speeds and distance covered after the slow slog up the Red Sea (generally not more than 4 knots boat speed and arrival needed by 2pm). We were anchored by early afternoon and finished up showers, laundry and water-making before another early morning departure.
Peanut Chili Chicken (thanks Laurie Cassels): 1 skinless, boneless chicken breast, cubed; 1 cup crunchy peanut butter; 1/3 cup cilantro, chopped; 1/2 cup chili sauce; 1 Tablespoon salt; 1/2 teaspoon cayenne; 1/2 teaspoon black pepper; 1/4 cup lemon juice; 1/4 cup brown sugar; 1/2 cup soy sauce; 3 Tablespoons garlic, minced; 8 scallions, minced. Mix together all ingredients thoroughly except cilantro and scallions. Add chicken to marinade. Marinate over night or simply mix and cook in 9 inch pie pan. Bake at 350 degrees F for 20-30 minutes. Pour atop angel hair or other pasta (or rice). Top with cilantro and scallions.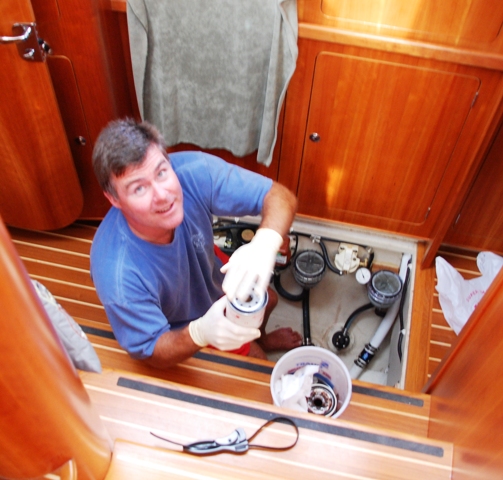 May 30 was a 50 mile move to Samos. Gosh, the scent of pine trees is so strong that it feels more like we are walking in a forest than passing an island at sea. We tried to stop at charming Agathonisi Island but we were unable to get the anchor to set firmly enough...likely too much weed...so we pushed onto Samos. Three miles out from Samos the starboard engine sputtered to a halt. The fuel filter was clogged (as warned) post-tank cleaning and needed to be changed. Chris went immediately to work and we were in business again...until the engine sputtered again to a halt. Drat, the fuel line had to be bled...messy stuff. Both engines back and running for an entry into Samos Marina (www.samosmarina.gr). We hope to ferry across to Turkey and visit Ephesus but we are not sure how long we will be away. When leaving Barefeet we always prefer leaving her in a marina rather than at anchor and Samos Marina looks wonderfully protected. Mikalis deftly helped us tie up with mooring lines out front and dock lines out back.