Winter to Summer in the Blink of an Eye: February 4 2008
It was Boston to Australia in the blink of an eye...okay, maybe not exactly "in the blink of an eye." Actually, it took 26 hours, six movies, three planes and a taxi...yikes! Enroute we had hoped to catch the Pats vs. Giants football game in the Sydney airport during our layover; unfortunately, the sole TV in the airport (in a bar) only played children's shows...uuggghhh...no Pats. We finally made it back to the marina a bit bleary eyed and four bags in tow. Barefeet looks great (thanks to the watchful eyes of s/v Priscilla). We immediately set about opening up for ventilation...and trying to stay awake until a reasonable bedtime (aka after the sun had set). The next few days were a blur of internal clocks going off at 4am, unpacking, sorting, stowing... Erin pedaled to the supermarket for provisions and got the two propane tanks refilled...grillin' here we come. Chris set aside all boat parts purchased in the States and made a prioritized list for a plan of attack.
Australia is in the height of summer with kids returning to school in just a few days. That means loads of summer activities...including a four-day windsurfing competition (Jan 22-25). We pedaled over and had fun experimenting with the "sport" setting on the new camera and utilizing the polarized filter. It was blowing a minimum 25 knots which made for lots of excitement...and nearly a delay of the events. Races began at Noon with several heats throughout the day...and breaks in between just long enough for competitors to wolf down sandwiches and liquids. Current wind speeds must be quite an adrenaline rush for the participants...and avoiding being whisked out to sea...holy cow!
Settling back into the marina we find that we still have friends in nearby slips. S/v Priscilla (Tom and Suzie) just returned from two weeks in New Zealand which made priority #1 getting together for sundowners to pick their brains for information. Brains work better with food and Suzie introduced us to grilled lamb riblets...delicious...but be careful, you can only serve these among friends because it is impossible not to make a complete mess of yourself! Grilled Lamb Riblets: marinade riblets for several hours in sesame oil, soy sauce and chopped fresh ginger. Grill until cooked through. Yep, that's it.
Having friends with wheels (a rental car) expands our range of exploration. Jan 25 we headed to Mooloolaba with Tom and Suzie. Mooloolaba (no, it is not a typo) is roughly one hour North of Scarborough. It is a busy beach town...especially busy on the eve of the final weekend of the summer. This long, three-day weekend is corner stoned by Australia Day on Saturday, Jan 26...full of picnics, beach time, barbeques and fireworks. It was our first trip to Mooloolaba so we walked a bit more than Suzie and Tom who headed straight to the beach. Tom is a sand castle builder/artist and drew quite a crowd...young and old alike. Hey Tom...is that how you met Suzie?! Anyway, Tom is not proprietary about his methods and happily taught many youngsters the art of the drip castle. After more body surfing and beach walking we called it a day and headed back to the marina. (Chris - not how many things you CAN'T do on an Australian beach. They really like there rules around here ... ! Australia is the outback no longer!). Thanks Tom and Suzie.
We love our new Aussie grill and again pressed it into service...this time for an afternoon barbeque on Jan 27 with s/v Silkie (on the hard having work done in a marina South of Scarborough since before Thanksgiving...gulp). Kangaroo was contributed to the otherwise traditional mixed grill and, yes, we all gave it a try...and, yes, we were all happily surprised. Roo grilling needs to be watched closely so that the meat is removed after gauged rare/medium rare; otherwise, it gets pretty tough. It is a dark colored meat with a taste similar to that of a juicy flank steak, simple seasoning of salt/pepper/garlic salt is all that is needed. Stay tuned, emu is next...we will keep you posted.
Boat work has been the necessary evil in order to "play" in the evenings and we have made solid progress. So far, installed the port hot water heater element, installed fridge water pump, installed freezer water pump, installed freezer thermostat and researching/testing the health of our house batteries (AGM...absorbed glass mat) to see how much life they have left in them. Most of these are "blue" jobs but Erin does get into the engine a bit for the odd "pink" job. You see, Erin's arm can fit around and under the engine in order to dry out the water...that sloshed there during the water heater element installation. She can also retrieve lost nuts, bolts, screws, etc. that slip out of reach for Chris. The testing of the batteries has been an ongoing concern because we would like to know with reasonable confidence how much life our batteries have left in them. We can certainly change them out in Australia or Thailand...one year away...but in between (like Borneo) would be a bit more complex. Chris has done several different load tests, comparison of charge levels and other means of "health determination." Unfortunately, the answers all feel too squishy. Luckily, Battery World is nearby and has a portable tester that can be brought to Barefeet so that each battery can be tested...sign us up! Yippee...Dean shows that the batteries are all healthy and should last for the foreseeable future...Thailand (at least). This is a huge load off the brain (and the wallet). Chris has a wide smile that is going to take days to wipe off.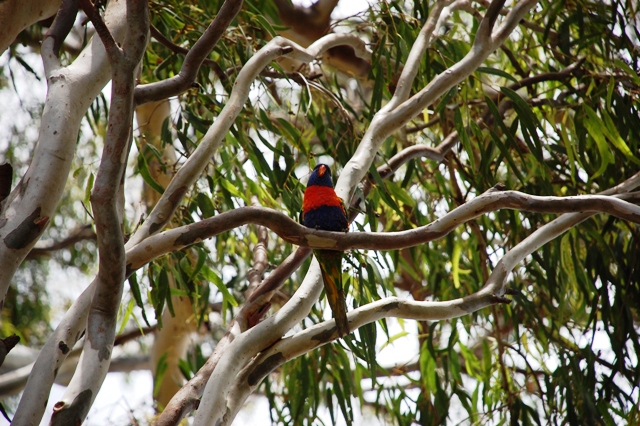 The marina chandlery (run by Fletch and Leona, cruisers themselves) hosts a barbeque pot luck every Monday night. It is always fun and the smorgasbord of food is (mostly all) delicious. Jan 28 was a special Monday night because it was also a farewell to nine boats headed up the Brisbane River to load onto a Dockwise cargo ship. Some call it the "chicken run mob" but that is a different saga. Most boats will be deposited in either Ft Lauderdale, Florida, or Ensenada, Mexico. The transportation method is a unique process. As we understand it...boats individually "load" into the belly of a gigantic container ship floating in water from sea to boat belly. Once inside and positioned each boat is individually secured with underwater welding...the process is then repeated for each boat. After all boats are loaded and secured the water is drained from the belly of the boat. Voila...ready to go. The cargo ship then goes from port to port dropping boats at designated spots. The trip from Australia to United States/Mexico is roughly 3.5 weeks. There are many ways to see the globe.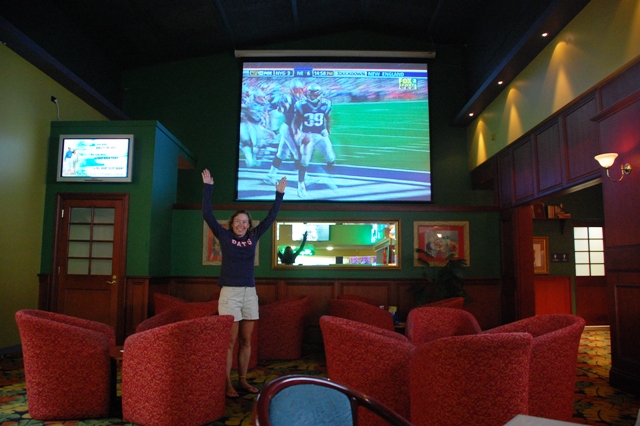 The clear, sunny days have become rainy...and humid. We scouted out a spot to watch the Patriots in the Super Bowl. We went to the Dolphins RSL club. There is a huge TV and when the game is on (9.30am on Monday, Feb 4) we expect to have the place to ourselves. Luckily, the rain stopped and we were able to ride our bikes. In we went. We cheered and hoped but this was not to be the Patriots' game... It was a bummer to see the loss. The team seemed to lack...something...we shall see what the papers say tomorrow. (Chris - Brady couldn't have missed more opportunities! Very painful to watch. I now hate Eli Manning.) There is always next year!