Wild and Wooly South Island, New Zealand: February 19 2008
The peddle back to the boat was a quiet one after the Patriots loss in the Super Bowl. Mercifully, we did not have long to think about it because we needed to stow the bikes, button up Barefeet and get to the airport in order to make our flight to New Zealand. Yes, we could have sailed to New Zealand but we are really excited to begin sailing (after cyclone season) without a multi-day passage staring us in the face...plus, a 747 will keep wear and tear off of Barefeet in the notorious Tasman Sea. We polled our friends and settled on the following game plan; fly into Christchurch and pick up a rental car, circle around the South Island as much/as little as we like, ferry across Cook Strait to the North Island, explore the North Island and catch up with cruising buddies settling there. And because Chris Miller is 50% of the traveling population...Lord of the Rings movie locations will be a top priority integrated throughout the trip.
We arrived in Christchurch just long enough to sleep a few hours (arriving at 2am local time), pick-up the rental car, enjoy breakfast and hit the road out of town. Christchurch looks like a charming English town with stone buildings and meandering public gardens with mature trees shading the riverbanks...as seen through our car windows. Our destination for the next two nights (Feb 5&6) was the Brown Pub in Methven (www.thebrownpub.co.nz). This spot will be our base as we explore the Lord of the Rings locations in and around Edoras. Methven is primarily a ski town for Mt Hutt which means it is pretty quiet during the summer...the time of our visit. The only lodger at the pub besides ourselves was one of the painters repainting the exterior of the pub (who kindly waited until he saw us walking around to start work...New Zealanders are very nice).
The road out to the filming location for the Palace of Edoras, the capital of Rohan (Mt Potts Station) quickly changed from sealed to unsealed...that is paved to unpaved in Kiwi-speak. It was slow going but once spotted it was amazing. There was not a single touch of human habitation in 360 degrees...a valley of red tussock with braided rivers surrounded by magnificent mountain peaks. And right in the center...the hill where Theoden surveyed it all. After parking the car we started making our way across the valley to the hill. Okay, some of the braided rivers are a bit deep and running fairly quickly...off came the shoes...then the pants. Yikes, snow melt is chilly...luckily we were the only ones there. We scrambled to the top and could not believe that a city had been built and disassembled for the movie...it was pristine. The majesty of nature encouraged us to sit awhile...plus we could have a birds eye view of the rivers to cross when we went back...was there a "pants on" route?
Back at the "the Brown" we had a true country pub experience...roast dinner with all the fixin's. It was delicious and we started trying local libations, too...sauvignon blanc (or sav blank) and Canterbury Draught...also tasty. Methven has two pubs...the Brown Pub and the Blue Pub...right across the street from each other but each with its own loyal patrons. We enjoyed the Brown Pub and felt no need to branch out. We got to know some locals and had a great time. Too bad we are not spontaneous enough to take a new friend up on an offer to go fishing...we had an early start the next day for Mount Cook/Aoraki.
The drive from Methven was even more amazing than the drive to Edoras...but for different reasons. This drive went inland toward Mount Cook...a constant target in the distance. On the way, we passed the milky azure waters of Lake Tekapo and Lake Pukaki. The unimaginable opaque color of their waters is from the dust ground off the mountains as the frozen river flows over the rocks (glacial flour). Mount Cook is New Zealand's highest peak (approx 11,262 feet) and dominates the landscape of the Southern Alps. We arrived early afternoon (Feb 7) and headed straight to the Information Centre to book a room. This beats going door-to-door, especially in a place that is often close to capacity. We were lucky...a nice spot in one of the out cabins of The Hermitage (www.hermitage.co.nz). Because of New Zealand's location so far South on the planet...the sun does not set until 9pm! Yikes, that is tough for our cruiser clocks; however, it means we could squeeze in a hike after our arrival. We decided on the Hooker Valley Track...a 3 hour return hike through the Hooker Valley, across two swing bridges and finishing at the Hooker Glacier terminal lake. It was spectacular scenery but it was hard to make forward progress because of so many stops for photos. Although it is summer the trail did end at a glacial lake...complete with ice floating...crazy stuff. Dinner was at the Old Mountaineers' Cafe, Bar and Restaurant (www.mtcook.com) where the views just kept amazing us. All this and we still had light left in the day to sit on the bench outside our cabin with a glass of wine and watch the sun fade from the sky, marked off one mountain peak at a time.
As we explore the countryside we have been alternating drivers...the two lane highways that narrow to one lane over every bridge are tiring...plus, if the same person is driving all of the time they cannot look around. The drive from Mount Cook to Wanaka kept us inland as we passed sheep galore (yes, they do outnumber humans 10 to 1) and stunning scenery...sorry to sound like a broken record on that refrain. Wanaka is the quieter little sister to Queenstown...just our speed. We spent the night (Feb 8) at the tidy Aspiring Lodge Motel (www.aspiringlodge.co.nz)...wifi and walking distance to town sold us on the place. We had sundowners...okay, the sun wasn't actually setting yet...on a second floor pub where we could watch the town goings-on with the backdrop of the lake behind. Erin is still sampling local sav blank while Chris is sticking to the local draught...funny, the most economical way to order a beer is by the "handles," or small pitcher...Erin better drink faster to keep up.
Another Lord of the Rings destination was Glenorchy...scenes involving the sighting of the Oliphant and Lothlorien. Not surprising after watching those scenes Glenorchy is a tiny village on the shores of Lake Wakatipu surrounded by rugged mountain peaks and ancient beech forests. We stayed (Feb 9&10) at the Kinloch Lodge (www.kinlochlodge.co.nz) and had some of our best meals in New Zealand at the Lodge's restaurant. Sitting on the big brown sofa under the eaves with the passing rain cloud...reading our books and sipping a cocktail...glancing at the lake in front of us...some of our most savored moments of the trip. The tranquil nature of the Lodge and the nearby walks were "ying" to the "yang" of our proximity to the adrenaline capital of New Zealand...Queenstown...with bungy jumping, sky diving, river rafting and jet boating. We dipped our toe in the adrenaline waters with a jet boat safari. It was thrilling! We zipped up the Dart river at nearly 50 mph with a draft of only 3 inches. There was the periodic 360 degree turn when we just held on and spun...and we were lucky enough to have the front seat...quite the catbird seat. The Dart river is not a single path of water but rather a network of shifting, braided river channels which means the jet boat driver needs to pick his way each time...dodging boulders and avoiding "dead-ends." The turquoise blue pools that we walked to at the foot of Mount Aspiring National Park were breathtaking.
Exploring the Fiordland National Park (www.fiordland.org.nz) was next but we had some strategizing to do first. The town in the area is Te Anau from which trips are generally taken to Milford Sound and/or Doubtful Sound. We only had time to visit one...and decided on Doubtful Sound. Fiordland was carved by glaciers that left towering sea cliffs, glacial mountains and granite overhangs...aptly described by the Maori "the tattooed land" in reference to the spider web of fiords that criss-cross the land out to sea when seen from above. In order to even get to Doubtful Sound requires some traveling so we chose the two-day sea kayak, one night camping trip (www.fiordlandseakayak.co.nz). We left Te Anau (Feb 12) with our group of nine (including guide) via bus...to Lake Manapouri which we crossed via boat after loading our gear...then back into a bus (after loading the gear) for the final drive to the shores of Doubtful Sound. Hhhhmmm...these sand flies are pesky...thank goodness we bought some heavy-duty repellent before leaving Te Anau. The weather is incredibly variable here with massive temperature swings and rain and wind gusts always possible. For that reason we were quite "geared up." We wore bathing suits, wool long sleeve tops, farmer john style wet suits (legs to the ankle and up shoulders as tank straps), water shoes, hats with visor and side curtains...and in reserve, just in case...wool cap, waterproof top with full sleeves. No kidding, we were ready for anything. This remote, wild area is nearly untouched by man and only rarely did we see another kayaker or boat. The still day to start was amazing...the cliff peaks mirrored in the glass smooth water of the fiords. New Zealand was originally inhabited solely by birds (except for two mammals...small bat species) and it is said that the bird noise was so loud that original explorers could not hear each other speak due to the volume. Now it is much quieter. However, there are "protectors of paradise"...aka...the sand fly. Holy cow, these guys mean business and are not faint-hearted! They are a relative of the beastly black fly of Maine and equally aggressive. Lunch was a quick 30 minutes...just long enough to eat and keep the flies to a minimum...do not misunderstand me. At a minimum is a good two hundred flies per person and do not breathe too deeply or you will swallow a few. Back on the water and we are out of range. The super strength repellent is working but there are limits...even when applied everywhere possible...including through our hair.
The night was spent up Hall Arm where we pitched tents, made dinner and swapped stories...thankfully inside a screened dining tent. Trips in and out of the tent were done at lightening speed and the washing of dishes has never been so rapid. Up early (Feb 13) and off we go after breaking camp and having a quick breakfast. The wind picked up and made for a tough non-stop paddle to the top of the Elizabeth Island. But what a reward once we rounded the island...we rafted two kayaks together and sailed...yes, sailed...back to Deep Cove. Wow - what a marvelous trip and what fun people in our group (this time we were the only Americans). We packed and unpacked the bus...the boat...and the bus. Once back in town we showered and all met up for pizza where we swapped emails...while we scratched and scratched and scratched. Erin's hands and feet/ankles looked a bit like bumpy rice crispie treats...aagghh. That said it was a trip that we would not have missed.
The drive out of Te Anau took us past Queenstown where we stopped for a burger...as raved about by our fellow kayakers. It is called Fergburger (www.fergburger.com) and it did not disappoint. We went straight for the classic Fergburger with cheese and a bag of fries. No need to sample the Little Lamby, Sweet Bambi, Cockadoodle Oink or Codfather. It was a delicious beef burger that we were after...delicious! Plenty of road fuel for a full day of driving to Haast as we made our way out to the West coast. This road saw scenery change from prairie, brown and a bit dry to wet, green and coastal. Enroute we stopped at farm stalls in Cromwell township to sample the famous stone fruit (peaches, nectarines, apricots, plums, etc.)...great for car lunches. Haast is an area where rainforests, rivers and sea come together. We stopped along the highway for a walk to Thunder Creek Falls (84 feet) and Roaring Billy waterfall...how could we not with names like those?! This place was booked pretty solid for the night so we stayed in a backpacker spot.
Up early we grabbed a coffee for the road and headed for Hokitika...with maybe a stop at the Fox or Franz Joseph Glaciers along the way. The glaciers are truly massive. Fox glacier is 13 kms long and approx 8,400 feet high...dwarfing structures such as the Eiffel Tower (a mere 972 feet). Unfortunately, as we passed it was raining and fog reached down to the road. Oh well, something to see next time...and maybe by helicopter (www.foxgiudes.co.nz). The Kiwis do not take themselves too seriously and enjoy poking fun at everything. A wide spot in the road at Pukekura is the Bushman's Centre. This place is dedicated to hunting and road kill...there are possum pies at the Puke Pub and gorgeous deer that can be hand fed. Quite a wonderfully odd place...maybe we'll just have a beer.
Today, Hokitika is a quiet town but with a boisterous past. It was called the rowdy "Goldfields Capital" where 35,000 prospectors patronized 102 hotels and kept the dance halls roaring. Half a million ounces of gold was found per year until the finite supply finally died. Today bone and greenstone carvers dominate and sand dune beaches beckon. We stayed a night (Feb 15) at a spot right on the beach with waves crashing beyond the balcony. We liked this quiet town and had a flavorful Indian dinner and the most wonderful meat pies for breakfast. Meat pies are found everywhere in New Zealand with all sorts of savory flavors and fillings surrounded by flaky pastry. Our favorites are the chicken satay or curry varieties.
Today (Feb 16) was a leisurely driving day as we wound through the mountains to Arthur's Pass on highway SH73. Arthur's Pass connects Canterbury on the East with the Westland...full of even more breathtaking scenery. Nestled in the Southern Alps Arthur's Pass is yet another spot for countless tramps and walks. We even got up close and personal with the mischievous alpine parrot known as the kea (pronounced key-ah). They are cheeky fellas not to be underestimated...once tested and found to have the intelligence of a 5-year old child. They love rubber and will vandalize car windows, bicycle seats and shoes to get at it. Beware! Highway SH73 was originally cut into the hillsides in 1865 to give settlers a shortcut through the Alps to the gold fields. Modern engineers later constructed the Otira Viaduct expanding the road...no easy task in a National Park. Vehicles had to be meticulously steam cleaned when they entered the construction site to prevent weeds from entering the park...a NZ big dig it seems.
In Arthur's Pass we splurged and stayed two nights at the Wilderness Lodge (www.wildernesslodge.co.nz). This place was pure heaven...surrounded by its own 6000 acre nature reserve and sheep station with 30 km of walks, tracks and routes. Meals are made with care and with the freshest ingredients...eating just the two of us or mixed with other guests for the single seating was a fun time to share adventures of the day. There were nature walks in the morning and just before dinner led by the owner/ecologist who positively brims with enthusiasm for his slice of the world. We walked in the drizzle and mist and the bright sunshine to awesome vistas.
A real highlight for Erin was the working merino sheep station and the hands-on tour one night (Feb 17) before dinner (remember it does not get dark until 9pm). We saw sheepdog Tess in action mustering the sheep...oops, a couple managed to slip out of the neat mass...then held a young lamb. Who knew sheep have such expressive faces...wow. As the sheep trotted around it became obvious that they were a bit messy on the backside. It seems these clumps of poo and wool are called dags and clatter around when the poor sheep run. A common Kiwi phrase to get everyone moving is to say, "Let's get going. C'mon, rattle your dags!" Tee, hee, hee...quite the visual (and sheds a whole new light on sheep shagging jokes). Then it was a quick walk to the shearing shed. The sheep are sheared once per year...it takes this station (aka ranch) approx one week to sheer (with scissors) 3,000 sheep. That is great skill because the wool comes off in a single piece all with hand scissors. The oldest sheerer on the station is 82 years old with a grip that could rip off an arm but hands as soft as a babies bottom (due to the lanolin from the wool). The wool is then sold ($100 per sheep is considered good) and later makes its way into Icebreaker clothing, SmartWool socks and a whole range of other items. That was a really great demonstration...and now Chris can shear, too, but it might take him one month to shear one sheep...as a novice. And true to the Kiwi humor we had lamb for dinner.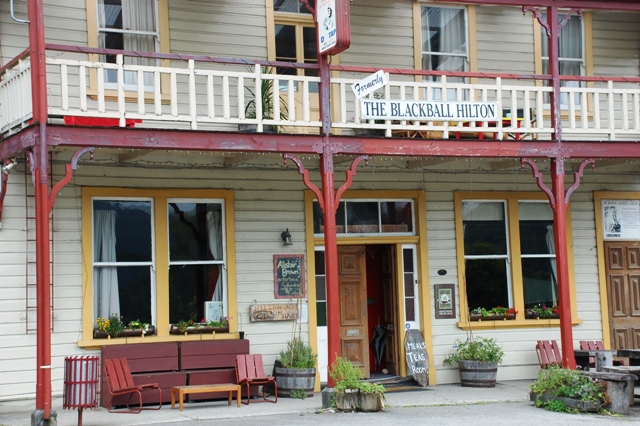 The calendar keeps clipping forward and it is time we start thinking about crossing to the North Island. We stayed inland and worked our way to Picton (Feb 18)...where the ferry departs. A stop for sodas along the way was at the Blackball Hilton...actually Formerly The Blackball Hilton (www.blackballhilton.co.nz) due to some lawyers of the Hilton Hotel chain. This charming place oozes fun with remnants of former wild nights still decorating the walls and a fire burning in the fireplace created by an artistic (and mercurial) stonemason. The owner sat with us and told us great stories about the local population (of 300) as we sipped our Cokes...always with a friendly twinkle in her eye...except for the man who does not talk to her because she got a liquor license...twenty years ago! It seems he used to be the sole cocktail in town.
The ferry between New Zealand's islands leaves from Picton on the South Island, passes through the Cook Strait and arrives in Wellington on the North Island. Our rental car company (Apex) includes the payment of the fee for the car in our rate...and they were still cheaper by half of anyone else we could find. Great deal! The ride is approximately 3.5 hours. We sat on the enclosed top deck and watched the land pass away and then back again. It was nice to have someone else taking care of the passage. And it was a bit of a passage...no sea sickness but our gigantic ferry did shutter several times as it was slammed by waves. Yikes! Safely to the North island and off we go to Wellington.