Whitsunday Islands to Cairns: June 17 2008
June 4 we volunteered to race on a local boat for the Wednesday night twilight races at the Whitsunday Sailing Club; unfortunately, the tide was out and it was impossible to launch from the dinghy pontoon. Captains scattered and got into the water any way possible while avoiding the mud. This is a real sticky, gooey mud! We got stuck high and dry on Tuesday (June 3). We both pushed the dinghy across the mud...sinking up to our thighs...yuck, what is in this stuff?! No...different thought...think of the pricey mud treatments offered at spas...aaahhh. It is thick like cream cheese with hard bits every so often and it makes gurgle and slurp sounds as our legs move up and down, slowly moving forward. It took an hour to clean the dinghy and ourselves afterward...blek.
Waiting for boat parts is necessary but Erin is fidgety to keep moving. Thankfully, we had one big success...the port alternator now works and charges the batteries while the motor is "on." The starboard alternator has been fine but the port has failed to charge the batteries...a real bummer when we motor. We have asked loads of people for ideas but all without success. In Airlie Chris removed the alternator and we walked it into an electricians shop...placed on the workbench for better viewing and the problem was diagnosed...charge controller needed to be replaced. Okay, so the best "fit" is using an automobile controller rather than a marine one. That works for us! Unfortunately, our other project was a lesser success...the throttle cables. After two tries...no go. We learned a lot more about the throttles but they remain as they are...sticky but fine. In an effort to pass the time we took the bus to Proserpine for the afternoon (June 5)...an inland, sugar mill town. The drive left the seashore behind and gave way to acres of sugar cane fields. Proserpine is a one horse town with fun shopping...Epicure Homewares where we discovered a hand crank coffee grinder for the boat and Colour Me Crazy where everything is colorful and silly. Okay, actually, Chris sat in a cafe and read while Erin explored Main Street.
June 6 we were off. Along the way we passed through the Gloucester Passage where we glimpsed a dugong...just the back and tail slowly arcing just above the surface of the water. A dugong is a shy creature similar to a manatee with a fluked tail like a whale. Arriving early in the afternoon to Stone Island gave us plenty of time to walk ashore. At one time the island had a resort but today it is uninhabited except for a caretaker and her two dogs (Roxy and Lucky)...all friendly. Oh yeah, and hundreds of wallabies! This was amazing. We were walking along the overgrown dirt roads when we heard...thump, thump. We looked around and suddenly saw a hopping wallaby bounding above the tall grass. Since this is an island the belief is that they swam here. Amazing! We followed the road to the fresh water dam to see the hills dotted with wallabies coming for a drink. The landscape was beautiful as the late afternoon sun lengthened shadows and made the grass glow golden. Back aboard we checked the weather...lots of wind and rain in two days time. We decided for an overnight to Hinchinbrook Island because most of the anchorages in between are best only in light to fair winds...not the current forecast.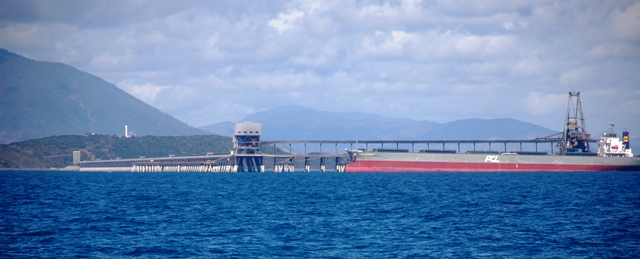 Abbot Point was clearly spotted with its massive conveyor jetty for loading coal onto tankers moored alongside the structure. As we passed there was one tanker loading and two waiting in the wings. We stayed well outside the shipping lanes and boy was it necessary. It was grand central station out here with fishing boats, tankers and cruising boats throughout the night. Well, it certainly is easier to stay awake with things to look at...and avoid hitting.
We arrived at Hinchinbrook Island (June 8) circling around from South to North...trying to asses the best anchorage for the predicted 20-25 knot SE winds. Once anchored we jumped in the dinghy and asked a neighbor boat for local advice. John and Jill had loads of local knowledge (he is a retired game boat captain). They generously shared details with us and it seems the mangrove creeks would be better so off we went to re-anchor. John led the way into Number Seven Creek. Number Seven Creek stretches deep into the mangrove forests of the island and is a protected, calm spot. Sundowners with John and Jill was wonderful. They filled us full of favorite anchorages and local oysters they had collected (simply crumbed, fried and served with lime and pepper). They have happily spent their lives on the waters of the Great Barrier Reef. Especially fond memories were of spending two years as lighthouse keepers on Lady Elliot Island...when kerosene had to be filled into the light once every hour-and-a-half. Fascinating folks and we certainly hope our paths will cross again further North.
Scattered showers lightened enough for us to speed up the creek and walk a bit of the Thorsborne Trail (June 9)...from a boardwalk through the mangroves to sandy beaches to a marked track through dense rainforest. This is one unique island. We found a variety of shells on the beaches...including several whole bonnet (helmet) shells...rain was almost entirely avoided but not quite. Dinner on the porch of Barefeet was peaceful...the only sound was the periodic "pop" of gunshot prawns in the mud of the mangroves. This secluded place with diverse habitats and eye-popping vistas is spectacular (www.queenslandwalks.com.au). There is also a touch of luxury at the Hinchinbrook Island Wilderness Lodge (www.hinchinbrookresort.com.au). Goodbyes to John and Jill via VHF and we headed North on June 10. Wind was steady and kept us moving along at 6-7 knots with the screecher alone. It was a glorious sail past small islands with blue skies and sunshine.
Before a rainy nightfall we made it into Mourilyan Harbour. This is a no-frills commercial port solely dedicated to the loading of sugar onto ships. At a rate of 1400 tons per hour...they mean business. The entrance was blasted out of solid rock and a big change from the nothing-but-nature we have been seeing lately. The anchorage filled up with half-a-dozen cruising boats that were all gone again first thing in the morning...no real reason to stay. We had a good spinnaker sail at 7 knots all the way to Fitzroy Island (June 11). We hopped into the dinghy as soon as the anchor was down to snorkel along the bommies filled with unbroken coral and schools of brightly colored fish. We are definitely feeling swim deprived now that we are in crocodile country when on the mainland...where swimming is definitely a BAD idea. Sundowners were ashore with two other cruising boats anchored here, s/v Ultimate Dream (dinghy is named Wet Dream) and s/v Gitano. The island's resort is being "tarted up" (completely under construction) so we had a ramshackle wood porch with roof at the water's edge all to ourselves. Still drizzly but time to explore. A hike to the summit and a 360 degree view reward (June 12). The boulders made good shelter when rain showers came through. Potluck dinner was a flavorful affair aboard Barefeet with Mexico, Indonesia and Italy represented in food.
June 13 we headed for Cairns (pronounced Cans). But first, Chris changed a fuel filter on the port engine. This was no easy task with ocean swell that tossed tools from counters sending them crashing onto the floor. The engine definitely runs more smoothly which was necessary as we squeezed into a slip at Marlin Marina in 25 knots of wind...yikes! All tied up and this is definitely the big city. Chris was here 12 years ago but hardly recognized the place with skyscrapers and loads of construction and people. The marina was chosen over the anchorage due to high wind advisories and several stories of poor holding mud with boats routinely skittering through the anchorage banging into other boats along the way. Marlin Marina (www.cairnsports.com.au/marina) is smack in the middle of town with all the amenities. We explored the town and headed to the Rainforest Dome atop the Reef Casino (www.cairnsdome.com.au). This is a small spot but overflowing with critters...gobs of birds flying freely, lizards roaming, 12 foot salty (behind glass), fresh water crocs (also behind glass), koalas and small kangaroos...called something else but cannot remember their name. The red-tailed black cockatoos were especially cheeky as they searched for jewelry to snitch...right off your person!
Additional walking was to Rusty's Markets. This is a fresh fruit and vegetable market that has been around for 35 years. It is only open 3-days per week and we hit all three! Gorgeous piles of fresh mint and basil, juicy oranges and bright orange pumpkins. We are in heaven. Chris of s/v Gitano LOVES live music and found a spot with an Irish band playing tonight (June 14). A circuitous walk finally found the spot...Willie McBride's Irish Bar at the Fig Tree Lodge (www.figtreelodge.com.au). Dinner was delicious and the music was wonderful. A dozen musicians sat in a circle in the middle of the bar and played traditional tunes with various wind instruments, guitars, vocals and even an accordion. Many of the songs were familiar to fellow patrons and quickly became sing-alongs. s/v Ultimate Dream, Barefeet and Gitano had a great night...even danced a jig once or twice (sorry, no photos).
June 15 Erin joined Paddy and Kevin (s/v Ultimate Dream) on a car trip inland while Chris stayed behind to do some work on Barefeet. The drive headed to the Highlands and Tablelands region. Erin shared the backseat with Paddy's black and white Shitzu named Simba...perfect. We explored the markets in Kuranda (www.kuranda.org), Simba ran around Lake Tinaroo, lunched at an old country pub in Atherton and generally explored Mareeba, Yungaburra, Lake Barrine and Gordonvale. It was a great day. Erin and Chris then headed to Fetta's Greek Taverna for dinner. It was marvelous...all of our meze favorites with a sidewalk of walkers passing for entertainment. We finished the night with a drink at Rattle and Hum Bar and Grill. A great spot for sidewalk people watching. And the men's bathroom...yikes! Chris came back with the report that the urinal is situated such that you are facing a one way mirror (floor to ceiling) looking OUT (Chris - and peeing on) into the patio full of people. Holy cow, talk about stage fright.
We have thoroughly enjoyed Cairns but it is time to move to Port Douglas to meet Elena and Treva...arriving from the states. We left the marina June 17 and had a mellow 35 mile sail/ motor sail with the spinnaker. Arriving at the Mirage Marina (www.marinamiragepd.com.au) and who are our neighbors...s/v Ultimate Dream. Excellent! Port Douglas looks wonderful and we cannot wait to start exploring the town.