Vibrant Bali: September 29 2008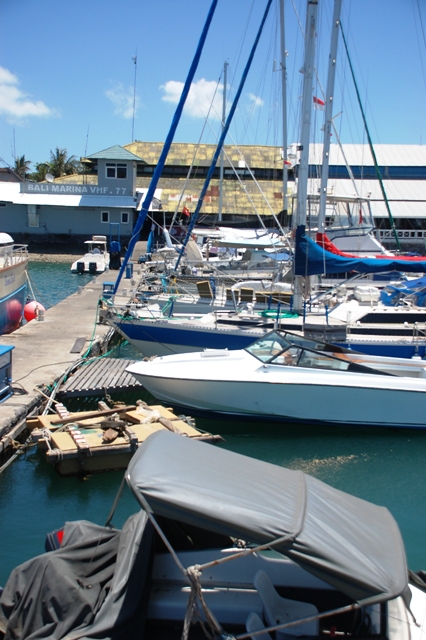 An early departure from Lombok and we were on our way to Bali (Sept 19). Bali Marina is the only gig in town...and with only 60 slips...it pays to call ahead (www.balimarina.com). The Arc Rally fleet left the day before we arrived so in we went...per several emails back and forth with helpful Haryo. Phew, we are glad to be tied up at the marina because the Benoa Harbor anchorage is muddy and poor holding with lots of traffic and swift currents. This was our official check-in into Indonesia...we were kinda under the radar up until this point with cruising permit and visas in-hand but no customs formalities. All went well without being impounded, bond levied or any of the other numerous headaches experienced by rally cruisers this season. All that we experienced was some lost gel coat as we scraped the cement dock due to passing boat wake...drat...but it is only cosmetic and we were moved around the corner when a space opened up to a much smoother spot.
Bali is located between Java and Lombok with a range of distinctive volcanic mountains rising above green rice fields (1963 was the last eruption). The island is geographically small (roughly 215 miles East to West and 123 miles North to South) and the climate is tropical with a culture deeply rooted in spirituality...a unique blend of Hindu, Buddhist, Javanese and ancient indigenous beliefs. Not wanting to miss a minute, we quickly showered and jumped into a cab headed for bustling Kuta beach. Yikes, we just heard a plane for the first time in...awhile. This is certainly "the big smoke" (Aussie phrase for big city) and our senses were working in overdrive. Scooters zipped around with up to five passengers and queued at stop lights as if it were the start to a running race. The cab from the marina to Kuta is approx $7 (50,000 Rp) and 20 minutes...no worries. We wandered through the rabbit warren of alleys and "streets" with scooters coming in both directions and avoiding a mis-step onto small offering trays (canang sari) placed three times per day in front of every doorway and dangerous crossroads. We visited Bali 11 years ago on our honeymoon and, gosh, it is quite surreal to be back thanks to Barefeet. Our first dinner in Bali was a return to the tranquil Poppies Restaurant (www.poppiesbali.com), established in 1973. Chris started with a pina colada served in a carved coconut with limes and cherries for eyes that stared straight at him as he sipped...tee, hee, hee. We both had Indonesian dishes...Nasi Goreng (seasoned fried rice with egg and chicken) and slow cooked beef in a curry/chili sauce. Delicious.
More wandering in Kuta and we found batik dresses for Erin and batik shirts for Chris (Handy's Kurniawan www.handys.batik.com). Unfortunately, Chris has caught a cold and has been flat on his back for two days. He has come out the other side but the dreaded sniffles remain. In the meantime Erin submitted and retrieved our three-month Thai visas from the consulate in Denpasar and sleuthed out some sightseeing itineraries. On a practical note, Bali Marina has dockside water and electrical hook-ups but the water is not for drinking...just boat washing...unless you want a bit of Bali belly. The solution is to purchase bottled water by the 20-gallon bottle (Sept 23). Our water maker is fine but the harbor is quite dirty due to the industrial nature of the place...so we guarded the filters and opted for the bottled water. Carrefour is the big supermarket in town and it is fun to see American brands and fresh meat & veg. However, food at restaurants is cheaper than trying to cook on the boat...okay by us...and we'll keep the supermarket for provisioning before heading to Borneo. Boat cleaning has never been cheaper so Barefeet is getting a thorough wash and polished stainless a la Chris and boat boy Budee (paid just $12 per day)...okay, underwater hull cleaning, too.
Sept 25 Erin took a half-day cooking class at Anika Guest House (www.anikaguesthouse.com). It was fabulous! The day started at 7am with a tour of the local market...specific identification of palm sugar, galangal, turmeric, torch ginger, kaffir lime, candlenut and soooo much more. Smiles were everywhere, women balanced full baskets on their heads and there was not a nook or cranny unused. Balinese cooking was described as a balance of flavors; sweet, sour, spicy and salty without any single flavor dominating the others....a metaphor for the balance desired by the Balinese in their daily life. We made seven dishes with hands-on participation followed by a lunch of our efforts. The flavors were vibrant and positively exploded in your mouth. Balinese Sweet Beef Satay (Satay Manis): 1 lb lean beef cut 3/4 inch for skewers, 1 Tablespoon kecap manis (substitution: soy sauce with brown sugar), 1 Tablespoon mild soy sauce, 2 shredded lime leaves, 1 Tablespoon safflower oil, 15 bamboo skewers. Spice Paste: 3 teaspoons coriander seeds, 1/3 teaspoon ground cumin, 1 teaspoon black pepper, 4 garlic cloves, 1/2 teaspoon nutmeg, 3 large red chilies (skinny ones), 1/4 teaspoon sea salt, 2 teaspoons lemon juice, 2 teaspoons palm sugar (substitution: brown sugar). Soak bamboo skewers in water 30 minutes or overnight. Grind spice paste ingredients in food processor until paste consistency. Mix chopped beef, spice paste and remaining ingredients by hand until all is combined. Marinate overnight. Thread 3 pieces of beef per skewer. Grill until golden brown. Serve with steamed rice and vegetables in peanut sauce (Gado-Gado). Prep option; marinate favorite cut of beef and grill. Vegetables in Peanut Sauce (Gado-Gado): Prepare vegetables of your choice by boiling, steaming, etc.; bean sprouts, spinach, potato, broccoli, cauliflower, carrot, snow peas, cucumber, tomato, hard-boiled egg, cabbage...you name it...and top with peanut sauce. Serve chilled or at room temperature. Peanut sauce (Bumbu Kacang): 5 oz raw, unsalted peanuts (skin on like Spanish peanuts) (substitution: roasted beer nuts), 4 cloves chopped garlic, 2 chopped small chilies, sea salt to taste, 1-2 cups safflower oil for frying, 2-3 tablespoons shallots (sliced and fried), 1/4 medium tomato, 1 teaspoon kecap manis (substitution: soy sauce with brown sugar), 1 large chopped red chili (seeds removed), 1/4-1/2 cup warm water, 2 shredded lime leaves, 1 Tablespoon palm sugar (substitution: brown sugar), 2 teaspoons lime juice. Heat oil over medium heat. Roast peanuts in oil, remove from oil and grind into paste (add water if necessary)...substitution: roasted beer nuts. Grind garlic, chili, palm sugar...adding tomato last...mix with peanut paste. Add kecap manis (substitution: soy sauce with brown sugar), lime juice, lime leaves, fried shallots and up to 1 cup hot water as needed for consistency.
Temperatures have gotten decidedly hotter and wetter with early morning rain giving way to intense sun and high humidity. We ignore the soggy clothes and rivers of sweat as we look for any breathe of wind...off the sea or from overhead fan does not matter to us...it all helps. The afternoon of Sept 26 we decided to be tourists. We hired a car (with "air con") and driver for 5 hours (300,000 Rp or $33) and headed to Puru Uluwatu. This stunning cliff-top temple is dedicated to the spirits of the sea. Appropriate temple attire dictates covered legs. If shorts or a skirt are worn the temple issues a sarong and a sash...for both men and women. This temple has dozens of resident monkeys...a sign of good luck. These guys were a bit more aggressive than the monkeys we met in Lombok...literally grabbing the bags of bananas from our hands. But once the treats are gone they are not interested in us anymore and we could walk in peace. From Puru Uluwatu we went to Jimbaran Bay for dinner at the Four Seasons. It was fun to return but tough to say whether the food or the setting was more amazing. After dinner Gede drove us home safely and reminded us he would pick us up the next morning at 9am.
Sept 27 was a full day of playing tourist. But first a quick stop in Kuta to purchase DVDs...30 movies for $17...bring on the multi-day passages. Then it was off North to Puru Gunung Kawi...arguably one of the island's most impressive sites. The site is a series of memorials cut into the cliffs of the river valley. The memorials are thought to be dedicated to an eleventh-century east Javanese king and his four most favored wives...the five temples (chandi) are known as the Royal Tombs. The period of this memorial as well as many other temples and monuments on Bali were created at a time when Indonesia was part of powerful empires...thriving on commercial trade and swapping tributes with China (while Europe was buried in the Dark Ages). Indonesia experienced its classical era between approximately 500 and 1500 AD when the nation's greatest architectural and religious monuments were constructed...to which pilgrims and tourists still flock today. Puru Gunung Kawai is located in a ravine in Tampaksiring...a tranquil spot between rice fields and flowing river with splashes of symbolic colors and deities. Yellow, white and black are the most evident colors in Bali...yellow symbolizes East and white symbolizes West...while black and white represent evil and good, respectively. But this is simply scratching the surface. Ubud was our stop for lunch...the cultural and artistic capital of Bali. We were amazed by the rows and rows of beautiful batik...cotton and silk, shawls or sarongs...nearly overwhelming...but Erin managed to soldier through and found a couple of batik wrap skirts.
Back into the car and we kept moving South...stopping at Taman Ayun, the main temple of the Mengwi kingdom (which survived until 1891). The large, park-like temple was surrounded by two moats and was lovely to walk around. The moats are meant to deter evil spirits thus keeping them from entering the temple. Pink water lilies were in floating abundance at the heart of large grass areas with scattered palm trees. Temple roofs resembled numerous layers of cut black hair crowning intricately carved stone foundations. The temple is still used today for ceremonies every six months...sorry we missed the processions of offerings and ceremonial garments. Our final stop of the day was the brilliantly located Tanah Lot. Sort of the Bali version of France's Mont Saint-Michel. The temple sanctuary is only accessible at low tide (believed to have been built during the sixteenth century). Local sources believe that poisonous sea snakes found at the base of the rock guard the temple from evil spirits and intruders. Today, you can go inside the caves and have your picture taken with these snakes...yikes. There is still much more to see on Bali but our nine hour tour had us beat. We had a farewell dinner at the marina with Finn and Tove but are confident we will cross paths in the future...likely Malaysia or Thailand, at the latest.
Sept 28 Erin did a provisioning run to Carrefour and Chris did boat projects in preparation for a departure in a few days...after receiving our new, gee-whiz internet connection gadget from Australia...an Erikson 25 wireless modem. After two years we think we have FINALLY gotten the knack of provisioning. We were without food gaps from Darwin to Bali. In Bali we again followed our refined grocery inventory/list and hope for the same success from Bali to Phuket. It has been a lengthy process of figuring out exactly what we do and do not like to eat, what becomes too repetitive, what constitutes a "treat" and what is just not necessary...we are simply never going to open the canned raviolis from French Polynesia or the canned peaches (bought in Florida)...and cookies will go stale before we even open the bags. Top items on our list include eggs, hamburger meat, beef steaks, pork tenderloins, chicken breasts, cereal, UHT milk, crackers, plain yogurt, flour, Crisco, cheese, onions, canned black/red/white beans, garlic and spices that work for us. And, like everything else in Indonesia the price is right...merely $350 for two trolleys of food and drink.
Gulp, unfortunately it seems bribes for package shipments can be numerous and elusive resulting in weeks of negotiation. Our package arrived in Jakarta 3 days after leaving Australia thanks to FedEx; however, after sitting in Jakarta for 1.5 weeks, agreeing to pay $300 import duty and faxing an invoice with a contents itemization list to Indonesian customs...our Erickson product is still in Jakarta. Always good at getting to the bottom line Chris asked how much it would cost to get the package from Jakarta to Bali within 36 hours. Well, it seems there are six employees at customs and each would need a bribe of 1,000,000 Rp...or $100 EACH (no kidding, the lady on the phone outlined the math just like that). Wow - remembering that Budee worked polishing stainless on Barefeet for $12 per day...customs employees must live in mansions and vacation in the South of France. This most recent request would bring our "import duties" to the same price as the item we are trying to ship. We just cannot agree to it and will start the process over from the beginning...having the package instead sent to our marina in Thailand in the hopes that importation is easier there. But first we have to untangle the $300 import duty which customs attached to Barefeet...refusing to give us an exit stamp until it is paid AND refusing to give us our package even if it is paid...aaaggghhh. With this final loose end close to being wrapped up we hope for a Bali departure date of Oct 1...but Jakarta bureaucracy might have other ideas. Our next stop will be the Kalimantan River on Borneo to see the orangutans...450 miles and an approximately 4 day passage.