Thailand...Work Before Play: December 3 2008
Nov 14 we followed a pilot boat up the channel, past the mangroves and into a slip at the Royal Phuket Marina (www.royalphuketmarina.com). We quickly took a cab to Ao Chalong getting ourselves and Barefeet checked into Thailand. Then it was back to the marina to set up appointments to get work in motion for Barefeet; sails, canvas enclosure, haul out, engine 20,000 mile check-up...the list goes on Although we felt like we were up to our armpits in alligators all seemed to come together. Luckily, evenings were relaxing as we usually headed to Skippers Restaurant for a burger or Thai dish (www.skippersphuket.com). The days are hot and humid but the evenings cool off making al fresco dining a pleasure (as long as there is a burning mosquito coil placed under the table).
Phew, teak and fibreglass evaluation occurred Nov 15 and we were hauled out Nov 17. Hauling out was done next door at Boat Lagoon due to Royal Phuket's narrow slipway...seems they "did not anticipate" pulling catamarans...hhhmmmm (www.phuketboatlagoon.com). First look was for any damage from the log in the Malacca Straits or the nicked bommie...happily, nothing found. After eight days on the hard Barefeet was looking clean and trim; new anti-fouling bottom paint, STP on the props and shafts, new hardware for the bowsprit installed at waterline, all sea strainers cleaned, fixed bits of missing gelcoat, deck plates re-bedded, escape window in master cabin re-bedded, sails repaired, rust stains removed with acid...yikes! We even had a brand new teak table made and varnished for the cockpit. We were a tired, sweaty mess every evening. Luckily, showers and great Thai dinners improved morale. Dinners were easy on the wallet, too, with dinner and drinks totaling no more than $15.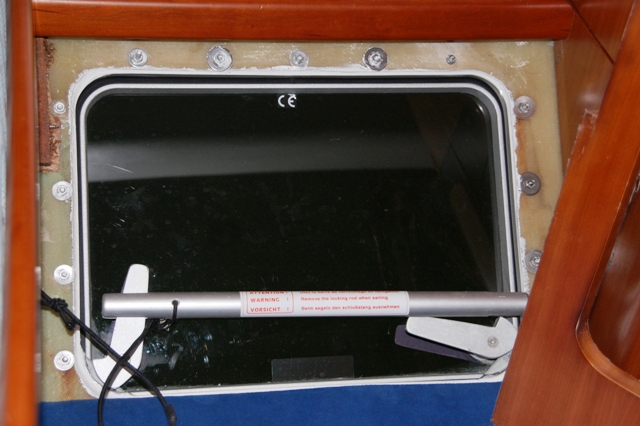 The "escape hatch" in our cabin was leaking so Chris decided it should be taken out and re-bedded with polysulfide caulking in an attempt to stop the leaking while underway. After 4 hours of swearing, cursing and tearing out perfectly good woodwork we finally had access to the 18 bolts that allow the window to be removed. We then spent another 2 hours cleaning and scraping the old caulking off. Then we had to put the window back in (of course) after re-gluing it. Chris was on a ladder, bending backwards and holding the heavy window covered in a thick goo of caulk up to the pre-drilled holes in the hull. Chris pushed it into place but positive pressure was required to squish the caulk thin-enough for the bolts to make it through far-enough that Erin could get the washer, lock washer and nut onto the end of the bolt that emerged into the interior. Chris had no free hands...they were busy keeping the caulk covered mess against the hull. Chris hollered, "Erin, quick...I can't hold this for long...it is heavy...uummfff." Erin replied (predictably enough), "Don't yell at me." Chris retorted, "Just get the f---ing nut on the bolt...I'm dying here." Erin's reply, "If you yell you can just do it yourself." Chris quieted down and suffered silently as he gradually lost all circulation to his arms. Unfortunately, no amount of pushing would bring the bolt through far-enough for the nut to fit. This resulted in Chris climbing down the ladder with the gooey, gradually hardening window frame. We searched throughout the boat and found a longer bolt with the same thread count and diameter...and tried it all again. Success!!! Now we had one bolt in place (which will eventually have to be dremmeled off since it is too long for the woodwork to fit back into place). Chris now has one arm free for whatever might happen. All the other (smaller) bolts now seem to work fine and we bolted the thing into place. We let the caulking set for 24 hours. Now we can close the hatch. Can you believe the toggles don't line up with the positive lock plates?! Don't know how that is possible with six bolts securing the lid to the frame. There shouldn't be any room for an alignment error...but there is one. Chris is now thinking of just getting out the metal grinder and grinding down the offending bits...to be continued...
The sail repairs were done in a mere 24hrs by Rolly Tasker (www.rollytasker.com). We were green with envy over their enormous workspace...truly a jaw dropper. Bottom sanding, repainting and gelcoat fixes were completed by a jovial team of six. Always smiling...even as they sanded off (by hand) the old bottom paint under the constant stream of a water hose. By the time we splashed on Nov 25 we were quite tired of washing with acetone and rubbing our sore backs from twisting into impossible positions to reach stubborn bolts, etc. Plus, Erin was about to mutiny...more focused on traveling around Southeast Asia than cleaning bilges...imagine?! Back in the water and tied in our slip at Royal Phuket we cleaned the interior and felt ready for next year's sailing itinerary. To celebrate we drove over to the West side of Phuket Island...so this is what Thailand looks like?! Much better than a marina work yard.
Oh gosh, after sooo much focus on Barefeet it is hard to, now, push all boat stuff out of our minds until after Christmas. However, we are excited to get to know Phuket and Thailand. We drove our little rental car, Goldie, around the busy streets. Roads are packed with scooters, store fronts are cheek to jowl and painted lane markers seem to be more of a guideline than a firm instruction. Street signs are few and far between...plus, Thai script (developed 800 years ago) does not use the roman alphabet...more like spaghetti tossed onto a wall. The script is nice to look at but meaning is completely lost on us and matching letters is of no help. Instead, we use maps for general ideas of location based on landmarks such as temples and 7-Elevens. The tonal Thai language is also a challenge and quite slow going for us. However, we have managed to get our tongues around two phrases...hello (sawat-di kha/khrap) and thank you (khawp khun kha/khrap). For women all statements end with "kha" and for men all statements end with "khrap." This is tough for Chris because he feels as if he is being rude...crap, crap, crap...all the time. But any trepidations regarding us foreigners are smoothed as we return the universal wai...polite smile and bow of heads with hands in the prayer-like, palms together position.
We decided to spend Thanksgiving (our favorite holiday) at a French Restaurant in our marina, Les Anges (www.lesangesphuket.com). The restaurant was packed and everyone ate at 7pm...just like a bustling dining room at home. Dinner was comfortingly familiar with not a single dish missing in the line up. Stuffed to the gills with turkey, stuffing and three types of apple pie we rolled ourselves down the docks and only longed for leftovers in the fridge. Friday, Nov 28, we were back to discovering Thailand with a market tour and cooking class. Pat is fluent in English and conducts classes at her home just outside of Phuket Town (www.phuket.com/dining/index_cooking.htm). The new ingredients were good to see first-hand at the market because some things are hard to explain...three types of eggplant including shapes more like cranberries and golf balls?! Back at Pat's home we made spring rolls, green curry, hot and sour soup, pad thai and bananas in coconut milk. Chris and I had our own cooking station with Pat ever watchful, "Hurry, hurry, flip, flip...do not burn." We chopped, mashed, wokked and simmered our way through the recipes. Lunch was an enormous feast of our efforts. Wow, tangy and spicy and sweet...bursting with flavor...delicious. And do not be fooled by the humble sounding dessert because it was amazing! Hot and Sour Soup (Tom Yum Goong) (2-4 servings, depending on bowl size): 300 grm shrimp or chicken; 3-5 cups water; 2-3 lemon grass stalks (cut into two and lightly crushed); 4 red shallots (lightly crushed); 4-5 garlic cloves (lightly crushed); 3-8 small green/red chillis (you decide the heat); 4-6 kaffir lime leaves (torn into large pieces); 1-2 tomato (cut into wedges); 3-4 mushrooms (cut into wedges); 1-2 cilantro roots (lightly crushed); cilantro leaves; 3 Tablespoons fish sauce; 1 Tablespoon sugar; juice of one lime. Boil water with lemon grass, shallots, garlic, kaffir lime leaves and coriander roots. When soup is boiling add chicken (if using) and cook approx 3 minutes, add tomato and mushroom and cook approx 3 minutes, add fish sauce and sugar, add shrimp (if using) and cook approx 10 seconds. In each, individual serving dish place lime juice (1/4-1/2 lime), chillis and cilantro leaves. Remove lemon grass, shallots, garlic, kaffir lime leaves and coriander roots from soup and pour into individual bowls. Banana in Coconut Milk (Klouy Bood Shee) (serves 6): 6 bananas (cut into 1 inch pieces); 2-3 cups coconut milk; 1 cup coconut cream (skimmed off the coconut milk); 2-3 Tablespoons sugar; 1 teaspoon salt. Put bananas into coconut milk and boil until soft. Add sugar, salt and coconut cream and heat until boiling. Serve warm.
Nov 30 we walked Kata Beach...a real study in contrasts with swanky five star resorts on a beach which is lined with lounge chairs and umbrellas packed like sardines...shared by...long-tail boats and fishermen using hand nets in the surf. Unfortunately, the political demonstrations in Bangkok have created the expected travel disruptions to Thailand at the height of its high season. This includes Erin's parents and crew for the King's Cup Regatta (www.kingscup.com). Mom and Dad have rescheduled and will have the same trip with us...simply bypass Bangkok. And, looks like we are in luck regarding the Regatta. The dwindled racing crews worked to Chris's favor as he got a slot as crew on a 27 foot trimeran (The Sting). Off we went that night to the opening party at the Kata Beach Resort for all you can eat dinner and drink for a single entry price...oh, and there were loads of sparkling twinkle lights. Chris had a great day (Dec 1) going 14 knots and moving the spinnaker up, down, up, down. Cool! But alas, it was not to last. The marooned crew member made it into Phuket so Chris was out of a slot...no worries...we can still go to the parties.
Dec 3 we did a couple more boat projects before Mom and Dad arrived. We re-bedded the deck plates, installed a newly fabricated chain stripper onto the windlass, delivered laundry (one of the more taxing tasks) and did a provisioning run. Thanks Goldie! We are pooped but glad to have so much completed for a fun two weeks exploring the islands around Phuket.