New Year's in Boston: January 19 2008
Gosh, this log has been hard to write...so there has been some foot dragging. Not sure exactly why...maybe because it took only a speedy several hours (okay, 26 hrs) to travel what had originally taken us almost 1.5 years (shocking our system)...or maybe because so much seemed the same after 1.5 years...or maybe because...who knows. Regardless, we had a great time and loved seeing so many friends and family...and eating at our favorite haunts.
We scuttled from the airport to our apartment close to midnight. Our home looked great and it was initially hard to go to sleep because we wanted to get out and explore our old stomping grounds...but nothing was open so that would have been fruitless. Shucks! Instead, we climbed into bed and stared at the ceiling until morning. Sun came up and we were off! First stop was breakfast at The Paramount (www.paramountboston.com) in Beacon Hill on Charles Street. We used to have breakfast here before work in order to start the day with a walk and a date. It felt decadent. Well, it still feels decadent but this time because there is no work to go to afterwards. Chris had his usual pancakes with real maple syrup...yes, they were as wonderful as he had been dreaming about throughout the South Pacific. We dawdled over our coffees and then walked to the Boston Common. Thank goodness our winter clothes are still fine...it was cold! But the snow was beautiful and the skaters on the outdoor pond were magical. Back to the North End to make sure our favorite grocers are still around...butcher (Sulmona at 32A Parmenter), produce (Alba's at 22 Paramenter), coffee/spices (Polcari's on Salem www.northendboston.com/polcaricoffee), etc. Phew...all is well...and making meals in our land kitchen will be fun from shopping to eating.
Some things are easier on land (zero thoughts about weather, for one) but others are still a challenge...communications...hhhhmmmmm. We have used Skype and borrowed a string of cell phones since we turned off services into the apartment...and find ourselves connecting to wifi at the Starbucks across the street. Okay, we can get a signal for quick email uploads if we walk the laptop down the hall toward the center of our apartment building...but internet surfing, shopping and researching really needs the Starbucks connection. Another land needed item was a calendar...sounds silly...but the boat social life rarely amounts to more than joining into the nearest sundowners and/or hot grill. Ashore there are a few more variables...and our memories alone cannot be trusted.
Erin had her first night with friends, Tracy and Jen, at O'Hara's on Jan 29. This place is a favorite for the beveled glass windows, huge u-shaped bar, multi-generational crowd...and of course the potato skins, grilled cheese and pizza. Plus it is right on the T from Boston...located in Newton. We girls chatted and ate...and capped off the meal with ice cream at JP Licks. Chris was enjoying his night of homecoming, too, playing poker. These are the same guys he played with weekly for almost four years while we lived in Boston. Chris contributed a carved, wooden Tongan war club to the winnings pot...congrats Jeff! It was a great night and felt very familiar.
Time is a crazy thing and although we do not think we have aged...and our friends look the same to us...yikes...the kids have grown a lot! We left some in baby buckets that are now walking and eating with utensils...and others that were just starting to speak that are now using complete sentences and asking us questions. Holy cow! It is cool but definitely a bit time warpy?! Jeff and Jen opened their home to several of these group gatherings...truly the hosts with the mosts. There were kids in costumes, adults asking sailor stories and fabulous food. Pictures were a must...if for no other reason than to chart the changes at our next visit.
New Year's Eve was a continuation of fun and was spent the same way we have spent it for almost the last decade...dancing at Jeff and Jen's house. We feasted on homemade chili and macaroni & cheese...cocktails flowed and Mario got everyone (even Chris) out on the dance floor. It was wonderful! Erin snuck away about 1.30am to sleep but the dancing went on into the wee hours of the morning. Breakfast was the traditional chile/cheese casserole and coffee...once sleepers began to stir, that is.
Jan 5 we went to Ashaway, Rhode Island...Barefeet's hailing port...and home to the tool shed that has been transformed into a beautiful second home for Dad and Mom (Hugh and Fran). Hugh has been sculpting the landscape for years by integrating cobblestones, granite blocks and rocks of all shapes and sizes into a yard of vast nature with a stream tripping through. Water gardens, stairs and walls meet seamlessly with the natural landscape. It all looks amazing thanks to the visionary eyes of Hugh and Fran. It was a fun evening of beef bourguignon, wine and cheesecake as we celebrated Hughie's birthday. The next morning Erin tramped around the yard with camera in hand...even in dormant winter the place looks spectacular.
With the loan of a car we headed back into Boston. But first, a stop for dinner with Rob and Tracy. It is always fun to spend time at their place...exotic cocktails are a staple and the amazingly huge TVs are a football lover's dream...too bad we will be back in Oz for the Super Bowl. Drat...but thank goodness Erin got a bejeweled Pats tee shirt for Oz (www.christinadefalco.com)! We carried on through the next several days much like the last; visiting friends, cooking at our place and buying boat parts, cruising guides and odd sundries. Yes, everything is much cheaper in the States than in Australia...one big reason is the crushed US dollar. Ah well, it is good to be able to shop globally.
Grandma has made the move to Linden Ponds while we were away and we wanted to check out the new digs. Jan 11 we borrowed a car and off we went. Linden Ponds is located in Hingham, close to her old haunts and populated with many of her longtime friends. This is quite a place! The expansive grounds are beautifully landscaped with walking paths throughout. All common buildings (such as the Oak Leaf Clubhouse and Derby Clubhouse) can be accessed via enclosed walkways from resident condos...very convenient for an area prone to a fickle Mother Nature. We saw Grandma's unit, albeit still under construction internally (remedying a neighbor's accidental conflagration) as well as her temporary digs just an elevator ride away. In keeping with her routine, Grandma had a list of "To Do's" for us to help with while visiting...get Christmas decorations put away and stored, visit the market, fix some computer issues, etc. No worries, mate! We made short work of the list and even squeezed in lunch at the Milly Grilly (aka Liberty Grille)...fabulous pizzas that Grandma introduced us to years ago. We took the long way back to Linden Ponds and toured the town a bit swinging past Downing Street, the yacht club and other familiar locations. Then back to Linden Ponds for some chatting and dinner in the dining room. The servers are fabulous high school kids that overflow with energy and enthusiasm...and we even suggested the Milly Grilly for a date that our server was having later that night. Goodbyes are always hard but we did finally need to get back to Boston.
Back in Boston we continued working through our Barefeet shopping list as well as straightening the apartment a bit more than we had when we left it in September 2006. That was a whirlwind, to say the least, and a few loose ends still needed tying up...like getting the last bit of work clothes dry cleaning to the cleaners and then back for storage, washing towels and sheets, stocking up on cleaning supplies and generally consolidating our belongings. It was also a time to cook in the kitchen. Gosh do we love that! Chris made homemade pasta for Erin's Lasagna...and Erin made chutney to have on the ready as an appetizer for friends stopping by...simply stored at room temperature made the cruiser recipe (thanks s/v Silkie) a nice choice for home, too. Simply top cream cheese with chutney and serve with Triscuits (another States only treat). Chutney: 1 lime (seeded and chopped...include the peel); 2-3 cups fruit or more, chopped (green or ripe mango, papaya or canned peaches); 2 cloves chopped garlic; 1 cup brown sugar; 3/4 cup rum soaked raisins (with rum); 1 teaspoon salt; 1 teaspoon cayenne (makes it hot); 1/2 teaspoon cumin; 3/4 cup red wine vinegar; 1/4 cup water; 1/4-1/2 cup fresh ginger (finely chopped). Put everything into a saucepan and bring to a boil. Simmer until brew thickens, stir occasionally. Allow to cool then store in plastic or glass jar. No need to refrigerate - keeps for months. Serve on grilled fish, chicken or pork...or dollop over brie or cream cheese.
After leaving summer in Australia we have enjoyed the novelty of winter...and were pleased when a storm came through and beautifully blanketed the city in white. Plus, this provided another opportunity for Erin to try out her x-mas present from Chris...a new camera (Nikon D40). Erin is a bit intimidated because it is more of a camera than she has ever had...but gosh does it take great photos! This log is the first with the new camera and maybe there is an improvement in photo quality?!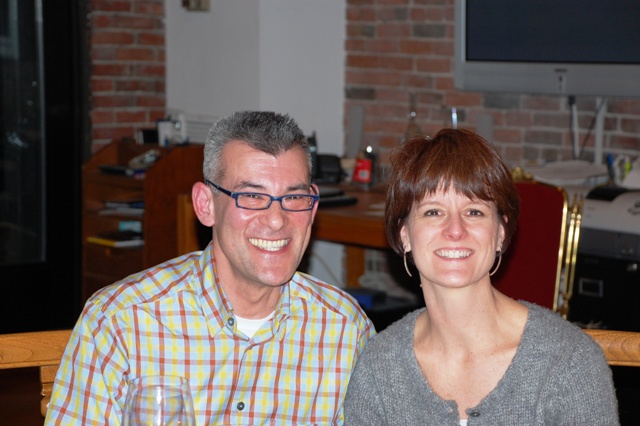 We finished off our time in Boston with various evenings in the North End with friends...both at our place and around the neighborhood...drinks at Neptune Oyster on Salem Street (www.neptuneoyster.com)...dinners at La Summa at 30 Fleet Street...and desserts from Mike's Pastry on Hanover Street (www.mikespastry.com). All just as delicious as we remember...and we even had a night, just the two of us, sitting at the bar at Prezza on Fleet Street (www.prezza.com).
However, it looks like the calendar keeps marching forward and it is time to return to Australia. We loved our time in Boston but are ready to continue the adventure on Barefeet. We got our four bags packed (truly, stuffed to the gills) and effortlessly checked aboard thanks to a friendly Boston sky cap (did we mention that Boston is the most corrupt city in the US?!)...no extra weight fees assessed after a 20 dollar tip. Thanks Boston!