Moving North Through Mooloolaba and Fraser Island: May 4 2008
We feel good! Barefeet is in amazing shape with not a single outstanding project and all maintenance completely up to date...hhhmmm...which part(s) will decide to revolt first?! Plus, we received an email telling us that our Indonesian cruising permit (CAIT) has been approved and our visas are waiting for us in Darwin...big relief. We tossed the lines from the dock at Scarborough Marina (4/21) and were off to Moreton Island for the night. It was a bit more rolly than our first visit but good practice for the future. We had a celebratory barbeque of Tequila Lime Chicken (Barefoot Contessa)...tasty. Tequila Lime Chicken: (recipe serves 6) 1/2 cup gold tequila; 1 cup fresh lime juice; 1/2 cup fresh orange juice; 1 Tablespoon chili powder; 1 Tablespoon minced jalapeno (seeds remain if you want it hot); 1 Tablespoon minced fresh garlic; 2 teaspoons salt; 1 teaspoon black pepper; 2 Tablespoons minced fresh cilantro; 3 whole boneless chicken breasts, skin on. Combine ingredients and marinate overnight in the fridge. Grill and serve.
It was an early start the next day at 6am to be sure we could arrive at Mooloolaba (27 miles NW) while sailing as much as possible...trying out the new genoa sail. The day started out pretty bumpy but settled down for a smooth ride. The entrance to Mooloolaba (love the name) is a bit hairy because breaking waves can roll across the entrance...re-jiggered due to so many winter storms that have caused shoaling (thus creating waves) at the entrance. Chris navigated wonderfully as Erin kept an eye on the depth meter (7ft was the lowest we saw)...but we did give the tourists on the jetty a bit of a show...mouths quite agape as we rolled between the stone breakwalls. Once inside we anchored near Minyama Island deep within the canals...practically a mill pond of an anchorage. The canal system was manmade and is lined by one gorgeous multi-million dollar home after another...including the Irwin's (the late Crocodile Man) with a boat out front named "Crocs Rule."
It is amazing to see such a beautiful manmade area right around the corner from a National Park that is as quiet and serene as the canal homes are concrete and glass. April 25 we picked up some bread and cheese and headed up the Mooloolah River in the dinghy (yes, similar to the town's name...only different...someone has a sense of humor). It was amazingly peaceful and reminded us a bit of the Dismal Swamp of the Inter Coastal Waterway of the US. We spotted several large birds...maybe eagles...or...ospreys? Regardless, they were elegant flyers. Additionally, a few biplanes passed overhead...likely part of the ANZAC Day celebrations (a day of remembrance honoring the military service men and women of Australia).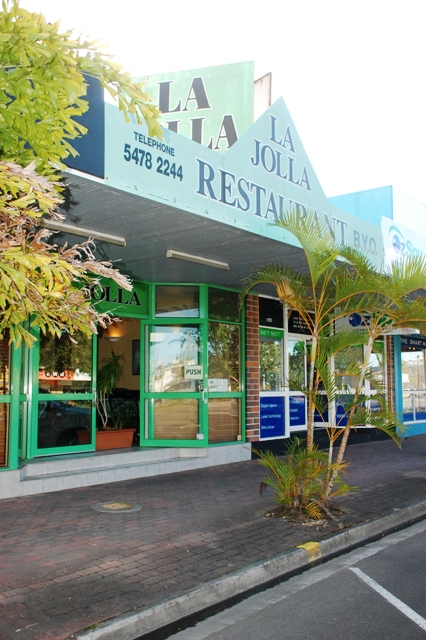 The anchorage has boats looking like cruiser boats and boats getting worked on. Our neighbor in the anchorage (his boat is a work-in-progress) is a local and he gave us a tip for dinner...La Jolla Restaurant. It was fabulous! Only open Thurs-Sun so we made a "booking" (aka reservation...and always preferred in Australia). The menu options were written on chalkboards all around the room, just below ceiling height. The restaurant has a staff of two...the Swiss chef and his Filipino wife who runs the front...taking orders, serving, clearing and getting to know each diner all the while making everyone feel welcome. Erin took a gamble and ordered the pork knuckle (a house specialty). It was flavorful and delicious...complete with cracklins on the outside and tender meat on the inside...but not sure what size this pig was when he was alive...we think he must have rivaled a small horse. Chris stayed a bit more traditional with a beef fillet in a garlic and mushroom sauce. The flavors and sauces were scrumptous and we finished up with homemade profiteroles.
The winds have turned Northerly...the exact opposite of what we want...so we will stay a few more days in Mooloolaba. The extra time has allowed us to meet some wonderful people...a Canadian family who re-located here six years ago invited us over for a BBQ at their home. We dinghied over since they live on the canals...no wheels needed. It was a fun night with a few swapped stories about Aussie/North American pronunciation differences and the chaos it can cause. That said, we all agreed it is a pretty great part of the world. We have also met a baker, Dane, whose ham and cheese croissants have become a morning ritual for us...with sourdough bread brought home for Sunday breakfast (when the bakery is closed). Dane and his wife, Reegan, have become fast friends with sundowners on the boat (2-year old daughter Annika joined in the fun, too) and a great tour of the area...with stops along the way at Surf Supporters Clubs...kinda like a pub crawl with the Coral Sea as a back-drop. Reegan finished the evening with a roast dinner and all the trimmings. It was delicious and we felt very much at home. Needless to say, if you find yourself in Mooloolaba...check out vanWegan's Continental Bakery at 15/130 Brisbane Road...Dane is modest but his professional pastry chef and professional baker skills become clear very quickly...everything is amazing.
Pulling up the anchor in Mooloolaba was another early morning routine...literally as the sun was beginning to come up at 5:30am. Our exit from the harbor was calm and much less dramatic than our entrance. Coffee and buttered toast (yes, sourdough from vanWegan's Bakery) was nibbled along the coast as the sun rose in the sky. It is Fall in Australia and there is definitely a chill to the air. We were bundled up in fleece and socks for the whole trip to Fraser Island. The coast rolled along slowly but we made the 55 mile distance to the entrance of the Great Sandy Strait at approximately 1 hour before high tide...our goal. This timing is meant to provide optimal conditions to cross the bar at Wide Bay. The bar is a raised bit of sand at the entrance of the bay (really a river entrance) that can produce rolling breakers in bad conditions (such as low tide or high winds or tide going against the outflowing current of the river). Erin was at the helm and Chris kept an eye out for buoys marking the route into the Sandy Straits. Conditions were good and the bar crossing was without drama and without breaking waves (lowest depth seen was 12 feet). We were careful because a 40' catamaran had pitch-poled at this bar a year ago. However, we weren't done yet. And "The Mad Mile" lived up to its reputation as a very uncomfortable ride...the seas stacking up and becoming directionless (despite vast sea banks to seaward and excellent depths in the channel). At last, we were in!
And with still a few more hours of daylight left we continued 14 miles North of Wide Bay Bar to Garry's Anchorage on the shores of Fraser Island. We set the anchor and boy were we pooped after the 11 hour day. A simple dinner of grilled sausages, spaghetti and feta fit the bill perfectly. The sun went down as we ate...with evening entertainment a la critters...dolphins swam past and sea turtles popped their heads out of the water to take a breathe...each of us alternately saying, "Did you see that one over there." "Oh yeah, and what about that one over there?!" "And what about those guys over there?"
Fraser Island is the largest sand island in the world with the Great Sandy Strait providing a calm-water travel alternative to an ocean passage outside of the island. The diversity of the place keeps scientists and tourists alike jumping for joy...from hard wood forests (logged until the 1990s when it was named a World Heritage Area) to mangrove shores to white sand hills...with as much wildlife above the water as below it...unfortunately, including the sand fly. We walked the paths ashore and kayaked the calm waters. While kayaking we saw a fish that seemed to be dragging a leaf behind him. However, on closer inspection it was actually a cuddlefish/squid chasing the fish for all he was worth! It appeared that the fish outran the predator this time...but we might have missed the final chapter. An anchorage neighbor (and fisherman) mentioned that his fridge was full of fish but he still wanted to fish...if we would agree to eat any fish caught he would go out again...you bet we would take that offer. Sure enough...early afternoon he came by with two flathead fish. Erin filleted them...funky skin that felt more like a reptile than a fish and tough to cut through. Just the right amount for breaded and fried tenders as we headed to our next anchorage...you guessed it...as the sun came up. These early morning departures are based on the high and low tide times. The tides in this area are up to 14 feet and really impact where you can go when.
May 2 we headed to Kingfisher Bay and dropped the anchor at 9am. This anchorage has a "steep-to" problem which creates a drastic drop off after a sandy shelf...leading to boats anchored in a literal line one-after-another and parallel to the shore. The tide is dramatic here and one dinghy ashore followed by a lengthy, slow drag back to the water meant we opted for the kayak for jaunts ashore. The most obvious landmarks on Fraser are the freshwater lakes. We put on our walkin' shoes and made the 14 mile round trip to Lake McKenzie. A dip in the crystal blue water was refreshing...except for the slithering leech that Erin discovered as a hitch-hiker INSIDE her sneaker...no kidding the rainforest ecosystem is for real. Yuck! On the return walk we wandered within three feet of two adult dingos resting beside the path. We all looked at each other and followed the instructions from the sign by keeping our hands at our sides and moving along slowly...no worries. But they are beautiful animals...later, we got some distant photos of three dingos playing on the beach at sunset...from the decks of Barefeet. At the end of our walk we treated ourselves to pina coladas and steak sandwiches beside the pool at the Kingfisher Bay Resort (www.kingfisherbayresort.com). That was perfect...even if it was served the Aussie way with a fried egg and beet root INSIDE the sandwich. Kayaking back to the boat was not so bad because our legs had been doing all the work today...arms were fresh and ready.
Mother Nature looks to remain mellow for the next several days which means we have a chance to visit Lady Musgrave Island. This is actually a coral atoll that is only pleasant to visit in light conditions. At 80 miles from Kingfisher Bay, this will be our first overnight in awhile...the mind is a bit curious how to react. It was a great sail out of the Sandy Strait and Hervey Bay with a sailing race alongside for entertainment.