Family Visits From the States: March 31 2008
Time marches on...but has a way of sneaking up, too. Today Erin turned 40! It was a fun celebration with the menu of her choice prepared by chef Chris...homemade pizza (caramelized onion variety, if you please) and margaritas. Simply delicious! We played tunes and read well wishes from friends and family...thanks everybody, really wonderful. The stars came out and we sat and watched the light display...still awed to see the Southern Cross located front and center in the night sky.
The celebrations continued as we picked up Chris's brother from the airport (Mar 14). It is a long flight from Boston...even with a few days stop in Hawaii...but Hugh deplaned with a broad smile. Off we went for a well deserved seafood feast overlooking the marina. We continued as tour guides by showing Hugh some of our favorite haunts...like the sidewalk cafe breakfast spot in Redcliffe...and then headed into Brisbane for a walk around. It is Saturday, Mar 15, the day of parades and celebrations for St Patrick's Day (since the 17th falls on a Monday this year)...lots of folks walking around in green outfits and the sound of bagpipes everywhere. The warm, sunny day made for a different climate than our St Pats celebrations in Boston when we were bundled up from head to toe...happy to have Michael's house to scoot inside for some warmth during the festive Southie Parade.
We wanted to show Hugh some of the famous Australian surf culture...not possible in Scarborough or Redcliffe...so we headed South to the surf town of Byron Bay (okay, no arm twisting needed for us). Unfortunately, Erin struck out with accommodations (a rarity for her)...the two bedroom, self-contained cabin turned out to be a one bedroom with bunk beds in the living room/kitchen...hhhmmm...so much for truth in advertising. Oh well, no worries, we really only slept there...spending our days at the seashore or relaxing on the open patio of the Beach Hotel where we read books and caught up with the world via wifi. We also did the 2hr return walk to the lighthouse and the Eastern Most Point of Australia. While on the path to the lighthouse our hearts skipped a beat as a glider swooshed from nowhere and repeatedly did fly-bys beside us. We were on the cliff top path with the jagged coast below and out he swooped...wow...and again he swooshed past, this time dipping his wing as we waved...this went on several more times until finally he glided off out of sight. Very cool! Chris rented a surf board and tried to apply his new learning...no luck...not the right conditions. Too bad but he is looking forward to trying it again another time. Instead, he and Hugh had a fun time body surfing in the warm Australian waters.
Back aboard Barefeet at the marina where we relaxed by day and grilled by night...lamb chops, baked potatoes and Greek salad...with an oatmeal/chocolate chip cookie for dessert while we watched a movie. Keeping to our surfing theme we watched "Riding Giants." We love this movie! It chronicles the history of big wave surfing in California and Hawaii...from the 1950s through to today. The movie footage (current and vintage) is simply amazing.
Just one more "must see" before Hugh leaves...Steve Irwin's Australia Zoo (www.australiazoo.com.au). We got up early (Mar 20) in hopes of finding as many animals as possible awake and alert because most critters in Oz are nocturnal. We were not disappointed. Erin fed a kangaroo from her hand while germ aware Chris opted to sprinkle his food mix on the ground. Hugh got some great pictures of the grown tiger standing for some milk (no reduced fat for this guy...he makes his preferences known). The tiger photo is actually a movie...check it out! Just a bit more R&R before Hugh needed to get back to the airport (Mar 22) and back to Boston. So long until next time.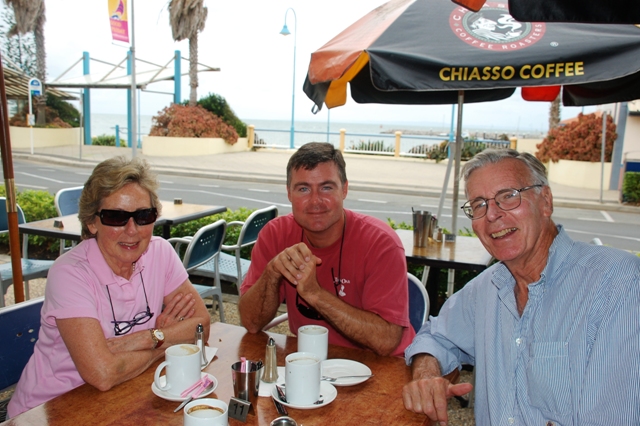 Tiger Video Link (right click, then "Save As" a file to your desktop for faster viewing)
A boomerang trip back to Barefeet for a quick boat cleaning and linen laundry before returning to the airport to pick up Hugh and Fran later in the evening (Mar 22). Gosh is it good to see everyone! And fun to have little bits of the USA brought along...like Easter marshmallow chick peeps and styrofoam egg containers. C'mon, do not scoff. We had two one-dozen styrofoam containers when we left the states but they finally died in Fiji (due to an overly enthusiastic egg seller). The styrofoam egg containers are helpful for transport when eggs are sold individually (sans container) and for storage in our overly wet fridge.
Catching up time was spent relaxing on Barefeet's back porch with a salad of peaches, buffalo mozzarella and basil (we have a very active basil plant at the moment) and quesadillas (tortillas a la Chris). Barefeet was our base of operations in Brisbane while Hugh and Fran renewed connections with former colleagues and friends from a sabbatical spent in Brisbane a few years ago. Erin and Chris joined the gang for a home cooked Easter dinner...very nice, indeed. Yes, we even squeezed in a breakfast of homemade blueberry pancakes...yum!
Australia is one big country...continent, actually...and tough to canvas. Therefore, we used airplanes instead of a rental car to visit both Sydney and Melbourne...a very civilized one hour plane ride per hop as compared to a 12 hour non-stop road trip. Our previous trip to Sydney was less than 24 hours so we slowed down during this three night visit (Mar 25-27). Erin's accommodation seeking skills are back on track with our stay at the Lord Nelson Brewery Hotel (www.lordnelsonbrewery.com). This sandstone pub has been licensed to serve alcohol since 1841, is the oldest hotel in Sydney and, even today, has a brewery on premises. Chris's favorite brew was "three sheets." As if that was not enough...it is located in "The Rocks" neighborhood...the birthplace of Sydney and modern Australia. In 1788 eleven ships comprising the First Fleet dropped anchor at The Rocks carrying convicts to the penal colony...the city and country has never looked back...carving a beautiful lifestyle from a rarely visited part of the world. Today, The Rocks maintains the charm of narrow laneways and cobblestone streets with 19th century warehouses converted into restaurants, pubs and boutiques. One boutique in particular had marvelous t-shirts...a simple kangaroo hopping across the shirt...similar to the Nike swoosh only a kangaroo (www.kendone.com.au). Yes, Erin and Fran made souvenir purchase no.1. As for experiences, the bridge climb was at the top of the list and Fran was booked in for a climb at 9am...Hugh deferred. What a great debrief we had at breakfast! No regrets for the 360 degree harbor views.
Erin and Chris took a cool morning wander through the Royal Botanic Gardens (www.rbgsyd.nsw.gov.au). The 80 acres of manicured gardens are a far cry from their original purpose...a failed attempt by First Fleet convicts to establish a farm. The garden rings a U-shaped section of the harbor from behind the Sydney Opera House around Farm Cove and out to Mrs. Macquaries Point. There are of course the ubiquitous flora and fauna but two of the more popular residents are the Golden orb-weaving spider and the Grey-headed flying fox...a bat! We were a bit creeped out by both. As for the spider, despite their large size (body is 2.5 cm in length) they rarely bite...except for their intended prey of flying insects. The spiders were tucked around the gardens within hedges and flowering plants...off the beaten tracks. The bats, however, were front and center. They were massive in size (up to 4.5 ft wingspan) and population (1000-8000 individuals depending on time of year). We arrived during mating season which meant that despite their usual daylight sleeping patterns...they were raucous...continuously fidgeting, swaying, banging into one another and screeching. These bats eat fruit and nectar over a feeding range of up to 23 miles...no real need to worry about them being interested in us...but eek! Their little faces really look like foxes...and their in-flight wing pattern is definitely bat-like.
We continued exploring with an early morning (6.50am) tour of the Sydney Fish Market (www.sydneyfishmarket.com.au). We saw the Dutch style auction in action and were educated about the components that make up this system. The Sydney fish market is the Southern hemisphere's largest...and the second largest fish market in the world (Tokyo is the largest). We saw multitudes of whole fish iced in square buckets for bidding inspection and transport; live crustaceans carefully packed on foam mats (crabs, lobster, etc. are never sold dead); metal tables of tuna gingerly handled to avoid bruising of any kind (imagine...they are actually hauled from the sea onto mattresses on the decks of fishing boats)...and so much more. The "fishy" smell seemed at a minimum inside the cold building...but when we left...a fishy cloud definitely hung over us. Our newfound seafood acumen was put to good use with an unbelievable dinner at Quay restaurant (www.quay.com.au). Views of the Opera House surrounded all diners thanks to floor to ceiling mirrors...and the tantalizing flavors were out of this world. No kidding, one of many favorite tastes was an appetizer listed as a sea pearl...smoked eel surrounded by octopus tentacles and held together by a mild horseradish cream. Our evening finished with a performance by comedian Wil Anderson at the Sydney Opera House and cocktails al fresco while viewing the Sydney Harbor Bridge. This harbor view never seems "normal." Just ask Erin about the seemingly endless number of harbor images she photographed (you have been subjected to only a few in this log).
Mar 28 it was off to Melbourne, Australia's second largest city. We exited the sunshine summer of Sydney and landed in the crisp autumn of Melbourne. This brisk temperature is not always the norm as viewers of the annual Australian Open (January) often comment that center court is so hot that tennis shoes are actually melting...and a mere 12 days ago, during the Formula One Australian Grand Prix, the temperatures were so hot that tires were said to be melting...all the better to grip the turns....there is always an upside. Yikes! That said, we were pleased with the novelty of Fall and enjoyed the autumn foliage. Melbourne is a city of more than 3 million chic inhabitants...each of whom is said to "adore" their city (often voted the most livable city in the WORLD). The city is overflowing with theatres, sporting arenas, fashion and culinary delights. As for us, we loved the food! Loads of Greek restaurants (with the second largest Greek population after Athens), croissants that make you think you are in Paris and gobs of fresh produce and meats and delis...there are actually three (city block sized) markets dedicated to just those three items (Queen Victoria Market, South Melbourne Market and Prahran Market). We were in heaven. We walked and walked and walked the city...working up healthy appetites that were rewarded by great meals.
Due to the patchwork of neighborhoods that make up Melbourne, it was tough to decide in which area to stay...but we finally decided on the neighborhood of South Yarra. We stayed at The Albany (www.thealbany.com.au) with its black and white tiles, red carpets and full length mirrors scattered along corridors...quite zippy. We bundled up and explored the Royal Botanic Gardens...ducking between the passing showers...on our way to the National Gallery of Victoria on St Kilda Road (www.ngv.vic.org.au). The museum contains a broad collection of international art (spanning the globe and centuries). We especially liked the descriptions given for each piece. They went well beyond the customary title, artist and date to also include cultural context.
An especially fun evening meal was at La Citta (www.lacitta.net.au). It was a candlelit Italian restaurant tucked in a small alley with umbrella tables positioned where cars would normally have been. The diverse antipasto plate was full of color and homemade flavors and the gnocchi literally melted in your mouth. Melbourne is a fun place full of surprises. It seems that The Albany maintains a Bentley in order to ferry guests around Friday and Saturday nights. Who knew?! The driver seemed bored to tears...and we had never ridden in a Bentley...so we asked for a ride to the Irish Pub down the street. That was really fun...but we don't think anyone noticed us exiting the car?!
Our breakfast routine quickly became croissants at the French Fantasies Bakery on Toorak Road. It was just a quick walk from our hotel and the croissants were amazing...have we gushed on too much about the food?! Sorry but it can't be helped. The croissants were amazingly flaky and chewy...rolled out by hand on a slab of cold marble (no jam needed). The most wonderful, although unexpected, surprise we had was visiting the Shrine of Remembrance (www.shrine.org.au), originally built in 1934 to honor the 114,000 Victorians who served in the First World War. The construction was funded solely by private citizens as a place to grieve loved ones lost in the war. This local "place" was important because many fallen soldiers remained in overseas graves in France, Gallipoli, etc. that loved ones would never have the opportunity to visit. It was a moving and solemn visit narrated to us by a stately veteran. The most sacred room in the Shrine is the sanctuary which contains a marble slab engraved, "GREATER LOVE HATH NO MAN." We got goosebumps and felt a tremendous debt. The symbolism continues through every corridor and with every stone...from the Changi Flag to the imposing Father and Son sculpture located in the crypt. Times of special ceremony are held November 11 (Remembrance Day) and April 25 (ANZAC Day).
Melbourne is definitely worthy of a repeat visit. There is still much to see and to learn...and to eat. Mar 31 we were headed back to Brisbane and Hugh and Fran were back to Hawaii. Parting is often accompanied by tears of emotion but what a great trip we have had.
Post script: Melbourne was hit by a dust storm the day after we left. Winds gusted up to 85 miles per hour causing extensive damage to power lines and infrastructure. Newspaper photographs showed the city as a single, orange glow. Gosh, timing is everything.