Darwin: August 23 2008
We pulled up to the Cullen Bay Marina pontoon Aug 7...paperwork first and then through the lock into the marina. Lock master Carl was a pro and made it an effortless transit despite strong wind warnings. However, this single lock adds a level of planning to arrivals and departures that we have not encountered before. The marina is full at the moment so we were put on a private pontoon outside a private residence...kinda like a mini-Mooloolaba. It was a tight squeeze but we took it slow and were tied up by Noon. First introductions were to the resident dogs...little white snowballs who scampered down the dock...one, two, three, four...FIVE! They are adorable. Seems that Rhona tried her hand as a breeder but couldn't part with any of the puppies when the time came to sell them...she has since given up breeding. The dock has water and electricity...and Barefeet is happy in this flat mill pond.
Thursday night is the Mindil Beach Market (www.mindil.com.au)! This sunset market is filled with stalls of food, regional arts & crafts and live music. Locals describe it as the ONLY place to eat on a Thursday night. Our food strategy was similar to that of attending a County Fair in the States...eat little bits all along the way, all throughout the night (Chris - I eat as much as I can before they run out). We sampled curry somosas, chicken satay skewers, stuffed chicken wings, gyros, crepes and a tropical fruit shake...a diverse mix reflecting the 75 ethnic groups living in the region. Erin's favorite were the stuffed chicken wings at Saigon Star's stall (moist chicken stuffed with ground pork, glass noodles, garlic, celery and other spices) while Chris's favorite was the grilled gyros at the Greek stall. Gosh...the pita was amazingly soft and the giant pot of tzatziki...tangy and delicious. After gathering our dinner we strolled a few yards to the sand dunes of the beach...with what seemed like every man, woman and child currently in Darwin...to watch the sun set into the Timor Sea. It was a carnival atmosphere with wine and picnics, beach blankets and chairs...all positioned for the end of day show. Right on cue...there it went, the sun dropped into the ocean and up went a round of applause. Mother Nature must be pleased.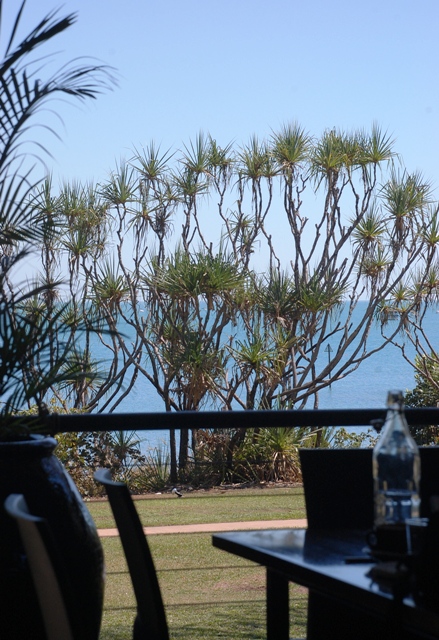 Chris's love for breakfast had us out Aug 8 to Cornucopia Cafe (www.cornucopiadarwin.com.au)...a recommendation from Ferne of s/v Kinchega. Well, breakfast became lunch after getting a late start due to some boat projects and tricky road signs but it was a lovely spot. Tables are scattered on a giant, wood decked verandah overlooking Fannie Bay with fans whirring overhead. We dawdled a bit over our sandwiches and enjoyed the shaded view.
But now it is time to go into overdrive and get our "To Do" list underway. Deep breathes and we divided and conquered in order to get as many tasks started as possible; provisioning, numerous loads of laundry, Aussie customs, paperwork for Indonesian visas, propane refill, install starboard engine starter solenoid (outcome of diagnosis back in Airlie Beach), minor repairs to spinnaker sail, re-galvanize anchor chain (got a bit abused by some coral heads in the South Pacific), get anchor windlass looked at (sounds sick and is moving slower than usual), get windex looked at, check starboard engine alignment, organize a mail drop (in hopes of finally completing our taxes), re-bind shackles, mold patrol, organize duty free diesel and grog...plus we would love to spend a couple of days of hiking in the Litchfield and Kakadu National Parks. Yikes! It was a major blitz but everything was put into motion. However, the interior of Barefeet looks a bit like a tornado hit...tools and papers and computers everywhere. New projects mean new tools so Chris bought a couple of new things...including...a BLOW TORCH. And, yes, of course it was needed. The eight bolts on the transmission are nearly frozen on and the heat should help to loosen them...penetrating oil was just not enough. Thankfully, the blow torch did the trick...measurements were done and the engine is in alignment. That is good news but a lot of work to get to that answer. Now it is time to buy new bolts that did not survive the removal process and get it all back together again. Seems the vibration must be coming from a cracked metal plate...off it went to be replaced...either ordered or fabricated.
The season in Darwin at the moment is winter, the dry season; however, this does not mean sweaters and boots. We are happily still in flip flops and t-shirts. It is a dry heat with intense sun during the day (85-90 degrees F) but cool nights (good sleeping weather). A light breeze keeps the temperatures in the category of pretty toasty rather than oppressive. And a rental car has made our dashes about town much easier...the city is flat but quite spread out. Sundowners have mostly been aboard Barefeet where we have also been eating most meals in order to make room for fresh freezer meat before heading to Indonesia. Crunchy golden chicken with french fries and a Greek salad was a recent favorite. Crunchy Golden Chicken: combine 1/2 cup bread crumbs, zest of 1/2 lemon and 1/2 cup chopped cilantro. Roll chicken for 2-3 portions in flour, dip in ranch salad dressing and roll in breading mixture. Bake at 400 degrees F for 30-40 minutes until cooked through.
Aug 13 was a visit to the Museum & Art Gallery of the Northern Territory (www.magnt.nt.gov.au) which gave us a better understanding of the region's art, natural history and culture. In the natural history section of the museum there was a skeleton of a giant flightless goose...maybe that was the big bird that goes with the big footprints we saw on Marchinbar Island?! Okay, maybe not since it is extinct (lived in the Miocene Epoch 5 to 22 million years ago)...but maybe a close cousin is still around?! We also learned about Cyclone Tracy...sadly, the greatest natural disaster in Australia's history. The destructive winds virtually destroyed Darwin on December 24 and 25 1974...forever giving the common phrase, "Merry Christmas," a very negative tinge. Today, the ruins of Old Town Hall remain in Darwin as a reminder of the cyclone's destructive forces. The museum then took a ninety degree turn from Mother Nature into the area of celebrities with the croc icon named Sweetheart...on display in all his glory! He was a formidable predator at more than 15 feet in length when he was caught in a trap in 1979 (even attacking several aluminum dinghies at local fishing spots). Unfortunately, he drowned after being anaesthetized in an attempt to haul his massive bulk ashore for relocation. However, his hunting prowess was confirmed by the contents of his stomach...two turtles, numerous pig bones and a barramundi fish. This was a user-friendly museum and we enjoyed learning more about the Top End after spending so much time in spots where there was just no way to learn about the area.
After dropping things off around town for diagnosis we have circled back to pick up finished items (Aug 14)...thankfully, minor repairs and routine servicing was the theme. We are on a roll and feel in solid shape for a departure next week. However, all work and no fun makes for a dull (and cranky) Erin and Chris. Aug 15 we went to the Darwin Rodeo! It was a great night full of buckles and boots. We sat on a grassy hill facing the ring watching men, women and juniors compete in barrel races, rope & tie, bare back bronc, saddle bronc and bull riding. Competitors were from Australia, Canada, the United States and Britain...yes, there is indeed a pommie cowboy. Bulls had names such as Lethal Injection and Black Thunder. The Darwin Rodeo had its start the year after Cyclone Tracy in order to "bring back some sanity to the town" and it has been going strong ever since. It is rated the best rodeo location anywhere in Australia and lovingly run by the Rotary Club of Darwin North (www.darwinnorth.rotarnet.com.au). The Rotarians grilled burgers and dogs and fried chips (french fries)...and drinks were cans of soda, beer or mixed cocktails. Most folks brought their own coozies to keep their can drinks cold...a real habit we see everywhere in Australia...have coozie, will travel. As you can imagine, the bull riding was the main event. Definitely the toughest sport around and "dismounting" is often the trickiest part with hands often getting tangled and unable to be released. After several cowboys had competed we noticed a little black dog just beyond the gate where a bull was led after the show. This little black dog yipped and yapped at the massive bulls who immediately turned to address this annoyance...only to be thwarted by a metal railed fence. That is one cheeky little black dog!
Boat projects well in hand we headed into the outback of the Northern Territory for a three day spin through the North End National Parks of Litchfield and Kakadu (Aug 17). We planned several walks using John and Lyn Daly's book Take A Walk as a guide...most walks are approx 1.5 hours in length. Litchfield National Park was named after Frederick Henry Litchfield...a member of the first European expedition to the Top End in 1864. The area has a colorful pioneering history in which miners, loggers and graziers came to make their fortunes in a landscape formed largely by water and wind. Our first stop was the magnetic termite mounds...closely resembling headstones of a graveyard in appearance. These clever termites align their mounds North to South for climate control...keeping the mounds at a nearly constant temperature of 85 degrees F. Scientists speculate that the termites can determine North and South due to a genetically inherited trait which senses the earth's magnetic field...but it is still just speculation. Tabletop Swamp was an interesting contrast to the grassy plains with standing water and loads of birds.
Our next two stops were the walks at Tolmer Falls and Wangi Falls. They were dramatic runs of crystal clear water despite the dry season...not a single drop of rain in over three months...and none on the horizon. We ended with the Bamboo Creek Tin Mine walk where we kept a quick pace due to pesky bush flies. They did not bite but seemed to prefer nesting in a nostril or ear hole. Fun.
We stayed the night at a cabin in the Litchfield Tourist and Van Park (www.litchfieldtouristpark.com.au). It was family run and welcoming. And gosh, this place has the right idea about cabins...the covered porch is bigger than the interior...and equipped with a gas grill...marvelous.
The next day (Aug 18) was less walking but more driving for exploration. We saw impressive cathedral termite mounds everywhere...quite grand in their red dirt splendor. The outback countryside is dry, dry, dry at the moment...and it is hard to believe that most roads are impassable during the wet season due to flooding. Six foot measurement sticks are placed at all low spots in the road to indicate water levels...and most sight seeing is done via helicopter. This is certainly a varied land that we cannot do justice in exploring...but we will make a stab at it. No flash floods for us but there was still plenty to keep an eye out for on the roads. Kangaroos can be seen leaping across the road...definitely a startling image for us non-Aussies...and road trains should be passed only with the utmost of care. Road trains are semi-cabs hauling three or even four trailers...they make a massive impression on these two-lane roads.
Darwin and the Top End saw a lot of military build-up for WWII starting in 1939. Unfortunately, WWII activity also included the loss of 434 military lives and 63 civilian lives as a result of over 64 Japanese air raids. After numerous air raids the Australian and American military headquarters were relocated from Darwin to the Adelaide River Township. The town is now home to the third-largest war cemetery in Australia...the Adelaide River War Cemetery. It is an impeccably maintained spot. The headstones are identical in shape and descriptors such as name and age but unique with a single, personal phrase at the bottom of each stone. The unique phrases pulled at our heart strings; "His Duty Nobly Done," "Resting Where No Shadows Fall," "Treasured Memories Of A Smiling Face," "He Has Folded His Wings," "Too Far Away Your Grave To See But Not Too Far To Think Of Thee," "In Simpleness And Gentleness And Honour And Clean Mirth."
We continued along a combination of sealed and unsealed roads to the historic Grove Hill Hotel ("hotel" means "pub" in Australia). The pub was originally opened in 1935 and has a decorating style somewhere between Mad Maxx and the Munsters...but we could get a burger...and it wasn't bad. Back on the road we followed the Stuart Highway to the Kakadu Highway...finally pulling up to our lodging for the night at the Mary River Roadhouse. As we neared the Roadhouse we noticed smoke plumes from numerous fires in the area. We discovered that these are traditional, controlled burns meant to better manage the land and reduce the risk of wildfires. The result is a virtual patchwork pattern of burned and unburned areas.
The Roadhouse is simply a wide spot in the Kakadu Highway with eight simple, ensuite rooms (bedroom and bathroom with shower), a bar/restaurant and a few provisions available (like petrol and souvenirs). This was another neat and tidy room run by friendly folks. We were getting settled in our room when there was a flock of squawking birds that passed by. Chris stayed and watched some Olympics in our room but curiosity got the better of Erin and out she went to investigate all the commotion. It was a giant flock of dozens of red tailed black cockatoos! They were blanketing trees and making quite a racket. Erin got several photos after patiently moving closer and closer just a few steps at a time. We wished we could have stayed and used this place as a base of operations but there are just too many miles to cover and we needed to get started on our Kakadu walks...off we went after a breakfast of poached eggs on toast.
Good intentions but we really gave Kakadu a short shrift...one day (Aug 19) to see Australia's largest national park?! That said, we enjoyed our visit tremendously...squeezing in four walks across 240 miles of driving. This monsoon climate contains five of the eight rivers in the Top End with wetlands that drain North into the Arafura Sea. We started with Yellow Water wetlands. This trail is predominantly boardwalk hovering just above the wetlands...great flip flop conditions. We scoured the water's surface for croc eyeballs and nostrils but didn't spot anything. The dry season is supposed to be an easier time to see crocs and all wildlife because as the water recedes the animals are concentrated into a smaller and smaller area...but just water birds for us this time around. The Anbangbang Billabong track followed the perimeter of one of Kakadu's "better" billabongs (not quite sure how billabongs are "rated"). A billabong is a stagnant pool of water created when the river that feeds it dries up..."billa" means creek and "bong" means dead...dead creek in an Aboriginal language currently spoken by just three people...so there might be some room for interpretation (today there are four native languages spoken throughout the park). The Aboriginal names are quite a mouthful and we are completely flummoxed regarding pronunciation. The bird highlight of this walk was our first glimpse of a jabiru...a bird resembling a stork...and quite majestic in the center of the billabong.
Australian Aborigines have the world's longest, continuously living culture. They have lived for tens of thousands of years in the Kakadu country...usually simply calling it "country." Their Rock Art is estimated to be thousands of years old and is a particular draw to the Park...especially the East Alligator Area. Red ochre, manganese oxide and animal's blood were a few of the pigments used to paint. The paintings reflected recurring themes of religious ceremonies, moral lessons for children and depictions of daily life...a human tradition of passing beliefs from senior clan members to the younger generation. The Bardedjilidji walk gave us our first glimpse of Rock Art (believed to have been created thousands of years before the Egyptian pyramids were built) as well as the natural beauty of the spiral pandanus trees (gongirr) and the sandstone figs (maganaibobu) clinging to cool crevices in the rock. But the real wonder came at Ubirr where there are hundreds of Art Rock motifs in a natural art gallery that stretches more than 40 feet...viewed on the way up to a panoramic lookout unlike anything we have ever seen. It was spectacular in the late afternoon sun. We gazed from the lookout spotting wallabies jumping from shady spot to shady spot and numerous smoke plumes from traditional, controlled burns. This was an amazing place.
The natural beauty of Kakadu exceeded our expectations and made us curious about changes that occur in the wet...but that will have to wait for another trip. Our last night's accommodation was an unremarkable stay at the Aurora Kakadu (www.auroraresorts.com.au). This is an accommodation that is clearly "the only game in town." But we did have a chance to watch some Olympics...too bad we cannot get much info about Team USA. The Aussie commentators do a great job of focusing solely on their own athletes...understandable, but we miss the USA details. Aug 20 we were back in Darwin and in full wrap-up and provisioning mode. But a bright spot amongst the craziness was a visit from Ferne (s/v Kinchega). She flew up to see family and will rejoin Pete in Gove in a few days (he has been sailing with a buddy toward Darwin since leaving Lizard a few days after we did). We had a festive and flavorful Thai meal overlooking the marina with several of Ferne's friends and family. Gosh...it is simply amazing to "bump into" people and comfortably pick right up where we left off.
We have slowed our pace with just a couple of days left in Darwin. The Darwin Festival is in full swing with cultural events nearly around the clock (www.darwinfestival.org.au). The evening of Aug 22 we strolled through the Palm Tree (Galuku) Gallery and starlight dining area. The Botanic Gardens looked like a fairy garden with giant Chinese lanterns and white twinkle lights.
It looks like this is it for Australia. We plan to leave for Indonesia Tuesday, August 26. Our next log posting will be from Southeast Asia.