Windward Passage March 1 2007
The Windward Passage is the straight route from the Bahamas to Panama - cutting between Cuba and Haiti. It is more than 700 miles and should take 7-8 days. It is tough to get that many perfect weather days glued together so we will do the best we can. We think a reasonable window is open and have confirmed our ideas with a weather forecaster. They agree...with the caveat to steer clear of Columbia due to gale winds close to shore. No problem - we added 200 miles off the straight line in order to have better conditions (8-10 ft waves instead of 12-14ft waves). That said - we considered a stop in Jamaica (thanks for the enroute research Mike) to let the weather improve but this is simply what it is...off we went 2/24.
We started with the spinnaker and moved onto the screecher and main - good sailing in 15-20 knots of wind and 6-8 foot seas. We passed between Cuba and Haiti with some daylight which was helpful for this busy shipping channel. However, the container ships were quite considerate and made sweeping arcs around us...thanks radar. After a spaghetti dinner we moved into our watch routine - 3 hour shifts starting at 7pm. Erin has the first shift (7-10pm), Chris 10pm-1am, Erin 1am-4am and Chris 4am-7am. Three hours seemed better for us - long enough for the one sleeping to hopefully get some sleep/rest and not too long for the one on watch. The start of the trip is certainly exciting and simply staring out at the ocean is hypnotizing enough to make the initial shifts pass without much boredom. At 3:30am (2/25) we were at the point between Jamaica, Cuba and Haiti. Land masses on the chart plotter help confirm we are moving forward and making progress...the wide ocean is next.
The waves are definitely tossing us around...kinda like living 24/7 on a tilt-a-whirl carnival ride. This makes it tough to do much of anything...or else it is furniture bumper cars. Not that the furniture moves - just us...a collection of bruises is starting. Erin was able to get a sweet potato and pork casserole put together for dinner in sprints up and down into the kitchen...boy, how the brain sloshes around in the skull...tough to tell if it is sea sickness or complete equilibrium failure of the inner ear. The second night of watch was tougher...not enough sleep last night followed by the rotation tonight. Chris describes sleeping in these seas as your bed moving 12 feet in a random direction every 6 seconds. Erin agrees and would add the descriptor...airborne...mantra - just ignore it, just ignore it (ha). A diet coke on the second shift helped Erin though it.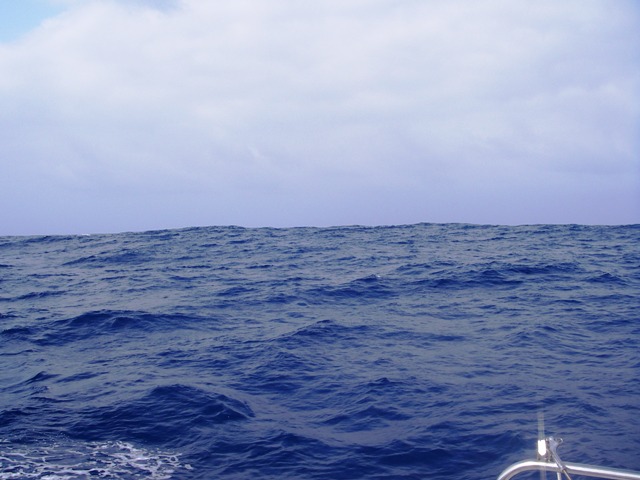 On the third day we hit a pretty calm spot of weather (relatively speaking) and Chris was able to make bread and pizza dough. Pizza came after a continued bumpy ride and only a few flying fish spotted...didn't someone say there are dolphins out here?! The pizza was a wonderful cheese bomb and smelled heavenly. Unfortunately, Erin hit the woosey wall and could not eat any of it...thankfully, my appetite returned on my second shift...fabulous treat!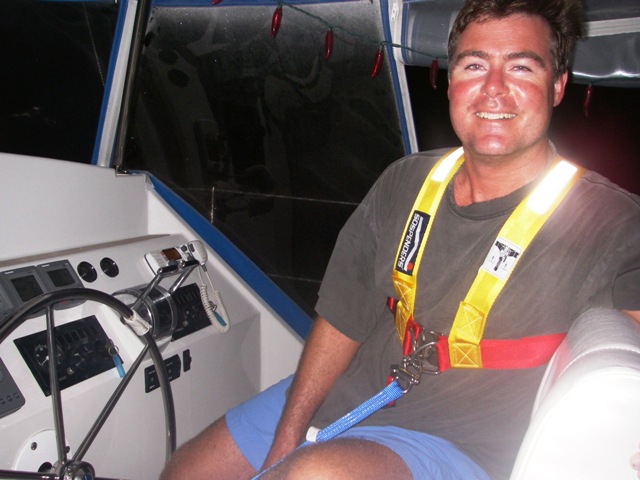 We have seen a couple of frigate birds - big, prehistoric looking fellas that are very far from land. Chris spotted a sail fish while Erin was napping...but no dolphins. Also, we have not put out the fishing pole because of the high seas - too much could go wrong. This passage we implemented the use of the safety harness (thanks Graham and Rosie). At night, the one on watch must be clipped in...enough room for short mobility but gives piece of mind to the one sleeping that all are still aboard. The harnesses got a bit of a work out as Chris noticed a snapped shackle on the boom at shift change time. ("Noticed"?! Is she crazy? There was a big slam, a lurch and the boom ran out all the way against the side stay and everything started flapping. Kind of tough not to notice that ... . It is not so easy to replace a shackle 8 feet up over your head as the boat is moving up 12 feet, over 12 feet, down 12 feet and the boom is moving back and forth too ... !) We have been sailing the entire time and saw too much pressure at some point. Chris replaced it as Erin steered into the wind...and yes...it happened at 2am as we passed a reef (no there are not many out here but yes, sure enough, there it was as we needed to maneuver).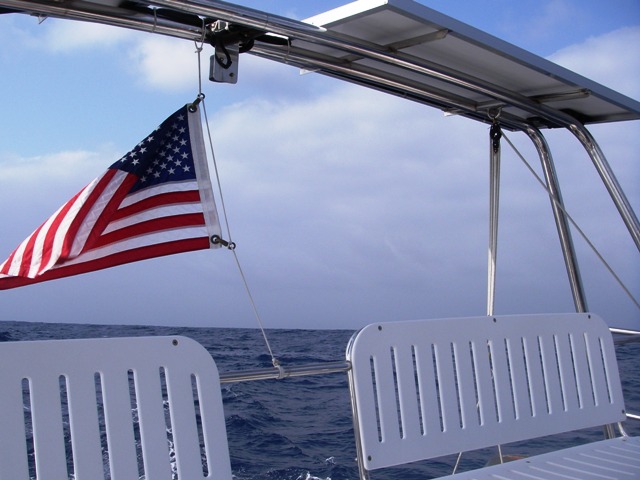 The chart plotter now shows Panama on the screen and we are excited to arrive. The only thing is - will it be daylight? Or will we have to circle outside the harbor and wait for the sun to come up? That sounds pretty painful so we have all sails up and are full steam ahead with 24 hours to go. Erin has encountered a lull in reading and moved onto singing during her watch...but it seems the only song I know every word to is Rudolph the Red Nosed Reindeer. Clearly, that needs to be worked on before the next passage. Thankfully the rooster tails behind us drown out my singing and Chris can sleep soundly.
Holy cow - we are going to make it before sundown. The wind has died and the motor has to come on for the last two hours...no problem. Phew - after over 900 miles and six days we are anchored in the San Blas (archaepelago of islands in Panama) on 3/1. Specifically, the Western Holandes at N9'35.71 and W78'46.47. While still setting the anchor three Kuna Indians paddled out in a dugout canoe (ulu) to sell live lobsters...still scuttling around in the bottom of the canoe. We hated to disappoint them but you know us...not lobster fans...we had two filet mignons thawing for the grill. Showers for stinky us followed by a glass of wine on deck. There are birds singing from the palm covered island with three scattered huts. It feels great to have the passage in the rear view mirror - cheers to us!