White Caps in My Rum January 26, 2007
That seems to sum up the last couple of weeks; 25-30 knot winds with gusts higher. "White caps in my rum" is from a lamenting cruiser's poem read over the morning net. The winds are not dangerous and Barefeet is keeping us comfortable but it restricts our exploring - no fishing or water sports and all dinghy travel is wet and wild. We have worked around this by swimming from Barefeet to shore at Sand Dollar Beach and then hiking the raked nature trail over to the ocean side for some shelling. The trail can be walked in bare feet because cruisers have made it their personal mission to maintain it - and they truly do rake it - it is wonderful. Parker happily joined this routine for his visit with us. Evenings were generally spent aboard simply chatting and having the..aaghh, uumm...occasional coconut rum cocktail. However, one evening we braved the chop and headed to the St Francis Resort (fancy name for a casual spot - no shoes required) to watch some NFL playoff games.
We took the water taxi into town to avoid a thorough soaking in Trouble and were charmed by the driver - Elvis. We made our usual stops; Top to Bottom (Everyting for Everything - catchy little jingle) - a combination marine store, hardware store, kitchen and bath store, fishing supply and kids toys...oh yeah...and fireworks (how excited was Chris), Peace and Plenty for internet downloading ($5 for 30 minutes but a strong connection) and the supermarket. George Town is a real crossroads for cruisers and we have met up with many more friends not seen for awhile; Dream Catcher (a family of four from New Hampshire) that we criss-crossed paths with on the ICW and our Rhode Island friends Bill and Louise on Andelen. We blew over to Andelen one night for sundowners and Parker fit right into the relaxed evening and appetizer grazing. Time was short and before we knew it we were in Elvis's water taxi taking Parker back to the airport and a return to the New England winter...has it gotten cold yet?!
1/18 and the wind has died down and it looks to stay that way for a few days. Into town we went in Trouble with a long list of built up To Do's...email, order yet another part for the freezer, supermarket run and check on our mail drop. The freezer part has been ordered and will come to us via Reggie Express...Reggie will receive our part in Florida and bring it to us in George Town on one of his twice per week hops over here. If anyone can fix the freezer Chris can but I am trying not to get too excited and am now simply thinking of the freezer as an igloo cooler. The supermarket visits have become a fun game of "The Price is Right." This might seem easy enough but we are often pleasantly surprised with unexpected goodies; for example, two beef hamburger patties $4.94...six lamb chops $5.04. Guess what we will be grillin' for dinner?! There is also a great bakery van (Mom's Bakery) that hangs out under the trees, one block from the supermarket. She has the most wonderful homemade breads; white, wheat, coconut and...just discovered...cinnamon raisin! Mom gives a warm hug with every purchase...what is better than that?!
1/20 we put our new pizza making knowledge to work thanks to a lesson from Dover Dream Catcher (currently out cruising further South in the Bahamas). We invited Andelen and Alize over for pizza appetizer sundowners - a wonderful calm night with a beautifully painted sky. Chris has always made good pizza at home but it just has not come together quite right on Barefeet...until we learned to make it on the grill!! Chris started the dough in the morning (3 cups flour, 1 cup water, 1 T. salt and 2.5 t. yeast...additional spices were added for fun - pepper, oregano and a splash of Jack Daniels), left it to rise, punched it down then flattened it into four oval/rectangles. Each oval/rectangle dough is on foil with olive oil and corn meal. Erin made an assembly station; sliced jalapenos, mozzarella, browned hamburger, sliced tomatoes, sauteed onion/yellow pepper/garlic and Andelen's pepperoni. The dough on foil is placed on the grill, browned, flipped onto the grill (no foil), inside for topping assembly and back onto the grill for a quick melting. Wow - was it good!! This will definitely be a repeated meal. Everyone input favorite combinations without any missed taste buds...veggie, meat lovers and hamburg/jalapeno!
The winds will die down for a few days and we have decided to take this chance to get a little nature outside of George Town. The activities here are fun but the social whirl can be quite amazing; Texas Hold 'Em ($5 gets you in and that is it - when you run out of chips you are out of the game), NFL play-off games (too bad for the Pats), sundowners on the beach, opera in the harbor (a professional opera singer sings from the back of her boat while the audience cruisers raft behind), nature walks and on and on.
1/23 we headed to Conception Island (32 miles away) - merely 2.75 miles long and 2 miles across (at the widest point). It is uninhabited by people but the wildlife is abundant - we quite literally felt that we were anchored in an aquarium! We could see the sand pattern on the ocean floor at a depth of 12 feet and had a four foot barracuda that made the shade below our boat his home...no boat cleaning, I guess. Chris got a pole spear lesson from Dream Catcher (literally our instructors extraordinaire), we explored the coral heads with our scuba gear and towed the kayak behind Trouble into the island's interior to explore the mangroves...which are supposed to be well populated with rays, sharks and turtles. We only saw a swimming turtle below the surface...so we chased him in the kayak (gosh are they fast)...turtle won. Later we met back up with Dream Catcher and I got my first lesson in conch (say "conk") cleaning...a lot of shell with not so much meat but maybe I will now be able to keep us from total starvation...making conch fritters (even Chris says they are tasty). Conch fritters; 3 conchs (ground or chopped), 1 lg. onion, 1/2 green pepper, lime juice, Worcestershire sauce, salt, pepper, 1 egg, 1/2 t. baking powder and enough flour to make batter: drop fritters into hot oil and fry to golden brown. Dream Catcher also shared some coconuts from Long Island (as in the Bahamas) and Chris is excited to try coconut milk mixed with single malt scotch...supposedly quite delicious but probably an acquired taste.
Unfortunately, we needed to leave our aquarium (1/25) because the winds are expected to shift and our aquarium anchorage will no longer be a good spot...but we are not yet ready to return to George Town...where can we go?! We decided on Cat Island which is 24 miles away with a marina that we can tuck into until the wind passes (www.hawks-nest.com). The ride over was a fabulous sail - averaging 7 knots the entire way - yippee!! And, Barefeet caught a jack fish...Chris reeled it in and Erin had it filleted and bagged within twenty minutes. It was not too big but made a nice lunch for us once docked...simply broiled in butter and olive oil and some Santa Maria seasonings.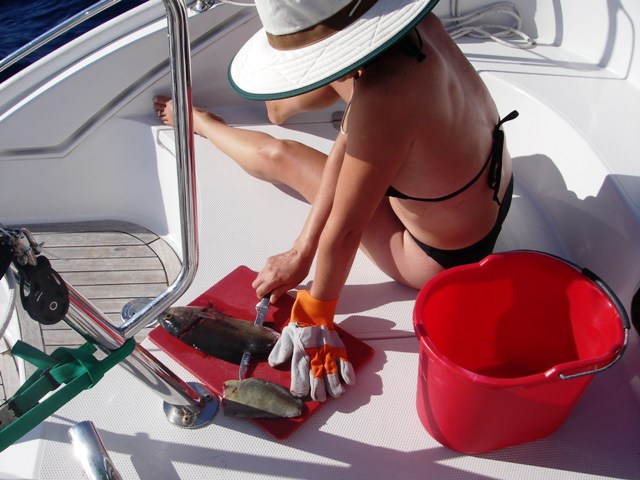 Cat Island is a tricky creek of an inlet with coral on both sides...and of course there was wind, too. Chris maneuvered wonderfully, as always, and shortly we were tucked into our slip. This is a real game fish spot so most of the boats are sport fishers - they are beautiful and we have really enjoyed chatting with our neighbors. The club house (restaurant, bar, swimming pool, ocean cabanas) is 1/4 mile from the marina...no problem...there are bikes left at both points for a quick commute. On the way you have to be sure to look both ways when crossing the airstrip...not kidding. Dinner orders are placed at 2pm with appetizers at 6:30pm and dinner at 7pm. The cocktail time was meeting more folks (marina guests, cottage guests and neighbors) then into dinner and we had a quiet dinner for two - Australian rack of lamb for Chris and Catch of the day (wahoo) for Erin with soup, salad, sides and dessert (rum cake or strawberry cheesecake - we chose both and shared). The night really ended on a high note as we were able to catch the second half of the Duke vs. Clemson game...quite a photo finish for Duke!
Cat Island is 48 miles long, averaging 1-4 miles in width. It has been referred to as one of the 25 most secret islands in the world...we would agree. It is more lush than Exuma with coconut palms and soil rich enough to encourage farming. We rented a car for half a day - plenty of time to hit the supermarket and see Father Jerome's Hermitage. At the age of 62 he built the Hermitage as his home and final resting place (died at age 80 in the late 1950's) on the highest point in the Bahamas (a whopping 204 feet high). Yes, he carried each stone up the hill...oh my goodness. The summit provides a breathtaking 360 degree view over a mostly untrodden island landscape and turquoise seas beyond. Steep stone steps climb past grim Stations of the Cross which lead to the chapel, bell tower (still functioning - Chris rang it) and personal quarters (scaled-down replicas of hermitages in Europe). The view was spectacular and it was amazing to be the only two people up there to explore at our own pace and follow our own curiosity. Sundowners tonight with our new sport fisher friends and possible departure tomorrow (if the winds lessen by then...otherwise the next day 1/27) back to George Town for a parts delivery, mail drop, etc.