Panama Canal April 6, 2007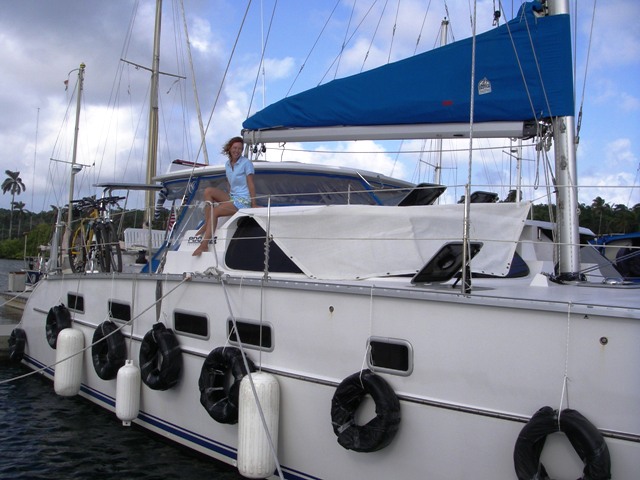 Tires wrapped in garbage bags are hung from the boat with care, water bottles are set in the fridge for the advisors, visions of crew meals dance in our heads and we are all settled down to wait for the hour of departure for the Panama Canal. April 2 finally arrived...boy is waiting tough! Chris did some canal paperwork with Robert (our agent) in the morning and later arrived with our three line-handlers...Edgar, Feramin and Ojulio (Erin is the fourth line-handler). We decided to hire line-handlers because after our experience with s/v Fifth Element we were worried that we could get unknowledgeable advisors...and we had only been though once before...not enough experience in our minds. The line handlers were great and the advisors were, too. David McCullough's book The Path Between The Seas is an amazing account of the creation of the Panama Canal...don't let the tome bother you - it reads like a suspense novel.
There was a bit of initial confusion the first day...Chris ended up making a last, quick dash to the bank from the flats (via Trouble because one signature was missing from bond receipts), anchoring three times in the flats (false alarms to get started), advisor got on our boat but had to get off (oops - wrong boat), circling for 2 hours after yet another false alarm start...but finally our advisor arrived and we went through the Gatun Locks...albeit at 11pm. Our advisor, Fabio, (yes Parker, that is really his name) was fabulous and calmly led us through our first part of the transit; center chamber (just us and four lines to the lock walls) behind a tug and a super tanker. Seat cushions were placed over the solar panels for protection when lock line-handlers tossed the line (it has a monkey fist knot at the end) that is then tied to our line and exchanged and tied to the wall of the lock. The chili lights added a festive mood to the night (thanks Mom & Dad). Fabio departed once we were rafted to others at the mooring in Gatun Lake and Erin quickly marshaled the lasagna dinner...narrowly avoiding a mutiny (Erin was the cook, too).
Morning came quickly on April 3 and off we went with our Advisor, Ricardo, at 7am. It rained off and on as we motored through the first bit; Lake Gatun, Gamboa, Centennial Bridge and Gaillard Cut...great time for breakfast (an egg/ham creole casserole and zucchini bread). The next, and final, locks (Pedro Miguel and Miraflores) we were rafted with two sailboats (monohulls). Barefeet was in the middle which means that Chris was responsible for maneuvering the three of us along and the sailboats on either side each had two lines (one front and one back) tied to the lock walls to keep us from pivoting. Ricardo and the other two advisors were methodical and organized...but gosh is it hairy...more than fifteen people, three boats, four lines tied to lock walls and countless bumpers and lines holding three boats in a tight raft...all working to keep the "raft" from crashing into cement lock walls. Everything went well and there was not so much as a scratch on anyone...but there were lots of fingers crossed...as one cruiser described it - transiting the canal is hours of boredom sprinkled with minutes of intense adrenaline.
One last sandwich for the crew before tying to a mooring at the Balboa Yacht Club and we all scattered in our different directions; us into town, Ricardo back to his waiting launch and the three line-handlers back to Colon. As Chris describes it, "Yacht Club" is a bit of a hopeful title since we are tied to an old truck tire that doubles as a mooring float and the club house is a few tables spread out on a concrete slab with a roof like object overhead and a bar in the corner. But the people are nice and the container ships slip by 200 feet to our left - so it is a pretty interesting place. We are walking on clouds...the canal was a real marker of the trip and we have now experienced and completed it. Wow!