Must We Really Leave Tonga: September 28 2007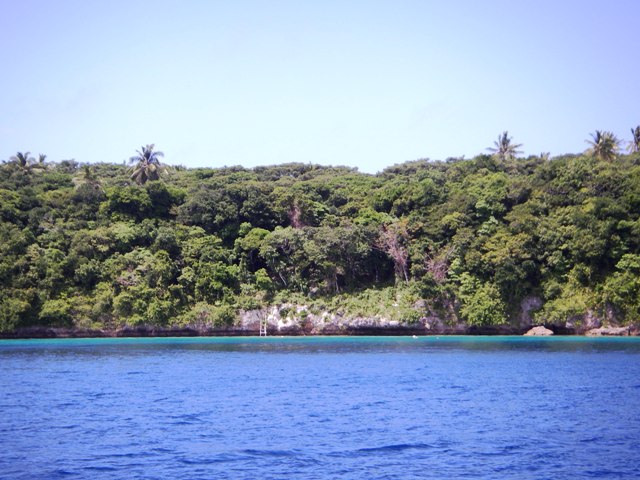 Sept 15 and the weather has continued to be a bit overcast and grey...not so good for coral spotting but still lovely for exploring. Rather than moving the "big boat" we took a taxi into town with Jason and Ems (US$5 total - great) for a little provisioning and catching up with new cruiser arrivals to Vava'u. We now have a couple more boats heading to where we are anchored (Tapana...Moorings #11) as soon as the weather breaks a bit. Erin found good use for the baseball sized lemons...Martha's Vineyard Lemon Cake from the Out of the Ordinary Cookbook compliments of the Hingham Historical Society (thanks Grandma Winston)...Mix 1.5 cups flour; 1 t baking powder1/2 t salt; creamed 1 cup sugar and 1 cup butter; two eggs; and 1/2 cup milk. Bake at 350 degrees F in a 5x9 pan for 45 minutes. Heat 1/3 cup sugar, juice of one large lemon and grated peel of half a lemon...dissolve sugar...pour over hot cake. Yum! Needless to say, it did not survive one afternoon of tea with friends in the anchorage. Later we squeezed in some land and underwater exploring...saw feathery lion fish, clown fish, blue starfish, varied coral...and the guys unsuccessfully hunted lobster...but gosh did they try.
The hills along the shore looked quite pastoral from the anchorage so off we went to check them out. Well, looks can be deceiving and the grass is actually up to our arm pits! Nice views of the anchorage but more of a jungle trek than we had expected...complete with spiders 3-4 inches leg tip to leg tip. Eeek! Keep those trail clearing sticks handy. The sun has peeked out and it looks like enough of a weather break occurred so in rolled s/v Cardea, s/v Barraveigh and s/v Dream Keeper. We all did some nearby snorkeling then made evening plans...a bit of a blue boat/pink boat evening. The boys gathered on Barefeet for an evening of RISK and the girls met on Barraveigh for a bit of wine and chocolate. Erin was introduced to the marvelous Green and Black...dark chocolate and mint...yum! Oh, yes, from the states but Dream Keeper kindly lightened their stores for the contribution. The girls laughed and laughed and chatted about all sorts of things...including the challenge of bikini ready hair removal with limited space and the constant presence of your beloved. Hhhhmmmm...
The sun has appeared and we all finally headed to an anchorage off of Ofu Island. The overhead sun is required for this trip because a coral switchback trail makes up the entrance/exit. Charts are helpful but eyeballs are the final arbitor. Color is what we focus on; brown is bad (coral), turquoise is shallow water and lapis is deep water. Serai led the way followed by Barefeet, Cardea and Dream Keeper. All was well until on the straight-away Serai's engine concked out. Barefeet anchored and quickly got the dinghy into the water in case help was needed as Serai sailed into their anchor spot...none needed. Great job skipper Jason!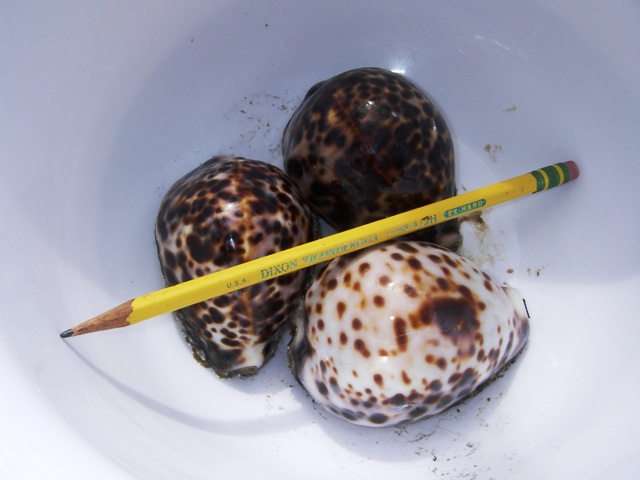 This anchorage is ringed by land with a small village ashore AND a 20 minute dinghy ride from Ngau Island known for amazing shelling. We gathered the gang and headed over for a look. Chris opted out this time because he has gotten a painful earache (unfortunately, but gladly, the medicine chest came in handy...oral antibiotics and Ems had some antibiotic drops, too). Erin took one group in Trouble and no one was disappointed. Shells galore...especially sand dollars and cowries. We stayed until we literally could not hold anymore loot.
Sept 17 and Barefeet needed to head back to town in order to get the boat ready for the Tonga to Fiji passage (approx 420 miles). Breakfast aboard s/v Serai was a nice send-off. Back through the coral serpentine pass and back to Neiafu we went. We fueled up at Sailing Safari's fuel dock (yes, the attendant is wearing a "skirt"...traditional male Tongan attire) and picked up an Aquarium Cafe mooring ball. The boat readying went pretty well; several oil changes, provisioning, ready-made meals (this time purchased from Crow's Nest because supplies in local markets are too scant), etc. Our weather window held off and we were able to see our friends before we all scattered; Cardea, Serai, Jade, Dream Keeper and Lasse to New Zealand...Barraveigh to Fiji...and, luckily, some to Australia...Priscilla, Miss Jody and Special Blend. Ems gave Erin a quick haircut...just a trim really...on the transom steps. Let the length continue.
Sept 22 was a Tongan Feast on the beach. Loads of fun and several firsts for us...all food was eaten with fingers and exotic fire dance was performed. Chris and Jason did not let the evening end after the feast and headed to Tonga Bob's to watch the rugby match...started at 1am! Yikes! Sadly, our time in Tonga came to an end. Farewell breakfast with Ben, Carola, Nils and Liza at Aquarium Cafe...we have been together off and on since Shelter Bay Marina in Panama. The kids have acquired some English (ages 3 and 5) and truly amaze us at every turn. Later in the afternoon, we ended it where it began...at the Bounty Bar. Burgers and fries with Serai (together off and on since San Blas) and Barraveigh (together off and on since Marquesas). Last run through town and off the mooring ball and what did our teary eyes see...Jason, Ems, Bobby and Suzi whooping and hollering farewell as we motored away. That was awesome!
Vava'u, Tonga, has been our favorite spot so far. The islands and reef are very protected - so even when it blows you can find a nice spot to anchor where there are no waves and you can sleep. Everything is pretty close, so it is only a two hour sail to the next anchorage, and just about everyone we have met on this trip so far (from Panama on to here) is here! This is the last stop where those who go to New Zealand and those who are going on to Australia are in the same spot - and it is so nice that we all stayed for a while. However, it does make it difficult to go anywhere in town, as you have to stop every three minutes to talk to people you know - and a quiet dinner for two is impossible because someone you know will stop by to chat and maybe join you for a drink! We'll take it!
The local people love the US, are really nice and welcoming and there is just enough infrastructure here to make life easy, but not so many people that you don't feel like you are out in the wild. It is quite fascinating to talk to them about the king, nobles and land ownership. After trying to understand it (we can't) we can at least understand why nothing gets built here! You never really know if you own the land - but you DO know that if you start making money then maybe the king owned the land after all ... !
Some Japanese are trying to build a golf course on some of the King's islands. It will be the first golf course ever built in Tonga, and of course the locals don't like it (and not a one of them plays golf, obviously!). I guess the king gave the land to a bunch of families to build houses on, which they did, and now he wants them to move their houses to a new spot so that the contiguous bit of land can become a golf course. Since no one is starving here - no one much cares about "development of the tourist industry" or "new jobs" so they just get annoyed.
We have had an amazing run through the South Pacific (yes, yes still a little left) and are continually amazed by human nature. It is awesome and alive and well. While in Suwarrow the wind piped up...all eleven arrivals were met and escorted through the unmarked coral reef by cruisers in a dinghy. An evening arrival at Palmerston by an exhausted cruiser couple was met with all boats turning their lights on (only lights on the island) and left on until the cruiser had completely finished anchoring. Medical advice freely provided by the many cruisers who are doctors/vets...for scrapes, infections, migrains...even removal of a lobster claw from a town puppy by a cruiser veterinarian. Okay, a bit of sentimentality is entering things...apologies...but onto the the next port.
Sept 24 we left Vava'u, Tonga, headed for Savusavu, Fiji. This is approx 420 miles or three days. The sheltered waters of Tonga made the open ocean tough...Chris swallowed a spoonful of powdered ginger...Erin did not. Erin tossed her cookies twice the first night...Chris did not. Hhhhmmm. Erin covered her shifts but was pretty green for two days...seems the ocean equivalent of driving late at night on the highway and seeing pink deer jump across the road...is seeing whale tails flap in front of the boat. Maybe it happened?! Squalls routinely passed through so it was mostly motoring...driving rain and gusts to 40 knots...not so good for sail trimming. And no one should be on deck during that weather.
The challenge of this passage is the Oneada Pass. It is a collection of reefs and volcanoes...always being added to by Mother Nature. This makes it the "number one lost boat passage" because the charts have not been updated in 100 years (really!!) and a volcano has added two new islands. There is a reef we go through that is off on the charts by a mile or so. In other words...if you are not careful...you will hit something. It used to be a big problem in the old days because Tonga refuses to be on the correct side of the dateline...so local time is one day off. That is bad trouble if you are making a sun sight or using star reduction tables. We timed our speed so that we would arrive at 9am...plenty of light. And it worked...initially. Then the clouds rolled in and the gloom dropped in which meant we relied on charts...and then the port engine concked out. Chris waited until the seas calmed and then checked it out. The engine got quite a bit out of alignment so he tightened belts and bolts and got it going again. Good job mechanic Chris! Things continued alright and then went dead calm...all the way to Savusavu, Fiji.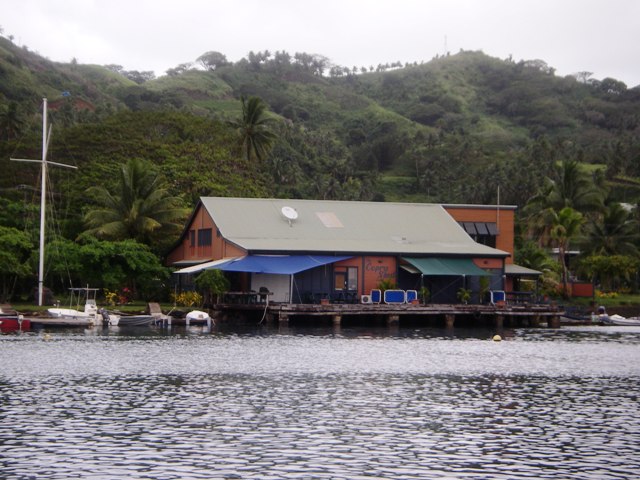 Sept 27 we entered the Na Kama Creek heading for the Copra Shed Marina. We chatted with s/v Silkie (already moored) and learned the officialdom procedure (thanks). Copra Shed Marina handled it all. Pio guided us to a mooring and shuttled officials out to Barefeet where cabinets were opened, papers were signed and we were made legal! The marina is run by Dolly who has the biggest smile around. There are hot showers, laundry services, two restaurants and the Savusavu Yacht Club on site. We are snug. Tonight we were social after accepting an invitation from Silkie for a cruiser dinner at Bula Re Restaurant. It was a delicious three course meal at a reasonable price...and lots of socializing. Yes, the rain continues but we are here and there is a Supermarket within eyesight of the mooring field. Wow!
Sept 28 we strolled around the town after paying our quarantine fee at the hospital (needed Fiji dollars from the ATM). Still rainy and grey but the Supermarket was a welcome surprise...refried beans, Phili cream cheese and an entire aisle of breakfast cereals!! There is a fresh veggie market which is well stocked...for us that means it includes fresh cilantro. Oh yeah, and internet...sometimes even wifi on the boat. We will settle in and get sorted out...slowly.