Fragrant and Colorful Marquesas June 18 2007
We have become official with visa and passports, topped up our provisions, filled up with diesel and decided that this rolly anchorage (from ocean swells) has outlived its usefulness. We scooted five miles around the corner (6/6) to Hakatea cove on Nuku-Hiva. The entrance is a bit hairy because you cannot see the anchorage...just a stretch of enormous cliff walls (1600 feet) that do not seem to have an opening...but sure enough, the opening materialized just in the nick of time. We anchored in 15 feet with eight other boats...including s/v Serai (s/v Sifar coming shortly). Once inside the cove it feels like you are in a mountain lake because the ocean is not seen at all. Hakatea cove is within Taioa Bay...also known as Daniel's Bay. Daniel is a friendly Marquesan who welcomes cruising boats to his white sand beach...and provides water if a gift is exchanged. Unfortunately, Daniel passed away 18 month ago but his relative Michael is in residence to keep the family outpost going. Michael informed us that one of the Survivor TV shows was based in this bay...crazy to imagine cameras and other filming equipment here since it seems sooo remote. We couldn't stay too long on the beach chatting because the white and black nonos (local biting, flying critters) were becoming pretty aggressive. Kayaking back to Barefeet we saw a turtle. He was not shy and stayed on the surface for several breathes before diving deep and scooting away.
Besides the peaceful calm of the anchorage (much reduced ocean swell) there is a waterfall just a 2.5 hour hike ashore. The narrow waterfall is 2000 feet high and supposedly the third highest in the world. After a pancake breakfast a la Chris we headed out at 9am (6/7) with a group of cruisers to find the waterfall. The hike was a stone path surrounded by lush vegetation: mango, breadfruit, lime, and pamplemousse fruit trees; white, yellow and pink flowering and fragrant plumeria trees; bougenvilla in shades of red, yellow and pink; and hibiscus in all colors of the rainbow. A few rivers had to be crossed but lunch at the base was wonderful...too bad there is not an unobstructed view of the waterfall from top to bottom. Oh my gosh...and we had a visitor at lunch...a 3 inch diameter black eel...eek...he slithered between the rocks but kept mostly to himself. The hike back had scattered rain showers but all went smoothly. That night we celebrated our 10th wedding anniversary with a candlelit dinner aboard Barefeet...Greek salad, whipped potatoes with balsamic grilled onions, grilled steak...and the bottle of wine that we have been saving for 10 years...it was amazing (and surprisingly not vinegar). Our tropical and exotic, isolated cove dinner was complete.
The last anchorage in Nuku-Hiva was too rolly for boat projects but our list keeps growing so we have gone into overdrive here in Daniel's Bay...laundry, complete Spring cleaning of the interior, restringing the first reef line, checking the main sail for chafe and taping as needed, changing the oil in one engine, check all oil levels (and top up as needed), repairing the sail bag, repairing stitching on the dinghy, water filter change, new ratchet for the dinghy, replace lower unit grease in dinghy...yikes, we need a swim after all that. Reluctantly we pulled anchor and left (6/10) our "mountain lake anchorage" and headed to Ua-Pou island...just 35 miles away and a nice day sail.
The cruising guides say that twenty boats can fit inside the anchorage at Hakahau Bay...hhhmmm...seems kinda small to us, luckily there was only one other boat when we arrived and they helped by zipping over in their dinghy to get our stern anchor set. Yes, we used the stern anchor for the FIRST time...with 90 degree bend and all (thanks to that tough dock departure from Nassau...as you may remember). A stern/back anchor is used to reduce boat swing (thus allowing boats to be more tightly packed into an anchorage) and orientate the boat so that swells are taken with least movement on the boat (bow/front into them). Ua-Pou (pronounced wa-poo) is a mountainous, rugged island 8 miles long and 6 miles wide with a little more than 2000 inhabitants...and an ATM machine - wow! The island was discovered in 1791 by Marchand, a Frenchman, who took possession in the name of his King. The mountain peaks resemble spires or pinnacles that constantly move dramatically in and out of view as clouds wander past. Outriggers routinely sped along the surface of the water like agile water bugs...very quick water bugs. After all, these outriggers are sleek machines...not your father's outrigger.
Pretty soon the anchorage filled up with eight boats...all with bow and stern anchors. We were all told to stay clear of the commercial loading dock beside the breakwater because supply ships stop frequently and they need room to maneuver. No problem...until 6am on 6/12 when a 300+ foot cruise ship pulled in. The captain did an amazing job of maneuvering but we were a bit white knuckled about the operation...would their stern bump into us; would the draft snag our anchor and have its way with us; would we go aground as we tried to move back closer and closer to the beach?! Chris calmly drank his coffee but Erin's stomach was in knots until the departure in the late afternoon. We made a morning trip ashore to hike to the cross on the top of a mountain peak but quickly returned to Barefeet to keep an eye on things while the big boat was at dock. Local artisans were out because the cruise ship arrived and Chris found a cool knife made of a "horn" from a fish as the blade and carved cow bone for the handle. We tried to bater but the only item of interest seemed to be bullets...not in our boat cupboards. Erin made meals for our passage to the Tuamotus (Shepard's Pie and Jumbalaya)...in the fridge and ready to be re-heated. We made new friends during the ritualistic sundowners aboard s/v Imajica (fellow passage makers from Galapagos to Marquesas) and s/v Barraveigh (we will be making the passage to the Tuamotus together). One last bakery run (6/13) for chocolate croissants and baguettes...Chris hitched a ride with the other guys for a carpool into town...before heading for the Tuamotus. Preparation for this passage feels strange...like it will be over before it begins (3-5 days) compared to the last marathon of a passage. We have had good book swaps after reading (often more than once) all the books aboard and are ready for some reading filled days. The cruise ship departed in the afternoon and the anchorage is again a small, tropical paradise with manta rays jumping and the sunset splashing the pillars.
The passage to the Tuamotu islands is less than 500 miles...3-5 days. Phew - a welcome relief from the last passage of 3000 miles. The winds were expected to be light but that was an understatement. The wind meter functioned more like a whirley-gig as it spun wildly...vainly searching for wind and finding little more than a few knots...rather than functioning as a device of calibrated technology. We motored at low revs and tried to settle into the blue majesty of the ocean passage. We again began the journey with dozens of dolphin swimming in the bows and birds flying overhead as Ua-Pou faded into the distance. S/v Barraveigh (Suzi and Bobby) headed out with us for the same basic passage and we checked-in daily at Noon (local time) on 8143.0 USB on the SSB. While in the Marquesas we found that the nonos and mosquitos can be a bit aggressive ashore and being on passage gives us a chance to get back to zero bites. Some people say that bites take three days to become itchy...well...if you are bit daily, who would know?! Right now, it is nice to be itch-free.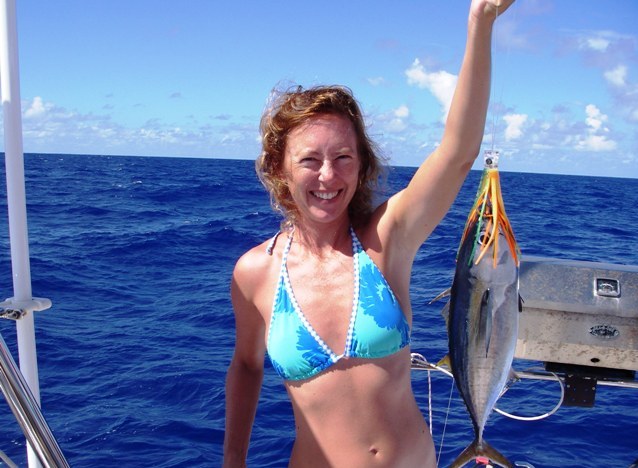 Today (6/16) was a banner day! We had enough wind to turn off the engine and finally sail (12-15 knots of wind gave us 4.5-5.5 knots boat speed)! And Barefeet caught a fish! It was a big eye tuna...not too big but good for a sushi dinner a deux. Erin filleted him, Chris made the sushi rolls (more like snow balls in appearance) and Erin made a dipping sauce (a la Barefoot Contessa: 1/2 t wasabi powder; 1/4 t water; 1/2 t red pepper flakes; 1 t pickled ginger; 1 t scallion; 1/4 c white wine vinegar; 3 T soy sauce; 1/2 t sesame oil). Okay, so the recipe needed some improvisation because we did not have quite the exact ingredients...but boy, was it good. And with a bit of chilled white wine and some tunes...it never ceases to amaze us...here we are bobbing around the South Pacific in our home! Oh yeah, then the night shift schedule kicked in...that is different from home.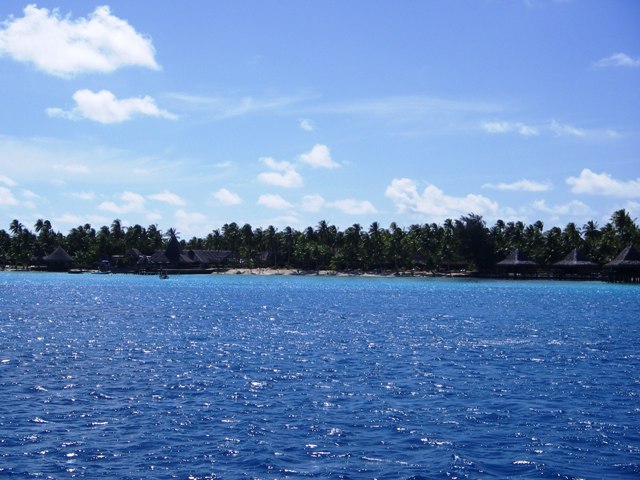 Mother Nature is having a good laugh at us...no wind for the first few days and now so much wind that we have to reduce sail to a mere handkerchief of a jib or risk getting to Rangiroa too early (aka in the dark). It blew 25 knots all night with bumpy seas joining in the fun. Not so easy to sleep but at least we are almost to our landfall...total time...five-day passage. The sun came up and we could see our final destination... the Rangiroa atoll in the Tuamotu islands. It is a very different sight from the rugged, towering mountains of the Marquesas islands. Rangiroa, similar to the other islands of the Tuamotus, are rings of coral with a lagoon in the center...therefore, land at water level with palm and pine trees galore along white coral beaches. After checking the tide tables (currents can be pretty strong if not timed correctly) we entered the Tiputu Pass and anchored in front of the Kia Ora Hotel in 45 feet of water with sandy bottom (6/18). Ashore we go to stretch our legs and check things out.