Finally...Fiji to Australia: November 10 2007
After waiting almost two weeks for a weather window we have finally gotten the green light from Mother Nature to make the 1800 mile passage from Savusavu, Fiji, to Brisbane, Australia. We said farewell to cruising buddies Bobby and Suzi with one more great curry dinner at Ragni's restaurant (aka Surf and Turf) in the Copra Shed. We will also miss our the folks from Copra Shed who have truly become friends due to our extended stay; Pio, Dolly, Robin and Sateri. Oct 25 we headed off the mooring at 10:30am...flat seas and light winds so we motored at 5-6 knots. Bobby and Suzi will be within VHF radio range with us until they peel off for Suva, Fiji...approx 36 hours away. Yikes, got a real adverse current and slowed down to 4 knots. Late afternoon and the ocean came alive with jacks and tuna...literally jumping out of the water. The birds went crazy but try as we might...no fish for us.
Today (10/26) is Chris's birthday! Erin surprised Chris when he came up for his final shift (4-7am) with a decorated saloon...balloons and banners everywhere. It is a tough way to celebrate a birthday with 1694 miles to go but Erin tried to soften the edges with gifts (okay, IOU slips of paper wrapped in boxes...purchases to be made in Oz) and "cuppers"...a favorite dessert since childhood (thanks for the recipe, Fran). Cuppers; mix the following together with fork until blended (batter will be thick) 1/2 cup salted butter, 1 cup sugar, 1 egg, 1 teaspoon cloves, 2 cups flour, 1 teaspoon baking soda, 1/2 teaspoon lemon extract, 1/2 cup sour cream (or plain yoghurt), 1 teaspoon cinnamon, 1/2 teaspoon nutmeg and 1/4 teaspoon salt. Spoon thick batter into cupcake papers and place on cookie sheet. Bake at 350 degrees F for 15 minutes. Due to bumpy seas Erin took a few beaks of fresh air during the process.
Yippee - we now feel like we are on the road...and out of the driveway...after passing the final island of Fiji...and making it past some strong counter current. Unfortunately, the port engine belt broke again...drat. That is okay - on goes the starboard engine. Mechanic Chris has made this fix before and it is not too tough...but will wait for calmer seas. Erin is staying a bit green but hanging in there. 10/27 the wind kicked in and we sailed (motor off) at 7 knots with 15-18 knots of wind. The speed is good but seas are still bumpy...meals are less than adventurous with cereal and cheese & crackers as the staple but spaghetti with bottled sauce (and feta) when we are feeling brave enough to wrangle the pot of boiling water. The bright nights when the moon casts shadows have given way to dark, star filled evenings. Too bad the clouds are periodically getting in the way. 10/29 with 1215 miles to go and the wind is still solid giving us 8 knots of speeds with a triple reefed main and a jib...great news.
The Southern Cross net on the SSB does not seem to be online so we have been checking in with friends also on passage. There are many cruisers out here right now because the bad weather kept everyone penned in...Noumea, New Caledonia, and Port Vila, Vanuatu. We are behind the pack but appreciate hearing weather conditions up ahead. Unfortunately, bad news came over the SSB this morning...s/v Aquantique went on the reef at the Northern tip of New Caledonia and requested a Coast Guard chopper to rescue him. Other cruisers in the area (s/v Adaggio) came to help but rough conditions made it impossible to launch dinghies. Thankfully, no injuries but s/v Aquantique was just about to finish his circumnavigation in Australia...very hard.
10/30 with 1047 miles to go. We brought the workhorse main and jib down and flew the spinnaker...7 knots boat speed. We kept it up all night, too, which was good on mileage but nerve wracking as the one on shift. That is because the spinnaker is a sail that can get very fickle very quickly...and make a real mess of things with small wind changes. Thankfully, wind held the line. 10/31 with 870 miles to go. Halloween is a bit quiet for us...no trick-or-treaters...but a lovely sparkling day with the sun glittering on the ocean...beautiful and peaceful. We are passing the area where s/v Aquantique went on the reef and giving a wide berth to the area...but a little nervous, none the less. To help keep our minds occupied we have been reading quite a lot...including In a Sunburned Planet by Bill Bryson (thanks Hugh and Fran). This is hysterical and a great intro to Australia...really, laugh out loud funny! Showers are happening but they are a real exercise in balance and speed.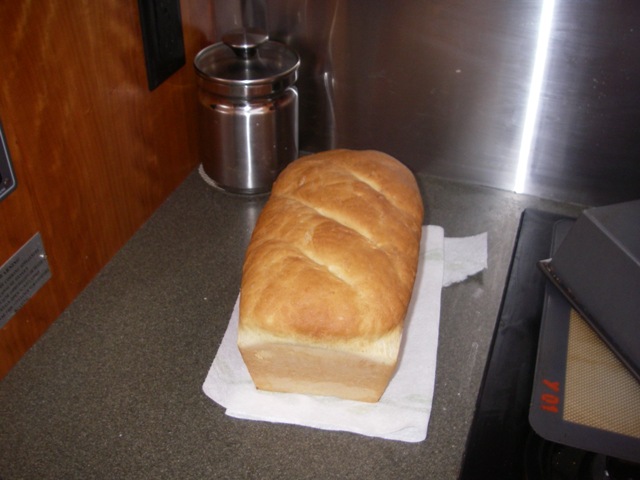 11/1 with 705 miles to go and the wind is staying solid at 17-20 knots and keeping us going at 7.5 knots...surfing at up to 15 knots. As we said before, this is great for speed but feels more like we are on a runaway stagecoach or Nantucket sleigh ride. Yikes! However, we are getting used to it enough that Chris made bread today. Wow - the aroma alone was off the charts. Barefeet bread; 3 cups flour, 2 Tablespoons butter (melted), 1 Tablespoon each yeast, sugar, salt, 1 egg and 1.25 cups water. Mix water, salt, sugar, yeast and egg until blended. Add flour and knead together. Cover and let bread rise double in size and knead again. Place in loaf pan or round on cookie sheet. Let rise again to desired size. Bake at 350 degrees F for 25-30 minutes. Dinner was a fabulous combo of fresh bread and tzatziki. 11/3 with 384 miles to go...the wind has died AND we have a counter current...only motoring 4.5 knots...so close. At least the light wind also means less bumpy seas. Plus, we saw a green flash as the sun sunk below the horizon...very cool! 11/4 with 246 miles to go...we have both engine in full...hoping that we can make it in by sunset tomorrow. We had a nice dinner of dried mashed potatoes...reconstituted and jazzed up with a block of cream cheese and a can of green chilis (thanks Nancy and Fielding)...and topped with two eggs. Yum! This is our tribute to jalapeno hash at the Local Yolk in Manhattan Beach, California.
11/5 and we are making our way up the Brisbane river to make our dock for check-in with customs/immigration/quarantine...with (of course) 30 knots of head winds. We are giving it all we've got and made it at 6pm. Officialdom had us a bit spooked...rumors abound about how tough they are on you in Oz; growth on hulls, no fresh veggies/meat, no baskets/wood/shells...they really know how to strike terror into a souvenir hunter. Thankfully, rumors are as usual...overblown. They could not have been nicer and did not take more than 45 minutes...and did not charge us overtime rates even though we did arrive after hours. And, the only items "confiscated"...eggs and rubbish. No worries, mate!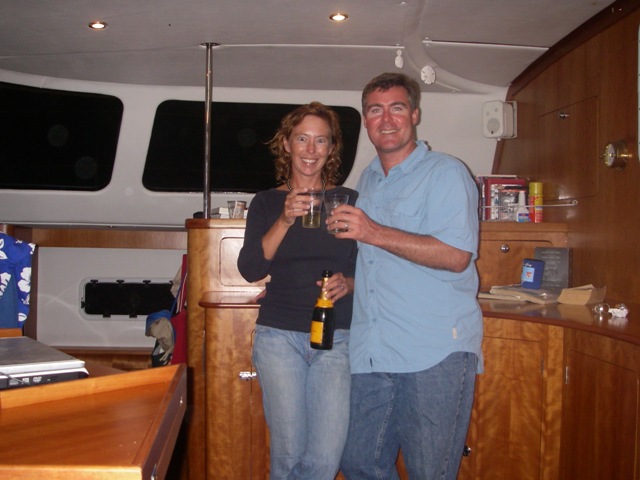 Yippee!! We are in Australia! Wow - feels pretty surreal...a real combination of relief and accomplishment. We shared a bottle of champagne (with a tot for Neptune, too) and headed via taxi to a pub for a steak dinner. Wow - cabbies in uniform, roads that are paved and beer on tap. We slept like rocks and then headed to our official home/dock at Scarborough Marina...three hours away. All tied up in slip J11 and 12 (yes, we need two slips for Barefeet) and ready to unwind.
We are starting to get ourselves sorted. There is good stuff nearby and a great bike path along the ocean that links everything...grocery stores, video rental store, weekly farmer's market, breakfast spots, etc. Needless to say, one of our first purchases was a big basket for the back of Erin's bike. There are a few restaurants within walking distance, too. And all this has been learned in only three days...can't imagine what we will find in a week. Oh, and have heard it is easy to take a bus into Brisbane...but have not yet done it.
We are still looking for a "hang out" but no luck yet. The food in supermarkets is not crazy expensive but average restaurant dinners (really, lackluster) are in the $20 per plate and up range. We just need to look harder. Tonight (11/10) we are thrilled to make one of our favorite meals...steaks on the grill, baked potato and Greek salad. Alcohol is sold in "bottle shops" and often drive-thru (but no drinking and driving - bike is helpful). They have handy mixed drinks (gin and tonic, dark and stormy, rum and cola, etc.) sold in cans like a six pack of soda or beer...pre-mixed! Really great idea. Is it in the US and I missed it?! The bottle shop clerk was sure the concept was invented in America.
The animals have not disappointed either...bright blue jelly fish and birds as prevalent as pigeons with long noses/beaks (Jimmy Durante birds I'm calling them). We are happy to be here and days are warm (still in flip flops) but not oppressive with cool nights (even need a comforter).
We will try the football hunt this weekend with details for the SC and the NFL games...possible spots already scouted out but we shall see about actual success.