Fiji...Waiting for Weather: October 24 2007
Well, it seems we have a bit longer to wait before a decent weather window opens for our passage to Australia...at least one more week. So, we set about getting to know Fiji in more depth...that is...by land. We decided to explore the island of Vanua Levu via bus...across to the opposite side to the town of Labasa (pronounced lambasa). 10/18 we got up early and made the bus departure at 7:30am. The bus also serves as a school bus and many kids all dressed smartly in school uniforms headed to school...briefly sharing the bus with us. We simply identified the teenagers by color; the blue school, yellow school, purple school, green school, etc...white, pressed buttoned blouses/shirts with solid colored long skirts (girls) and sulu (long skirt for boys). And if you are a girl without long braids tied with a white ribbon...seems you are not part of the pack. This is where the good news/bad news comes into play...it is a 3 hour trip (one way) despite being only approx 85km (51 miles) away...the bus has a tough time chugging up hills and we could literally walk alongside. The good news is that the scenery across the island is beautiful and quite varied; tropical rain forest, stands of bamboo, sugar cane fields and pine forests. Amazing!
Labasa was really not much different from Savusavu except busier and dirtier. Unfortunately, no added cheese inventory...a real disappointment but makes us even more eager for Australia. There was a large primary school right in the center of town with kids excited to smile for our camera. As for getting home...hhhmmmm. It is possible to take a "return cab" back to Savusavu (half the time of the bus) but none were available...so back on the bus we went. There is a sort of refreshment break along the way where people come to the bus "windows" selling peanuts, juice, pineapple slices or these little curry snacks wrapped in roti (an Indian version of the tortilla). We stuck with the canned fruit juice. To clarify...the "windows" are really just big holes in the bus where glass would otherwise go...no worries, makes for great ventilation. The scenery was still beautiful but it was nice to get back to Savusavu.
Due to still no weather window...our extended stay in Savusavu has also given us a chance to get to know more locals. Darts are very popular here and are taken quite seriously. There are two clubs in Savusavu that have dart teams and they regularly square off against each other...Savusavu Yacht Club (yachtie based and our adopted club) and Planter's Club (ex-pat based). 10/20 there was a dart competition held at Planter's Club. It is a friendly cross-town rivalry type of match and the winner proudly displays the rock trophy until the next meeting...when it stays or is won away. Currently, the trophy resides at the Planter's Club but the Savusavu Yacht Club team hopes to bring it home. We went over with Bobby and Suzi to support Robin (chef at Captain's Cafe), Gopend and the rest of the Savusavu Yacht Club team. Andrich was there, too, a new friend who is on holiday from Hungary and backpacking for a few weeks in Fiji...he finally moved to a hotel (from his tent) due to pretty continuous rain...aagghhh...good move. It was a fun night with drinks and bits...french fries and lamb curry. Savusavu Yacht Club prevailed and Chris even threw a few darts...as soon as victory had been clinched...as I said...darts are serious business here. After the darts we wandered to the next room and tried a bit of snooker...kinda like pool but with a bigger table and different colored balls and different order of sinking them...okay, not really that similar to pool. The Planter's Club guys showed us the ropes and Bobby and Chris gave it a try...Chris was triumphant! Good going Chris.
Holy guacamole...the rain is coming down in sheets, buckets, cats, dogs...you name it. Wind, too. Definitely not a good time to leave for the open ocean. Luckily, there was enough of a break over the weekend that the kids could get in some sail time in their optimists. They looked great and are solely supported by the Savusavu Yacht Club. The local kids learn about sailing from A-Z...they help build the boats, learn about sail trim and boat maneuvering, and get out on the water on their own. Lots of laughter could be heard as they zigged and zagged around the mooring field.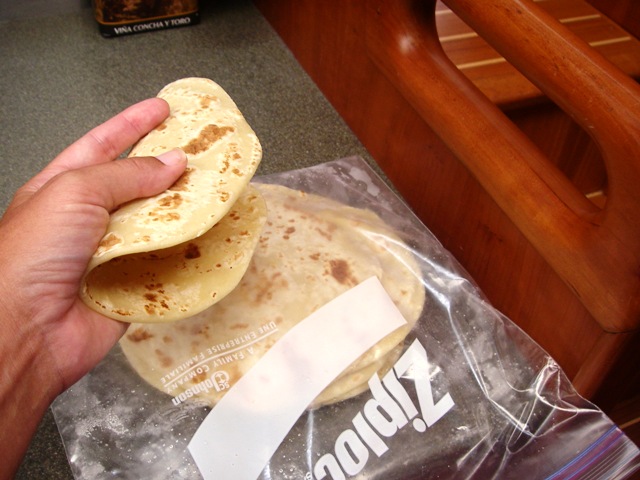 10/21 Robin and Dolly (third generation Fijians) came aboard Barefeet for dinner...Dolly made duck curry, roti, dahl soup and fried fish Indian style...Erin contributed salad and a coconut custard pie. Marvellous to eat but there is no way we could recreate the delicious duck curry...especially because step one was...cut off the duck's head (Robin) and step two was...clean, de-feather and trim carcass (Dolly). However, Chris was eager for a one-on-one roti lesson from Dolly. Roti are like Indian tortillas used to scoop up curry and dip into dahl soup...and would make great passage food. Roti recipe; flour, boiling water and small bit of butter (or ghee if you have it)...kneaded and rolled thin (about as thick as a quarter)...then cooked in a pan on the stovetop until brown. Salt is a no go in roti as Dolly burst into laughter when Chris mentioned using it in his initial attempts...truly a blasphemous suggestion. After the detritus of dinner and dessert were cleared from the table we settled into a few hours of card playing...hearts was loads of fun despite the angry, rainy weather outside. By the end of the night the dinghy looked more like a child's paddling pool than a mode of transportation but all went fine as Dolly and Robin were shuttled back ashore.
Lots and lots of rain 10/23 so we played hearts in the Savusavu Yacht Club with Bobby and Suzi then headed back to Barefeet for some delicious pizza a la Chris and some tunes. It looks like the gribs are showing a weather window (yippee) but we are confirming with Commander's Weather. Final provisioning and straightening then likely departure Thursday, Oct 25. Thankfully, we will be kept up to speed about the Red Sox action from friends via SailMail. Keep fingers, toes and everything else crossed for us and the Red Sox...Oz (short for Australia) or bust!!