Fabled Bora Bora August 12 2007
August 4 at 7am we pulled up the anchor from Raiatea, filled up with fuel and headed to the fabled Bora Bora. At a distance of approximately 24 miles, this was a nice, quick trip and we picked up a mooring ball in front of Bloody Mary's in the early afternoon. It was great to get a mooring ball because the anchorage is very deep here...75-80 feet...that's at least 250 feet of anchor chain/rope.
Geographically Bora Bora is a central mountain surrounded by a collection of motu islets (small island with palm trees...and now multi-star resorts). The water is numerous shades of blue from turquoise to cobalt...spectacular. The island has a single ring road that is 32 km (approx 15 miles) and completely paved (infrastructure a la the French). The single entrance is through the Teavanui Pass...happily, not hairy for the conditions when we entered.
We began our introduction to Bora Bora with sundowners at Bloody Mary's with s/v Barraveigh. This place is a great beach bar...and is very cruiser friendly. They provide free water, free ice and a spot to toss your trash. Once inside the restaurant they have a "shoe check" so you can feel the sand between your toes as you perch on the logs that serve as barstools and dinner chairs. The night started out with just a few cruisers at the bar...until...the bus showed up after making the rounds to the local hotels. That started to fill the place. Most visitors to Bora Bora seem to be honeymooners...fair skinned, gleaming diamond ring (fresh from the jewelry washers) and young (mid to late-twenties) was the norm. Kinda fun to hear about the states and what is happening...mostly how the Red Sox are doing. We had some tasty appetizers then headed back to Barefeet.
Since we still had the bikes out and assembled Erin went for a bike around the island...Chris was not in the mood. The loop is mostly flat (only one hill) but there seem to be more potholes on this island than many of the others we have visited. This seems strange since there are so many mega resorts...and the guests are certainly not using the roads...ah well...maybe Bora Bora is next on the list for a repaving. Not much was open because it was Sunday but this also meant that the traffic was light. Erin checked out the Hotel Bora Bora (wonderful waterside restaurant on the sand) and the Intercontinental.
We have heard from friends that have already passed through that we must do "the" hike. "The" hike is nearly to the peak of Bora Bora over a very vertical and savage trail. Erin took up an invitation (8/6) from s/v Priscilla since Chris's foot tangled with some coral and needed to heal...no hike for him. We stopped at the market for some fruit and crackers and off we went at 10am. It was one tough hike...3+ hours up and 3+ hours down with three sections that required using the trail installed rope. Yikes! It was a bit like climbing a waterfall. But when we finally exited the dense tree canopy (so dense that sunglasses needed to be off) the views were unbelievable...much like the postcards we saw in the souvenir shops. Rubbery legs made it down and we celebrated aboard Barefeet with sundowners and some cheese and crackers and an eggplant appetizer Erin keeps in the fridge for last minute needs. The 2 eggplants are grilled then chopped and marinated (1/2 cup balsamic vinegar, 1 tsp oregano, 1 tsp hot pepper flakes, 1 clove minced garlic, 1 Tbs capers, 1 cup olive oil, few basil leaves). The marinated eggplants can stay in the fridge for two weeks. When ready simply warm to room temperature and layer on top of sliced french bread and goat cheese. Thankfully, the cocktails helped dull the fragrant aroma we were giving off.
We rounded out our time with some underwater exploration and a dinghy around the island. Part way through the dinghy trip we stopped in at the St Regis for a cool drink. What a lovely place this is...built on a motu across from the main island and not yet a year old...great choice Lindy and Kevin. After chatting with bartender Vincent (from the French Alps...now there's a climate change) we learned that occupancy rates were averaging 80% and next week 100%! Paradise is certainly in high demand. Erin's legs were still recovering from the hike and we called it an early night.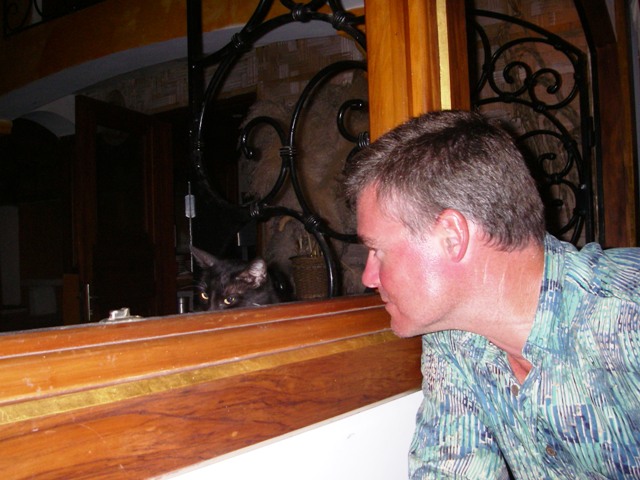 For our last night in Bora Bora we headed to La Villa Mahana (www.villamahana.com). It is French cuisine with a Polynesian flair. The chef, Damien (formerly of L'Orangerie in Los Angeles), answers the phone for reservations, takes your order and cooks the food. It was wonderful. Who knew that mahi mahi was so delicious when served on mashed potatoes with...banana. No kidding - it was very good...but not sure how many bottles of wine it took them to think of the idea initially. Try it! Chris made friends with a resident cat and tried to sneak him some pineapple ice cream...turned it down...then some chocolate sauce...turned that down, too. That is one finicky cat.
Thursday, August 9, it was time to get back to Raiatea for some paper work exchange for the delivery of our spinnaker. We motored back due to wind on the nose but were anchored and passing off papers by the afternoon. It seems Monday is the earliest we will have the spinnaker so we pulled anchor and headed to Taha'a...just four miles across the way from Raiatea (both islands are in the same coral ring...aka barrier reef). We picked up a mooring ball in front of the Taravana Yacht Club (www.taravanayachtclub.com) and called it an early night after a busy day. Drat - then there was some wind against tide at 10pm when bleary eyed we needed to rejigger the mooring ball bridle...the excitement always happens in the dark. Okay, now back to sleep.
Taha'a has approx 4500 islanders and is the largest producer of vanilla in French Polynesia (Huahine is second). This island more closely resembles the quiet, relaxed pace of Huahine rather than the glamour of Bora Bora or the bustle of Tahiti. There are inland roads as well as a 42 mile ring road...biking is clearly in our future. The Taravana Yacht Club is a nice spot right on the water and open on three sides. It is run by Maui, a UC Davis grad who grew up on Bora Bora. Maui is largely a one man show and could not be friendlier. At the moment only the bar/restaurant is open (with delicious local specialties like poisson cru and mahi mahi with vanilla sauce...and fabulous french fries) but an overhaul is in progress and new bungalows are being built...land lubbers soon welcome.
We have stayed on the mooring ball and explored on shore with walks and biking. The roads here are truly pristine and rarely does a car pass by...heaven. At the edge of the road are tons of circular dug holes. It took us some time to realize that they are built by land crabs ranging in size from a small hamsters to half a chiwawa (sp?). The reason it took some time to make the connection was because they are sneaky buggers and positively slink into their hole when you pass by...it looks like the ground is alive. Chris is sure that if you were to doze off and nap under a palm tree...next thing you know you would be covered in these sneaky fellas. We made it around the bay and over to Hotel Hibiscus for breakfast Sunday morning. This is a yachtie spot that has seen better days but the bread and coffee was just what we needed. Back on the bikes admiring the scenery; from drying coconut (copra) to vanilla farms to just delivered baguettes in the "mail" box to islanders returning home from church in their Sunday finest...always accompanied by beautifully woven hats rimmed with flowers.