Discovering Queensland: November 26 2007
We are securely tied in our slips at Scarborough Marina (www.scarbmarina.com.au) and we are starting to get sorted out. Throughout the South Pacific we have kept a list of "To Do's in Australia" and it is now time to start working through them...in addition to the basic stuff that is needed when any new port is reached. We have scrubbed and cleaned all the passage salt off Barefeet, pickled the water maker, assembled and connected hosing for filling our water tanks with dock water, laundry, cupboards scrubbed, ordered a transformer so that 240 power of Australia can be used by 110 power on Barefeet, lined up a quote on sail repair (mostly just a bit of chafe), lined up a propane-fix-it-guy (to plumb the new BBQ grill and fix our sickly oven), bilges dried out, assembled bikes (and buy bike helmets because it is illegal not to wear them here...really an axe to grind for us), get wheels (rent, lease, buy...what is best)...you get the idea. Hey, we even got our kitchen knives sharpened from a guy at the Sunday Market...awesome!! There is a great bike path that runs along the ocean and connects supermarkets, sidewalk cafes, video rental stores, shopping malls and just about whatever we may need. Since the bikes will be such a big part of our existence we bought a basket for Erin's bike and have used it nearly every day. The season is early summer here with warm/hot days and cool nights...still wearing flip flops...but the heat should definitely increase. The flowers and trees are blooming...especially the jacaranda trees that are positively aflame with red flowers. Plus there are dozens of amazing birds; ibis (aka Jimmy Durante birds), cockatoos, parrots and tufted doves. The animals are truly as varied as your imagination.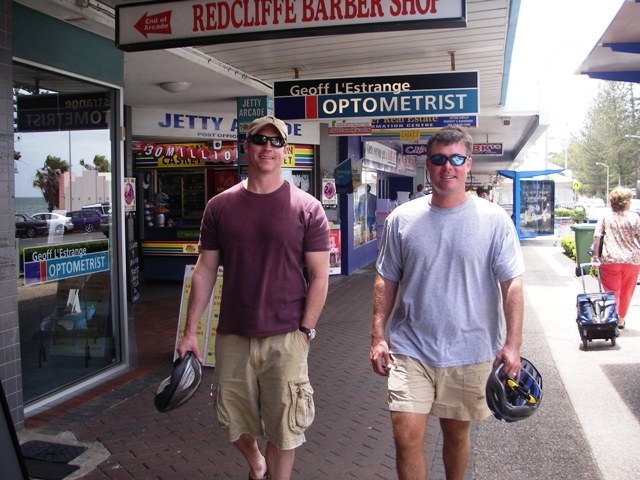 We have started to find a routine...with a shaded sidewalk spot for breakfast that is a nice pedal away...slowly starting the day with the paper and some eggs, pancakes and strong coffee. Alas, no evening "hangout" yet but prices are making more sense to us...taxes and tip are included...which, when subtracted, look a bit more reasonable. The car dilemma has been solved and we have decided on renting an automatic for one month with drop off at the Sydney airport when we return to the states for the Holidays. Now for the inaugural drive...YIKES...never mind simply the novelty of driving again but driving on the "wrong" side with roundabouts...that was enough chaos for us and made a stick shift (left handed - eeehhh gads) out of the question this time around. Car timing could not have been better because our great friend, Parker, arrives in three days and we plan to pick him up from the airport. Parker tacked on a visit after completing a business trip in Australia...should be a different trip compared to his last visit when we were in Georgetown, Bahamas. What a nice time we had...biking to breakfast, gawking at the crazy birds, catching up and sampling a few more local restaurants...and a ubiquitous streak grill on Barefeet. As always, the visit was too short but Parker was safely re-deposited to the airport. Where will his next port of call be?!
Geoff and Merel of s/v Sifar stopped by for a visit on their way (via auto) from Bundaberg to Sydney. This was a real celebration as they had 1) just turned s/v Sifar over to her new owners (after cleaning, sea trials and emptying) and 2) taken a new job as captain and crew on a boat making the South Pacific passage next season. We started off with champagne and moved onto a dinner of chicken curry. It was delicious as always and great to have another hands-on lesson.
Many of the animals in Australia are nocturnal (only coming out at night) which means they are tough to see in the wild...and make driving at night a dangerous proposition that is not entered into lightly. Therefore, Nov 21, in order to get a better handle on the critters we headed to the Australia Zoo...home of the Crocodile Hunter (www.australiazoo.com.au). We had heard lots of good things about the place...from both locals and fellow tourists...and we had a great time! The animal compounds are beautiful and always contain at least one human animal keeper so that the animals are 1) familiar with people and 2) closely watched in case any issues should arise or habits change. The zoo was begun by Steve Irwin's parents (Bob and Lyn) in 1970 and, today, sadly but proudly celebrates Steve's short life while his family remains actively involved (and owners) of the zoo. We were most excited about the interactive element of this zoo ("emphasizing conservation through exciting education") and we were not disappointed as we ambled through a kangaroo & wallaby park, strolled through a rainforest aviary, patted a koala, held an alligator...and viewed from afar; echidnas, salt and fresh water crocs, wombats, lizards (including komodo dragons), snakes (eeeekk), emus, elephants and even three rambunctious tiger cubs. The khaki clad animal keepers are friendly and answered every question we had with detailed information (and you know how Chris likes to ask questions...they earned their money during our visit).
This is our first Thanksgiving outside the United States...definitely kinda weird...but we still prepared a turkey feast with as many fixins as we could rustle. There were a few menu modifications but all was tasty: frozen turkey breast in aluminum pan (Erin was worried it would be closer to a turkey loaf but not the case) that we marinated in French dressing, whole cranberry sauce and dried onion soup mix - yum; mashed potatoes, pearl onions, peas and apple pie for dessert (of course). Too bad Pillsbury pie crusts are not available but we did use a frozen crust we found...it was okay but a bit too much like a sugar cookie. Ah well, maybe we will finally have to make our own.
Friday (Nov 23) after Thanksgiving we headed off for a "vacation" to Noosa Heads. Chris's folks gave him one night at a hotel and a dinner out for his birthday...very nice. Noosa Heads is a beach resort town approximately 1.5 hours North of Scarborough (www.tourismnoosa.com.au). The town reminded us quite a bit of Laguna Beach in California; rugged coastline with eucalyptus trees and sand beaches, surf culture, locally grown veggies and produce around every corner and a real casual feel. We stayed at a great little spot right in the thick of things (Noosa Village Motel on Hastings Street). We spent our time walking the trails of the National Park looking for koalas in the trees, shopping in the numerous small boutiques (such as www.kikoy.com) and nibbling at some delicious restaurants. No, shopping is not a "Chris/blue" activity. He sat in a cafe reading a book and watching the parade...as Chris puts it...nothing more amusing than seeing a Grandmother, Mother and Daughter, all wearing those ridiculously oversized "stupid spoiled girl" sunglasses aka Paris Hilton Specials, and all dressed as if they were hunting the same guy...while Erin went shopping for skirts and a new bikini. Our favorite meal was at Sails (www.sailsrestaurantnoosa.com). Entering the restaurant through a small door that opened Frank Lloyd Wright-esque into the dining room which opened straight onto the sand and the surf beyond...heavenly scene as we shared a sashimi plate of tuna, swordfish and trout...then onto a beef fillet for Chris and fish and chips for Erin (sounds humble but tasted amazing)...and finished with an apple tart and a cheese plate. Returning on Sunday (Nov 25) we had breakfast and did some food shopping at the Noosa Farmer's Market...fabulous tomatoes and homemade bread for a great crostini dinner back on Barefeet.