Christmas in LA: December 27 2007
The flight back to LA was certainly a different kind of passage...13 hours in a plane with loads of other people...rather than just Chris and Erin on Barefeet for numerous days crossing the ocean. We read and slept and ate...okay, maybe it's not so different after all - just a little fastser! Erin grew up in Los Angeles but has not spent a Christmas there in almost ten years...we are really looking forward to the visit. The first few days were a whirlwind as all Thompsons were in the same place...we had a full Christmas feast and presents on Dec 14. It was wonderful! Erin made a pumpkin pie and a pecan pie...helped by elves Paulina, Gemma and Garrett. Chris made an apple pie with the same support staff. Lindy made an unbelievable turkey, prime rib, veggies and potatoes...spectacular! Mom made light as air popovers! Kevin threw wide the wine cellar doors! The evening was full of twinkle lights, delicious aromas and flashbulbs. Gift conch horns gathered from the sea bed in the Bahamas, cleaned and shined by Erin and epoxied by Chris were a real hit...and the sounds that emanated from the initial blows?! Yikes! But it seems that Dad knows the trick after resurrecting dormant trumpet skills...a deep, sonorous sound.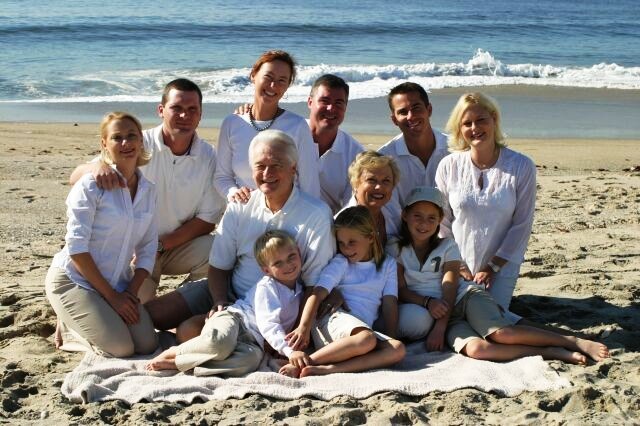 Not one to miss an opportunity Mom had a family photo taken on the beach Dec 15. We were all crisp and clean in white tops and khaki bottoms with the surf rolling behind. The photos will mercifully update living room photos faded by the sun and bring the sitters into the present...a much needed advancement. It was a beautifully clear day and the kids stayed dry until the end...huge accomplishment!
Jana helped get some initial food fixes with trips to In-N-Out Burger and Tommy's. Delicious as always and wonderfully the same...with drippy chili and cheese on the Tommy burgers and crisp tomatoes and grilled onions on the In-N-Out burgers. Needless to say, a big part of any LA visit is a trip down taste bud memory lane...is it possible to have too much Mexican?! We will find out...
Okay, the food continues with a morning bike ride along the ocean path to the Local Yolk in Manhattan Beach (www.theLocalYolk.com). We make it here at least once per visit and jalapeno hash is the highlight...whipped potatoes, cream cheese, jack cheese and jalapenos mixed together and grilled so the exterior has a crunch. Out of this world! We improvise a version of this on the boat with dehydrated potatoes but it is just not the same. Dinner was at Paco's (4141 Centinela) for Mexican food and margaritas. Never disappointed at Paco's we had refried beans, rice, enchiladas, carnitas taco, chili rellenos and warm chips with salsa. Oh my gosh...and the handmade tortillas...Chris tried for a lesson...lard seems to be the main and most important ingredient. And the holiday spirit was overflowing with lights and decorations covering every inch of the ceiling.
Thursday, 12/20, was a full day...and we enjoyed every minute of it. The day began with breakfast with Ardelle and Noah. Erin and Mom whipped up a traditional Thompson holiday breakfast...monkey bread and chili relleno casserole. Monkey bread: cut 3 large cans of flaky biscuits (8 per can) into quarters; sprinkle chopped pecans into buttered bundt pan; shake 5 quarter biscuits at a time in a baggie filled with 3/4 cup sugar and 3 Tablespoons cinnamon; toss until coated; place in bundt pan until complete; pour 1.5 sticks melted butter, 1 cup sugar (dissolve sugar in butter over heat) and 2 Tablespoons cinnamon over top; bake at 350 degrees F approx 35 minutes; cool slightly; invert onto serving plate. Chili relleno casserole: butter 9x13 pan; beat 5 eggs/1.5 cups milk/2 Tablespoons flour/1/2 teaspoon pepper/1/4 teaspoon salt; mix until blended; arrange 7 oz can green chilies on bottom of pan; sprinkle with 1 1/3 cups cheddar cheese and 1 1/3 cups montery jack cheese; repeat layering another two times; pour egg mixture over cheese; let stand 30 minutes (can be prepared 1 day ahead and refrigerated); bake at 350 degrees F for 45 minutes; cool 20 minutes; serve warm with salsa. We caught up on life the last several months and future plans...then we all scattered to the holiday winds.
The Getty Villa in Malibu (www.getty.edu) was next on the docket. The Villa was the location of one of Chris and Erin's first dates...nostalgic for us. Originally built in 1970, the Villa underwent major renovations beginning in 1997, finally re-opening in January 2006. Today the Villa houses strictly Greek, Roman and Etruscan antiquities. The day was pretty cold (yes, our blood has been severely thinned by the South Pacific). Mom is a volunteer and ushered us around the place. The structure recreates the Villa dei Papiri (a Roman country house built around 200 to 150 B.C. and later buried by Mount Vesuvius in 79 A.D.). Recreation and construction was envisioned by J. Paul Getty (oil millionaire) after viewing papyrus scrolls which revealed blue prints of the villa. The grounds resemble the country house and flow seamlessly from inside to outside to inside. The antiquities are amazing but the ocean views from the cliff top are equally spectacular. After leaving the Getty Villa we stopped at Taverna Tony in Malibu (www.tavernatony.com) for a drink and to warm our bones from the cold...yes, Boston weather will be difficult for us. Taverna Tony is another old haunt for Chris and Erin...and, thankfully, much the same. Then it was into the canyons for dinner at Saddle Peak Lodge (www.saddlepeaklodge.com). This is one funky place...part roadhouse, part Pony Express stop, part hunting lodge with animal heads ringing the walls with wood beams and holiday festiveness all around. (Chris - you definitely get to see what you are eating) The menu selections are on the exotic side with options such as buffalo, pork belly, marrow potatoes, elk, lamb...and the more common fish and steak. It was delicious and amazingly flavorful...and super warm and cozy. We drove home through the mists and curves of the Malibu hills to the shore and finally back to the marina.
Mom and Erin made time for a little pampering...manicures and pedicures. Erin felt decadent and apologized for the untouched feet that have been in the "utilitarian" category for the past several months. No worries, the ladies worked their magic and even passed along some great travel tips for Vietnam. Gosh we are having a great time catching up with old friends. We spent an evening at the Santa Monica pier with Bob and Elizabeth...even walked to the end. My, the ocean looks black and forbidding from the carnival of the boardwalk...all about perspective, we suppose. Never possible to have too much jalapeno hash...we met Mike, Trish and little Michael at the Local Yolk for breakfast and a walk along the strand. Grillin' on the deck with Mom and Dad and conch blowing at sunset (ssshhh, don't tell the neighbors where the sound is coming from). Neighbors Mike and Candace are sworn to secrecy...sealed with sundowners. LA is big and still growing...as we saw during a drive to Carlsbad to catch up with Maggie and Les at Fidel's (yes, Mexican food again). Maggie and Les had a couple of dog ideas to pass along to Erin's parents after getting their latest bundle of love...Emily. Seems additional input is not necessary...Mom and Dad got a new dog! Oooohhhh, he is soooo sweet. His name is Mocha Bean (Bean for short) and he is a rescue dog; four years old, house trained, affectionate, playful...and not yappy! The rescue thinks he is a sheetzou (sp?)/poodle mix. A better description...adorable.
Christmas Eve was another time to catch up...Joan and Don for eggnog and Erin with her high school friend Cindy (and son Kellen). Clearly, time marches on (made abundantly clear since Kellen is now a walking, talking 4th grader...not the swaddled infant Erin last saw); however, Cindy and Erin picked up where they left off and did not miss a beat. Story swaps continued with Cindy's folks (Ron and Trish) and Lynne and Joe. Christams No. 2 (the calendar one) was spent in family traditions...breakfast at Lindy and Kevin's place...slow and leisurely...and Chris has a new pancake recipe for the non-Bisquick countries. Then off to Dad's family for prime rib and Mom's popovers. The grand sunset over the Pacific made us feel like we were on the ocean. It was awesome...and filled with tasty treats. Cousins and Aunts and Uncles...it was wonderfully familiar. Unfortunately, the calendar keeps passing and it is now time to head to Boston...we are excited to see more friends and family but sad to leave those in LA. There will be snow on the ground and the taxi line might be chilly at midnight...thank goodness we have our winter coats in the closet.