Bahamas Far Islands February 23 2007
The freezer is restocked, fuel tanks are filled and we are ready to head south from George Town. We had a farewell party on Alize with Andelen...and were nearly boarded by pirates. Just kidding. The George Town Cruisers Regatta is gearing up (theme 2007 is Pirates of the Bahamas) and in order to get folks excited they drove a motor vessel through all the anchorages...complete with pirates and flags...and tossing of salt water. It was a fun night all around but we will miss Alize as we move onward.
This up anchor and moving on has felt different for me, Erin. All the way down the coast of the US and here in the Bahamas I have met every anchorage departure with some anxiousness. I keep wishing it away but it still lingers...will the weather turn bad, will the charts not be accurate, will there be supplies to purchase and on and on. This time I felt nothing but excitement at what was around the next corner...so much excitement that my breathe was momentarily snatched away. It feels good and it feels comfortable.
2/10 we pulled anchor from Sand Dollar Beach with s/v Andelen (Bill & Louise). The wind was light so it was an uneventful motor to Conception Island...we love boring. We arrived at the aquarium and anchored in early afternoon - a little fuller this time around with just over a dozen boats. Sundowners on Barefeet with star gazing and clear views through the water. 2/11 we woke up and headed to the mangroves for some kayaking (for the girls) and kaliks on the beach (for the boys). The kayaking was awesome; we saw several turtles and lots of different fish...even a small shark. And the conching - wow - we will be set for a few meals after cleaning and storing. Back to Barefeet with the kayak in tow - oops - kayak got swamped, tipped over and lost a few conchs...but enough survived...so we are all set. Louise and Erin went to work cleaning the shells...1) hammer a slit with a chisel wide enough to insert a knife 2) cut meat "grip" free through slit 3) flip over, grab fingernail and pull out meat from the wide (pretty) opening...sounds easy but it took us awhile to get the technique down. There is a lot of slimy stuff to toss out and we collected it all in a bucket that Bill & Chris dinghy-ed far from the boat. (Chris - after all, we don't want any "predators" hanging out around our boat looking for scraps, or snorkelers) After one particularly tough removal we decimated the shell to see how things were set up inside. This gave a whole new insight and all subsequent removals were smooth and complete. Ta da - we can now turn conch into food on purpose...not just luck...and have pretty shells for collecting afterward.
We had hoped for one more day at Conception but the winds are spinning around such that anywhere but here would be a good anchorage. 2/12 off we go for Clarence Town on the southern portion of Long Island. The ride was similar to a ride in a washing machine (no, haven't tried it but...yikes). The tide helped us toward the second half of the journey and we were anchored early in the afternoon. Several boats also at Conception had the same thoughts that we did and it was a full 15-ish boats. Many folks are headed further south (e.g. Jamaica, Dominican Republic, etc.) but had to stop for a front to pass through the area. We were tired after the bumpy ride and turned in early...little did we know the squall that was ahead. Yikes - 2:30am we awoke to thunder, lightening (more like a strobe light than a periodic bolt), torrential rain and hail! This went on for a few hours and was quite dramatic...thankfully, the only mark of the excitement when the sun came up was a perfectly clean Barefeet...like she had gone through a car wash - totally scrubbed clean.
2/13 With one front coming...and another right behind it Erin listened to the nets for a comparative study of the weather forecasts. Unfortunately, we got some bad news announced on the HAM waterway net (7268 LSB 7:45am). There was a boat watch called looking for Andelen...message to call home immediately due to a family emergency. We delivered the message and went into action. Within a few hours stateside calls confirmed the need to fly home immediately, Andelen was tied snug in a slip at a marina and Bill & Louise were on a plane home. We will hang around and keep an eye on Andelen until the situation becomes more clear.
Clarence Town (population 125) is the island's capital and, as described, one of the prettiest settlements in the Bahamas - homes have tended yards with blooming flowers and trimmed lawns. And as with all towns in the Bahamas...several churches. Remember Father Jerome from Cat Island? Well, he built two churches here...St Paul's Anglican Church and then later St. Peter's Catholic Church (after converting to Catholicism). We saw both (he definitely has a preferred style) and climbed the narrow passage up the southeast tower of the Catholic Church for a panoramic view of the area. The passage was really narrow!! We explored the town by foot and had a burger along the way at the Oasis Bakery, Restaurant and Bar while sitting on the shady porch and watching some chickens peck around in the tall grass. We have met some new friends and all went snorkeling for the afternoon (s/v North Star, s/v Gentoo, s/v Renaissance). We found lots of treasures and then headed to the beach for a game of beach bocce.
Long Island (population over 5000) is 75 miles long and nowhere more than four miles wide. Columbus christened it Fernandina on his first visit in 1492. Long Island's settlements are strung along its length...better suited to touring by car than by foot. We rented a car and explored the industrious, neat communities. This is a more lush and fertile island than many others in the Bahamas (much farming raises corn, peas, bananas, pineapple and other fruits) and we found the people wonderfully friendly. We updated via wifi and made a stop at the bank for some cash before continuing north to Thompson Bay (coincidentally located right next to Millers) where we stopped for lunch. It was just the two of us in the whole place but we stayed...the restaurant came highly recommended by fellow cruisers for its good food and friendly proprietress. We had cracked conch (fried conch strips), BBQ ribs, mac and cheese and cole slaw...sounds humble enough but gosh was it good. This energized us to keep heading north to Cape Santa Maria Resort and Villas (www.capesantamaria.com). The resort is "barefoot elegance" with bungalows stretched along the white sand beach (yes, the sand was raked)...definitely a beautiful spot worthy of a visit. Back at the dinghy dock a sport fisher had returned with overflowing coolers of fish...so much so that they offered entire wahoo to anyone willing to clean them. Awesome - we now have enough fish (in the freezer - ah, that sounds great) for at least five hearty meals.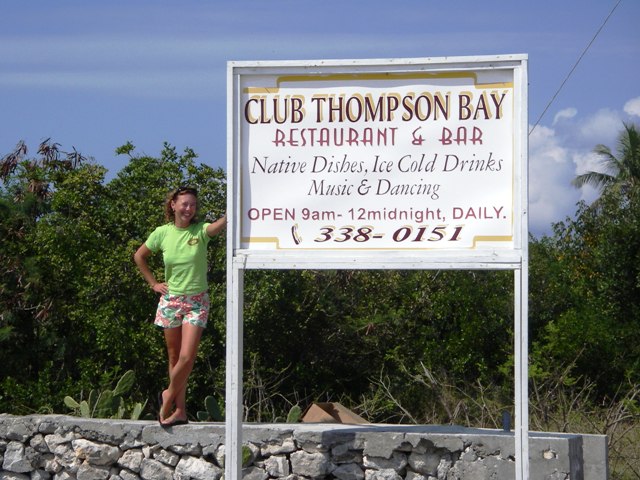 2/18 we had a strong front pass through...after dark, of course. There were only six boats in the anchorage and everyone was on anchor watch...winds were steady at 30-35 knots with gusts higher (highest we saw was 38 knots). One of the boats had a friend in Nassau Harbor and filled us in on what was on the way every three hours throughout the night over the VHF radio. We all came through without dragging but there were lots of bleary eyes on Monday morning. We dove on the anchor before and after the blow - it was in the exact same spot...right down to the sea urchin beside it. Boy, do we love our anchor!! And not dragging into the coral reef was priceless.
Fresh fruits and veggies are few and far between in the Bahamas. The mail boat arrives once per week in Clarence Town and that is the best chance for variety. We headed to the government agriculture and fisheries warehouse building (big building but not so full). There were green peppers, hot red peppers, green tomatoes, lemons, papaya, plantains, bananas and calabazo (kinda like a squash/pumpkin). That is it...but the price was right. We collected three green tomatoes, one papaya, one lemon (the size of a cantaloupe) and three green peppers...all for $3.20...great deal!! We decided to have a night out at the Harbour Restaurant. It was a fun Mom & Pop spot with Motown blaring over the speakers and chickens and roosters roaming around outside the windows, across the street. We had grilled grouper, conch burger, french fries and vanilla ice cream. Lots of fun and then a quick ride back to Barefeet in Trouble under a star filled sky. Andelen has made plans to return to the Bahamas after settling a few more issues stateside so we will look to move South.
2/22 We headed from Long Island for Great Inagua. This is an overnight sail and gets us into a position to make the 7-8 day run to Panama. Great Inagua (arrived 2/23 Noon) is mostly a rest stop for cruisers before moving elsewhere as it is a good jumping off point for many points in the Caribbean. Another reason it is only a rest stop is because the anchorages are completely unprotected if winds pass through the area. We headed to town in order to get checked out of the Bahamas (necessary step for our next destination arrival which will require proof of departure). We headed got into Trouble and headed into town (cruisers had told us that unless we really wanted an adrenaling rush there was not need to take Barefeet to the town docks). No problem and gosh were they right. An aground sail boat testifies to the difficult and tight entrance...yikes. There was supposed to be a well stocked grocery store and hardware store - not true - oh well, shopping is off the to do list. We refueled with a fried chicken lunch with mac and cheese, peas and rice and french fries...served in styrofoam to go containers...cuts down on dishes, I guess.
The Morton Salt company harvests one million tons per year from the expansive pans on Great Inagua. We thought it might be neat to check out the factory - the salt mounds were visible quite a distance offshore and looked like snow mounds...oh, got it - the operation is on strike. Another tough characteristic of the island. It is a one company town...think Pennsylvania steel towns or mid-west paper mill towns. That is okay - maybe we could see the 50,000 thriving West Indian Flamingo population (largest in the world)...guess not - could not raise the park warden. That is okay - let's get going. The weather does not look perfect but definitely possible for our run to Panama. We confirmed our ideas with our weather forecaster and we are all in agreement - go now or wait at least two weeks for another window. This will be our longest passage to date. Our emotions are of excitement rather than anxiousness...but Mother Nature can always modify that feeling.
Here are a few summary thoughts about the Bahamas...
1) Hitch hiking is a way of life...if you don't ask for a ride prepare to be asked if you want a ride...marvelous
2) Waterway markers...Bahamians are not the most energetic of folks so if you see a marker in the water - it is for a reason. The riddle is for you to figure out what it means...stay left, stay right?!