Sound, River, Hook, Canal...Sept 30 2006
Sept 25 we cast off from Captain's Cove Seaport after filling our diesel and water tanks and having a last meal at the Mexican Market - quesadillas were a good honorable mention instead of tamales (unfortunately, they were all out of tamales). It was a sunny day and we made good time. We passed Manhassett Bay with a favorable tide still with us to enter NYC so we kept going. Made it through Hell's Gate and the West side of Roosevelt Island - lucky for us because the East side would have meant asking for bridges to be raised. We learned that earlier in the day West passage past Roosevelt Island was not allowed due to goings on at the UN. After passing the UN we saw why - Chavez had spoken at the UN and was just heading out as we went by...in his five chopper convoy.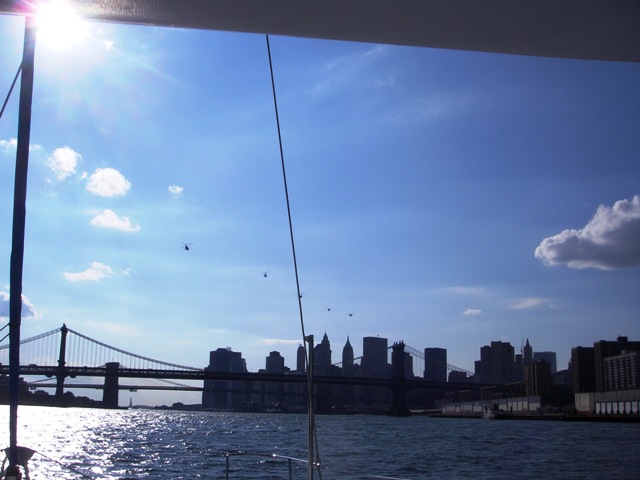 Swung past the River Cafe and remembered the great birthday dinner with my folks last year (Mom's birthday).
We took the advice of friends and anchored between Lady Liberty and Ellis Island. What a sight!! We were the only boat there so it was a quiet anchorage with the jewel box of lights of Manhattan that came on as the sun went down - spectacular. The location was a bit rolly - but hey, we stayed in NYC for free!!
We got an early start on Sept 26 and left NYC behind as we headed up the Hudson River. The city was starting its day and fun to stroll past from the water. We tried to snag a free wifi moment along the way but no luck. On past the George Washington Bridge and the Tappan Zee Bridge - into Nyack for an anchorage. As we went up the river we saw numerous Monarch butterflies fly past the boat. Do they migrate?! There were also many osprey - we even saw one as it grabbed a fish from the water and kept flying. Nyack was a great little town (Village, actually) tucked in just South of Hook Mountain. The whole town was easily accessible from the dinghy dock...after nearly having to hop a fence because the locals are quite territorial about their coastal access. As usual, we made direct lines to the Post Office (gorgeous murals inside), Library (complete with stone fireplace and huge painting of benefactor - Carnegie) and chandlery (boat store). We stayed for 2.5 days in order to get a favorable weather window back down the Hudson. This gave us time to get to know the town a bit...as well as time to visit West Point.
We explored the town and enjoyed the restored Victorian homes with rambling gardens and slate sidewalks. Autumn is still only a glint in the eye of Mother Nature with black eyed Susan's and other wildflowers still in bloom. We wandered over to Julius Peterson - boat yard and chandlery established in 1898. They were true to their advertising - friendly folks and capable of any needed repair. We checked another item of the infamous To Do list and got a dinghy lock system...lifeline wire long enough to stretch from the dinghy engine to the dock - then secured with a combination lock...no need to have the possibility of dropping a key into the harbor when we are trying to get home to Barefeet in the dark after a night in town. Another good tip we picked up along the way.
We headed out for the day to find our way to West Point - only twenty miles North of Nyack but gosh that can be a long way if left to our peds. We struck out with bus service and cabs seemed a bit silly...so we rented a car for the day and off we went. It was a beautiful drive up and we were sorry that we could not see all the leaves in full autumn regalia. We explored the museum - with a teaser of what is yet to come in Panama via the history of West Point/Panama, etc. It seems one of the most highly credited individuals for the construction of the Panama Canal was the chief Medical Officer...malaria and other mosquito diseases laid flat all previous builders. Glad we have our malaria pills for that leg of the journey! West Point was spectacular and we wish we could have spent more time there. We attempted to buy an American flag for Barefeet (yes, we are sentimental) but a nylon version for the size we needed didn't match up. Back to Nyack and returned the car.
We freshened up back on Barefeet and then headed to town for dinner. We had drinks at a place named Vertigo - what an amazing gem of a place. It was renovated a year or so ago and is now three amazing floors of Art Deco/Craftsman/Belle Nouveau. It is a gem of a spot that seemed better suited to Manhattan or Paris. That's okay - we'll take it...they even gave us free appetizers. We thanked them and headed down Main Street just a couple of doors to Olde Village Inn. A woodsy, Irish pub. Another great spot - and how can you go wrong with Mexi-skins and hamburg and jalapeno pizza?!
Sept 28 we headed into town for another wifi connection and a stop at the weekly Nyack Farmer's Market. I get so excited to get to these markets and then I arrive and am completely stumped about what to buy. All ideas of meals we have aboard and what would complement them are completely forgotten and I simply stand - mouth agape - and admire. Ah well - got some great MacIntosh apples, fresh feta and some veggies. Back to the boat and up anchor headed back down the Hudson River. Although we just passed NYC two days ago - we are amazed with every viewing of it. Making our way to Verazano Narrows Bridge to Sandy Hook was definitely NY harbor - grand central!
Arrived at Sandy Hook, NJ at twilight - later than we like to arrive at a new harbor but all came together in an anchorage near the Coast Guard station. Two other sailboats were also anchored. After a breezy anchor on wet decks it was nice to get inside for some dinner...avocado, cucumber and cilantro salad with pasta and marinara sauce (gravy) with feta on top. A restless night due to wind and passing rain showers...but the bonus was that Barefeet got all the salt washed off from the previous day. We headed out early for a long trip up the New Jersey coast. The winds were favorable and so we took the opportunity while we could...otherwise it is a 105 mile journey from Sandy Hook to Cape May bashing all the way. The next weather window is not expected for three days. As it was, we actually sailed the main and jib and went about 7-8 knots under sunny/partly cloudy skies with 15-20 knots of wind...very nice! We had channel 16 "on" (as always) so we can hear what is going on around us. We heard several cruisers making the same journey as us - all headed to the Chesapeake. Wow - very fun to hear and once again be reminded of the community that is out here! The weather station on the radio has forecast frost for tonight - first of the season. This adds to the mix of emotions at the moment...now reaching new ports and waters while leaving the Northeast to cool down as scheduled. One day at a time is how we'll take it.
We sailed through the night after a dinner of tamales (from the freezer, of course) and rice and beans. I took the first shift from after dinner until midnight while Chris tried to sleep. It was a calm night and not too much to worry about...but why do those lights not show up on my radar? Oh, they're planes - phew. Geeze - I thought I needed to avoid someone headed towards us...really, they were just flying into Atlantic City. We arrived at Cape May at 3am, Sept 30. We could keep going around Cape May and onto the Delaware River but we are early for a favorable tide. So, in we went to Cape May and anchor and catch a few hours of sleep. We got up and pulled anchor at 8am so that we could catch a favorable tide up the Delaware River. It will be about 50 miles up the river to the C&D Canal (Chesapeake and Delaware Canal) so any tidal help would be great.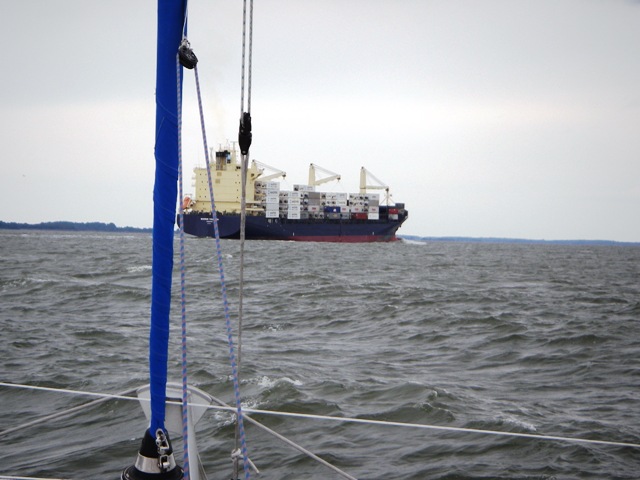 The Delaware River is approximately 24 miles across at the mouth - looks more like the ocean than a river. It is a major shipping channel all the way up to Philadelphia. Gosh - we must have seen a dozen tankers barreling through the channel - bow waves arcing as they cut through the water. For that reason we stayed just outside the channel to give them all the room they needed. We were also in the company of many cruisers headed South like us. Mostly monohulls but there are now a handful of catamarans, too. Also, the number of Monarch butterlies has increased for a steady stream of single butterlies to packs of at least a dozen at a time. We made it up the Delaware River and entered the C&D Canal. It was a great sight - partly because our next stop is really getting close - a couple of nights in Chesapeake City. The canal is calm and motor only (similar to the Cape Cod Canal). Chesapeake City is about 10 miles up the Canal and we should arrive just in time for dinner at the Tap Room where we'll toast Captain John Johnson (who brought Chris there a year ago when they brought Barefeet from Annapolis to Barrington). We owe John a lot for the experience he passed to us and know he is with us on this trip.