On The Road 9/23/2006

We headed out of Barrington and made the short 3-hour trip (no singing please) to Newport. It feels great!! We anchored in a familiar spot and headed into Newport in Trouble (dinghy). We made it to the Armchair Sailor bookstore on Thames Street just before closing for a few last minute books – Electrician's Guide to your Boat and Communication Hints for SSB and HAM. Then off across the street to Zelda's for a really great burger and frites.

We pulled anchor and left Newport at 10am with nice winds. Unfortunately, they didn't last long and quickly became dead on the nose – quite pounding and slow progress. I did too much work inside trying to organize bins and turned pretty green. After six hours we decided to duck into a harbor. So, into Stonington, CT, we went. This is a familiar anchorage and well protected. We had dinner on the boat – an improvised pasta meal with a corn, tomato and pesto sauce. Dessert was a couple more Sarno's almond/pine nut cookies (thanks for the recipe, Mom). Sarno's may be gone from Los Feliz but the cookies are as good as ever. A game of backgammon and then splish splash… fish jumping everywhere! It was too much for Chris - the fish were taunting him. Out came the fishing pole – alas – no fish (I was okay with not having to fillet something after sundown).

A couple of morning chirps and it seems nature has come closer to us already. A small bird flew into our cockpit and became disoriented. A little directional help sent him on his way. (Chris – Actually, it was kind of amusing watching Erin try and shoo a bird out of the cockpit. She kept swinging her hands as if she were shovelling water in a pool, but the bird ignored her – or flew somewhere other than out). We then headed into town for breakfast and hopes for a wifi connection. Noah's Cafe on Water Street had great food but the wifi fizzled. We found a better connection at the public library just down the street. Stonington is a charming town just a short walk from the dinghy dock.

Back to the boat and we pulled up the anchor. It is a beautiful day with bright sun and moderate wind. Okay, so the current is against us – two out of three isn't bad. We will see how far down the sound we get before calling it a night and anchoring. We made it to Duck Island Roads, CT…just past Hens and Chickens for you locals…just South of Old Saybrook for those needing an atlas. We celebrated a calm sunset on deck with margaritas accompanied by bread that Chris made en-route (very impressive) and hot artichoke cheese dip. No calorie counting please…they don't count at sea, anyway. The apricot and rose colored sky just never gets tiresome.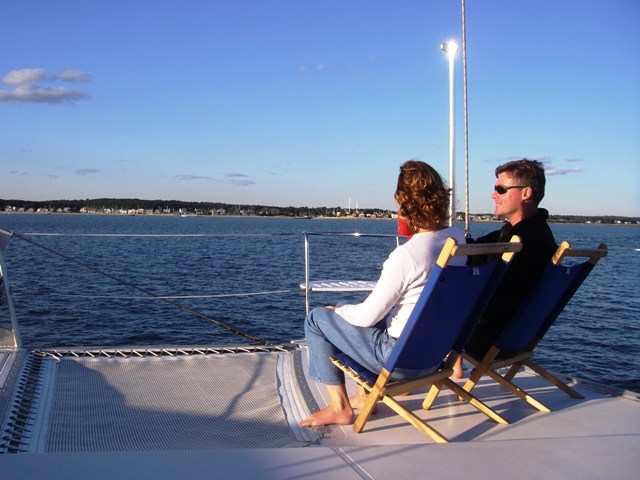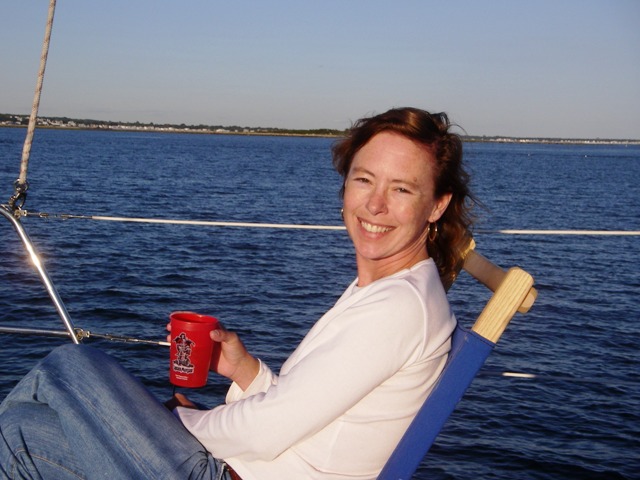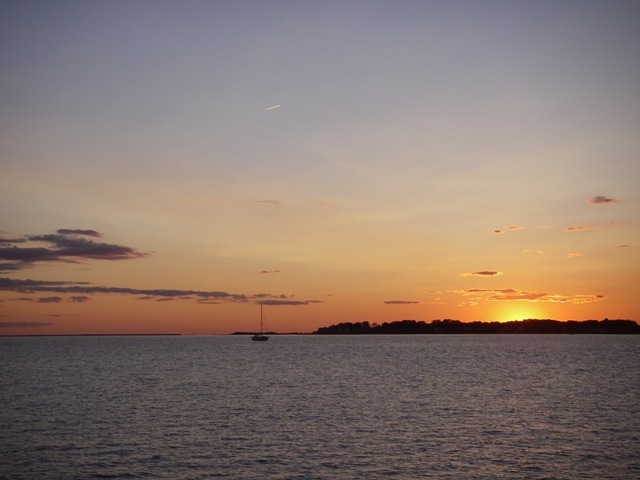 Pulled up anchor at sunrise and headed further down the sound. It was a calm morning and we made good time. However, it became a bit tricky finding a spot to spend a few days seeing friends because moorings are predominantly set up for monohulls – we are quite the odd ball with our wide beam. Anchoring is tough because moorings have squeezed out much of the anchorage areas...especially protected areas for various wind patterns. We finally found a spot (dock slip with power and water, no less) at Captain's Cove Seaport (www.captainscoveseaport.com) located in Black Rock, CT (between Bridgeport and Fairfield). It is quite an interesting spot – complete with a helicopter landing pad and tug boat around which a building was constructed that serves as the bar. Oh, and don't forget the model of the Titanic hanging from the ceiling. Nice folks with good facilities – clean bathrooms and hot showers. We took a scenic walk around and I quickly spotted an Indian market and a Mexican market (I will return later when I can linger…aka…without Chris). I made it back to the Mexican market the next morning and had the most amazing tamales for breakfast. They were soft and flavorful – the chicken and tamatillo one was my favorite. At just $1 each I bought a bunch for the freezer.