Florida or Bust: Nov 28 2006
Holy cow - we are feeling pretty tropical! It is about 80 degrees F with light winds and we are getting a tan while doing boat work (every silver lining has a cloud). We left Beaufort, SC, at 11am on Nov 17. There was a good weather window and we made a 49 hour run to Lake Worth (aka Palm Beach), Florida. There were a couple of other boats making the same run so we had some company - always nice during the night watches. Speaking of watches we have experimented a bit and right now we do six hour shifts - Erin from after dinner until approx 1am - then Chris takes over until approx 7am. It works pretty well but Erin got pretty sleepy at the end of her shift night two - coca cola helped as well as minor cleaning tasks. This passage was much better than the last - we had full dinners each night; "Quickie Chickie" (8 oz French dressing, 16 oz full berry cranberry can and onion soup mix) baked at 350 degrees F and served on rice (or pasta) one night and chipotle/lime chicken the next...grilled no less! Wow - nice passage.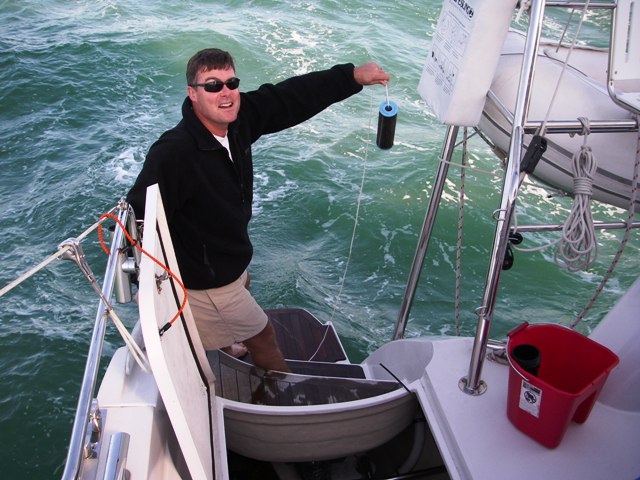 We did more motoring than we would have liked but weather was supposed to arrive so we did not want a delayed arrival and be "out" when the weather passed. We made it in and were comfortably anchored in Lake Worth at Noon Nov 19. We hopped into the dinghy to stretch our legs and experienced our first dinghy beach...again, added to the tropical feel...gosh, the sand is soft between our toes. Just down the road 100 feet is a huge Publix supermarket. After entering it took us a few minutes to gather ourselves and charge ahead with some provisioning...what a treat (and a dumpster bin sanctioned for cruiser trash out back).
Nov 21 we walked to the John D. MacArthur Beach State Park. It was beautiful! A jungle entrance walk then the dunes...and the beach. The water was blue and seashells plentiful. We have been seeing butterflies, many dive bombing/low flying pelicans, blue herons and egrets. Aligators and manatees are still eluding us.
Thanksgiving was aboard Barefeet in shorts and t-shirts. We had a turkey breast (5 lb) marinated like the Quikie Chickie, mashed potatoes, peas, pearl onions and homemade pumpkin pie. It was delicious and plenty for leftovers. We even caught some football via the computer screen and rabbit ears (thank goodness Miami was playing so that we were nearby). (Hugh - our computer didn't have sound, so we used you little all things TV - the one with the compass and the radio, etc to get sound while we watched the picture on the color screen. Pretty cool).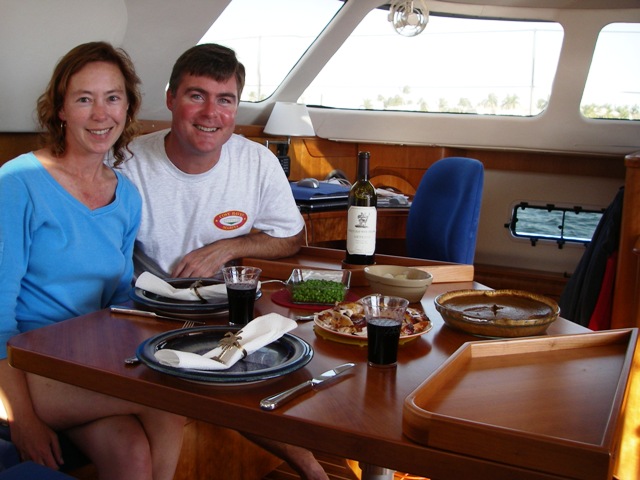 We have met new cruisers and all are wonderful (Chris - SOME are wonderful, I don't know about Erin, but I have met some who are not so wonderful ... ); happy to share their crossing preferences and favorite Bahama spots for checking-in, snorkeling, provisioning, etc. We are grateful for the first-hand information and are looking to check-in at Spanish Cay instead of West End (at the moment). The weather window is still a few days off, at best, so we have been getting close to the end of our "building" list and moved onto the "maintenance" list.
We rented a car for a couple of days to speed the process...we are pooped but did not want to miss any auto-only task; Yamaha parts, West Marine items and a sightseeing jaunt to Palm Beach (and Mar A Lago). Trump definatey has a nice pad. Additionally, Erin got her second Hep A shot (no go in Beaufort, SC, after an affirmative on the phone and a shuttle there by Bill & Judy...c'est la vie). Oh well, instead we got the chance to spend two hours at the Palm Beach Health Department. I won't go into too many details except that the single hurdle to completing the process was amazing...and almost ended the task before it was started. We had no local address...and that almost ended the event because the clerk could not figure out how to enter our circumstance into the DOS based computer system. Our Boston address was used but a local address was also needed. I offered making up an address (not amused) but two supervisors later the system worked by classifying me as "homeless". I paid in full myself, but still have the invoice which clearly classifies me as homeless - priceless.
Chris has had it with engines and has an overflowing plate of on-going maintenance (two boat engines and the generator to name just a few). In steps Erin...now responsible for the dinghy engine. Okay, let's go! Six month maintenance to be done (with Chris's oversight); check oil and change/add as needed - check, grease points as shown in pictures - check and change gear oil in lower unit - check...finally. Oh my - grease is a good hair conditioner...right?! The gear oil draining went pretty well but the filling was no fun. We started with a squeeze tube (because it must be filled from bottom to top)...then a quick stop-by from a cruiser friend who said West Marine has a handy pump that goes from the oil bottle into the gear hole...sounds good and off we go. Oh yeah, the family car (Trouble) is up on blocks. Okay, into the kayak, over to the beach and into the rental car. Back with the pump and we are in business - why yes, that pump is well worth the $4.29. Gear oil filled and Erin is screwing in the bottom screw (do you see where this is going) and yes - BLOOP - into the ocean it goes. Chris scurries to look for a spare as Erin keeps her finger in the hole...otherwise we lose all that gear oil and are unable to close the compartment. Nope no spare was found but we improvised a closure with a too long screw that did the job until we (you guessed it) jumped into the kayak again, over to the beach and into the auto to a Yamaha dealer. Lots of empathy (and a few smiles) later we had three screws...just in case. Back to Barefeet and we completed the job...phew...the family car is back in business! We definitely worked overtime today and celebrated with a dinner at Panama Hattie's after a shower...it was nice - and kinda felt like a date...very nice.
One last morning (Nov 28) with the car and we got the propane tanks filled, liquor run completed, West Marine (yes, again) all before Noon when we needed to have the car back. So here we are - feeling pretty on top of things - 85 degree F weather, sunshine and tunes from the radio. Maybe a suntan is in our future...or a dip into the water?! Tonight we are headed to Duffy's (great sports bar) for the Duke game after a sundowner with friends. Duffy's is also our wifi connection - yippee!