C&D Canal and onto the Upper Chesapeake October 9 2006
Sept 30 at 5:30pm we arrived in Chesapeake City, MD. It felt great to be in a more sheltered area and we were excited for a meal ashore. Now, just to anchor. It sounded easy enough but the pond was positively packed (made the Salt Pond in Block Island look positively empty). Numerous power boats and a sailboat or two were anchored in tight quarters. We managed to get ourselves to the back corner and drop the hook (12 feet of water...even 3 to 1 scope seeming decadent). Luckily there was not a breathe of wind and zero current. It seems the power boats were mostly ashore simply for cocktails and dinner. They left and were quickly replaced by cruising sailboats tucking in for a rest after the NJ coast/Delaware Bay trek. We scampered ashore in Trouble as soon as the anchor was set and a couple of fenders hung out (just in case we bumped anyone). We headed to the Tap Room - a local spot Captain John took Chris to last year. Italian food and Maryland crabs (served with wooden mallets for cracking) are the specialties at this casual spot. I had a soft shell crab sandwich and Chris had a burger...both accompanied by cheese and Old Bay seasoned fries - delicious! We had a toast to Captain John and spent a lovely night chatting with locals.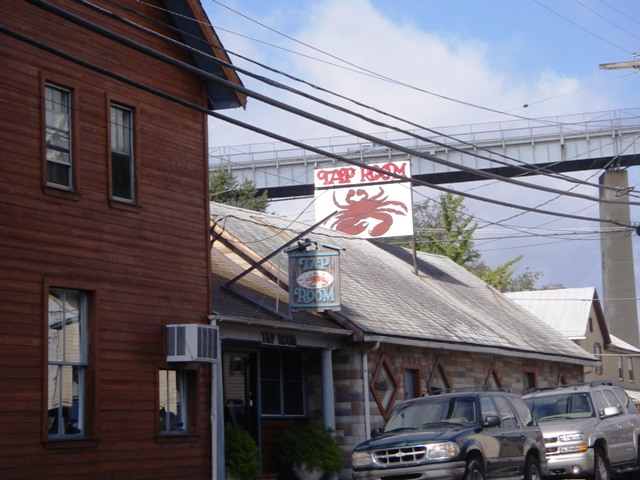 Oct 1 we awoke to a nearly vacant pond - crazy! Also, we spied an opening at the town dock (free for a 24hr stay - thanks again, John). Over we went and docked. **Chris insert text about Erin docking**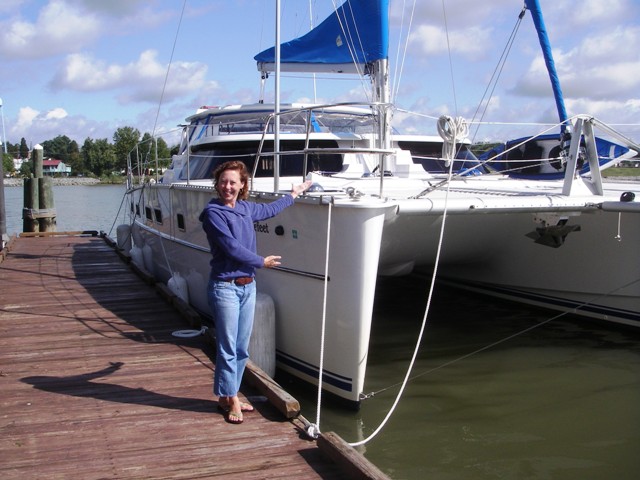 All tied up at the dock and off we went to breakfast at the Bohemia Cafe. Good coffee and standard breakfast options...except for "scrapple"...what is that?! I decided to begin my "try what you haven't tasted before" strategy and gave it a try. Well, not quite my cup of tea - like a square sausage patty with a strong animal insides flavor to me. While in the South I think I will stick with grits. Wandered around the town and admired the beautifully painted homes and marvelous porches. Chesapeake City (formerly the Village of Bohemia) was a dream of Augustine Herman to connect the Delaware River with the Chesapeake Bay. The canal route was marked in 1764 and started in 1824. The village became the hub of activity during construction and later as coal and lumber passed through the locks. The famous "Susquehanna Arks" arrived and had to be dismantled - lumber sold - because she could not fit through the locks. Some of the buildings in Chesapeake City today are made from that lumber. Today there are many festivities in a historic scene - Halloween parade and Christmas Walk (with Dickens carolers) just to name a few.
Taking full advantage of our walk on/walk off arrangement at the dock we headed to the Yacht Club for dinner (a restaurant, not a club). Tasty seared tuna for me and lamb chops for Chris. More walking around to happily stretch our legs before heading out Oct 2. We finished the last few miles of the C&D Canal and entered the Chesapeake. Wow - again, it felt great! We headed to Havre de Grace for a couple of days of boat work (great chandlery in town) and food shopping (Saves A Lot Market just a few blocks from the dinghy dock). We anchored at 3pm and enjoyed a steak on the grill with mashed potatoes and peas.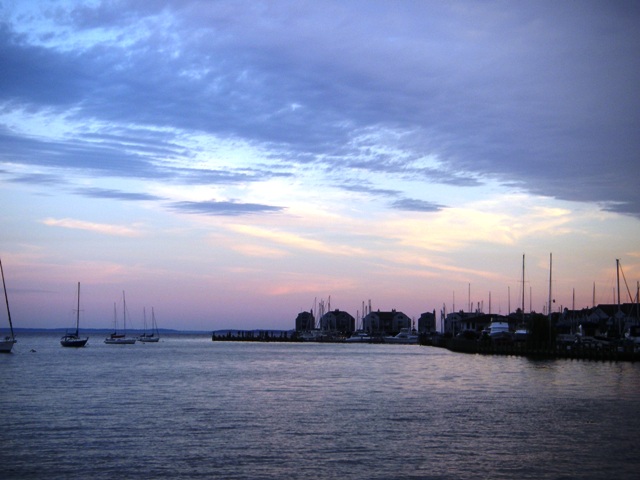 Lafayette passed through and commented on its similarity in appearance to Le Havre in France (maybe it is "la"...my French is quite rusty). Havre de Grace has been dubbed the "duckiest town on the Chesapeake" maybe because it is the home of the duck Decoy Museum. Many other museums and loads of Antique shops and eateries round out the town. Winds have been so light it feels as if we are on a lake - very easy for doing boat work and building back the fridge supplies (salad dressing and oatmeal, chocolate chip cookie dough is now on hand).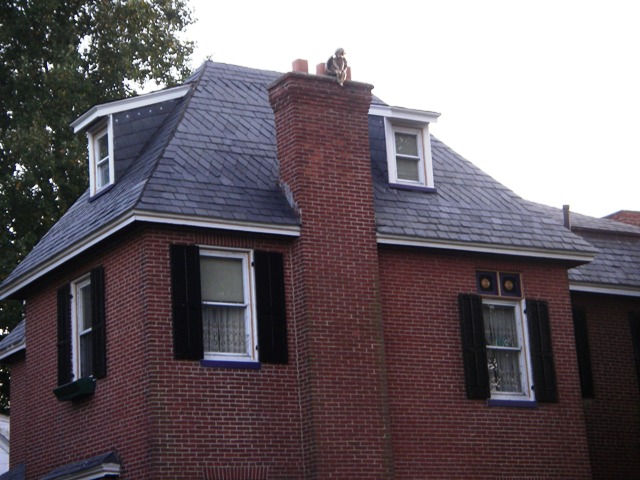 Oct 4 Hugh and Fran arrived and took a cab to Havre de Grace. We stayed on the boat that night and then headed off to Baltimore on Oct 5. There is supposed to be a Nor'easter passing through so we are going to take a slip for a couple of days and let the weather pass. Baltimore Harbor is at first very industrial - factories, coal piles, tankers and lots of warehouses...however, this soon gives way to a wonderful harbor and thriving city flush with the docks. The city began revitalizing the harbor in the '70s and boy does it show - marvelous! We filled up with fuel and checked in for our slip - tight little spot but there was no wind (always a help). We were quite spoiled at the Inner Harbor Marina (thanks for the tip Ken & Tana) - free wifi, showers, electrical and water hookups and washing machines and dryers. Plus, the city is literally steps from the dock. A landmark sign is the giant Domino sugar neon sign - just as famous as the Citgo sign in Boston.
The first night we wandered to Little Italy for a wonderful meal at Amicci's - reminds us a bit of the North End in Boston - simply strolling the streets you can smell the garlic and wonderful cooking. The next day we split up after breakfast and a walk through a city market. We explored the city; the Aquarium for Erin & Chris and the American Visionary Art Museum for Fran.
We came back together for dinner and walked to Fell's Point. We pulled on our foul weather gear and headed out - Mother Nature wasn't going to slow us down. We ate at Bertha's...famous for its mussels... served with no less than nine dipping sauces to choose from. We split an appetizer portion - really good! Then onto main dishes and all left with happy, full bellies. It is a wonderful tavern atmosphere which was even more cozy due to the rain and cloudy day. Then we were off to walk home when we heard live music from a tiny bar. We were pleased enough with the sound that we headed inside Leadbetter's. What a gem it was - friendly patrons and great music (electric keyboard, drums and guitar). Unfortunately, the music was cut short as the guitar (and vocals) musician ran out of guitar strings.
The next morning I returned with Fran to the American Visionary Art Museum after she had raved about it the night before. She was correct - it is an amazing place! It is described as a "treasure house" full of the best in original, self-taught artistry. It is full of the most outstanding creations born of intuition and self-styled imagination. The artists and their stories are as amazing as their imaginations and works of art. I was awed by the creativity and loved every piece displayed...from the 55-foot whirlygig to the crocheted formal evening gown with a horse motif (created and worn by an institutionalized woman) to the painted window and door screens that once dominated an Eastern Baltimore suburb (originally created by a polio patient to enliven his stark surroundings) and on and on. If you find yourself in Baltimore - run, do not walk to this amazing place. (www.avam.org)
Oct 7 we departed Baltimore for Annapolis; unfortunately, it was not the smooth and sunny sail we had hoped it would be...instead, it was windy (up to 30 knot gusts - we had two reefs in the main) with short, choppy seas. We were certainly pleased to roll into Annapolis later in the afternoon. We anchored outside the Naval Academy - a very impressive water front site which resembles Les Invalides in Paris. It was rather exciting to anchor as dozens of two-man sailboats sped around racing...like white butterflies darting along the top of the water. We scampered onto the water taxi and went to Middleton Tavern for dinner. We had Caesar salads prepared tableside and wonderful steaks and seafood. As expected the city was abuzz since it is the annual Sailboat Show. The walk ashore was a bit circuitous because the storm and high tide have literally flooded the roads. Yikes - but the bright foul weather gear being worn adds some nice color to the gloomy weather.
What a difference a day makes - 10/8 was beautiful (as forecast). Clear skies and near 70 degrees F was a welcome change. We are happily back in t-shirts and flip flops as we explored the boat show (with a bit more determination than in the past). We had a checklist of suppliers we wanted to see for spares as well as to ask some questions. We found everyone we had hoped to find as well as a nice visit with PDQ. Another surprise - Chris's engine mechanic course instructor. Chris marched right up and introduced me - happy he had not yet had to use too much of the knowledge. Our checklist was helpful because it is so easy to become paralyzed with over stimulation and shear volume of choice; 13 anchor suppliers, 9 cushion makers, 35 electronics manufacturers, etc. Chris and Fran even managed to squeeze in some afternoon work on the bowsprit.
Departure day for Hugh and Fran (10/9). All packed and off for breakfast ashore at Chick & Ruth's on Main Street then into the cab and back to Boston. It certainly was a lot of fun to share our cruising lifestyle with them. Chris and I headed to the Naval Academy for a walk around - what a beautiful place it is. The layout is linear and precise with beautiful landscaping...similar to Paris. There were a few Midshipmen but not many (probably because it is a holiday)...also explains why we could not get into the chapel. Oh well - pretty impressive from the outside also. Visiting both West Point and the Naval Academy was humbling and awe inspiring and filled us with pride. Now we really do not know who to root for on December 2 for the Army vs. Navy game in Philadelphia...both?!
The day ended with a few more chores and some relaxing time reading. Then all of a sudden the harbor was a beehive of activity...the boat show has ended and ALL of the boats are making a mad dash (looks like a parade) out of the docks and off to other locales. Many have come to the anchorage where we are and dropped the hook. We grabbed a cocktail and settled in for the show - quite splendid to watch!