Pointed Due North Stuart to St Augustine: April 13 2023
Anchored in Manatee Pocket was quite the party zone (3/26). We dinghied over to Twisted Tuna because we have always liked the casual vibe of the place. Wow – it was slammin'…tables were packed, bar was two deep, March Madness basketball on the TVs, folks chillin' on the docks to live music and a 150 person poker tournament just started upstairs. The rockin' Atlantic coast of Florida is yet another microclimate of Florida…Treasure coast from roughly Jupiter to Vero Beach. Dinner done and ready to go so Chris did his signature leap into the dinghy. This time he freaked some folks out, "I thought you were committing suicide, man?!" Oops – sorry for the scare. The next morning dawned quiet and still.
The motor north from Stuart was the long, straight channel through the dredged St Lucie River. It's as boring as a midnight drive through Kansas. But the destination was beloved Vero Beach Municipal Marina (3/27). We've been past Vero many times but never stayed. Cruisers often call it Velcro Beach because people stop for a night but fall in love with it and end up staying the season…sticking like velcro. We booked three nights and started with a ¾ mile bike into town. The ebikes made quick work of checking out the town which even gave us time for an ice cream. The Spanish moss dripping from grand live oaks with orchids dotting the trunks soothed our nerves as we slashed through a flurry of boat insurance paperwork…including notarized signatures.
The next day started with coffee and a Cruiser's Net at 8.15am on VHF68 (3/28). It has been a long time since we tuned into one of those but it felt wonderfully familiar. The marina has a fun sense of humor with the code for bathrooms, lounge and washer/dryers…8675. Remember that '80s Tommy Tutone song…8675309 (Jenny's number). They know their (aged) audience.
Our reward after more insurance paperwork was a fabulous evening with Tom and Suzie (s/v Priscilla). Time with these globe girdling cruisers is always amazing as we tell tall tales from Panama, Bora Bora and beyond as well as catch up on current travels. Their recent return from Thailand had them passing through a familiar stomping ground for all of us...Royal Phuket Marina. Apparently, it is currently a ghost town with only a couple of boats…yet another casualty of the pandemic. Tom is an amazing gardener and sent me off with two plumeria cuttings. Let's see how long I can keep them alive.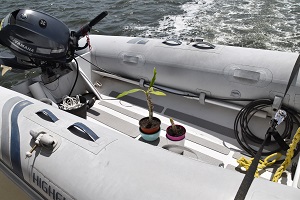 Three dolphin hung out beside the boat for so long this morning that I was tempted to pet them. Wow! Breakfast at Casey's is a neighborhood favorite. Just a simple place like a mid-west Drive-In where orders are taken at the window, seating is on picnic tables with umbrellas and your name is called when the order is ready. The burgers are described as 7-napkin burgers and they are correct…and, yes, a burger can be breakfast. This really is a gem of a town. The neighborhood surrounding the municipal marina is like walking in a tropical garden. Streets have names like flamingo, cypress and date palm; there was a turtle literally crossing the road and sea grape bushes are buxom and vibrant. We understand why so many cruisers get stuck. Dinner was an easy amble to Riverside Café for live music, tuna nachos, grilled cheese and onion rings (3/29). Life is easy in Vero Beach.
Our next chunk of travel is from Vero to St Augustine. We have no specific schedule; however, changing wind directions have us re-writing our next four night stops almost hourly for mellow anchoring conditions. Amazingly, our day of moving along the Indian River had gloriously perfect conditions for all…enough wind for sailboats and smooth seas for motor boats. This almost never happens. With such great conditions we pushed past Cocoa Beach to Titusville, anchored north of the bridge (3/30). Arrival with just enough time for a homemade sausage, mushroom, green pepper and onion pizza before the sun went down.
The next day we pushed past Cape Canaveral (no rocket launches to see – darn it) and through Haulover Canal – always a lovely nature spot (3/31). Military and government sites have an amazing explosion of wildlife including frolicking manatees who completely ignored us. Usually, manatees are shy and duck underwater at the slightest sight or sound of us. Plus, there were leaping dolphin and stately birds. The day was sunny but winds were strong.
For the night we anchored among 65' flyover bridges in Daytona. The microclimate is becoming dominated more by cement and high rises rather than mangroves and open space. However, nature is never far away. The channel through Matanzas Inlet is always squirrely due to shifting shoals. We ended up being the mule leading a conga line of BIG yachts through the day markers and announcing depths on the VHF (it was low tide). All good and no one bumped bottom. Just after the inlet we made a sharp right turn to anchor off of Fort Matanzas, careful to be inside the no wake zone because it is summer on the water at the Fort with jet skis, pontoon boats, runabouts, sandbars and beaches (4/1). Our arrival early in the day gave us a front row seat to the action as well as enough time to install an anti-scald device at the water heater. No joke – after a day of driving the engine heats the water to flesh melting temps. Thanks Chris!
It was a slow morning that started with a walk on the beach. Fishermen were fishing in the ocean surf, families were staking out a spot for the day and jet skis slowly filtered in (4/2). We cannot imagine being stationed at the Fort in the mid-1700s when everything sounded positively miserable. From the Fort's location on Rattlesnake Island to the labor that built it (convicts, slaves and troops from Cuba) to uniforms made of layers of leather armor, to the humid, biting bug infested environment without the aid of screens on windows or even fans for air circulation and cooling. Our slow morning was due to the Blessing of the Fleet in St Augustine Harbor. The Municipal Marina advised us not to arrive until 3pm for our mooring ball reservation and that's what we did. Time to relax and enjoy one of our favorite stops on the east coast.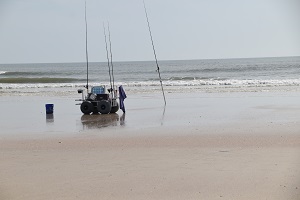 Good luck shined on us as we moved closer to the dinghy dock from mooring ball #33 to mooring ball #4 after a breakfast at Georgie's Diner (4/3). We will be here a couple of weeks so we unloaded the bikes and wandered around charming Old Town. Combining shore activities with boat activities kept our itinerary full: jalapeno rellenos at Casa Reina, live music at Tradewinds Lounge, Chicken biscuits at Blue Hen Café and French pastries at Petit Pleasures on Anastasia Island, top deck boat dinner of a Greek smorgasbord of apps (spanikopitas from Tarpon Springs, jalapeno/cheese sausage and Greek salad bites), making water, drying out bilges and doing laundry. The days kept clipping along at a nice pace except for the renewal of boat insurance…the odyssey continues one slow, painful step at a time.
Heck, we even disposed of our out-of-date flares at the St Augustine Fire Department - thanks. Days are mostly sunny at 80F which has shorts and flip flops as our clothing of choice. But even an odd morning of thick fog was lovely. Kingfish Grill is still a favorite spot of ours at Camachee Cove where we first spent a couple of months as new owners of m/v Barefeet in 2014. Tonight, we had a great chat with barstool neighbors – he is a charter captain and both of them were born, raised and lived their lives in the area. His boat names are hysterical…My way, The Highway and The Other Way. The next afternoon Michelle and Todd (the Kingfish Grill barstool neighbors) stopped by via skiff and invited us for fresh shrimp at her home on land (4/6). We're in. And our sausage, cheese and chile dip slated for dinner will accompany the shrimp perfectly (recipe below). The celebrated local shrimp was special - heads off and straight from the fishing boat - they could not have been any fresher. Todd boiled them in beer, showed us the best way to peel them and then we dipped them in butter. So simple and so sweet and delicious. It was a wonderful evening telling tall tales about time in Florida, the Bahamas and any other place any of us have spent time on the water. It is nice to be in a place long enough for this type of thing to happen. We are lucky…and might cross paths next winter in the Bahamas.
A bit of a lazy day today with an afternoon bike to see the movie Dungeons & Dragons (4/7). Erin was entertained but Chris likely got a bit more of the inside jokes since he played the game a lot as a teenager. After several days of leaving the dinghy down we hauled her up. Yep, bottom cleaning needed. Wiping with a couple layers of paper towel did the trick but we won't wait as long next time.
Stormy weather is expected so we biked around this charming town checking off a bunch of land errands before the nastiness rolled in. We mailed off more signed boat insurance docs, found replacement parts for a slight water system leak and conducted a bit of datil pepper sampling at the weekly Amphitheatre Farmer's Market (4/8). Boston friend Mike sent us on our initial quest for this local pepper – thanks for the tip. The datil pepper is sweet with a little heat. The heat is close to that of a habanero and is almost exclusively grown in St Augustine. It's small in size and resembles a date palm's date (name derives from the Spanish and Catalan word for date). Our sampling started and ended at Minorcan Mike's market stall – a family owned company specializing in all things datil. There was hot sauce (simmered with grape jelly) on a meatball, mustard on grilled slice of kielbasa and pepper jelly on a Triscuit with cream cheese. Yum! We bought all three (shipping and recipes are on their website…https://www.minorcanmikes.com/). Zipping back aboard Barefeet we hauled up the dinghy, made water and waited for Mother Nature's rukus which is part of the storm system that downed trees at the Masters PGA Tournament in Augusta, Georgia. The storm arrived later than expected which gave charter captain Todd time to complete a day of back-to-back charters and us time to settle into pulled pork nachos on the top deck before the skies turned black just before sunset.
Temps plummeted to 60F, winds howled at 35+ knots and rain pelted all day (4/9). It's a good thing the Easter Parade was yesterday. Foul weather gear was pulled from lockers for any hearty souls who made trips to shore (not us). We hunkered down for backgammon, reading and pizza while we watched the white caps in the harbor. Morning dawned with winds below 30kts; however, the radar shows pretty constant bands of rain. Seems like a sour cream chocolate chip bit cake kind of day for the bedraggled wet marina staff (4/10). They were working like crazy in these ugly conditions. Thanks guys!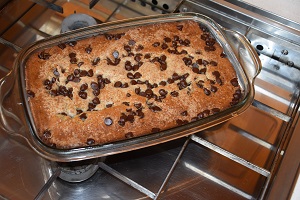 Weather continued to lighten a bit more so we took a stroll ashore and made another visit to the Blue Hen Café (4/11). Did we mention their fried chicken biscuits?! Amazing! The wacky weather conditions are noisy and swirling from both the Atlantic and the Gulf which keeps us bobbing and tossing as the tide changes (sometimes with the wind and sometimes against it). A nice distraction was re-watching the movie The Sting which is (still) super entertaining. Yikes – Paul Newman and Robert Redford are so young?! Bikes whizzed us to Petits Pleasures for breakfast as well as the weekly Pier Park Farmer's Market and trusty Oli Marine Co for boat project supplies (4/12). The big project for the day is caulking the panel gap on the top deck where the engine would be removed (perish the thought of that big project). For this kind of project it is all about the prep: sanded the inside of the gap; vacuumed out the dust; cleaned the gap with acetone; blue taped the edges of the gap; caulked with 3M 4200 (formulations have changed but it seems this is still the gold standard); wiped with trick of the trades Awlgrip's Awlprep surface cleaner; removed tape; and time to cure. Looks great, Chris! Winds are still strong but it's dry so we made the walk across the Bridge of Lions to Anastasia Island for wings at Candlelight South dive bar where we met up with Todd. Ha, ha – it's called Candlelight South because the one up "north" is in Scarsdale, NY.
Alright, it's back to the boat insurance renewal process (4/13). Please skip forward if you have no interest (which I totally understand) but we're being nibbled to death by ducks and it is taking up A LOT of our time which we want to remember once the odyssey is (eventually) completed. Today was fire extinguisher certification day. We absolutely feel like we make one step forward and seven steps back…gggrrr. Searching the internet followed by a call to the Coast Guard confirmed that we need three 5B fire extinguishers which are in good condition and not more than 10 years old – got it. Our Lloyd's insurance policy wants annual certification – got it. After talking with the Fire Department and the Coast Guard they both recommended to simply buy new extinguishers because it is ultimately cheaper and easier – got it. Off we went back to Ace Hardware. Yep, plenty of 5B fire extinguishers but none are certified…no kidding…not even a date of production ($59 ea). When asking employees about this certification piece they and customers waiting in line at the cashier say that the Fire Department will certify new extinguishers as long as they are accompanied by a receipt – cool but verify. I stepped to the side and called the local Fire Department - no dice says the Fire Chief, they don't do it. What?! Honest, five people in the store said they do…gggrrr. Back to the boat and more calls and scouring of the internet. Bingo. Our Jacksonville marina has a contact in…St Augustine. She sounds nice and can come to the boat next week. For $350 she will review and certify everything (even the engine room fire suppression beast). Fingers crossed but a tentative yeah. The afternoon weather seemed to mirror our moods as the sky went from bright to midnight in the blink of an eye. Black clouds filled the sky complete with lightening, thunder and gobs of rain…so much rain that the waves were knocked flat. That's a benefit. After about an hour a rainbow appeared and we were back to blue skies and a nice dinner of Caesar Pork Tenderloin, mashed potatoes and Greek salad.
We have extended our stay on the mooring ball for an extra week which should allow us to keep plugging away at boat projects and continue making progress on the boat insurance renewal as well as enjoy the good food and history that are St Augustine....America's first city.
Sausage, Cheese and Chile Dip (James Villas)
3/4lb bulk pork sausage
8oz cream cheese, room temperature
7oz Rotel tomatoes and chiles, drained
1/4lb cheddar cheese, grated
Chopped cilantro – optional garnish when out of oven

· Fry sausage over medium heat, breaking up with fork until well cooked. Drain on paper towel.
· Preheat oven to 350F and grease 1.5qt casserole
· Combine sausage, cream cheese and tomatoes/chiles. Mix well until blended.
· Scrape into casserole. Sprinkle cheese evenly over top. Bake until bubbly (approx. 15 min).
· Serve hot with corn chips. Top with cilantro if desired.
Sour Cream Chocolate Chip Bit Cake
6 Tablespoons butter, softened
1 cup plus 1 Tablespoon sugar
2 eggs
1 1/3 cup flour
1 teaspoon baking soda
1 ½ teaspoon baking powder
1 teaspoon cinnamon
1 cup sour cream
1 pkg (6oz) semi-sweet chocolate chips
· Mix butter with 1 cup sugar until well blended
· Beat in eggs, one at a time
· Stir flour with baking powder, soda and cinnamon. Blend with creamed mixture and mix thoroughly
· Mix in sour cream and blend thoroughly
· Scrape batter into 9x13 greased pan
· Scatter the chocolate chips evenly followed by the 1T sugar, evenly sprinkled
· Bake at 350F for 35 minutes, until cake just begins to pull away from the sides of the pan
· Serve warm or room temp. Do NOT refrigerate