Cruising Season Begins in Panama City: January 27 2023
The holidays and our time at our home on dirt went by in a flash. It was great to close windows and doors and not check the weather several times per day; however, pretty soon, winter crept into Boston and Christmas decorations were packed away until next year. We headed to the airport and, sadly, got caught up in the FAA computer re-boot fiasco (1/11). Our two flights were shuffled around so much that we contemplated renting a car and driving from Atlanta to Panama City because arrival times would be similar for flight vs car (as long as we could get on our stand-by flight). In the end we crossed our fingers and went for the flight option. We got the last two seats on the plane and relaxed at One Flew South for dinner (located in a different terminal but no need for out-and-back security because once you are in the terminals you are in ALL the terminals). Definitely a day of shucking-and-jiving as 5 hours of travel ballooned into 15 hours. Our arrival at Barefeet in the dark with a bit of rain almost felt like we were squatters sneaking aboard. Thankfully, the morning sun and blue sky rectified the furtive feel. Our heads are still spinning but if we take things one step at a time we'll be running soon.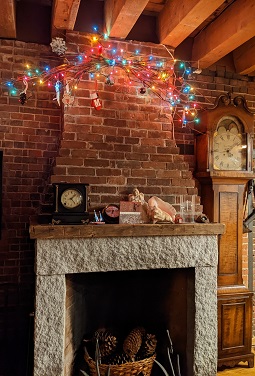 We picked up our rental car (thanks for the ride Uber driver Dale) and headed to Dale's recommended Big Mama's on the Bayou for breakfast (1/12). Dale seemed to be our regular driver when we were here in November and filled us in on a terrible health scare his wife had since we last saw him. Thankfully, she is well, now, after a harrowing several weeks. Make the most of every day was never more true! Big Mama's country cooking fried chicken biscuits was breakfast perfection. The quote of the morning (heard from the kitchen at Mama's), "Have you ever made deviled eggs for 1200? Well, it ain't fun." No kidding?!
The good weather encouraged us to hit the hiking trails north of Panama City. Following orange blazes we walked along the Econfina Section of the Florida Trail…considered by many to be the most beautiful trail in all of Florida and similar to the foothills of the Appalachian Mountains. We chatted with a passing thru-hiker headed to a church for the night, giggled at gnomes tucked into tree trunks and bounced across the 60-foot Two Penny suspension bridge. Chris would like you to notice the California girl hiking the back woods of Florida in flip flops (tee, hee, hee). Great day!
Okay, time to dig in (1/13). We got serious with getting the boat ready with provisioning runs (several supermarkets, Farmer's Market, family owned Mayo's Butcher Block in Alford, Outlaws BBQ joint, you name it), canvas work pick-up, propane fill, laptop charger, engine coolant top-ups, main engine fuel filter replacement, house water filter replacement, stabilizer and generator zinc replacements. Yikes! Butcher meats were segmented into meal size portions and vacuum sealed. Sheesh! Pepper's Mexican restaurant for dinner felt like a fiesta after our boat work accomplishments.
Northern winds have us happy to be at a dock with heaters blasting in the cold 34F mornings. Boat prep continued in a divide-and-conquer way as Chris replaced the engine exhaust hose and I continued provisioning. A small leak was spotted last season and with Florida Hose and Rubber located nearby (and willing to make a house-call with the ordered hose) we were in business. The exhaust hose was a bit like wrangling a sea monster at 6 inches in diameter and 7 feet long. Chris' bloody knuckles and bruised ribs proved the wrastle (1/14). Voila and it really all happened in one day – magic. Well done, Chris! While provisioning I decided to try a new recipe because it was heralded as "quick" by a trusted friend (thanks Kelly Kelly). Yes, salmon is not our usual playground but "creamy" won the day. It was indeed quick despite my feeling like I had bitten off more than I could chew after the day of boat work and provisioning. The salmon cooked up easily and did not smell up the boat (or taste fishy in eating). We needed more bulk so the salmon went atop pasta and was joined by some bread (recipe below).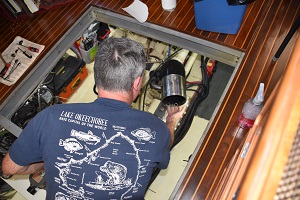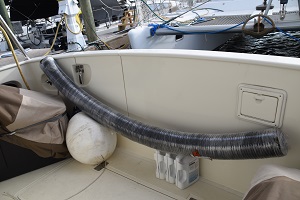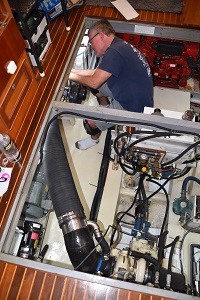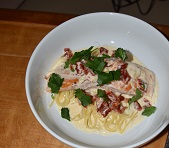 Boat projects came together faster than expected which meant that we had time to explore the Florida panhandle by land. After breakfast at Fatty Patty's in Panama City Beach we headed west along 30A toward Santa Rosa Beach checking out the Emerald Coast shore towns of Laguna Beach, Rosemary Beach and Seaside. Lovely blue water and sugar white sand were post card perfect despite the cold temps (1/15). The next day we headed east toward the Forgotten Coast starting with a hike on the Garden of Eden Trail at Apalachicola Bluffs and Ravines Preserve (1/16). It's a 3.7 loop hike up and down ravines and bluffs culminating in a spectacular panoramic vista across the Apalachicola River. Wow – we are suckers for a vista…and this one was amazing.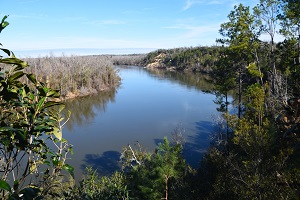 Next up was the town of Tallahassee – a bit of city ying to the nature yang. Tallahassee is the capital of Florida but really more of a college town with a capital building masquerading as a college dorm building. No kidding – the capitol building looks like any other non-descript college dorm – boxy and uninteresting. Florida State University provides the texture and vibe for the town with sand volleyball courts, live oaks, palms, pines, artsy murals and the Palace Saloon dive bar steps from the football stadium. We stopped for a coffee at the Square Mug in Railroad Square before continuing 30 miles back to the coast to St Marks where we stayed for the night at Sweet Magnolia Inn. St Marks has been a strategic and commercial settlement (just three miles from the Gulf of Mexico) since first settled by the Spanish in 1679. Today St Marks is a weekend escape from city life for boaters, fisherman and laid back beach goers. For dinner we walked a couple of blocks to town (2 restaurants and a general store). Cooters Stew Café was two of the best burgers we have had in a long time…and the potato salad was to die for. This quiet piece of the Forgotten Coast was just as we had hoped it would be.

Our return drive to Panama City was along the Big Bend Scenic Highway (1/17). It was a lovely drive with coffees in hand as the sun came up, softly illuminating the palms, pines, oaks…and even a bit of fog thrown in. Breakfast was a stop at Carrabelle Junction for sandwiches made with care followed by a walk around Apalachicola. The waterfront has changed since our last visit in 2018 after a hurricane came through but we sleuthed out a contact for dock space – thanks George, we'll see ya in about a week. One last road stop at Port St Joe – a place we last visited with Barefeet in Spring 2018. Port St Joe was a direct hit from hurricane Michael in 2018 and we wanted to see how the marina was doing. Chatting with the marina's owner was bittersweet. He is excited and optimistic to be open at the end of this month; however, rebuilding during a pandemic has been an adventure, to say the least. Back on the road we see that the landscape definitely gets less desolate the further from Port St Joe that we got. Back aboard Barefeet and the dinghy got some much needed TLC in the form of an oil change, gear oil change and some grease points. Oh, some bottom cleaning/zinc check/propellor cleaning from diver Rob and we are ready to go (1/18). Oh, but we will miss the sounds of freedom heard as the fighter jets fly over from the nearby air force base.

Whoosh and phew! Holy cow – it was just one week ago that we awoke back aboard Barefeet. It is hard to believe how much we have done in that time. The rental car was returned, water tanks filled, electrical cord unplugged and a final wander through the compact downtown of Panama City (1/19). Dinner was a return visit to Bayou Joe's for sloppy joe fries but, this time, we were sure to save room for their drunken ugly dessert (gently stewed peaches in a splash of rum topped with a cheesecake topping and baked in a graham cracker crust…served warm with ice cream…may not look pretty but it's to die for!!!). Totally delicious! As we walked the docks out of the restaurant we were sure to keep an eye out for the resident racoon. All clear.

The winds laid down as forecast so it's time to cruise. It will be a more mellow season with The Great Loop in the rear-view mirror. More of a slow meander around Florida. We tossed the lines and made a gentle amble east to anchor in Wetappo Creek (1/20). We lowered the dinghy for a drive to be sure everything is working – all thumb's up. This usually wooded anchorage is now mostly swaths of grasslands with a few scattered trees but most were snapped off at the same height due to the 2018 hurricane. That said – we were treated to a marvelous sunset.

During our morning coffee we heard what sounded like gunshots which was later confirmed as a hunter passed in a motor boat while we were pulling up the anchor (1/21). When we asked if he had had any luck he responded, "Nope – been out here since 3.30am and shot at two ducks but missed both." Bbbbrrr. Current against us made for sluggish progress to Apalachicola and our tie-up at the Ice Company docks (thanks George). We are now in the Eastern time zone which means that even with clock correction there is enough time for Erin to enter the deviled egg competition as part of the Butts & Clucks 2023 Cook-Off on the Bay. There were 50 BBQ teams but anyone could enter the egg competition (the cluck that came from butt, as they call it). Drop-off was 4pm sharp (spoiler alert – my phone never rang for my landfall curried egg contribution – dang it). No worries because it was a short walk from Battery Park to Hole in the Wall for a dozen cheddar, jalapeno and bacon (barely steamed) oysters. Their tender goodness was just as we remembered from four years ago. Allowed to grow for 2.5 – 3 years they are nearly the size of your hand. Wow! We capped off the night at High Five Dive Bar for live music and wine served in a jam jar. We love the forgotten coast!

The day started with a bit of boat cleaning inside and out. Sparkling! Walking toward Scipio Creek and out the boardwalk trail showed a bit more of the hurricane damage mixed with the commercial fishing fleet that share the river estuary (1/22). Downtown Apalachicola has a single stop light which means shopping is laid back…and all things oyster: on mugs, tshirts, canvas, you name it. Dinner at the bar of the Owl Tap Room meant we could catch the second half of the NFL playoff game (it was snowing there but not here - score for us). At the last minute we swerved to the dive bar for live music before heading back to the boat where the most amazing bit of serendipity happened. We collected wine in jam jars and grabbed a seat. Then the couple next to us started chatting with us and very quickly we realized that we had circumnavigated together crossing paths in Australia and Egypt as well as other far flung spots. Wait, what?! Kerri and her sailor husband have since divorced but she is with a new (and wonderful) partner. Plus, her kids are thriving adults - we met them as kids but all are adults in their late 20s, now - wow. It is wonderful to have re-connected and we hope for more visits when we are all back in New England. Life never fails to surprise us. We hugged and chatted and will have dinner aboard Barefeet tomorrow night…where it all continued again with laughter and photos, tall tales and pizza (1/23). What a night!

Back home in Boston it has been days of grey winter conditions so we are fine with "chilly" temps as long as the sun is shining. Mother Nature has strong winds in store for us shifting to all sorts of directions which has us comfortably tied up at the Ice Company docks. We are happy to have extra time in Apalachicola. This town where the river is king has layers of texture across generations of families that have navigated the changing commercial tides while hurricanes danced through town. The original city plan was modeled after Philadelphia with neighborhood squares and grid patterned streets. Commercial activity buzzed; including the Greek sponge trade, plantation cotton, lumber barons…all the while oysters, shrimp and all variety of seafood were much prized near and far. Today peeling paint, patina brick warehouses, well-worn wooden docks and rusting metal sit beside stunningly beautiful white sand Gulf beaches and river bank grass lands dotted with live oaks, palms and pines. This town has grit and a strong sense of community. We are lucky to soak it in for awhile.

Golf carts mingle with enormous pick-up trucks (both equally prepared for the coming storm); local friends and traveling visitors pause and gather at Oyster City Brewery's sidewalk trestle tables, local radio station is WOYS 106.5FM Oyster Radio and everyone has an opinion about the best way to prepare an oyster. This is a friendly place.

Everyone is battened down and lines have been double and triple checked. The storm is coming with winds, rain...and even a tornado watch until Noon (1/25). Once the worst of it had passed we checked the

main engine valve gaps with the go/no-go feeler gauge. It's a two man job as Chris calls out test/adjust and Erin records (intake 1 thru 6; exhaust 1 thru 6; run engine; repeat)

. This two person team process was learned from mechanic Barefoot George the at Green Turtle in the Abacos when we had generator problems between Christmas and New Year's. Thanks George! Our evening again ended at the High Five Dive Bar where we were treated to another performance of Chocolate Jesus by Tommy Cooper. He does Tom Waits proud (check him out on FB).

Crossing the Gulf of Mexico has two choices: 1) straight acros the 170 mile Gulf or 2) taking the Big Bend route along the coast and stopping in more of the Forgotten Coast towns. Both have pros and cons such as amount of travel time, coastal water depth (often shallow), exposure to the wide open weather of the Gulf, etc. We decided to try something new for us to bump along the Big Bend route. Tossing the lines from Apalachicola we went to anchor off of Alligator Point (1/26). Conditions were calm which were just what we needed for this open anchorage. As the afternoon wound down at least a dozen dolphin sped to Barefeet. They chattered and squeaked and clicked for hours. What were these antics? Hunting as a team? We have no idea but it was fascinating to watch. They finally departed as the sun set when the ink black sky became filled with stars galore. Stunning!

It was a sunrise start for our nine hour run to Steinhatchee (prounounced like "bean-hatchee," as in Mr. Bean). Forecast conditions would not be perfect at 12 knots, gusting to 17 knots but not too bad either (1/27). Well, they lied. Gggrrr...it was more like 24 knots, gusting to 30 knots. It was annoying and uncomfortable but not scary; however, the crashing glass with every dip in and out of the wave trough sounded like a dryer filled with glasses and plates smashing into eachother. We were not optimistic about clean-up once into port.

Thankfully, the correct part of the forecast was that conditions would get better as the day went along. We pulled into Steinhatchee Marina at Deadman Bay where I was proud to have kept down my cheese and cracker breakfast. Miraculously, it looks like nothing actually broke, not even in the fridge or cupboards - totally crazy but we'll take it. Warm smiles and line help from marina staff as well as fellow boaters Ann and Frank (m/v Dream Maker) were a welcome sight. Sundowners were at the marina tiki bar with the crews of all four boats at the docks telling tales and planning Florida travel routes

. Rough conditions? What rough conditions - that's in the rear-view mirror. Cheers Barefeet, Dream Maker, Drifter and It's About Time! We'll stay here a few days before moving further east.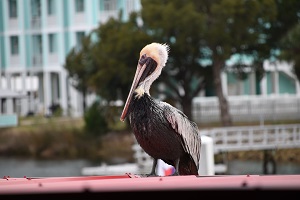 Creamy Tuscan Salmon (cravinghomecooked.com) serves 2
2 salmon fillets (approx 6oz each)
1/4 teaspoon salt
1/4 teaspoon pepper
1 Tablespoon olive oil (or drained from sundried tomatoes)
2 Tablespoons butter
4 cloves garlic, minced
1/2 cup dry white wine
1/3 cup sundried tomatoes in oil, drained and roughly chopped
1 cup heavy cream
1/2 cup Parmesan cheese, grated
2 Tablespoons parsley, chopped

optional: pasta cooked and drained with salmon placed atop pasta with sauce over it all

1) Season salmon with salt and pepper on both sides.
2) Heat olive oil in a large skillet over med-high heat. Add salmon and cook 5 minutes per side until golden brown and cooked through. Transfer salmon to a plate and set aside.
3) Melt butter in same skillet over med heat. Add garlic and cook 30 seconds until aromatic. Add wine and deglaze the pan. Cook 1 more minute while stirring then add sundried tomatoes. Continue to cook 1 more minute so tomatoes release their flavor.
4) Add heavy cream and Parmesan cheese to skillet and stir all together. Taste and season with salt and pepper. Simmer 2 more minutes.
5) Add salmon to skillet and spoon sauce over salmon. Garnish with parsley and serve immediately.