Jacksonville - Where Another Season Wraps Up: May 10 2023
St Augustine gives us a chance to work and play. There is the loaded Marine Oil Co for boat projects (plus we have a mailing address) and there are tons of moments in history to dig into over this city's 468 year history. Every Friday the sanctuary of the Memorial Presbyterian Church is open for tours so off we went (4/14). The church was built by industrialist tycoon Henry Flagler as a memorial to his daughter, Jennie, who died as a result of childbirth at the age of 34. The style is definitely that of a tycoon with architecture that was inspired by St Mark's Cathedral in Venice, Italy; windows that count a whopping 92 stained glass windows (of course stained glass); illumination that is from bronze double-cross chandeliers as well as 12 aladdin torch-like lights at the end of pews (originally gas but electrified in the 1920's) and an interior dome that towers 100 feet over your head. The craftmanship and detail are stunning. That said – Mother Nature the botanist is amazing, too. Walking back to the boat a local cyclist pointed out a love tree to us (at least seven can be found around town). Love trees are when the seed of a palm tree falls into the trunk of an oak tree and they grow together due to the humidity of the St Augustine climate. Two different species growing happily together.
Barefeet's generator exhaust hose is original from 1999 and is definitely showing its age. We picked up 9 feet of wet exhaust hose from Marine Oil Co. Gulp, at $36/ft it was definitely best to measure twice and cut once. Knee pads – check. Headlamp – check. Wriggle into the back corner of the engine room – check. Chris wrestled out the old hose and replaced it with the new hose (4/15). His motto is…when all else fails – go Medieval on it. Sheesh – Chris does projects on a mooring ball that most people don't do in slips. Well done! Sunny weekend days have the harbor pretty bouncy so we headed ashore for dinner at the St Augustine Fish Camp. The place is always hopping and often involves long wait times; however, we managed to get two seats at the bar. The mussels were delicious but the pork chop stole the show. Honest, order the pork chop and you won't be disappointed - thanks for the advice, Todd.
Sunday gently slid into Monday where jalapeno hash and eggs was a delicious way to start the day before a return trip to Marine Oil Co. for smaller sized hose clamps (4/17). The exhaust hose is secure so time to spark up the generator. Hhhmm the generator is not creating power – oops - Chris hit the breaker with his butt during the wriggling. Voila – power is "on" and the generator is back online. Drat but from another corner - we're still tracking down fire extinguisher certifications which might have to wait until Jacksonville…boat insurance renewal slowly inches forward. Dinner was fun at Pizzalley's where we had a tasty pie and met Sally and Tony of s/v Trist. They invited us back to their boat for a nightcap of Ricardo Coconut rum. Yes, please! Sitting in the cockpit of their 26' sailboat was great. They are on their way back to Lake Erie for the summer. Hopefully, we will see them next winter in the Bahamas.
Early morning baking meant we just barely made the handoff of still warm cinnamon orange bread to s/v Tryst as they continue north. Literally, as the Bridge of Lions was opening and they were waiting to pass through. Go dinghy go! Another visit to The Blue Hen Café on the way to ACE Hardware and it was back to faring and smoothing the shower repair from last June (4/18). A bit more curing before painting and it'll be pretty in addition to water tight. Erin took the marina launch ashore for a bit of retail therapy while Chris had a meeting via Zoom. Ayla's Acres Animal Rescue Thriftique on Anastasia Blvd had cute clothes at great prices…and for a good cause. We rendez-vous-ed at Candlelight South for wings and crinkle cut fries. Boy, we sure like the vibe of this place and we'll have to come back during football season for a game.
Looks like a banner week for weather – yippee! We started our day at Petits Pleasures Bakery (4/19). Delicious but drat – they're sold out of baguettes. On to the Pier Park Farmer's Market where we found fresh bread and tomatoes. Dinner is saved – Warm Goat Cheese Dip (recipe below). Back to Barefeet with such calm conditions that we scrubbed the water line with Starbright rust remover. A few false starts but then we found a rhythm. Chris walked the dinghy up one side of Barefeet and down the other while Erin sprayed the cleaner followed by Erin walking the dinghy up one side of Barefeet and down the other while Chris scrubbed. Voila, wow – that looks amazing and really sparkles. Perfect weather conditions continued for a peaceful morning with a fisherman checking his pots.
Another bit of St Augustine history is The Oldest House Museum Complex. It's on Francis Street across from the National Guard. We had a visit and a Docent lead tour for two (4/20). We were fascinated as Docent Ashley walked us through the house starting at the begining on…well, the ground floor. The house was originally built on a single level with walls of coquina limestone and floors of tabby concrete in 1723 and inhabited by the Gonzalez family. They lived in the house for 138 years until the British took over Florida from the Spanish which meant the Gonzalez family was kicked out (and all other Spaniards). The Gonzales' fled to Cuba. We loved the clever rat shelf – a wooden shelf suspended by ropes such that if a rat jumped onto the wood...dangling bells would ring and alert the household. Upstairs we transitioned to the British occupant period. of Major Joseph Peavett and his wife who moved into the house in 1775 and added the second floor as well as the glass windows. After several years the Major died and his widow remarried…a MUCH younger man who racked up quite the gambling debts which eventually resulted in the foreclosure and loss of the house. Several families cycled through and many modifications were made from 1790 until 1918 when the Historical Society took over the house. Today it is a stunning complex of buildings and gardens restored to represent the architecture and culture of the structure beginning in 1723. We cannot believe we have not visited sooner.
Tucked into a corner of the Museum Complex is the St Augustine Surf Culture Museum. It was, also, fascinating! However, it is definitely not the favored child of the Historical Society. The floors and walls are crumbling without any climate control but the surfer stories are fabulous. From surf shops to equipment to loads of personal stories. One such story is of the ladies surf competitions. It seems there weren't many women competing so all the trophies for the female competitions were crowned with men holding surf boards...therefore...the women had a bit of fun and painted bikinis on the trophy men. Too bad those trophies weren't in the museum…just the story.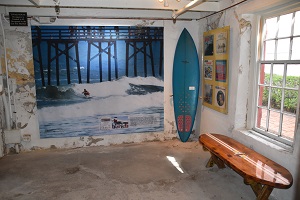 Back to boat projects and another visit to ACE Hardware (4/21). We needed a cover over the positive terminals in the engine room in order to avoid electrocution. A plastic shield was cut and affixed with stand-offs. The Dremel is surprisingly useful despite seeming like a dragonfly of a tool. For dinner we biked back over to Kingfish Grill where Magnolia Street was photo op central. And why not?! The cathedral-esque live oaks draped romantically with Spanish moss begged to be a backdrop. And a backdrop they were for prom time, wedding time, college formal time…even a dude standing in front of his car. All smiling and clicking away – so fun!
A morning walk ashore while it was cool followed by making water and best of all…our fire extinguisher inspection (4/22). Shelly Schmid of Safety First dinghied out to Barefeet with her tool box and conducted a thorough investigation. She is a waterman who knows her stuff. Thank you, Shelly. Fingers crossed this is the final piece of the paperwork necessary for the boat insurance renewal. For dinner we walked across the Bridge of Lions for much heralded burgers at GAS Full Service Restaurant (yes, the building used to be a gas station). The burgers were indeed delicious and worth the walk. Back across the bridge we spotted a roseate spoonbill mucking around in the mud and had front row seats to a bridge opening. Before getting back to the dinghy dock we were sucked into the live music on the jasmine canopied patio of O.C. White's. Amy Hendrickson is a native of St Augustine and seems to know everyone and has a great voice. A few folks got up and danced, reunions were made, the mood was relaxed. We are lucky.
It's our last day in St Augustine so we did a couple of errands, stowed the bikes aboard and readied for several nights at anchor around Jacksonville before bringing our season to an end at Lamb's Yacht Center (4/23). Scratch that. We need to get Chris back to Boston for a health care scramble for his folks. Got it. Flights were booked and temporary dockage found ahead of our arrival (thanks Lamb's). We were off the mooring ball at 6.45am with smooth conditions as the current ebbed and flowed… sometimes with a push, sometimes with a drag (4/24). By 2.45pm we were tied up at Lamb's. We got plugged in, Erin's bike ashore and we are all set…in a covered slip (oh, la, la). We ambled to nearby The Loop for dinner and bumped into Looper friends Mark & Laura (m/v wildlife who we first met in NY last summer) and new friends from m/v Go Go. It was a trifecta of gold loopers! See ya down the way.
Chris was off to the airport so I decided to break my days into two halves - mornings for boat work and afternoons for exploring. An exterior boat rinse was followed by a salon cushion drop off at family biz BDC Canvas just a couple of blocks away (4/25). In North Florida jasmine grows like a fragrant weed on every chain link fence or crack in the cement beautifying everything it touches. My exploring was on foot to the Chamblin Bookmine. It's a GIGANTIC independent bookstore whose collection spans every genre imaginable (new and used), opened in 1976. No kidding it's 23,000 square feet – pretty overwhelming. Where to start?! Cookbooks! Holy guacamole – the shelves go on and on and on. No way – I spotted a Pasta & Co Cookbook (that's where the Chinese Vermicelli recipe passed to me by an Anacortes cruising buddy came from that I made in Stuart a couple of weeks ago). Lots of fun reading for me ahead. A bit more walking to Lakeshore Produce Market (and BBQ) simply to check out the inventory before returning to Barefeet. What - the salon cushion is ready?! That's amazing – thanks Barbara, Denise and Craig.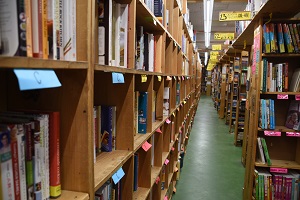 Next up was a total interior clean while laundry swirled in the background (4/26). Barefeet looks so good I always wish I'd done it yesterday. Exploring was further afield today to the Murray Hill neighborhood – a nice 3 miles on the bike. Edgewood Ave S is the main drag and Chris and I will have to come back: Dreamette (cash only ice cream stand since 1948), Flamingo Coffee and Bar, Grater Goods (cheese shop), Bernie's Wine (Friday tastings and cheese pairing for $5), a German speakeasy entered through a vape shop and more. Apparently, the owner of Buchner's Bierhalle is obsessed with all things German – food, beer, you name it. Last stop was Pinegrove Market & Deli. It's an award winning butcher shop and deli. Today, just some soft pita but I'll be back. Flip flop it's back to boat work (4/27). Interior top deck windows were polished to a sparling shine. Plus, something has been dribbling out the weep hole of the Portuguese bridge lazarette. The leak was tracked down and cleaned up before some cooking occurred. A sour cream chocolate chip bit cake was delivered to BDC Canvas and baked pita chips were pulled from the Pasta & Co Cookbook for sundowners with Pam and Bob (recipe below).
I love having Marina Del Rey as our hailing port. I just met two people who went to Westchester High School. Okay, Bill is an In-N-Out all the way kinda guy but when I showed Sharon my Tommy's phone screensaver she told me she went for a Tommy's burger in her wedding dress between her ceremony and honeymoon – it's an LA thing. This SoCal corner of Florida is fun. After hours of delays Chris returned from Boston where all is back on track with his folks (4/28). Morning walks to Vagabond Coffee in Murray Hill are rewarded with made-from-scratch baked goods before we jump into boat projects. Projects include refilling the propane tank, painting the shower fix, pickling the watermaker and picking up a parts delivery from the St Augustine Municipal Marina that came after we left. But the real fun today was meeting up with Potter cousins in Ponte Vedra Beach (5/30). We caught up on karate, dance and computer coding activities along with laughs and warm hugs. Congrats on your new digs!
Our day started again with boat projects (5/1). Today was more oil changes – get-home engine, generator and watermaker…check. Wait, what?! Our boat insurance renewal has been accepted by Lloyd's of London. WE ARE DONE (until next year)…it's a bit more money than last year but this lifestyle is worth it to us. The policy will allow us to do what we want for the next twelve months which is to leave the boat in Jacksonville until next winter then cruise the Bahamas during next winter (we'll revisit policy options next year). Boat projects continued to clip along: solar panel TLC (replaced rubber feet on frames, cleaned and applied Tefgel to the frame panel pin, scrubbed roof under and around panels – don't look down), main engine oil change, service the windlass, old anchor chain found a new home and clean and polish the stainless (5/2). Chris of pre-war classic wooden yacht Innisfail (built by Trumpy and used by presidents Truman, Eisenhower and Kennedy) gave us a great tip for rust removal…Whink Rust Stain Remover found at Publix. Voila! Works like a dream and does not need to be rinsed off. And for the more stubborn areas – simply wrap in cotton and let is sit longer. Working in the shade under the roof with a KROQ '80s music play list helped the stainless polish monotony (5/3). The anchor locker was cleaned out in anticipation of new anchor chain – yippee! Onto to the dinghy: drove it around to flush the system with fresh water, disconnected the fuel hose to run until all fuel has been removed from the line, scrub the topsides and bottom, coat screws for dinghy's roof cradle with Locktite LB8023 marine grade anti-seize, secure the dinghy to the cradle with additional ropes (5/4). We are pooped. Our bodies are bruised and our muscles are sore. Evening meals are quick to assemble but satisfying like goosed up BLT sandwiches or pulled pork nachos with cilantro, avocado and sour cream or steak and potato pizza.
One more tag-team scrub of Barefeet from head to toe and we are ready for a pontoon boat ride on the St Johns River with Erin's Dad. Off we went bright and early with flavorful chick pea/black bean dip (think Mexican hummus) and homemade oatmeal chocolate chip cookies (5/6). We met up with Mike & Candace and Dad at Hontoon Landing in Deland. It was a fun day of snacks, laughs and gators. Plus birds, manatees and vibrant green nature.
Before heading to our Airbnb in Deland we visited Mike and Candace's completed home in Daytona. The last time we saw it there was simply a concrete slab and skeletal wall framing. Wow – it looks fantastic! Congrats! Our day ended with the Kentucky Derby on all the screens at dinner and owls hooting beyond the porch as we tucked into bed. Another night in Deland gave us a chance to check out the cute town of Sanford followed by NBA playoffs (once the Airbnb TV was figured out – sheesh). Pizza on the screened in porch had a bit of dinner theater across the street with shouting, fist-a-cuffs and a visit from the cops (5/7). We drove back to Barefeet in Jacksonville via back roads (not interstate 95). It is lovely country dotted with small towns. For luch we stopped at much loved Sweet Sensations in Green Cove Springs. Their sandwiches and pies are legendary (thanks for the tip Ashley of The Oldest House in St Augustine). Yum! Back aboard Barefeet Dad felt comfortable and at home. We grilled up steaks on the grill with mashed potatoes and Greek salad bites (5/8). Familiar is good.
A couple of errands, a little boat work and computer tutorials with Dad made for a leisurely day (5/9). We celebrated our farewell dinner at Julington Creek Fish Camp. They never disappoint. It was a great evening. Now Dad is off to see sister #2 in Kansas City followed by sister #3 in Nashville (5/10). Have fun! As for me and Chris – we closed up Barefeet for the season and drove our one-way rental car to Boston. It was an inland route this time with stops in Florence, SC; Charlottesville, VA; Jim Thorpe, PA; and Hudson NY. That's it for the 2023 season. See ya in the winter! Fingers crossed we'll be pointed toward the Bahamas.
Warm Goat Cheese Dip (Lindy) serves 4, or 2 for dinner
3 Tablespoons olive oil
1/2lb cherry tomatoes, halved
1 cup whole milk ricotta, drained (or cream cheese, room temp)
2 ½ teaspoons dry rosemary
¼ teaspoon salt
Zest of one lemon
2 teaspoons fresh lemon juice
8oz log goat cheese, pinched in chunks
2 cloves garlic, minced
Triscuit or other cracker/bread for dipping
· Heat oven to 350F. Lightly oil 5 or 6" square or round baking dish.
· In a small bowl combine 1 Tablespoon olive oil with tomatoes. Set aside.
· In a medium bowl mix together ricotta, garlic, 2 Tablespoons olive oil, rosemary, salt, lemon zest and lemon juice.
· Fold goat cheese into ricotta mixture.
· In prepared dish layer half of cheese mixture, half of tomatoes, remaining cheese mixture and remaining tomatoes. Gently press tomatoes into cheese mixtures.
· Bake, uncovered, until cheese is melted and tomatoes roasted (approx. 25 – 40 minutes). Serve warm.
Pita Chips (Pasta & Co, Seattle) serves 8-12
12oz pita bread (Salloum Bakery Brand)
¾ cup olive oil
1 or 2 Tablespoons garlic, through a press
15 grinds pepper
1 ½ herbes de Provence (Erin's note – I omitted but still tasted good)
¾ teaspoon each thyme, oregano, basil, rosemary
¼ teaspoon salt (more if you like)
· Preheat oven to 400F. Line two baking trays with parchment paper or foil.
· Cut pita into chip-sized triangles separating the bread into single layers.
· In a measuring cup whisk together remaining ingredients until well blended.
· With a pastry brush brush each triangle with the oil mixture. Do not "soak." The pita triangles do not need to be in a single layer. Simply divide them between the two sheets.
· Bake one sheet at a time for 5 minutes. Stir. Cook another 5 minutes. Check for doneness. Should be golden but not browned (or garlic becomes bitter). Place on papertowels to absorb excess oil. Repeat with second tray.
· Serve warm or make days ahead and store in an airtight container.
Brigitte's Chick Pea/Black Bean Dip (Brigitte. m/v Putzin' Around)
1 can (16oz) chick peas, drained and rinsed
1 can (16oz) black beans, drained and rinsed
¼ cup olive oil
2 Tablespoons fresh garlic
¼ cup red bell pepper (or jarred fire roasted)
Tomatoes (8oz can diced, drained)
2 Tablespoons olives, chopped
1 teaspoon cumin
½ teaspoon salt
¼ teaspoon pepper
Splash lemon juice
Smoosh, mash or whiz ingredients in a food processor to desired smoothness. Taste and add more of any seasoning based on your preference. Serve with corn chips, Frito scoops, crudite vegetables or whatever.