Sarasota to Stuart…Trekking through More of Florida's Microclimates: March 26 2023
A few more days in Sarasota gave us extra time to track down a boat part (3/2). Unfortunately, we struck out for the back deck shower sprayer despite lots of walking in the sun and lots of time spent by Rick and Joe helping us in the search. No worries, guys, we'll have it sent ahead to the next marina we go to. Our current home anchored at Bird Key is not a mailing address for us; however, it is for Brian Johnson (lead singer for AC/DC). Our choice of Bird Key was due to the forecasted strong winds and the great protection it provides. The dinghy was hauled and we were ready (3/3). Our sailboat neighbors were off to a family wedding for a couple of nights so we exchanged contact info. They just returned from five years to Guatemala and back. Cool! Happily, the storm dwindled from two full days of wind and rain to half a day of just strong winds (33kts was the highest we saw). Weather during the day is always better for the nerves than weather at night.
Well, the winds have mellowed but the red tide has exploded (3/5). The normally serene water's surface looks like the chaos of snack trash in the bleachers after a sports game…dead fish are everywhere.
However, light winds also mean we can get out and about again. Off we went ashore for a visit to ACE Hardware for an anchor washdown hose replacement. Enroute, we stumbled upon Five-0 Donuts on Ringling Blvd. Their tag-line is that their donuts are, "arrestingly good." Tee, hee, hee – get it?! Corny but they are right – totally delicious! Light conditions also enticed us to dinghy around the corner towards Longboat Key to the Old Salty Dog on City Island. Yep, we had hot dogs. The place has a relaxed vibe and is not much more than a deck over the water…absolutely dog friendly. These two giant shepherds were happy to be in the shade. It was a lazy Sunday afternoon for all of us.
Okay, the red tide is truly, truly bad. We have the tide tickle (an itch in your throat that gets you coughing) and the waters look like an abattoir…totally stinky with loads of bloated, rotting fish and sea snakes. A police boat stopped by today to check-in and mentioned that it likely lightens up south of Venice. Sorry Sarasota but it sounds like a good time for us to move south. We made a final supermarket run and headed ashore for award winning burgers at Patrick's 1481 for dinner (3/6). Yes, the burgers are amazing…36 years and counting. Cheers Sarasota – we'll catch ya next time.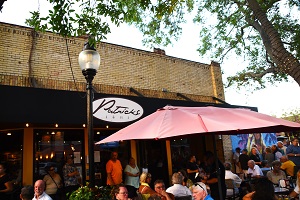 From Sarasota we made a longer hop at 43 miles, 7.5hrs and 9 bridges (3/7). We changed microclimates from mainland coastlines with barrier islands connected by bridges to gulf islands accessible only by boat. Pelican Bay of Cayo Costa will be our anchorage for a week. There are a couple dozen cruising boats with dinghys – monohull sailboats, catamarans (sail and power) as well as trawlers and motor yachts. This feels familiar. We settled in for a great sunset with cheese and crackers and a moonrise that was bright and full…tough for the stars to compete. Below the constellations were a star studded collection of mast lights. Aahhh.
The eye of Hurricane Ian made landfall at Cayo Costa five months ago on September 28, 2022. Ranger structures, cabins and docks ashore are in shambles but the Bay floor remains as charted (thanks BoatUS). Palm trees are lopped off and the vegetation line looks as if a hedge trimmer has been at it…well, I guess it has. We walked the beach which has an eerie silence in photos but feels much more alive with the dolphins, manatees, pelicans, ibis, ospreys and on and on both above and below the water (3/8). But then there's the fish in the tree which certainly leaves a trace of Mother Nature's fury that happened here.
Our days unfolded with a bit of boat TLC combined with island exploration. The top deck was our focus with cleaning of the dinghy storage cradle area and replacement of full enclosure bungees (3/9). The winds have worn out existing bungees and having the right tool makes all the difference for replacement. Light afternoon conditions made for a smooth three mile dinghy to Cabbage Key for Duke basketball and a bit of lunch. The Cabbage Key Creeper is a delicious rum charged pina colada with kahlua floater. Cheers! We were back to Barefeet for sunset followed by an explosion of stars.
This is a lovely spot but it's made even better when friends join us. Kim and Dave zipped down from Sarasota…with barbeque chicken, kale slaw and cauliflower potato salad in tow (3/11). Chef Dave spoils us rotten – thank you! We rafted together and soaked in the place before heading to Matlache (say mat-la-shay). The artsy fishing village looks like a hoot with a bit of Bahamas vibe thrown in, too. Sadly, much hurricane damage remains such as tarps and sand bags. Although we did not go ashore we would love to return. Back we went to Barefeet and our pristine nature. Sunday fun day is all about the beach in Florida…especially when the sun is shining (3/12). Boats were cheek to jowl with tunes cranking, filled coolers and antics on t-tops.
The birds continue to dive bomb for fish and the bait balls seem to randomly slam into Barefeet's hull. Bam! Whack! We hauled up the dinghy after one more swing through the Manatee Lagoon. Dark skies are coming and we are moving along tomorrow. Bummer – no fresh water rinse for us…just enough moisture to make a salt crust around Barefeet.
Winds cranked up during the night but our anchor was well stuck and the winds nicely mellowed by morning. Off we went to anchor off St James City on the southern end of Pine Island (3/14). We splashed the dinghy and headed to Low Key Tiki. Hurricane damage is much more visible here with palm tree fronds jutting out at wonky angles like Christmas decorations crammed into a box since last year, homes with plywood over doors and windows, tarps on rooftops held in place by sand bags and boats dropped upside down in yards. The initial reaction is definitely sadness but pretty quickly there are the unmistakable sounds of whirring electric screwdrivers and pounding hammers. They are getting on with it and moving forward. Grills are on newly built decks and campers are shiny as homes are rebuilt. Low Key Tiki was open for business…albeit with a temporary menu on a laminated 8.5x11 piece of paper. We chatted with regulars each with a story to tell but who all ended their tales with…it could have been worse, the storm was just so slow. Humans are resilient. The thatched-roof of the bar weathered the storm perfectly without a frond out of place. The reason we were told was because the Indians built it (no kidding – booked out months in advance). Check out the high tech order-up technology from the kitchen to the bar…yep, a string through the wall to a bell. The padlock weights the clanger so that it only clangs once…not…forever. And the rope to the right of the door? That's to lower the disco ball…duh. So fun!
Mother Nature cranked up the winds so we departed early for Naples (3/15). Problem is that our Naples City Docks reservation does not start for two days and the docks are full. We thought we could anchor in the Naples canals but called BoatUS to confirm. Yep, Todd gave us a screen shot of exactly where to go. Bingo! We have another distinct microclimate change from pristine nature on a Gulf island without so much as an outhouse ashore to mainland south Florida with stunningly tended homes on water canals (well tended is an understatement – it's one of the wealthiest towns in America on any list or ranking). And we were anchored smack in the middle of the S&P 500 titan's neighborhood of Port Royal. Our early arrival gave us a chance to meet up with one of Chris' college buddies, Justin. We met at The Dock at Crayton Cove and quite literally closed the place down. Okay, they close at 9pm but we could have stayed for hours more. Next time.
Our anchorage is quite the spot for tourist boats and local boaters because it is well protected from winds and waves of the Gulf of Mexico which is currently pretty snotty. All of a sudden someone started hollering, "Barefeet, Barefeet!" Hey, that's Karla and Paul from m/v September. They are down from Kentucky visiting her brother (and his boat). The last time we saw these guys was on the locks and rivers in Illinois. It is a fantastically small world! Our anchor spot is like a mill pond; however, the run to town in the dinghy is a bit harrowing as speedboats fly; I mean FLY (seems the 30 mph speed limit is really just a suggestion). Our dinghy can handle the wakes but it's best to turn into them. Well, that gets a bit hairy as we turn perpendicular to the channel attempting not to be run over by the next boat barreling down the channel. It is definitely a two person driving strategy…Chris looking ahead and Erin looking behind. This raucous commute to town made us happy to move to the Naples City Dock…a simple walk to the Cove Inn Coffee Shoppe for breakfast (3/17). Gulp, the neighbors are big here, too. Check out the anchor through our back windows. We catch our breathe every time we see it.
There is no denying the beauty that is Naples: bougainvillea color explosions, bottlebrush splashes of red, heavy scented gardenia, mature trees shading grass and outdoor tables. And lest you ever forget the countless zeros attached to nearly everyone, there are the not infrequent Gulf Stream private jets arriving and departing overhead. And I almost forgot – there's a beach. It is a lovely corner of the planet. We got a personal introduction from long time Boston friend, Olguita, and her husband, Tim. It was great to catch up and we heard first hand the impact of Hurricane Ian. Hurricane Ian was felt by many with feet of yuck water on the ground level of homes for hours...gggrrr. Cars destroyed, everything soaked with awful water, floors buckled...you get the drill. It was a particular challenge for residents because forecasts all said the storm was heading for Tampa, Tampa, Tampa...then it wobbled...and it hit Fort Myers and Naples. Olguita and Tim should be sorted out in about one month…not a fun road.
We headed to The Boathouse on Naples Bay hoping to catch some March Madness tournament action (3/18). We thought our chances were good because the day was sunny and stunning which would keep everyone outside. Nope. It was three deep at the bar. However, with eagle eyes and honed bar skills we soon scored two bar stools from departing locals. Plus, we learned that most of the boats flying out the channel are headed for Keewaydin Island. It's a sand bar, beach chair, only accessible by boat kind of party with food boats selling burgers, dogs, fries, ice cream, etc. We'll check that out next time. In the meantime, weather is changing which has bad weather pushed out one day and delays our departure. Normally, this would not be a problem; however, at the moment we are dealing with a boat insurance renewal fire drill. We need to get a quick-haul, out-of-water boat survey ASAP. Will we be able to move everything a day so that we can get from Naples to Stuart? Will we be able to stay on the City Docks for one more night? Slowly, slowly. We enjoyed more time with Olguita and Tim as well as a snazzy dinner for two at Sea Salt (3/20).
After the cold front came through (yes, we eventually got the word that we could stay on the dock for one more night) the seas laid down for a mellow ride out on the Gulf from Naples to Fort Myers (3/21). Hurricane Ian's impact is clearly visible in Fort Myers with stripped vegetation, upended boats and missing structures. It is very sad. We continued along the Caloosahatchee River to anchor just before the Franklin Lock. We were treated to a stunning sunset over pulled pork nachos followed by an amazing star show. The next day we made another microclimate change. This time to agrarian central Florida complete with herds of cattle and crops of sugarcane (3/22). Plus, we were again on gator patrol. We passed through three locks with a total rise of 13 feet as well as the Fort DeNaud swing bridge (bridge tender has to leave her building to operate the bridge but is all smiles). Our travels ended today tied up at Roland Martin Marina in Clewiston – always a favorite due to dock master Capt Sam.
An early departure meant light winds as we crossed Lake Okeechobee from the west coast to the east coast of Florida (3/23). The most drama we had was the spectacular smoke of a wild fire or burning of sugarcane fields on the shore of the lake. The real action started as we squeezed into a spot on the wall at River Forest Yachting Center in Stuart (thanks George). This was our summer home on the hard for several years so the familiarity is nice. We prepped for the boat survey and quick haul tomorrow at 8am; scampered, cleaned, organized, changed a fuel filter and house water filter. We were pooped at the end of the day which made the make-ahead Chinese Vermicelli perfect for dinner alongside a bit of sauteed chicken (recipe below).
The insurance renewal survey has had us juggling schedules, weather and shrinking water depths on Lake Okeechobee but we did it and are ready for the survey. Doug of Birely Marine Surveying inspected the boat from stem to stern for two hours before hauling the boat and checking below the water line (3/24). Hitting the hull with a rubber hammer is part of the process but always makes us cringe. Boat lift operator JP has never dropped a boat in 18 years and this is a major reason we really wanted to haul at River Forest. JP's record is intact. A quick pressure wash, zinc check/replacement and we were splashed back in the water at 11.30am. Sheesh, we are emotionally pooped – garnering boat insurance for a boat in Florida is a wild ride at the moment. Pendarvis Cove was our anchor spot just off Stuart. The survey arrived in our inbox at 4.30pm. Barefeet passed with flying colors. Yippee – one step closer to renewed boat insurance. We celebrated on the top deck with espresso martinis and a homemade margarita pizza.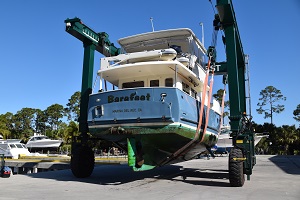 Fueled up with dropped eggs on toast and baked beans had us ashore to check out Stuart (3/25). It was a scorcher of a day. Just after tying up the dinghy at Shepard Park Chris spotted a barber – a friendly Boston dude who has been in Stuart for 30 years…but…clearly loves New England based on the entire wall of Red Sox and Patriots framed photos. The Stuart Art Festival made the place pretty packed so we popped into coffee bar Blue Door on SE Osceola St for some shade and iced tea. Riverwalk Café and Oyster Bar on SW St Lucie Ave was a wonderful gem of a dinner (thanks for the tip surveyor Doug). The tuna nachos, fried calamari Rhode Island style and chicken francais were positively delicious.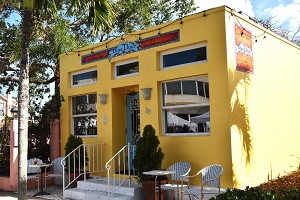 Morning dawned quiet and still with just a few mild wakes passing in the channel (3/26). The only sounds were dolphin exhales as they gently rolled to the surface for some air. Up came the anchor and we were through the St Lucie RR Bridge. Yippee – this is the last structural impediment we are aware of on our way north. It will be closed for three weeks starting May 1st. Down went the anchor tucked into Manatee Pocket just before the St Lucie Inlet, in a no wake zone.
As long as our boat storage summer plan to leave Barefeet in Jacksonville comes together with a renewed boat insurance policy we have a mere 200 miles to go before our season ends in about three weeks. That is a super civilized schedule now that we are solidly on the east coast of Florida. Our idea is to spend a few days in Vero Beach, maybe catch a rocket launch, spend a few days in St Augustine…something like that. Time will tell.
Chinese Vermicelli (Seattle's Pasta & Co and Deb s/vWings) serves 6
¼ cup sesame oil
¼ cup black soy sauce (or molasses)
2 Tablespoons sugar
2 Tablespoons hot chili oil (optional)
2 Tablespoons black vinegar (or balsamic)
1 1/2 lbs fresh rice vermicelli noodles or one lb dry (or spaghetti)
½ cup sesame seeds, toasted
1 cup green onions, thinly sliced for garnish
· In a large bowl whisk together sesame oil, soy sauce, sugar, chili oil and vinegar.
· Cook noodles to desired doneness/package directions.
· Drain, rinse with cold water and drain again.
· With your hands immediately toss noodles with the dressing, making sure noodles are completely and evenly coated.
· Chill at least 4 hours. Mix once during this time.
· Add seeds and continue folding dressing throughout noodles. Remove to shallow platter, top with green onions. Serve room temperature.