Dunedin to Sarasota: March 1 2023
Anchored in Dunedin puts us conveniently just off of town. The water is skinny at 7.5ft low water but with the extra two feet we never bumped - all is good. The floating town dinghy dock is easy and central so we wandered ashore (2/14). There's Fenway Hotel (circa 1924) which served as the country's first radio station (WGHB AM-1130)…yep, that's Barefeet anchored in the bay. A stroll through the residential neighborhood surrounding Fenway Hotel and we noticed lawn chandeliers. One, two…they're everywhere?! They are colorful and unique and fun. Heck – there is even a Facebook page called "Chandeliers of Dunedin" full of tips and How-To videos. Our day wrapped up with dinner at Casa Tina's with boater friends Sean and Louise (m/v Vector). It was a quick visit that left us looking forward to crossing paths again down the way as we both move along similar paths.
Anchored off Dunedin is nice but it's pretty exposed if any wind pipes up so off we went a whopping four miles south to anchor in Mandalay Channel in Clearwater Beach (2/16). We took it slow because the charts are not super accurate. The entrance channel dipped to below 8ft where the chart shows solid double digit depths and deep water was found where an island is no longer…glad our plan was to come in at high tide. This season we have been successful at going slow but it has been roughly 375 miles since we left Panama City. Cities are getting bigger as we trade the morning roosters of Tarpon Springs (pop 26,000) for the landscaping equipment in Clearwater (pop 117,000). That said – life is still relaxed as pelicans soar above and dolphins swim below. Tonight is new old fashioned cocktails, steak on the grill, mashed potatoes and roasted broccoli on the top deck. Life is good.
Fellow cruisers in town meant a road trip back to Dunedin for the weekly bagpiper at sunset (2/17). We have crossed paths with Frank and Ann (m/v Dream Maker) since Kentucky. It is always great to see them! We had drinks at waterfront Bon Appetit as the sun slid below the horizon then walked out to the deck for the bagpiper. The piper lass had sassy skinny jeans, fire-y red hair and played beautifully…especially Amazing Grace which always gives us goosebumps. Wow! Dinner on the porch of Sea Sea Riders wrapped up the fun night where the laughs and conversation never lagged…not even a chilly dinghy ride home in the rain could dampen our spirits. See you guys down the way!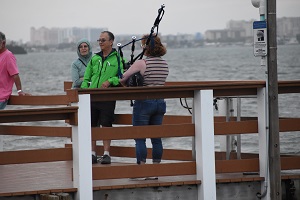 Manhattan Beach's Local Yolk inspired jalapeno hash was a win-win breakfast with leftover mashed potatoes from our grilled steak dinner (2/18). Plus, the perfect fuel for ceiling cleaning with the Swiffer (extendo arm a must). Temps are trending warmer which had us in bathing suits catching some rays. Buckle up because Spring Break season is coming.
Calm conditions keep us bouncing between relaxing and doing a bit of TLC for Barefeet. Project water maker is at the top of the list with more time at anchor rather than in marinas. It's time to dust off the water maker (2/19). Fingers crossed…drum roll, please…she's back online. Yippee! No leaks and water tastes great BUT output flow could be higher. Hhhmmm…likely a fouled membrane that needs to be cleaned. Maybe home beer brewing chemicals could do the trick – we'll work on that. Our schedule got a pleasant boost as it appears the three week St Lucie railroad bridge waterway closure has been pushed back from April 11th to May 1st. Although we'll keep an eye on that we'll stay in mellow Clearwater Beach a couple more days. Cherry cookies were a fun afternoon experiment when we had an extra pile of maraschino cherries (I needed the bottle as a spice jar for Greek mountain oregano from Tarpon Springs).
Now, let's head ashore for the famous grouper sandwich from Frenchy's. It's a must revisit for dinner. Ha - and the frozen rum runner with a floater wasn't bad either. Frenchy's has six locations within walking distance and all are well loved by locals and visitors alike. There's even a cocktail challenge: visit four locations, order a signature drink, get your passport stamped…win a free cocktail challenge t-shirt. We dinghied to their docks for a fun night and tasty food (chicken egg rolls with Thai sweet chili sauce were also a hit – thanks for the tip, dock master).
Our schedule is settling nicely: a bit of moving the boat, some boat projects and seeing the local area. A morning walk on the beach has us again marveling at the sand (2/20). It is silky smooth like corn starch not gritty like salt or sugar. Our loop back to the boat took us through the Clearwater North Beach residential neighborhood. Homes are well loved…right down to the mailboxes. On the way back to Barefeet we filled up the gasoline jerry can in anticipation of dinghy adventures ahead. Some bathroom scrubbing and bow thruster scraping rounded out the day. Oh, the new shorty with hood is nice. Check out our well loved neighbor boat with lovely mural work.
A short drive to anchor at Redington Shores was kept cool with a gentle breeze (2/21). This charming town has a laid back vibe where palm trees are taller than any roof peak. Gypsy Souls Coffee for breakfast was a relaxed way to start the day…and eyeball the laundromat steps from the dinghy dock (2/22). And you get a free draft beer if you arrive at Seabreeze Island Grill if you arrive by boat. Perfect and totally buzzing at dinner.
A morning walk to Kenny's Korner for breakfast was accompanied by waves and warm "hellos" from everyone we passed (2/23). This is a friendly town. The Seaside Seabird Sanctuary in Indian Shores is a three acre facility dedicated to the rescue, rehab and release of sick or injured wild birds…and it's just a walk away. There are pelicans (like Red and Mr Jingles), owls (like Captain, Tennille and Rufous) and even a bald eagle (Roosevelt). Their website details all the residents (https://seasideseabirdsanctuary.org/). After the exhausting day (wink wink) it was a hammock kind of afternoon while a manatee flipped its tail, dolphins jetted past and pelicans dive bombed for fish. This heat had us thinking Thailand so we enjoyed homemade Penang Curry for dinner (recipe below).
A short one-hour move around the corner (including raising and lowering the anchor) transported us to a totally different latitude…from sleepy, bird filled Redington Shores to engine fueled fun on the water Madeira Beach anchored at Welch Causeway Bridge (2/24). There were jet skis, go-fast boats, pontoon boats, live music spilling from restaurants and our personal favorite – the Angry Pepper Waterside Smokehouse. It's the perfect marriage of barbeque and tiki hut with dinghy docks (and a Publix around the corner if you're a cruiser). This was a huge hit for us last time through and a big hit yet again. The beef brisket quesadilla and angry chicken wrap did not disappoint. Whether in a boat or in a car – visit Angry Pepper.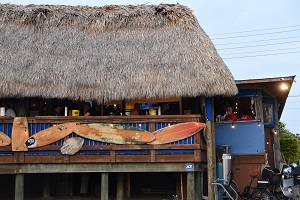 Time to make a jump…to Sarasota (2/25). This six hour leap has us crossing Tampa Bay which means waiting for calm conditions in order to have a smooth ride. We had a great ride passing St Pete, passing the 175 foot high Sunshine Skyway Bridge (yes, BIG tankers pass through) and skirting a weekend sailing race to anchor at Bird Key. Set-in-Florida afternoon reading has me finally branching out from beloved Doc Ford novels by Randy Wayne White (thanks Bill) to Ivory Shoals by John Brandon. Florida certainly is a multi-faceted diverse ecosystem.
Sarasota is a big draw for us because it means we get to catch up with Kim and Dave. Chris and Dave grew up together and we have had many fun adventures since. In between seeing them we explored the area with a rental car. Inland from Sarasota is the Myakka River State Park which has miles of trails and roads under an oak-palm hammock beside the Myakka River and on the shores of Lake Myakka. Unfortunately, Hurricane Ian had a massively destructive impact on the State Park. The canopy walk is closed; however, much completed clean-up means the beauty of the hammocks, dry prairie and wetlands is on full display (2/27). Animal tracks lined the lake shore filled with bubbles that looked like diamonds. The hurricane left a mark but nature is thriving.
Another day with wheels gave us the chance to head south along the Gulf coast to the town of Venice (2/28). But before that we have a couple of errands. First, Barefeet needs some plumbing TLC. Off we went to Southern Supply Co at 1039 Central Ave. Rick walked us through the cavernous warehouse aisles like a dog with a bone in search of our broken back deck shower nozzle. He has been here since 1972 and knows the contents of every box and every shelf. When he struck out he called his buddy, Joe, at Phillips Plumbing who is taking up the hunt. They could not be any nicer – thanks guys. Next stop is a pop into the Tervis outlet in Osprey (928 S Tamiami Trail). You never know what treasure awaits there.
Venice is a charming Gulf Coast town. Water approach can be tricky so we decided to drop in by land. Venice has had its ups and downs like most towns: from a small fishing and citrus town to exploding along with the Florida land boom of the 1920s to languishing with despair until an air base moved in after WWII to today as a pedestrian friendly little town for boaters and beach goers with shops and restaurants. T.J. Carney's looks like a friendly Irish Pub so we will have to return. Back in Clearwater boater Ann (m/v Dream Maker) told me about Clyde Butcher, legendary landscape photographer, and his gallery in Venice. Wow! Nestled into an industrial park is a stunning fine art photo gallery and 2,000 square foot dark room. The black and white landscape photographs are made even more impressive because they are blown up to massive sizes. Wow! Swamps appear peaceful from his eye and we agree. Check him and talented wife, Niki, out online at…https://clydebutcher.com/. The car was returned and we had another quiet sunset in Bird Key.
It's water maker cleaning day because output flow is lower than expected at 0.68 gallons/minute. This had to be postponed until we had a mailing address - thanks for your mailing address Kim and Dave. If you are not interested in technical stuff please skip to the next paragraph. Chris has learned a few tricks over the years and is going to do a deep clean of the water maker system. Step #1 is biofilm cleaning. The super-duper secret is to clean the system with a "biological cleaning agent" - Sodium Metasilicate (anhydrous). It is the base cleaning agent in TSP, amongst other cleaning products and removes biofilm. The system is run for 20 minutes, soaked for an hour, run for 20 minutes and then flushed. The Sodium Metasilicate (anhydrous) is $15 for a 5lb bag on Amazon, and your dose is usually six Tablespoons so a lifetime supply costs less than a one-time usage cartridge. Soaking, flushing and our result was an increase from 0.68 to 0.80 gal/min. Well, that's better but let's see if we can get it to 0.90. Time for step #2 which is scale removal. Scale remover is (or can be) Citric Acid (also found online). Not sure but it might be the active ingredient in Barnacle Buster. Again, place chemical in the 20 micron filter basket, leave the 5 micron filter in place and run for 30 minutes. Do NOT let soak. Flush the system. Well, it looks like 0.80 gal/min it is.
That was a great project to complete! For the evening we went to El Melvin for a fajitas dinner and a drink at Patrick's 1481 (3/1). On our walk to dinner we chatted with a local while waiting at the LONG crosswalk signal to cross the six lanes of traffic of Bayfront Drive. He told us about a great pear martini. If only we could remember the restaurant's name?! The pear martini was our post-dinner quest that fell flat. However, Patrick's 1481 on Main Street was a fun discovery where we chatted at the bar while music played. We'll hang out in Sarasota for a few more days before moving along to Cayo Costa.
Cherry Cookies (thefirstyearblog.com) makes 20 cookies
½ stick unsalted butter, softened, 1/4 cup
¾ cup light brown sugar
1 large egg
1 tsp vanilla extract
⅛ tsp almond extract
Small amount of pink gel food coloring
1 ½ cups all purpose flour
½ tsp baking soda
¼ tsp salt
¾ cup drained & finely chopped maraschino cherries, plus extra for garnish
¾ cup semi-sweet chocolate chips, plus extra for garnish (optional)
· Preheat the oven to 350º F.
· In a mixing bowl beat the butter and brown sugar with an electric mixer for 1 minute, or until combined. Add in the egg and extracts, beat again.
· Add in a small amount of pink gel food coloring and mix.
· In separate small bowl, whisk together the flour, baking soda, and salt. Gradually add the dry ingredients to wet ingredients, mixing by hand with a spatula.
· Add in the finely chopped maraschino cherries and chocolate chips, mix by hand until combined. The batter will be thick.
· Use a cookie scoop to drop dough balls onto a silicone lined baking sheet (each cookie is 3 heaping Tablespoons…make smaller cookies if desired, reduce cooking time). Press additional cherries and chocolate chips into the outside of the dough balls.
· Bake for 14-16 minutes – be sure not to over bake or the cookies will loose their pink color and turn brown.
· Allow the cookies to cool to the touch on the baking sheet (about 15 minutes) then move them to a cooling rack.
Penang Curry (Deb, s/v Wings) serves 4
Penang curry paste (4oz can, I prefer Maesri brand)
2 Tablespoons fish sauce
1 can (14oz) coconut mix
1 red pepper, sliced and cored
½ cup cilantro, chopped
1.5lb chicken breast, sliced into strips
2 Tablespoons lime juice
1 Tablespoon brown sugar
2 Tablespoons ginger, thinly sliced
1 red onion, sliced
· In a skillet over medium heat mix Penang curry with half a can of coconut milk. Stir frequently until bubbly.
· Add rest of coconut milk, red pepper and onion. Bring to boil and simmer 2 minutes.
· Mix together fish sauce, lime juice and brown sugar. Add to simmering sauce. Add chicken, too. Bring to boil then reduce heat and simmer 5 minutes. Stir occasionally.
· Add cilantro and ginger. Stir and cook 2 more minutes or until chicken is cooked.
· Serve over cooked rice.