From Florida's Panhandle to its Peninsula: February 13 2023
Steinhatchee has us beyond the Forgotten Coast and into the Big Bend region of Florida where the panhandle transitions to the peninsula. Dense woodlands and low population are the name of the game. Heck, Steinhatchee's population is a mere 537 and a true sportsman's paradise. Scallop season is June 15 thru Labor Day and today is the Florida Redfish Series Kick-off Tournament. Sixty-five boat teams and thirty-five kayaks ($22,000 in prizes) paraded out just before sunrise bundled up like eskimos (1/28). Ha – we had it better as we watched them from inside the warm boat with a cup of hot coffee. Later, we biked the area while the teams fished. It is a pleasant town. In the afternoon I went to Sea Hag Marina to watch the fishing tournament's weigh-in. Looks like this was the team with the winning weight at 7.81lbs - and don't they look happy...especially after a cold and breezy day on the Gulf.
Crabbie Dad's is a mash up between dive bar and community center. And this town certainly looks out for each other: raising money for transportation costs to cancer treatment only available miles away; tonight's homemade, three layer chocolate birthday cake (Happy 70th Birthday); the waitress who started out the night as a patron until the bar got short-handed; the scattering of ashes into the river across the street as the sun set (momentarily emptying the bar) and a celebration of life scheduled for tomorrow (bring a side dish). This community cares for each other and parties together. Okay, back to the karaoke.
After the rain cleared we wandered a few of the paved and unpaved roads of Steinhatchee (1/29). Humble, stalwart, salt of the earth people. Not sure how we can feel that so quickly but we do. Ssshhh – don't tell anyone. We'll turn around at this sign to return to Barefeet (gulp).
Next up – the two NFL playoff games. Roy's does not have TVs and Crabbie Dad's is out (remember the celebration of life) which leaves the marina's tiki bar. Let's go! Well, the marina has only been open for three months and they're still working out a few kinks. Oh boy. There were six TVs but the remotes were only able to get the game on one of the TVs. Plus, live music (although good) meant no game commentary. Pivot. Nice chit chat with bar mates because in this low density area people come out to be social: 1) a couple who live 30 minutes away (gas can be more money than lunch but they like the social); 2) two brothers who were fishing yesterday but stayed to watch the games (one of their sons got a full college scholarship for bass fishing…they both lamented being born too early); 3) another guy who just returned from a trip to Australia is staying at his river house (when the last hurricane barreled through Sea Hag Marina's owner lifted his boat to a high spot on the road where he immediately hitched it to his truck and drove home to Gainesville, FL). All this before last call for the kitchen. The kitchen is closing?! What?! The first game is not even over yet. Pivot. Back we went to the boat for game #2 on the laptop and a favorite underway passage dinner: canned chili heated with cream cheese and dipped with tortilla chips. Done.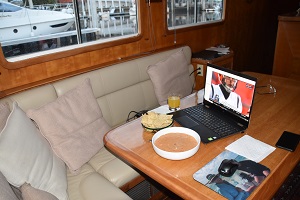 The winds died down on cue so we tossed the lines from Steinhatchee (1/30). The day started as a lumpy ride but ended in a mill pond anchorage at Cedar Key just outside marker R8. We are about five miles from town which makes for a longer dinghy into town; however, it will make for a quicker departure in the expected fog tomorrow morning. Cedar Key has a population of 700 and is the second oldest town in Florida (thanks to seafood and timber). We found a beach town vibe with wooden decks perched over water, Victorian main street and ice cream cones before returning to Barefeet for dinner…and a pelican getting a head start on dinner munching on a jellyfish. Sometimes an anchorage just grabs you and this one grabbed us. Something about being the only boat in sight, distant lights ashore twinkle here and there, the air is salty and moist and the stars above that just did not quit. We are lucky travelers.
The morning came and so did the fog (1/31). We followed our track out the channel for a nine hour ride to Anclote Key. It was a love-your-electronics kind of day and we, indeed, love our radar et al. Just a few small fishing boats and unsuspecting turtles kept us company under the blanket of fog until it lifted about 2pm. Bye bye Florida panhandle, hello Florida peninsula! Temps have jumped to 79F where we are anchored at Anclote Key. Yippee!
After the quiet night at anchor we headed up the Anclote River (once the fog lifted) to Tarpon Springs (2/1). It's a detour to the Greek Isles of the Med and we love it. Docking at the Municipal Marina is similar to Med mooring…back into the docks, nuzzled gunnel to fendered gunnel and you are smack, dab in the center of town. We walked around in what truly feels like a Greek Island. The Greeks first came for the sponge industry in the early 1900s, mainly from the Dodecanese Islands, and they just kept coming and coming and coming. It's 80F weather, powdered sugar covered wedding cookies are in tiny bakeries, mountain oregano is sold still on the stalk, towers of canned dolmades line the shelves and on and on. Where do we begin?! Dinner of gyros, fries and Greek wine (yes – retsina for me) on Barefeet's top deck. Opa! Thanks Limani – we have been transported back to Greece.
A morning bike to Toula's Trailside Café for breakfast was a nice start to the day…with bouzouki music already filling the yet uncrowded streets of Dodecanese, Athens, Lemon and Cedar (2/2). This water centric town helped fill our need for new shorty wetsuits…twenty years is a good run but it is at an end. Thanks Narcosis Scuba. But Mother Nature likes to mix things up and the next day was foggy wet conditions with lots of wind. We deployed every fender and attached every line to keep our swaying in the slip to a minimum (2/3). The afternoon cleared so we headed to Fournos Bakery for some Greek coffee and cookies.
The next few days were a bit of a blur with both of us knocked down by some cold/flu crud (covid tests were negative and sense of taste intact). We got it in series so one of us was down while the other explored and brought food back to the boat. And with countless Greek restaurants within arm's reach we had our choice of meals…avgolemeno for me and moussaka for Chris…still warm spanakopita and tiropita from Fournos Bakery…afternoon coffee and a cookie…you get the idea. This really is the Med! The crud finally lifted and we were back to fun…and a bit of normal stuff (like laundry to expel all the germs).
A day for playing tourist was pushed out one day to be sure we were both energetic and crud free. We're off to see the mermaids! On the way we had a quick breakfast at Ant's Kitchen Café in New Port Ritchey (2/7). It was a fun Latin/Cuban sampler of potato balls, beef and cheese empanadas, spicy chicken empanadas and chicharrones. The Weeki Wachee Springs have had a mermaid show for 75 years – now that's a tourist trap worth its salt. We were second in line for the show and plunked ourselves right in the front row. Yes, it was schmaltzy but it was a hoot. We left smiling from ear to ear and understand the mermaid's star studded fan base like Elvis, Esther Williams and Arthur Godfrey as well as generations of visitors who come back again and again. And the show really is in a natural spring; 117 million gallons of fresh water, 74F and a strong current. We saw fish and even a turtle amble through the show.
After the show we picked up some souvenirs and even got a photo with a mermaid. We took the slow road back to the boat with a stop for a Dairy Queen cone and a look-see at Carl's Store/Northfleet's Fish Camp. Carl's is five miles off the highway from the DQ but a world away. We were transported to the Keys where dirt roads and liquid roads merge and autos and boats are interchangeable. It's an 80 year old convenience store that is the hub of the small fishing village of Aripeca. Cool!
Before returning the car we scooped up boat and people needs; 5 gallons of oil for the main engine, food from the supermarket and hooch from the liquor store. It was a full day but let's keep the fun going. Hellas restaurant is the biggest restaurant in town. We thought it might be overrated but EVERYONE recommends it. We have to say that we concur – it is fantastic! And server Alma was a total treat. After dinner I wandered around taking night photos while Chris played poker on zoom with the guys back home.
Sunny warm weather continues so we biked 11 miles to Dunedin along the Pinellas Bike Trail (2/8). This will be our next boat stop and since we have not been since 2018 we wanted to eyeball the anchorage and dinghy dock to be sure all was still as we remembered it. Check – we are good to go. A bit of shopping, some sitting in the shade listening to an orchestra practice in tshirts and shorts, a pedal back to Tarpon Springs, some afternoon coffee and sweets from Fournos Bakery and dinner at Rusty Bellies. Who doesn't like complimentary hushpuppies?! Long term cruisers are currently the norm at the six slip municipal marina which is a wonderfully familiar vibe: hellos as we pass boats, smiles, slow pace…our tribe. Nova Scotia to the right, Georgia and South Carolina to the left.
Continued sunny weather has us out and about in the residential neighborhoods of Tarpon Springs (2/9 and 10). All the homes are carefully tended, crisply painted and neat as a pin; however, Spring Boulevard is something different. It encircles Spring Bayou (complete with wintering manatees) and is referred to as the Golden Crescent. The homes are grand Victorian in style with modifications to accommodate the Florida weather…aka…the hot, humid temperatures. Floor to ceiling windows and large porches clutch at even the slightest breeze…especially because electricity and ice were not an option when the homes were built. The Safford House is open to the public but the others are privately owned. Anson Safford grew up on a farm in Vermont, worked out west during the California goldrush, was elected to the California Assembly, was appointed surveyor general of Nevada, was a territorial governor of Arizona and became a leading citizen in Tarpon Springs. He got around. In addition to his family Anson's sister, Dr. Mary Jane Safford, also moved to Tarpon Springs. She went to Medical School in New York as well as in Europe and later practiced gynecology in Chicago as well as Boston before moving to Tarpon Springs where she was the first female physician in Florida. Her medical tools send shivers up this 21st century gal's spine but what a woman she was.
Hey – it's time for the Superbowl! We reserved two seats at Johnny's Taphouse and Grill where all the TVs are showing the game and audio is piped throughout the restaurant (2/12). The hitch is that we had to arrive at 5pm for the 6.30pm game start. No worries. We settled in and did not miss a moment of the action. There was lots of cheering for both sides and a score squares game that sold out before the game started ($150 per square…these Greeks like their wagers).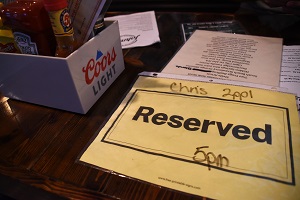 With that we have wrapped up our time in Tarpon Springs. This slice of the Greek Islands has captured our hearts and made us comfortable and relaxed. From the fabulous dock staff (Mic and Dylan) to the wafting cooking aromas to the brick streets to the sponge industry (yes, still harvesting nearby) to the petit shimmering shrines (and the massive Greek Orthodox Cathedral) to the restaurant and boat ride touts to the Greek music and language spilling out of speakers as well as coffee shop sitters. We loved it all! Back we went down the Anclote River moving south to Dunedin (2/13). We're on the road again and anchored off of town. We'll keep moving south, cut east across Lake Okeechobee (as long as the water level stays deep enough) and point north to Jacksonville. Plenty left to see and do and eat.