Warming Up Moving From Georgia to Florida: January 26 2022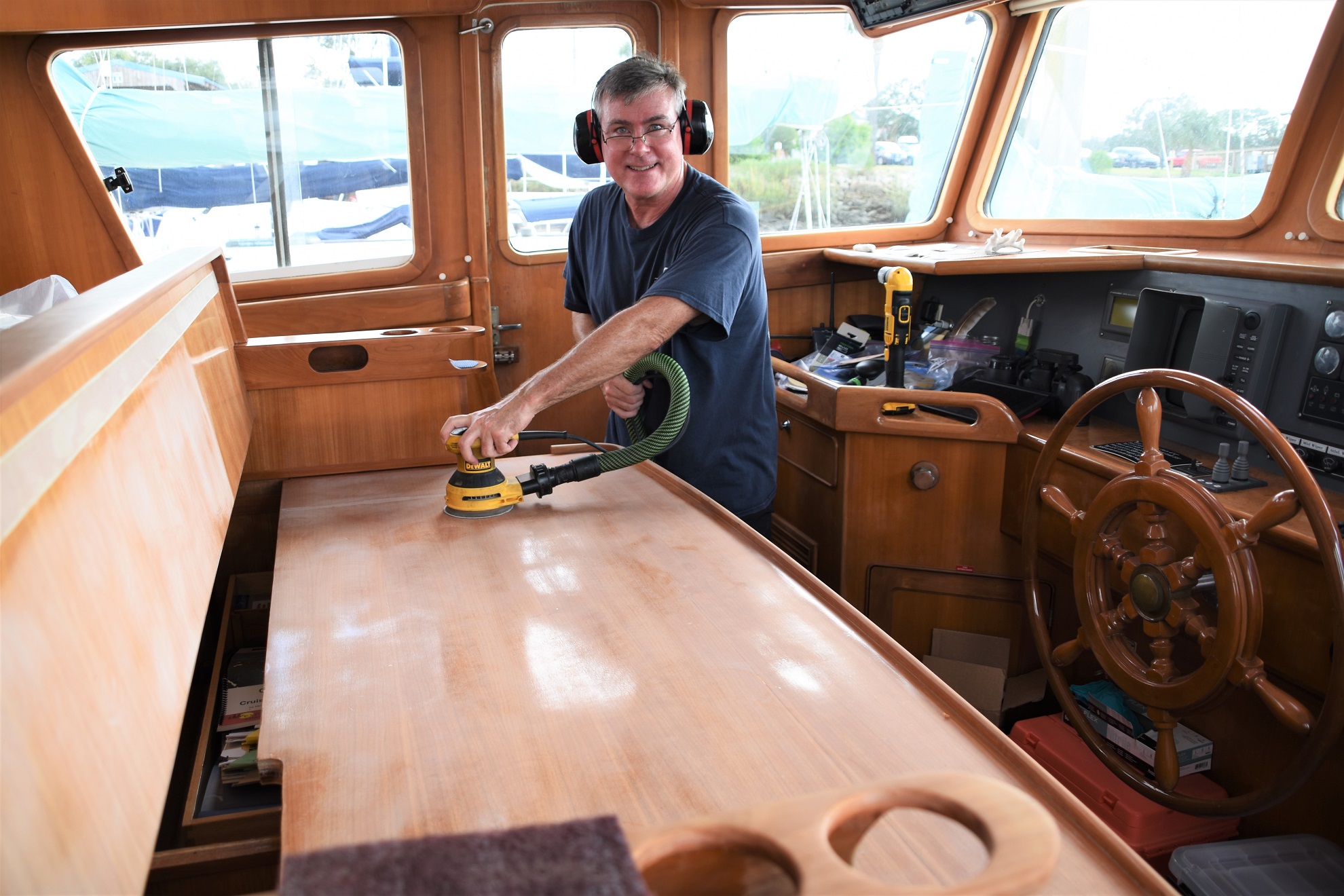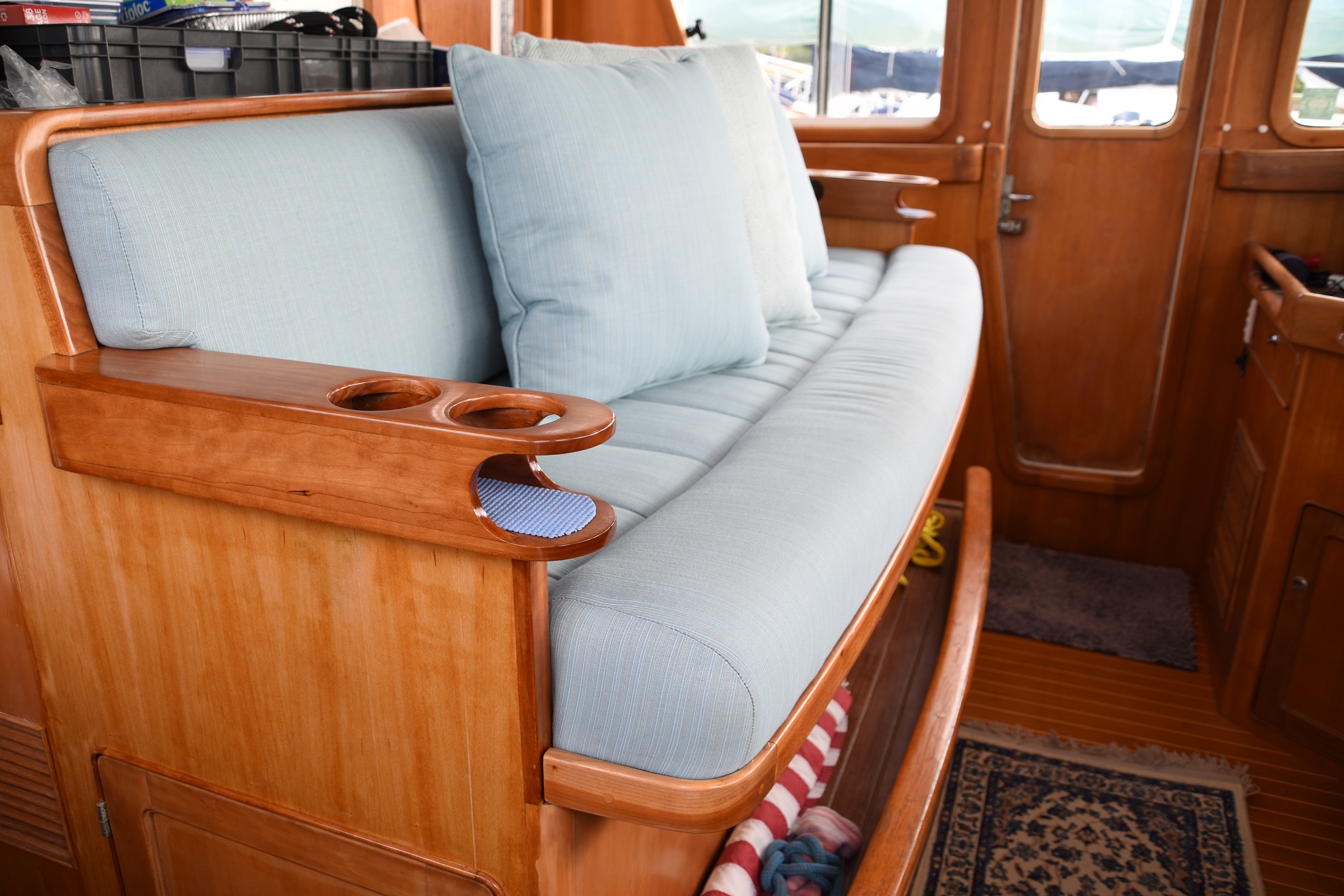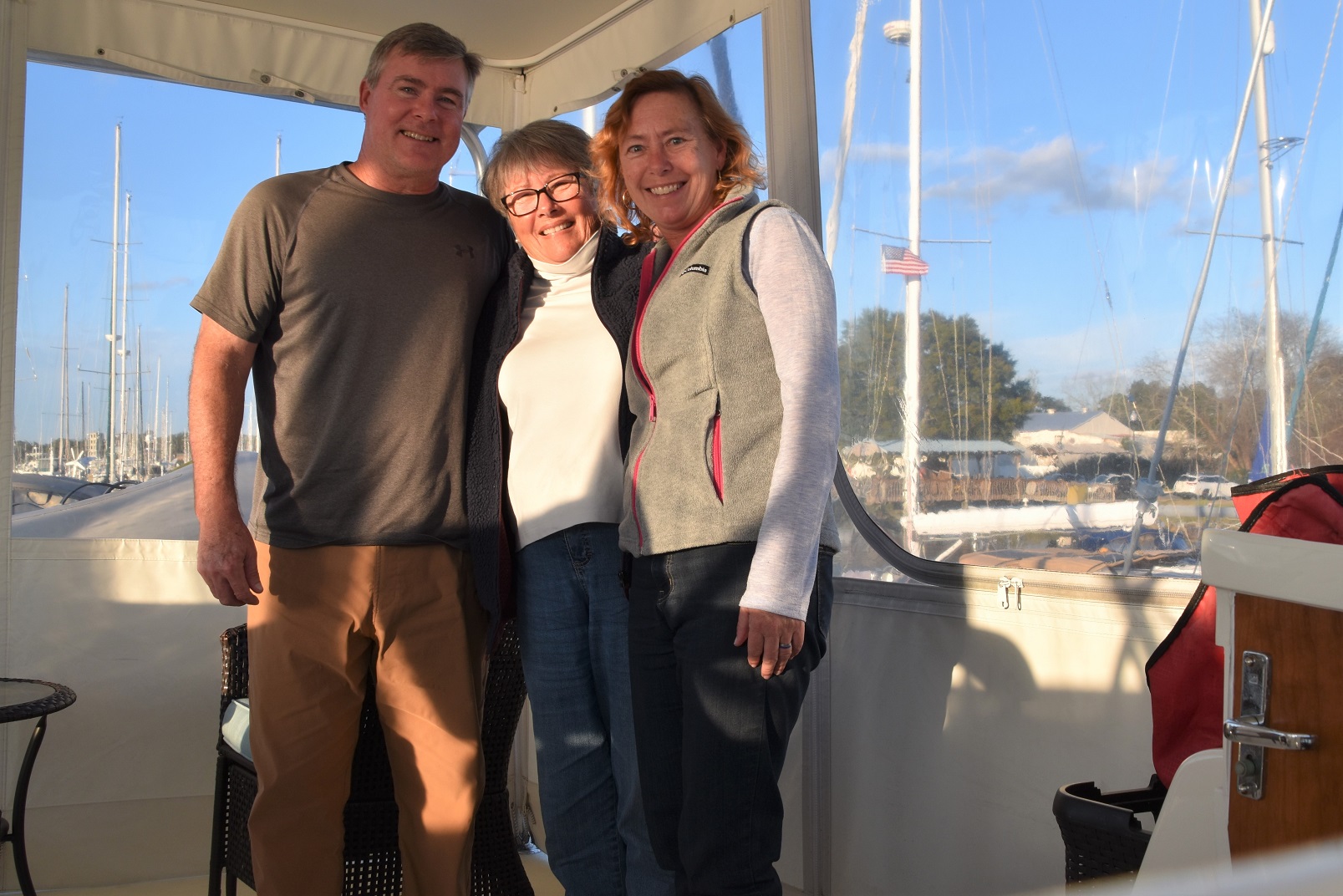 Back from our north Georgia road trip and Barefeet is center stage. We returned the rental car after a flurry of auto-assist activities: propane fill, supermarket run, liquor store…the usual suspects. Enterprise is still our preferred car rental agency but their lack of pick up/drop off for retail customers is a covid bummer…and a 4 mile walk back to the marina (1/12). Barefeet is finally looking a bit less like a workshop and more like a boat as varnish dried, cushions were replaced and tools and materials were stowed. Wow – the pilot house positively glows with beautifully restored wood. Chris rocks! And just in time for a visit from long time boater friend Tana. We all met in 2004 at Cove Haven Marina in Rhode Island. The years simply melted away (all 18 of them) and we picked up right where we left off (1/13).
With an idea of tossing the lines from the dock we continue to fire on all cylinders. Next up - the get-home engine is tested. Yippee - two thumbs up after so much work done on her recently. Erin's oyster shell trinket bowl is also completed. Mother Nature did the heavy lifting, I just puffed them up to allow natural colors to remain below clear lacquer with a single edging of gold leaf paint. And the remaining shells are ready for whatever I think of next. The generator is not to be left out of the action as it was out with the old fresh water pump and in with the new one…including antifreeze drained and re-filled (1/14). Love the candy apple red color and she purrs like a kitten with loads of water cycling through the system! Erin squeezed in another bit of fun between being gopher and third hand for whatever/everything with a snack for Happy Hour. It's a recipe that has been languishing for 15 years. Thanks Ems – I knew the sun dried tomato, mascarpone and herb stuffed baguette would be a success (recipe below). So silky smooth and flavorful…even with my hand knife skills since we do not have a food processor aboard.
The stormy weather arrived and slammed the east coast from Florida to Massachusetts (1/16). However, 44F dancing in a marina slip in the southeast is much better than 4F in the power outage riddled northeast. Understanding weather patterns seems to be simpler than understanding cable company fuckery. Coverage maps and black out areas for the NFL playoffs make the head swim…so…we watched the (abysmal) Patriots recorded game the next morning with coffee. This slow moving storm lasted 48hrs which kept us doing inside projects like attacking a small coolant leak on the main engine. The manifold cover plate was examined…do you see a leak pattern? Then the manifold and cover were completely cleaned. Tools of choice were a Dremel, a razor blade and the shop vac followed by a wipe of acetone before high temperature gasket sealant was applied and new gasket was squashed back together and tightened down. Now back goes the coolant – a tango for sure with Chris below decks in the engine room holding the hose and funnel while Erin is above decks in the kitchen (floor removed) ladling the coolant back into the engine. Done! Fingers crossed that this is the offending leak and it has been stopped.
We are feeling ready to move again. Happy Hour conversations of Belize, the Med and the Bahamas are fueling our departure ideas. And free wine and open beer taps with fresh guacamole didn't hurt the tall tales. Sheesh – the wind finally stopped and it is soooo wonderfully quiet. We are lucky to be in such a beautiful place – marshland sunsets never disappoint. Bbbbrrr - but a morning walk on the dock resulted in a crazy crackling sound under my feet. What is that? Oh…frost. Now clearly focused on our departure we had Diver Donnie came to replace zincs as needed, scrape off barnacles from the props and thru-hulls and inspect the bottom paint (no growth, just slime – awesome). The clock is ticking and I need to try Brunswick Stew before leaving Brunswick. Brunswick stew is a tomato based stew of local vegetables and smoked meats…the South's original hunt camp staple. Brunswick, Georgia, and Brunswick County, Virginia, both claim development of the dish. I'll give the home team the nod and loved the version I had at Twin Oaks BBQ (1/18). Oh yeah – and there is a cast iron cauldron next door in the Mary Ross Waterfront Park that is vaunted as the original Brunswick Stew stew pot (first made on St Simon Isle in July 1898).
Weather forecasts look good so tomorrow is the day! We fill water tanks, settle up with the marina, buy 2lbs of pulled pork (for 1/2lb vacuum sealed bundles for the freezer), Chris gets a haircut from a fellow boater (thanks Tina). Oh, and we restring the window blinds that have nearly frayed through. That was super easy with a YouTube tutorial; burn the ends to join the old with the new, pull it through, cut to knot and done (1/19). I was terrified the old string would snap before the cord arrived and put everything into chaos. Not to worry - solid as a tank again.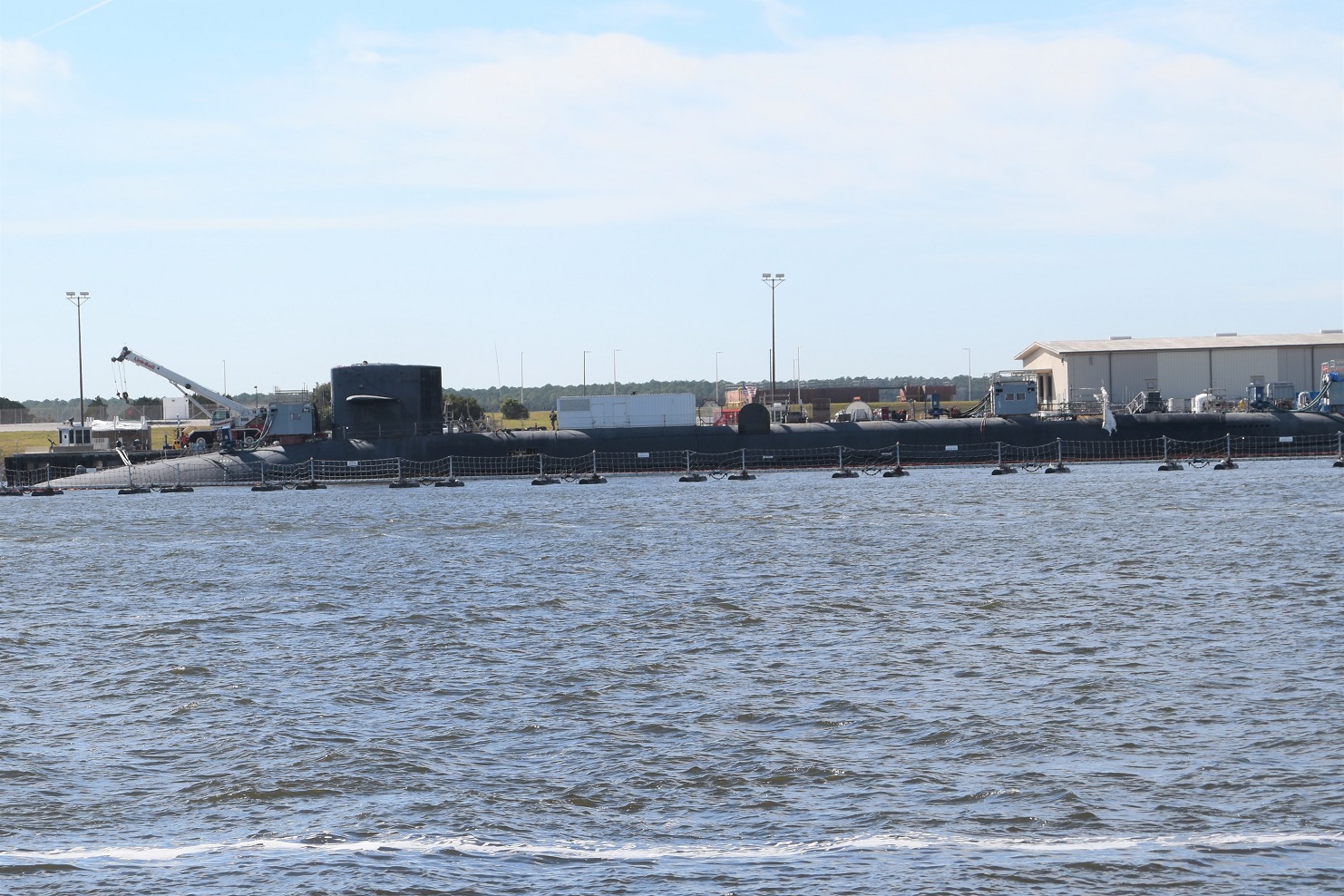 Whoop whoop – we tossed the lines, Barefeet slid out of slip 6H and we are on the move again (1/20). It feels great! Our sights are not far and we have no timetable…none at all. Today, it's just a six hour amble to anchor at St Marys, GA, because it is a bit better protected than familiar Cumberland Island for recent weather forecasts. Our current idea for the next month or so involves few miles and new as well as familiar ports. Likely stops include Cumberland Island, Fernandina Beach, Jacksonville, St Johns River and St Augustine. But time will tell how it shakes out. Off we go! Our peaceful Georgia marshlands momentarily explode in modern tech as we pass the Kingsbay Submarine Base. It's the US Atlantic Fleet's home port for ballistic missile nuclear submarines capable of being armed with Trident Missile nuclear weapons. On our pass there was a sub docked…and…is that missile door…(gulp)…open?!
Anchored in St Marys has us in a new spot to us (1/21). However, it is well known to cruisers and has been on my radar since 2006 because of a yearly community hosted Cruiser's Thanksgiving meal at the Riverview Hotel. Local residents cook the turkeys and hams and cruisers bring the sides. Sides are often elaborate relishes, gravies, desserts, vegetable dishes, potatoes and on and on. Super impressive! Head count is now beyond 200. Things are a bit different today with drizzle and temps in the upper 40sF and Barefeet the only boat anchored in the harbor. We'll wait to go ashore until tomorrow and had our own party aboard. Usually, we use the generator to cool down but this time our hour-of-power was for a Warm-Up Happy Hour; heater, tunes, sundowners of hot toddies (recipe below) with Cheez Its and chicken tikka masala for dinner. Attire: fleece and ski hat until the heat licks in. Fun and delicious!
The rain has gone but temps are still chilly at 37F; however, it is warmer than Boston's 7F with a nor'easter on the horizon so our plan is working. We dusted off the dinghy and headed ashore. Drat – the Submarine Museum is closed for renovations – supposedly chock full with items thanks to its Kingsbay Sub Base neighbor. The town was first settled by the Spanish in 1566 making it the second oldest continuously inhabited town in the contiguous US (second to St Augustine down the coast). Today, St Marys is laid out in quadrants with grass parks, pillared porches, wide sidewalks and LOTS of churches (35 listed in the yellow pages). This is the charming Presbyterian Church (c.1808). Off we went to the Cumberland Island National Seashore Museum. It was free and heated – bonus (https://cumberlandisland.com/the-island/history/). We have visited Cumberland Island but never the museum since it's up the river in St Marys. The island is a wilderness oasis where Lucy Carnegie built an off-the-grid-home as only a gilded age robber baron could do – complete with iron forge, vegetable gardens, dairy, ice house, laundry, boiler, electric generation…all privately out of the public eye. This privacy continued as JFK Jr and Carolyn Bessette were married in the isolated, humble First African Baptist Church on September 21, 1996, located on the northern end of the island. We again enjoyed our visit with walks along the saltmarsh boardwalks, through oak and moss canopied walking trails and on sandy beaches (1/23). In the evening after the last ferry departed we were the only boat at anchor…our taste of the island's magical privacy.
Up anchor from Cumberland Island we motored to nearby Fernandina Beach on Amelia Island (1/24). We anchored outside the nearly empty mooring field and dinghied ashore at the marina docks ($4 landing fee – so easy). Amelia Island is a 13 mile strip of barrier island with an artsy, beach-y vibe among beautifully restored Victorian homes. John Grisham describes it as, "a busy little town with laid back vibes, beaches for serious loafing, old moss hanging from even older oaks...like a majestic tree on Ash Street that has watched traffic go by for 300 years. It's a place where you fall into the easy rhythm of coastal living." We wandered into the Palace Saloon (the oldest in the state) on Centre Street which oozes a bygone era with quarter sawn oak bar, tiled floors and a brass cash register (for the Carnegies and Rockefellers, the locals were simply billed monthly). Hey, we bumped into a couple we met yesterday walking around on Cumberland Island – cheers. Dinner was a short stroll to The Boat House on 2nd Street. Mondays are a tough night to find open restaurants so the local tip from folks on the porch of the Green Turtle Tavern was much appreciated and delicious – thanks.
Weather conditions continue to be gloriously calm so we made our next jump outside on the Atlantic Ocean south to Jacksonville…44 miles (1/25). Anchor up just as the sun rose at 7am with mirror smooth seas. Jacksonville is approximately ten miles up the winding St Johns River from the ocean inlet. We rarely saw another pleasure boater on this rather industrial waterway. Fellow cruisers Sean and Louise tipped us off to the Metropolitan Park Marina (every 30 days - 3 days free except on game days). What a great find! We tied up and immediately walked to Enterprise for a rental car. What's the hurry you might ask?! Well, it's a confluence of Murphy's Law and logistical gymnastics. It all began a few months ago. We purchased foldable ebikes back in November and had hoped to have them delivered to the boat in January. No dice (as with so many supply chain issues). Okay, we'll simply move along and collect them later…maybe mid to late February? This is where Murphy's Law comes in. We tossed the lines from the marina on Thursday and got a FedEx message that a shipping label had been created for the bikes on Friday at 5.05pm. Well, okay (and yippee) but we cannot sort out delivery until Monday when the ebike office opens…so what are the options? Go back to Brunswick? Go to Jacksonville? Stay in St Marys? Reroute delivery location? Yikes! Contact was made with the ebike office on Monday…yep, should arrive Wed/Thurs…got it. Then late Monday while we were in Fernandina Beach FedEx alerts us that the ebikes will be arriving at Brunswick Landing on Tuesday…tomorrow. Okay, we will keep all ebike logistics as they are and get ourselves to the bikes. We departed Fernandina Beach at 7am and secured the boat in Jacksonville at 1.30pm...then walked to Enterprise (now you are up to date). We drove about an hour to Brunswick Landing where we loaded the bikes at 3.30pm then returned to Jacksonville by 5pm. Sheesh! Yes, it was a long day. Oh, and did I mention that the boat fresh water pump died on the way to Jacksonville? Chris swapped out the bad one for the spare while underway and we were back in business.
Despite the long day yesterday Chris was up before the sun like a kid on Christmas morning racing to assemble the bikes (1/26). There is adjusting and storage fiddling still to do but we are over the moon! My first test ride and I flew. So cool! Oh, and temperatures are warming up, too...50sF are MUCH better than 30sF. A fabulous breakfast at Metro Diner soothed our hither-nither-and-yon nerves and we are formulating our next moves. We extended the rental car for another day in order to replace the spare fresh water pump and to gather a couple of engine parts ordered from Lamb's Yacht Center. Okay, the pieces are falling into place. We'll let a bit more dust settle anchored in Jacksonville before we head as far as we can up the St Johns River. Life is never dull!
Sun Dried Tomato, Mascarpone and Herb stuffed Baguette (from Ems, s/v Serai)
12oz mascarpone cheese
1 teaspoon mint, fresh
1.5 cups sun dried tomatoes
1/4 cup basil, fresh
lemon (start with juice of half a lemon, more if desired)
1 teaspoon salt
1/2 teaspoon pepper
French bread (like Pillsbury 11oz/13" or bakery)

Heat loaf of French bread.
Puree tomatoes then add marscapone, herbs, lemon and salt & pepper. Thoroughly mix.
Cut bread in half lengthwise.
Hollow out one half and fill with mixture (both sides if desired). Best to spread at room temp.
Slice and serve...or skip the bread and fill a bowl to spread on crackers or bread.
Garnish with basil.
Hot Toddy (1 cocktail)
¾ cup hot water
2 teaspoons honey
2 teaspoons lemon juice
1 1/2oz whiskey
Pinch cinnamon
Half lemon wheel, garnish
Heat up water, lemon juice and whiskey in microwave.
Add remaining ingredients. Stir to combine.